Advocating for LGBTQ+ associates with Out Front
In 2003, Cedric joined a small group of 10 LGBTQ+ Capital One associates to expand his network and meet others with shared experiences. While he made friends and sharpened his professional skills, he also found something more: a sense of belonging.
Twenty years later, Cedric has flourished, both professionally and personally. Today, he's a unit manager in financial services and serves as the national virtual engagement lead for Out Front, Capital One's Business Resource Group (BRG) for LGBTQ+ associates and allies. As part of his work with Out Front, he mentors Chapter Leads across the Capital One footprint to grow membership, drive member engagement, and create meaningful virtual and in-person events. The best part? It was at one of those events where he met his husband.
For Cedric, Out Front's mission to empower LGBTQ+ people to celebrate their identities and bring LGBTQ+ issues to the forefront across Capital One empowers him to unapologetically show up to work as his true self.
"It's not just one person living this particular culture here—it's everybody living the culture of belonging," Cedric said. "I can be 100 percent me. Being able to share your experience and being able to live authentically is what drives my work."
Creating an inclusive community
Out Front members are committed to supporting and advocating for the LGBTQ+ community within and outside of Capital One. Members of Out Front were crucial in supporting Capital One's preferred name feature. Customers are able to use their chosen name on their credit card, regardless of where they are in the legal name change process. For their inclusive work, the preferred name team won a Circle of Excellence award in 2022.
Outside of this advocacy work, there are a wealth of educational resources, professional development and networking opportunities through Out Front. Events at the national level include inspiring outside speakers, virtual coffee chats or informative panels. Additionally, associates can join regional chapters to participate in local meet & greets and volunteer opportunities.
Dane, a manager for the Community Impact and Investment team, holds two key roles in Out Front. As the co-lead for the Greater Washington chapter and national lead of Community Engagement, he is always searching for new ways to connect and expand the Out Front community inside and outside the office for all Out Front members. One of his favorite events is Out Front's quarterly breakfasts, where a leader speaks to the community on their experiences and identity. While the breakfasts occur in our McLean office, Dane and the Out Front Greater Washington team have transformed the event into a hybrid format so anyone at Capital One can tune in.
"When you join a BRG, you get to connect with people outside of your regular team," Dane said. "I gained a better understanding of Capital One's structure through Out Front. Even having one interaction with someone means that you have an instant connection. Those connections can really elevate your work performance and deliver some results for your team."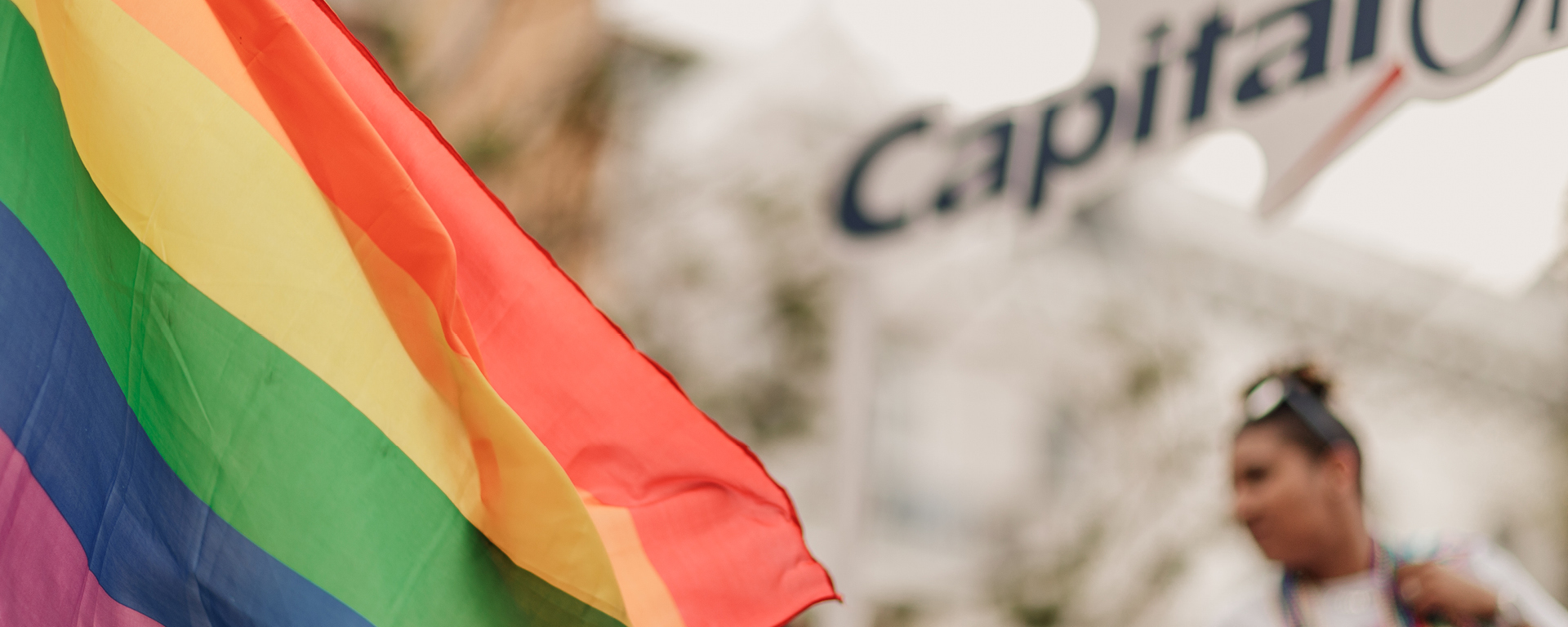 Uplifting and educating
Out Front also works to educate Capital One associates about LGBTQ+ history and current events by commemorating significant celebrations, such as National Coming Out Day, supporting those who are "coming out of the closet" or Day of Silence, a solemn event that spreads awareness on bullying and harassment of LGBTQ+ students. The BRG marks these occasions with events like informative presentations about LGBTQ+ individuals, conversations about pronouns and how to be a good ally.
Eni, an associate software engineer, was impressed with Capital One's commitment to Diversity, Inclusion and Belonging when she interviewed in 2022. After starting, she quickly joined Out Front and began meeting other LGBTQ+ associates and allies. It was through these connections that she spotted an opportunity for International Transgender Day of Visibility—March 31.
"Some other trans colleagues and I realized that a lot of people don't necessarily know what it takes to be an ally, even when they want to be one," Eni said. "We saw there was an opportunity to share our experiences as transgender people both within and outside of Capital One."
Eni organized and participated in a panel discussion on International Transgender Day of Visibility in 2023, helping to shine a spotlight on transgender associates and their experiences.
"Out Front has made me feel a lot more represented in the workplace," Eni said. "It's made me feel like I have a voice and my experience as a transgender associate matters."
Volunteering and giving back
Capital One's values drive Out Front's efforts with community outreach and volunteerism. Out Front's national and regional chapters offer many opportunities for members to volunteer, such as mentoring students, holding mock interviews and food distribution.
In 2022, Out Front Greater Washington, in coordination with Capital One Center and Starr Hill Biergarten, hosted a happy hour and drag bingo open to Out Front members and the public with proceeds from drink sales going to Supporting and Mentoring Youth Advocates and Leaders (SMYAL), a nonprofit that provides LGBTQ+ youth in the Washington, D.C. area pathways to sustainable independence and housing.
"At that event, I got to meet Out Front members and allies and connect with people from the local community. It was a great time supporting people like me," Dane said.
Building a culture of belonging
Out Front's work creates an open, honest culture where people bring their whole selves to work and find success because of it. For associates like Cedric, Out Front has been a leader in driving change and creating a more equitable future for all associates.
"I have friends that are still working for companies where they don't feel comfortable speaking up," Cedric said. "At Capital One, you don't have to hide, and you're comfortable. You're not stressed because you can live authentically. I can talk openly about my husband and share my full self with my coworkers."
Copyright © 2023 Opinions are those of the individual author. Statements are deemed accurate at the time of posting. Unless otherwise noted, Capital One is not affiliated with, or endorsed by, any company mentioned. All trademarks and intellectual property used or displayed are the property of their respective owners.