How allies drive inclusive change for all
What ways can you use your privilege to help others be heard and find space to be their authentic selves? For these allies, it comes down to education, conversation and taking action. To make space for others, facing our own privilege and bias is the first step. Through this journey of self-discovery, we can empower and provide opportunity for all. Learn more as these allies share their perspectives, in their own words, on what it takes to be a strong ally.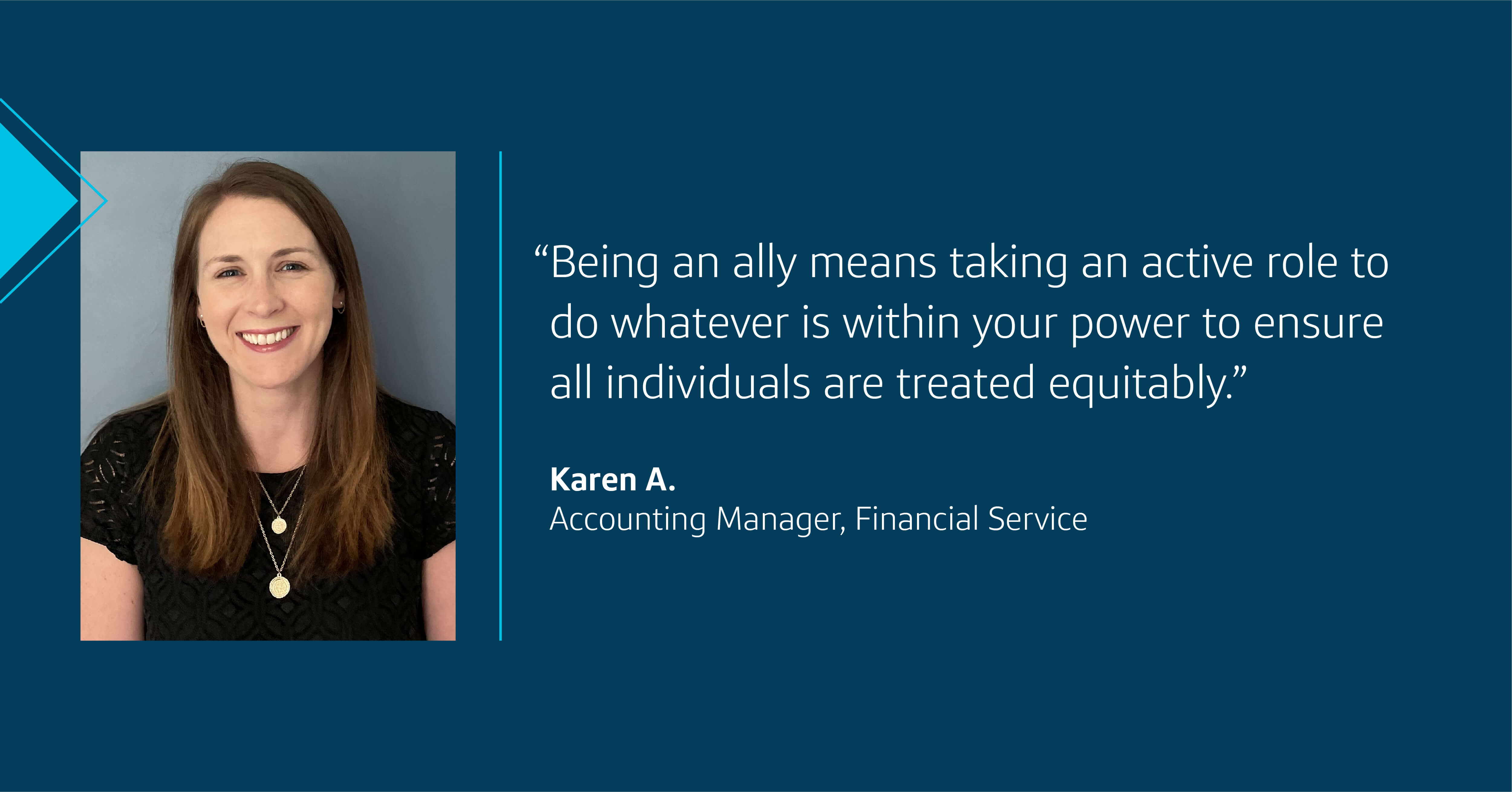 What does allyship mean to you?
"Allyship goes back, for me, to the platinum rule. It's not treating people the way that you want to be treated, it's treating them the way that they want to be treated. In the workplace, it's not just about empathy or respecting others, but about bringing your best self to work - every day. And I would never want my teammates, my friends, my colleagues to only be able to bring a fraction of themselves to work because of something I could change. Given the choice to include, why wouldn't you?" -Jenna P., Director, Financial Management
"Allyship is a willingness to make space in every room for a collection of perspectives. Looking in a mirror all of the time does nothing to ensure that a product/decision/idea will make sense to the rest of the world so it is in everyone's best interest to see their status quo expand! This is important to me to facilitate because, as a woman in tech, I have benefitted from the groundwork laid ahead of my time (giving me a seat at this table) and it is an honor to do the same for someone else down the road. We are all at our best when we are raising the bar." -Robin C., Senior Accounting Associate, SEC Reporting
"Being an ally means taking an active role to do whatever is within your power to ensure all individuals are treated equitably, and ensuring we do our part to create a safe environment where people can be their authentic selves (and to show that they are respected and appreciated). This is so important in the workplace, as a diverse workforce is proven to translate to more success, but if folks don't feel empowered to be themselves, we'll never fully realize the benefits of that." -Karen A., Accounting Manager, Financial Service
"Allyship means continuous learning and unlearning—it is an ongoing process of self education and thoughtful action, it is about asking questions and listening in all aspects of life as well as the workplace. We need to have conversations that can be, sometimes, difficult but they are important in order to spread awareness and educate ourselves as well as others." -Elma B., Accounting Associate, Card/Partnerships
Empowering others through education and understanding
"While I have taken numerous trainings, and read books to better educate myself. I've also joined every business resource group (BRG) across Capital One, to engage directly, which is where I feel I've learned the most. I've definitely learned a lot by attending many of the BRG events/offerings throughout the past few years, but this approach has really made everything feel so much more direct and personal, and I think really heightened my awareness of how to be an effective ally for my peers." -Karen A., Accounting Manager, Financial Service
"Being an immigrant myself, and coming from a place in the world where discrimination against my people and myself was tragic to such an extent that literally half of my family was killed because of their names, I learned that talking about what happened to me and my family is the best way to raise awareness and to honor their lives. I also realized that there are so many different marginalized groups that I do not know much about, and the only way I can learn and be their ally is to educate myself on their history. There are thousands of resources at our disposal, from books to articles, informative podcasts, movies, documentaries... In this information society we live today it is our responsibility to put in the effort and learn about our human family." -Elma B., Accounting Associate, Card/Partnerships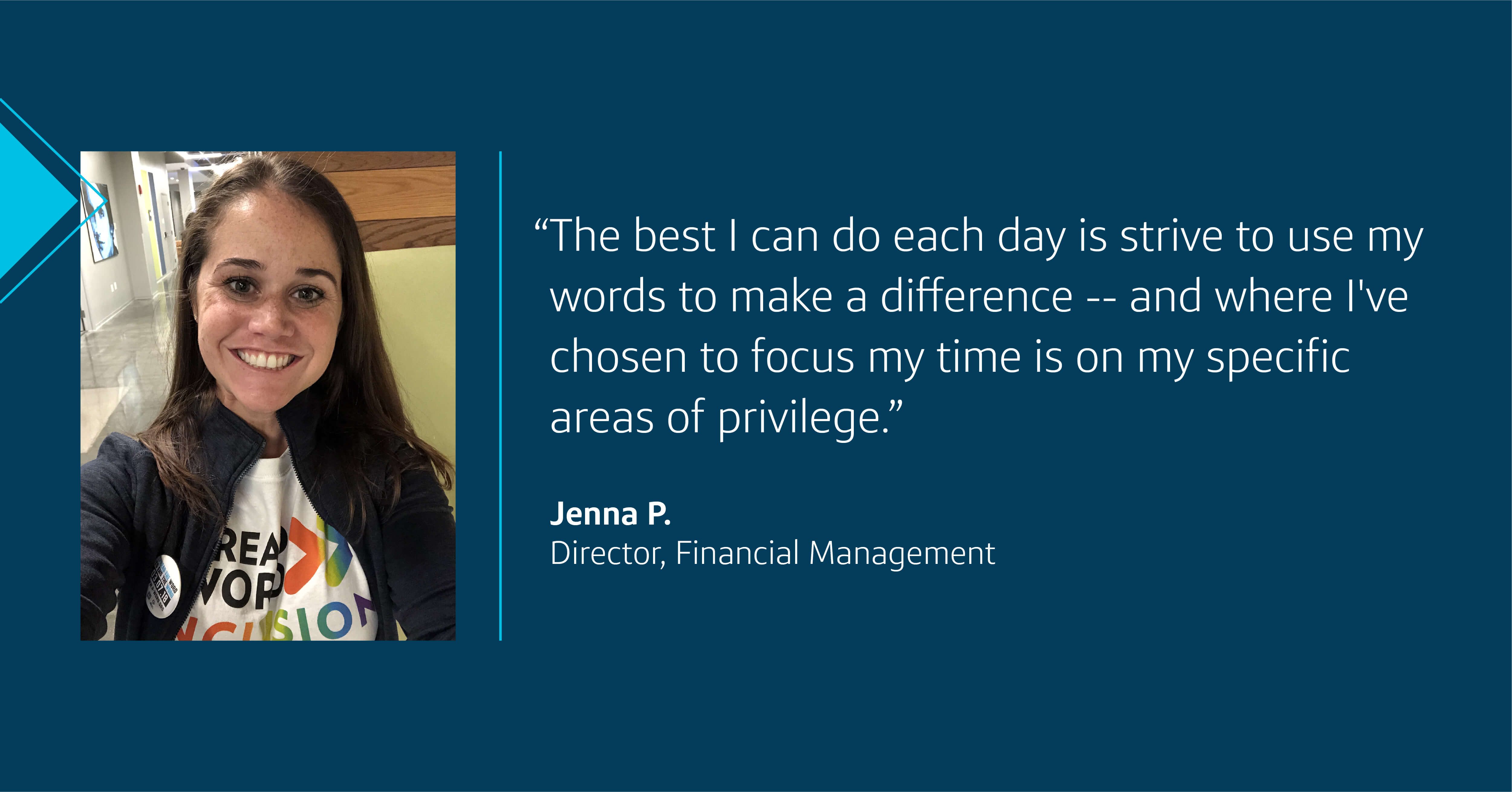 Amplifying the voices of underrepresented groups
"For a long time I had thought of myself as empathetic because I would put myself in other people's shoes and try to treat them the way that I wanted to be treated. But true empathy is treating people the way they want to be treated. And since I can't put myself in every single person's shoes and I will never know truly what someone else is going through, the best I can do each day is strive to use my words to make a difference—and where I've chosen to focus my time is on my specific areas of privilege.
I've added my preferred pronouns to my email signature and my slack message because I want to create a safe space for others to add their preferred pronouns. I try incredibly hard to avoid using gender specific language—with my NJ accent, y'all sounds awful, but it's so much better and more inclusive than my very natural 'yous guys.' I don't presume to know the gender of someone's significant other, and instead use partner when at all possible. And probably a more recent example for me—I have learned a ton from my team and friends about the stigma behind asking people where they are from, and have tried my best to remove that question from my vernacular." -Jenna P., Director, Financial Management
"In my work to be a good ally, I most often find myself redirecting conversations when needed. Allyship isn't about the exclusion of any group but rather the amplification of the voices that need it most right now. Finding my voice in those moments to say "hey, it's really awful that you were bullied as a child but today we are talking about the rise of anti-semitism in the US recently" is what I know I can do. It's an awkward redirect for sure, but it's important—and practice makes it easier. Assuming positive intent and giving people the hand they need to participate fully is hugely impactful." -Robin C., Senior Accounting Associate, SEC Reporting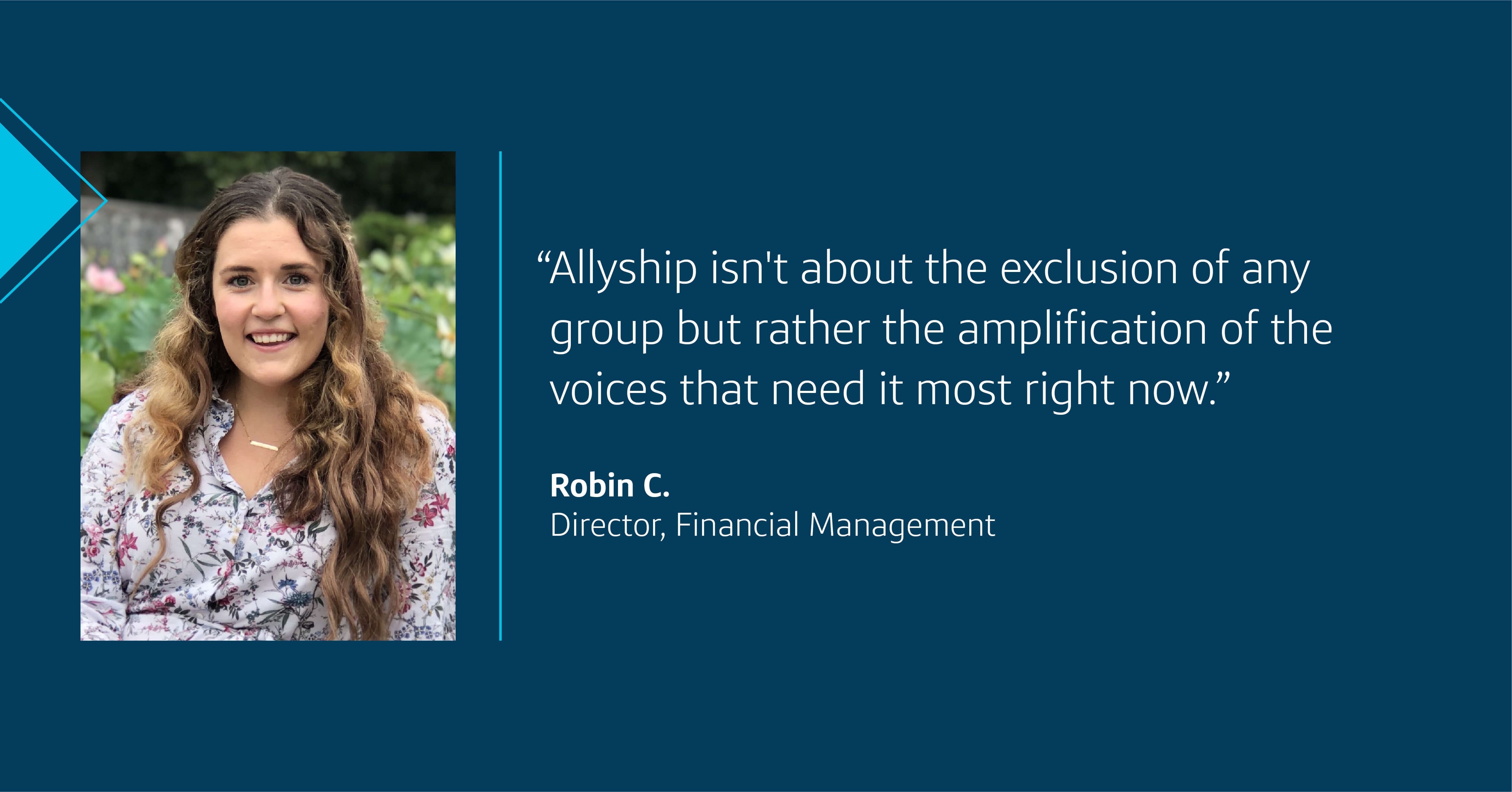 Putting allyship in action and showing up as an ally
"I strive to be an active ally every day, through my interactions with colleagues, peers, friends, etc. I am not trying to have big, dramatic moments, but rather, I'm training myself to be much more aware of microaggressions, biases, etc. and handling those appropriately in the moment. I definitely don't think I always succeed, but I do want allyship to become inherent and instinctual in my behavior—to the point where I am just doing the right thing always (easier said than done—but I have to try!). I also strive to create open, transparent communications with my direct reports and peers. I specifically ask for feedback on a very frequent basis, to ensure colleagues know that I truly WANT to know if there's anything I'm doing that makes them uncomfortable, frustrated, etc., so I can learn from those things, and correct as quickly as possible." -Karen A., Accounting Manager, Financial Service
"Making sure I'm always listening to what others have to say. I am always going to speak up when I feel like I need to, but in some situations you need to just sit back and listen. I may not know what someone who comes from another walk of life is going through, but one thing is for sure I will listen and be there for them in any way, shape or form. Leading by example is also so important in my opinion. This goes beyond calling out bad behavior when I witness it, but also calling out unconscious bias when we do hear it is so important for standing up as an ally." -Christopher L., Recruiter, Diversity Talent Acquisition
"I feel continuing to grow through education and participation improves understanding and allyship. Recognizing and appreciating the value of all members of a team empowers and enables the growth and strength to do more. I am committed to help recognize all allies, lifting the team to accomplish our goals at Capital One!" -Jonathan A., Principal Recruiter, Tech Recruiting
Be the change you wish to see
To help our colleagues and friends find the nurturing environment we all seek, we must be willing to be upstanders instead of bystanders. For allies, the vision of a more equal, inviting environment for all propels them to lean into uncomfortable situations. Together with those from underrepresented groups, we can all have a hand in breaking down barriers and creating a more equitable future for everyone.
Copyright © 2023
Opinions are those of the individual author. Statements are deemed accurate at the time of posting. Unless otherwise noted, Capital One is not affiliated with, or endorsed by, any company mentioned. All trademarks and intellectual property used or displayed are the property of their respective owners.