Pride in practice: Why I'm all in on Diversity, Inclusion & Belonging
By Rolddy Leyva
Rolddy is Managing Vice President of Global Diversity, Inclusion & Belonging (DIB) for Capital One. He and his team are responsible for building and advancing the strategic direction, deployment and alignment of the company's DIB initiatives. Born in Havana, Cuba, Rolddy immigrated to the United States in 1980 and currently resides in Washington, D.C. He is an active member of his community, serving on the Board of Directors of Out & Equal Workplace Advocates whose mission is to advance workplace awareness, equality and belonging for LGBTQ+ people in the United States and around the world.
What I find most rewarding about my role as Head of Diversity, Inclusion and Belonging (DIB) at Capital One is the opportunity to bring people from across the full spectrum of diversity together in an inclusive workplace where everyone feels safe to live their truth, bring their best, most authentic selves to work and achieve their full potential. Ultimately, creating that culture of belonging for all associates is the North Star of our work and what fuels my passion and purpose. That purpose is also deeply rooted in my own personal story as a gay, Latino man.
We all connect across a range of identities that, together, inform the whole of who we are and make us uniquely diverse. My identity and experiences as a refugee, an immigrant and as a gay, Latino man are among the ways I identify. And while I have felt safe, loved and accepted for some dimensions of my identity throughout my life, I have felt threatened, afraid and unsafe by others.
Growing up gay
My story begins in my homeland of Cuba where I was born and from where my family and I fled when I was five years old. As a young boy, new to this country, I remember how having a different name, speaking a different language, having a different accent, being an immigrant, living food insecure because of our socioeconomic status... all the things that made me different also made me a target. A target for bias, a target for bullying, a target for ridicule. However, perhaps no other dimension of my identity created the most risk to my safety and to my being loved and accepted than my realization as a young boy that I was gay.
Growing up secretly gay in a traditional Cuban household meant I was surrounded by messages at home and in the world of what it meant to be a "man." These messages were at odds with who I knew myself to be and eroded my sense of worth, safety and belonging. I lived in fear of losing my friends and family, but mostly I feared losing the love and acceptance of my father who I deeply loved, respected and admired. So, at not even 10 years old, I learned that I couldn't live my full truth at home, at school and, eventually, at college. That fear of being rejected or harmed—physically or otherwise—spilled into my relationship with my friends and in my workplace. Looking back on that child now, I remember a young boy who lived in fear of being discovered, who would never have imagined that his future self would not only grow to love and accept his gay identity but, in fact, would openly share it with the world in the hope that his story might inspire others to step into their own truth.
My coming out journey
My coming out story is not just about the deep soul searching, resolve and courage that I, like so many others, eventually tapped into. It's also, in large part, about the courage of others. Notably, the courage of those in the LGBTQ+ community—now and throughout our history—who have demonstrated remarkable courage against unthinkable odds and who have made extraordinary sacrifices so that I would have the rights, freedom and safety to share my story and live my life fully and authentically. It has also been the courage of allies and advocates whose ability to reach out, speak out and step out has inspired my courage to come out.
First with my friends who gave their love and support as my early advocates and who, by stepping out with me, inspired me to keep on my path. Then, in coming out at work where I was met with the support of leaders and colleagues. And, finally with my family where I feared the most risk and resistance but who ultimately embraced me with their unconditional love and support. My father, in particular, whose love and respect meant the world to me and who, at one time, I feared might never accept me as his gay son. He is a man, however, who has gone on his own journey, has welcomed my partner into his heart and into our family, and who now proudly shares photos of his vacations with us on his social media for the whole world to see.
Creating a culture of belonging at Capital One
While I'm fortunate and grateful for how my story turns out, I also know that not every LGBTQ+ person has found the same safety and sense of belonging in their homes, at work or in their communities. I also recognize that this struggle is not entirely unique to LGBTQ+ people. The senseless killing of Black people in our country, as well as a recent rise in many other incidents of racism and xenophobia from anti-Asian sentiment and hate to the spike in antisemitism, are the latest tragic reminders of the work we must all do to ensure the dismantling of racism and systemic inequalities that so many experience here and around the world. These experiences are particularly amplified (and too often under-reported) in LGBTQ+ communities of color—Black transgender women in particular who, with apalling regularity, become targets of hate and violence. It has to stop. This realization, coupled with my own experience, ignited a sense of purpose in me that ultimately led me to the work I do today.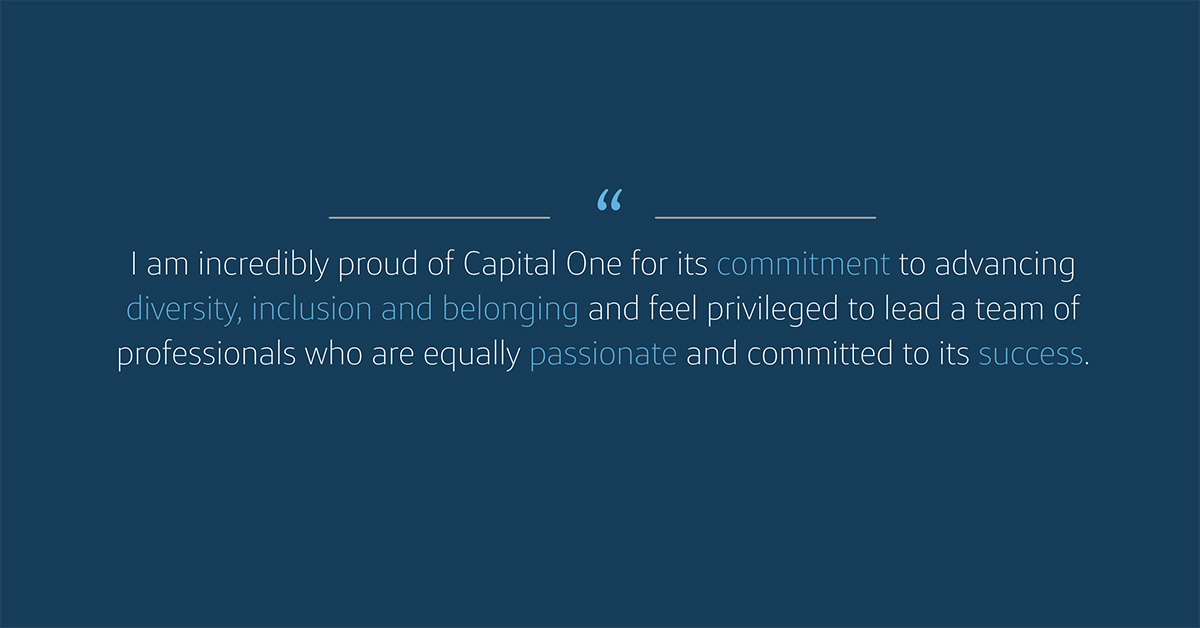 I am incredibly proud of Capital One for its commitment to advancing diversity, inclusion and belonging and feel privileged to lead a team of professionals who are equally passionate and committed to its success. But the sustainability and success of this work is dependent on far more than the efforts of any one person or team. It requires the inclusion and active engagement of associates at all levels of the organization, starting at the top.
At Capital One, we are all in on DIB. Everyone is included and everyone has a role. From our Board and Executive Committee members who set DIB direction and accountability to the more than 30,000 members of our seven Business Resource Groups (BRGs) including Out Front, Capital One's LGBTQ+ BRG, whose members advance LGBTQ+ awareness, inclusion and belonging in the workplace and in our communities.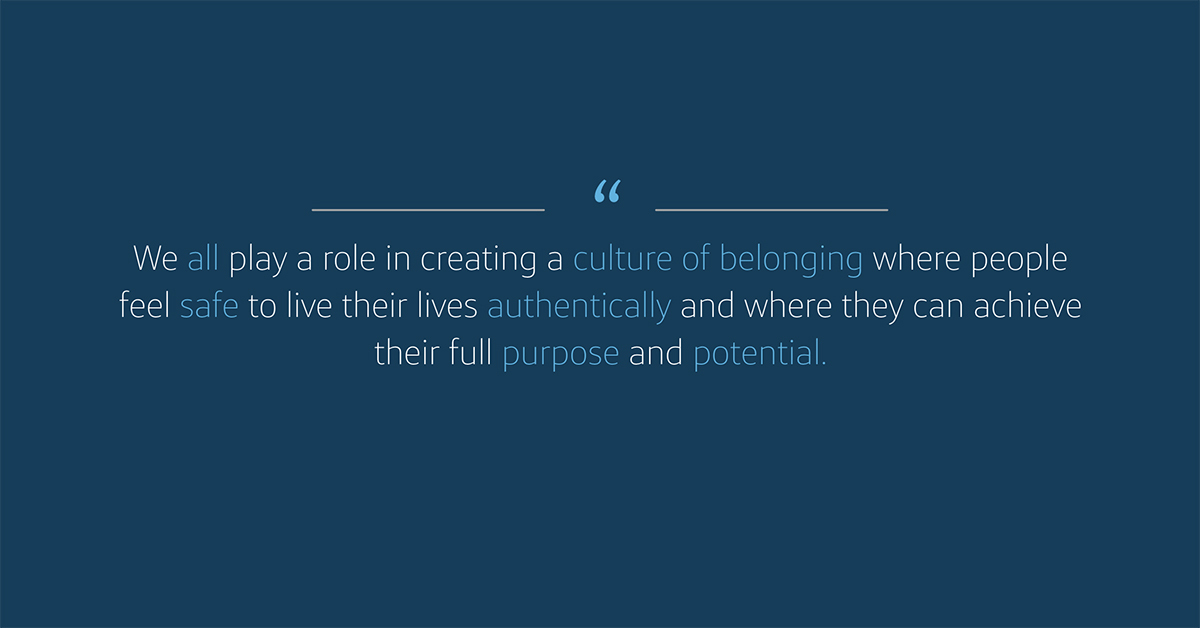 We all play a role in creating a culture of belonging where people feel safe to live their lives authentically and where they can achieve their full purpose and potential. That's what diversity, inclusion and belonging has meant to me, and why at Capital One we're all working together to build a better, stronger workplace for everyone. And that's something we can all be proud of.
Pride is not a parade. Pride is a movement.
Copyright © 2023
Opinions are those of the individual author. Statements are deemed accurate at the time of posting. Unless otherwise noted, Capital One is not affiliated with, or endorsed by, any company mentioned. All trademarks and intellectual property used or displayed are the property of their respective owners.