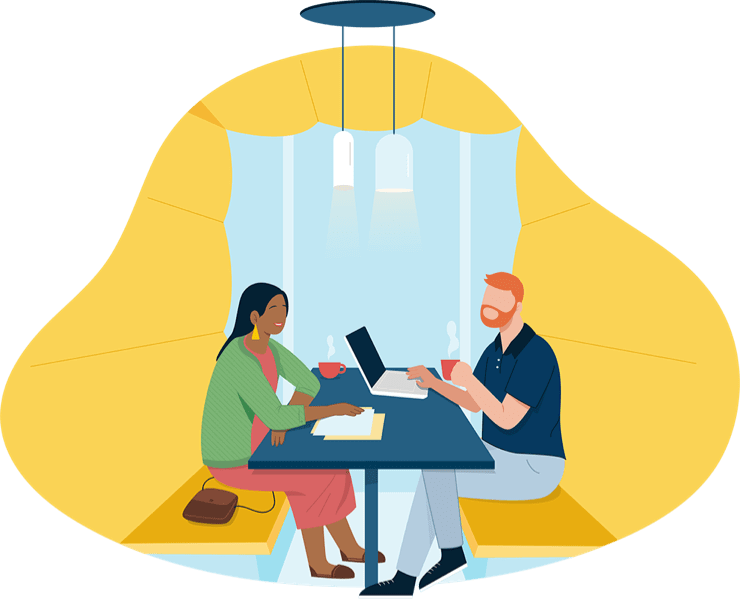 A company built on strong foundations
While creating Capital One, our CEO and founder Rich Fairbank had a vision. He wanted to create the type of company he'd like to work for himself. A company he'd want supporting his family. And a company that did good by doing right–for colleagues, customers and communities alike. A little over 25 years on, we're still putting in work to keep that vision on track. And, as you'll see, we've no plans of stopping any time soon.
Our strategy
Our associates play a big part in developing and driving our strategy every day. Teamwork is at the heart of everything we do and decisions are made by wisdom of the crowd. We place lots of value on diverse views and every person feels empowered to bring large, enterprise-wide initiatives to life in their own work.
Leaning forward
We have a growth mindset. We're always trying new things and learning from our successes and failures. Our open culture relies on ongoing feedback that helps our associates and leaders develop. We take ownership of our work and share our experiences with others so they can learn from us. It's an approach that encourages the fresh ideas and measured risk-taking that we need to keep our business moving forward.
Making work, work better
Here are just a few of the programs, initiatives and events that help our associates get more out of their working life at Capital One.
"I love that management applauds you trying new things and questioning management's decisions. They also really prioritize innovation from a tech perspective rather than just saying it." Anonymous Capital One Associate via All Associate Survey
The All Associate Survey
We encourage all of our associates to share their candid thoughts, feedback and experiences through our confidential quarterly All Associate Survey (AAS). It's how we capture the many varied voices of associates across Capital One, giving us the insight we need to grow and improve in ways that feel authentic, relevant and useful.
Invest in Yourself Days
Invest in Yourself Days were launched in 2020 to give tech associates one day a month to curate a program that meets their professional and personal growth needs. From tech college courses to exercise classes and much more, we provide associates with a list of on-demand and live events to choose from. These days of learning and growth also serve to show our associates how much they and their hard work are valued—and they continue to be adopted by more teams!
Performance Management
Our approach to Performance Management aligns with our long-held vision of attracting the best talent and giving them the opportunity to be great. Ongoing feedback is a big part of Capital One's open culture and reinforces our focus on the growth and development of every associate through training and access to new roles and responsibilities. We seek out the wisdom of the crowd and we also seek feedback—from peers, partners and leaders.
Meeting Management
In response to associate feedback that remote work was causing Zoom fatigue, we launched a Meeting Management program in 2021. Designed to increase meeting quality while reducing meeting quantities, one of the first deliverables of the program was a Meeting Playbook, designed as a one-stop-shop for how to run engaging meetings.
Backstage
Backstage is the name of our custom, internal virtual conference platform. Developed by our Tech and Corporate Communications teams, Backstage meets the needs of our associates in ways that external products can't, ensure a stellar associate experience for all future internal events.
SECON
Although SECON has only been happening for a few years, it has quickly grown into our largest internal Tech conference. Taking place across two full days, SECON creates a community experience for our associates that allows them to share their knowledge and grow their skills through a network of peers.
Percentage of associates who believe in Capital One's Values, according to our latest All Associate Survey.
Living by our values
It's how we show up and the caliber at which we perform, encouraging everyone around us to do the same.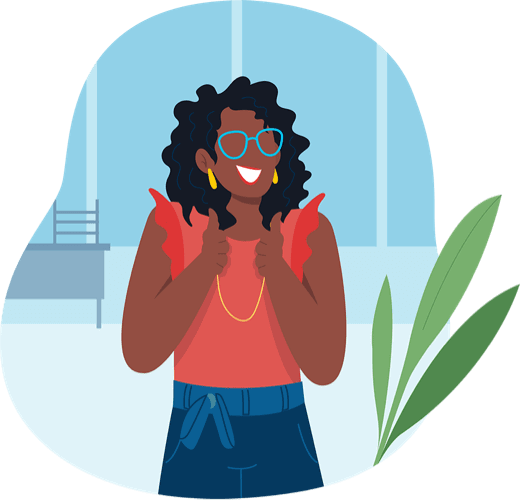 Strategically Bold
This is all about driving breakout innovation and thinking like an entrepreneur, while also respecting our strategic plan and direction.
Intellectually Rigorous
We look to every associate to exercise judgement, challenge conventional thinking, and make fact-based decisions.
Responsible
Doing the right thing is so important to us. That's why we encourage every associate to act ethically and thoughtfully, no matter their role or level.
At the end of the day, this is who we are, how we engage with each other and what's top of mind when serving our communities.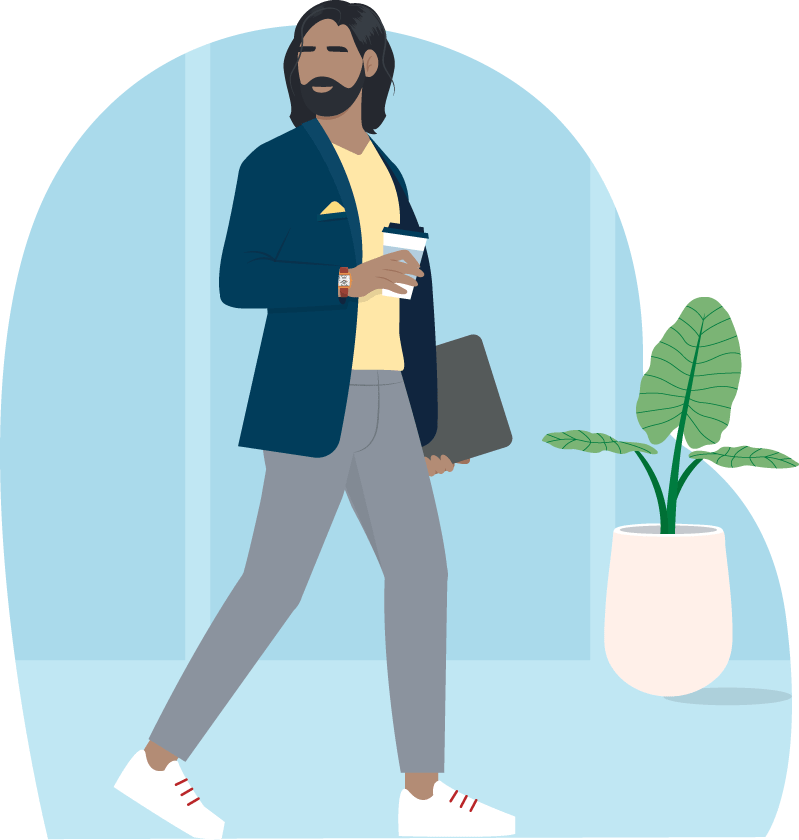 Vulnerable
Vulnerability isn't weakness. It's courage. It's strength. It's what allows us to show up as ourselves, speak our truth, share our ideas, and build a better Capital One for all.
Teamwork Mindset
We work collaboratively, sharing our information, time and knowledge with one another. This helps achieve great things for us and our customers–all while having fun.
Respectful
Whether it's elevating associates, giving back to communities or just being kind to ourselves, treating others with respect and dignity is something we all have a part to play in at Capital One.
Striking the right balance
From retail branches to people centers, either remotely or in-person, we work in a wealth of different ways. Here's a rough overview of how it all fits together.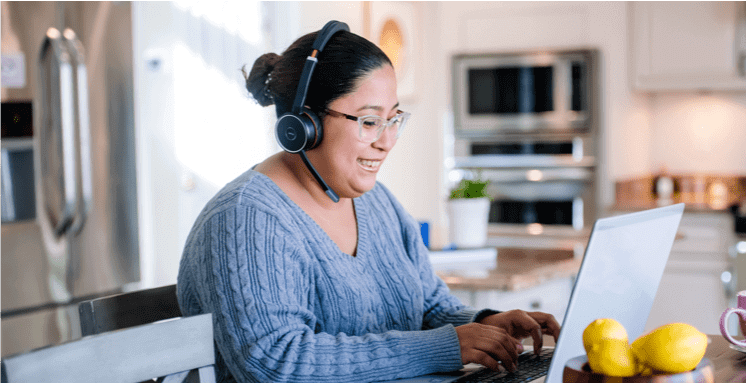 Contact Centers
Our Contact Center and Operations associates work from home. We heard directly–and through surveys–that associates wanted more individual flexibility and personal choice about where, when and how they work. So we made it happen.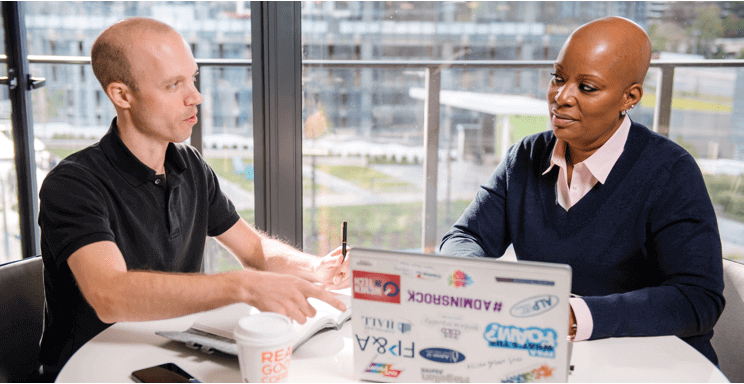 Corporate Offices
Our offices are open Tuesday through Thursday, offering our associates the opportunity to come into the office and be surrounded by colleagues, participate in team events, find mentors, build networks, and accelerate learning.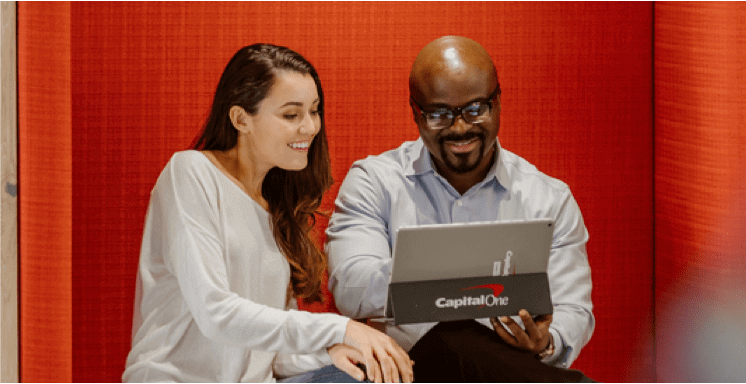 Cafés and Retail Branches
Across America, you'll find our Cafés and Retail branches. A role in one of these locations means working in-person to represent our brand, build solid relationships, solve problems and help customers plan out their financial goals.
Start your journey
We're excited about where it may take you! Begin your job search or connect with us about future opportunities.