How a rotational program can kickstart an exciting career
Congratulations, you graduated (or are getting ready to graduate)! What's next? If you're like many recent grads, you may be exploring your options and not sure what exactly you want to do. A rotational program could be the perfect opportunity for you. Through a rotational program, you can join a company and cycle through a few different positions to get a feel for different areas of business. To get a feel for the experience, a group of Capital One Rotational Program associates offered to share their insights on their individual programs and what they've loved about them, plus some advice for others considering joining a program.
What is a Rotational Program?
The rotational programs at Capital One begin with a group of recent graduates, who are excited and ready to drive impactful work throughout their 2 year rotation. As a participant, you'll be provided with opportunities to try a few different positions in your field in a variety of departments within the Capital One organization. While you undertake important projects and tasks with your team, you'll develop on-the-job skills you can carry through your career, while also uncovering your passion for specific roles and responsibilities. During your program, you'll collaborate and interact with a wide variety of people within Capital One, not just on your team, building relationships and a network of connections. You'll be paired with buddies and mentors in the program, as well as alumni who've graduated from your program, who will help make sure you feel prepared to tackle an exciting career after graduation.
Janee joined the Human Resources Rotational Program (HRRP) for many reasons, but one of the biggest factors for her "was really the structure of the program." She felt a strong connection with her cohort because everyone was a recent graduate, learning the ropes of having a career and finding a work/life balance that worked for them. Janee felt this fellowship from the start, saying "having that support of other people going through very similar experiences as you, and having the ability to reach out to them, connect with them, and coming in with a network already, it's such a great experience." Associates in the rotational programs build solid bonds within their cohort that last well beyond their graduation from the program. Janee added "the camaraderie in the community that I created was something that I was really looking for."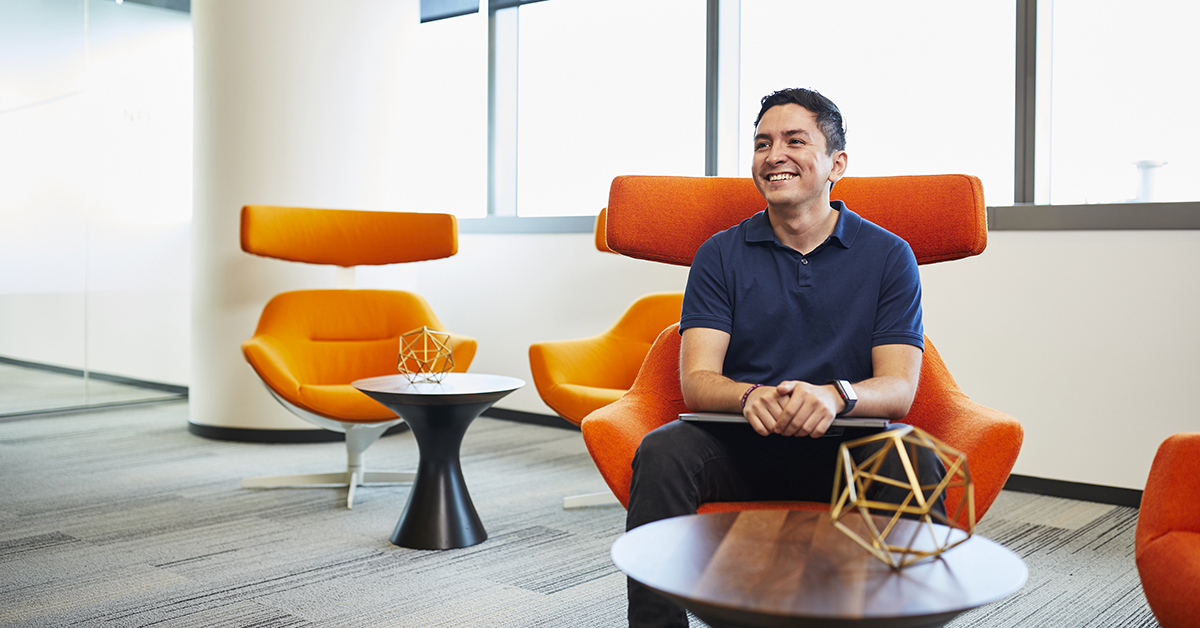 What kind of work do you do? How does it impact the larger work of the company?
Rotational Program associates have a unique opportunity to take part in exciting projects and important work in their 2 years within their program. Danielle joined the Commercial Rotation Program after completing a summer internship before her senior year of college. She explains "I knew that the Commercial Rotation Program would provide me with challenging opportunities to learn and the opportunity to move through different parts of the bank and develop key skills." During her two years, Danielle was even able to move to three different cities to gain that experience, a career move she's proud to have successfully navigated. She said, "this really challenged me to grow personally and professionally, as I explored three different parts of the bank and made lots of new friends along the way."
Rotational Program associates are encouraged to pursue opportunities that spark their interest and allow them to explore where those opportunities lead. In Kevin's experience, "the program does a really good job at letting you follow your own interests and seeing where that takes you." As a part of the Management Rotation Program, he was able to find a role that interested him and helped him define his career goals. He adds, "I think that's really important since you really want to use that first year in your first rotation to figure out what it is that you like and what you don't like. Then from there, the program helps put you in a spot where you'll have the best position to succeed since you'll be doing something that you really find interesting." This flexibility is a great first step in a rewarding career that you'll be excited about each day.
How can a Rotational Program help my career?
Rotational Program associates come from a wide variety of degree programs. Although Mauricio didn't have a degree in Computer Science, he was very interested in pursuing a software engineering position. He felt drawn to the tech field and the Capital One Developer Academy (CODA) was the perfect first step for him before taking on another position. He shared that he wasn't alone in his diverse background, explaining in his program, "you had people who studied psychology and visual arts, but all had an interest in learning more about computer science and bringing their unique perspectives to the field." This variety of perspectives offers a wealth of unique insights to the tech field and how these soon-to-be tech professionals could change their field. The opportunities offered by a Rotational Program can expand your career opportunities even beyond what your degree field may offer.
For Mike, his career path was unclear out of school. He wanted to explore a variety of options before making a choice and the Finance Rotational Program (FRP) was the chance he needed. "I'm a big believer that you don't really know what you want to do until you do it. I saw this as an opportunity to really get a diversity of experience, and really transition from college into working in a seamless manner," Mike shared. He added, "It was really helpful for me to be able to know that I'll be in one role for a year, be able to try that out, get that experience, and then after that timeframe, shift and focus to something that could be potentially completely different, and again, try that out for a year." The feeling of knowing that you have a year to try something new can offer a sense of relief and excitement when you aren't sure how to start out after graduation. Mike's experience in the FRP helped him test the waters and explore different facets of the financial industry in a supportive and educational environment where his growth and development are incredibly supported.
5 tips from Rotational Program associates for anyone considering applying
Kunrui, Analyst Development Program: "My advice would be to pick something you're completely uncomfortable with. So, for example, if you've never worked with a wide space project, go for that. If you're uncomfortable with marketing or credit analytics, go for that. I think the two year rotation program should be treated as one long learning experience."
Meghana, Design Development Program: "Keep an open mind. There are so many great opportunities at Capital One, and it's really easy to feel like you need to box yourself in. And for me personally, by not doing so, I've been able to work on a variety of projects and serve on multiple roles, and I feel like that gave me a really great look at design at Capital One."
Mike, Finance Rotational Program: "Embrace the responsibility you are given. From day one, I was really tasked with owning my own work and taking responsibility for the different aspects of my job. You're really tasked with finding ways to make it your own and really owning the end product and the full process."
Kevin, Management Rotation Program: "Don't be afraid to speak up. I think as a new person coming straight out of college, you offer a very unique perspective that most people don't have, especially those who have been working at Capital One for a long time. Every team that I've been on, I've been the new guy, and I've always been encouraged to speak up and provide my thoughts on how things can be done better or just even poking and prodding on why do we do this a certain way."
Tia, Tech Development Program: "Do not be afraid to ask questions. Everyone here loves it when you do. The whole entire point of being here is to develop something really cool and if you have questions about it, go for it. It shows that you're engaged and interested in what you're doing and that you're trying to learn and nobody will fault you for asking questions."
By choosing to take part in a rotational program experience, you're offering yourself a unique chance to see a variety of work on a diverse set of teams. If you're feeling a little unsure of your plans following graduation, this could be the ideal way to start a career path you never expected that brings you excitement every day.
To learn more about the rotational program opportunities at Capital One, you can check out the Campus Full Time Programs page on the Capital One Careers site or watch this video playlist to hear more firsthand experiences from associates themselves.
Copyright © 2023
Opinions are those of the individual author. Statements are deemed accurate at the time of posting. Unless otherwise noted, Capital One is not affiliated with, or endorsed by, any company mentioned. All trademarks and intellectual property used or displayed are the property of their respective owners.