Why associates come back to Capital One
In 2009, Michael Benadon made the decision to leave Capital One when his career with the enterprise would have required him to relocate his family. The former Tech leader started working at an insurance company, but soon found himself missing our culture that prioritizes creating a welcoming space for all.
Michael came back to Capital One in 2011 and traveled weekly from his home in Boston to other offices. So much travel quickly grew tiresome. After much deliberation, he made the difficult decision to leave the company for a second time in 2014, and once again longed for Capital One's passionate associates. Michael rejoined Capital One in 2019, excited by the opening of our Boston office, as a managing vice president for talent acquisition. And now? He has every intention of staying with the company for good.
"Both times I left, I told my colleagues to stay in touch about any positions that might open," Michael said. "I found myself comparing whoever my employer was to Capital One. I felt this pull to rejoin. I knew I'd come back."
Michael is part of a strong wave of "boomerangs"—employees who return to a company after leaving it. Boomerang workers made up 4.5 percent of all new hires among companies on LinkedIn in 2021, compared to 3.9 percent in 2019, according to the Wall Street Journal. At Capital One, our boomerang associates cite our benefits, cutting-edge technology and professional development as reasons for their return.
Michael shared that the most important thing you can do when leaving a company is to exit in good standing with your coworkers. You never know when an old colleague might present a new opportunity.
"Nurture those connections you make," he said. "You never know when it might be time to return. You want to leave the door open."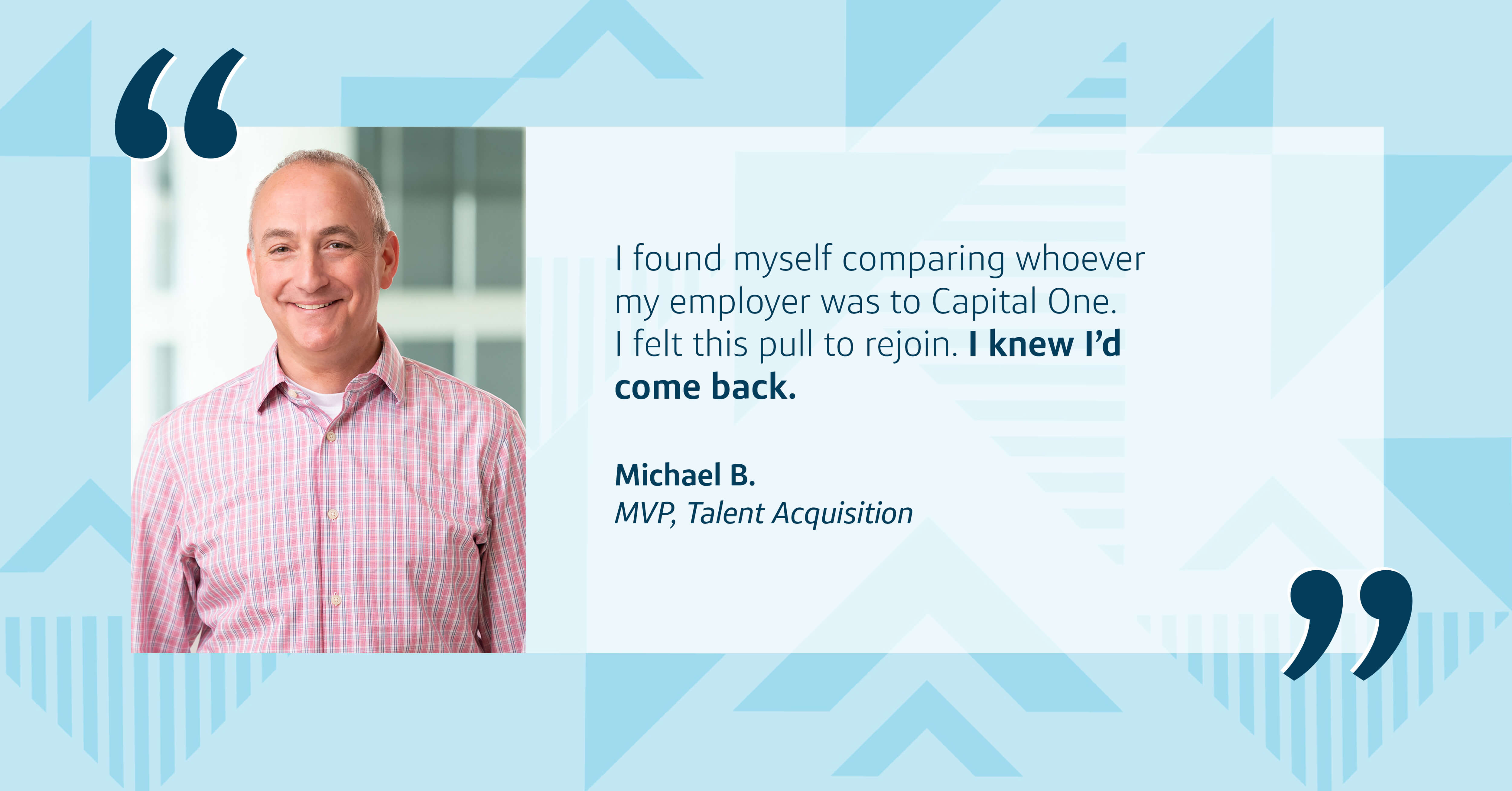 Finding growth opportunities
After eight years of steady career progress at Capital One, working in various roles that included researching customer complaints and handling audits, Katrina felt ready to explore a new industry.
In 2020, she began working as a project manager handling customer information system implementation for a gas service company in Las Vegas. Katrina quickly missed Capital One's emphasis on career development and the conversations and networking opportunities with VOICES, our Business Resource Group for Black associates and allies.
In her first rotation with Capital One, Katrina completed the Magellan program, a customized, comprehensive nine-month career management and leadership development experience for associates in VOICES. The program helped Katrina build a career development map, develop her personal brand and identity and eliminate obstacles preventing her success. Growth opportunities like Magellan were lacking in her new role outside the enterprise.
"Forward-thinking comes with being at Capital One," Katrina said. "People are thinking about what the future of banking, the future of tech, the future of their careers look like."
Katrina kept in touch with her manager and colleagues while she was away. They sent her job openings, and she searched for roles that interested her until she rejoined Capital One in March 2022 as a principal process manager for our Card business.
"Being gone made me realize how much there is to life at Capital One," Katrina said. "I could come back and do work that excited me and make a difference. It was a freeing feeling to return."
Returning for innovative tech
David didn't intend to work at Capital One again when he left in 2013. After nearly six years of identifying investments and sponsoring projects for our Innovation Lab, which focuses on the intersection of emerging technologies and finance, he was ready to pursue a career in start-ups.
"It's always been important for me to try new things," David said. "I've spent my career jumping between small and large companies because it keeps work fresh. I want to work on different projects. I always want to be learning something new."
David spent the next eight years working for companies that focus on social networking, mobile fraud prevention and health care. Each job was a crash course for David to improve his skills in financial technology, e-commerce and machine learning.
He followed Capital One's progress in tech while away, noting our early adoption of Amazon Web Services and in-house training resources that help associates adapt and adopt cloud-ready skills. Inspired by the chance to work with cutting-edge tech like artificial intelligence, machine learning and data analytics, he jumped at the chance to come back to Capital One, and returned in May 2021 as a director of product management for our Digital team.
"Capital One has become a leader, not just with banking but for all business segments, in cloud technology," David said. "Being able to work on such cutting-edge systems—at a place where people are friendly, eager and helpful—is a big part of why I returned."
In Michael's opinion, returning associates better the enterprise because they bring new and improved talents.
"Boomerang associates bring new perspectives, new ideas for products and great enthusiasm," Michael said. "They're excited to be back and share what they've learned."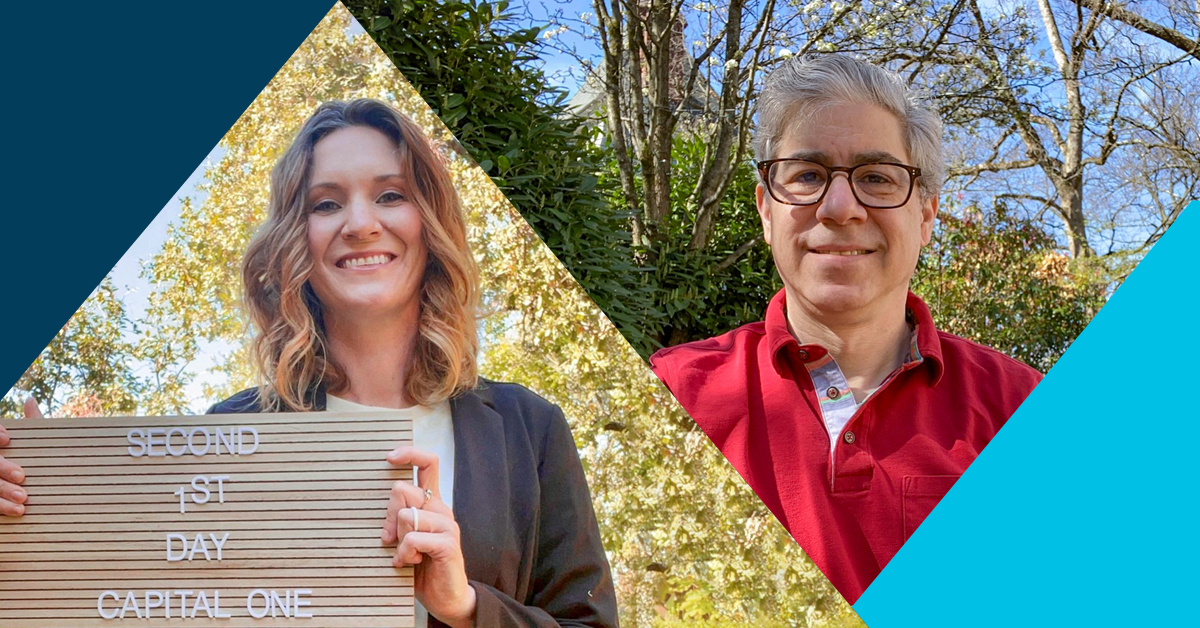 Monique and David both returned to Capital One.
A welcome homecoming
What was meant to be a month of celebration turned into one of the most challenging moments of Monique's career in July 2019.
Monique, who started as a bill collector at Capital One when she was 19, developed her career to ultimately support talent management, leadership development and organizational design. She was days away from celebrating her 20th anniversary when she made the tough decision to leave so she could fully focus on her health.
"I grieved when I left," Monique said. "I loved every minute of my life at Capital One. The company has been with me through marriage, adoption and babies being born. I wasn't sure if I would be in good enough health to return."
After two years of surgeries and caring for her family during the pandemic, Monique was ready to work again. She saw a LinkedIn post from a former colleague about an open process management role for Capital One Tech. Monique messaged her acquaintance about the position, submitted an application and completed multiple interviews. She landed the job in October 2021.
"I'm thankful I had my background, because I knew our structures and processes," Monique said. "The work came naturally when I started again."
Michael echoes the sentiment—he sees boomerang associates' familiarity with Capital One as one of their biggest strengths. They come back with established new and improved talents, credibility and relationships that help them get a jumpstart on their new job.
"I remembered all of my log-in information when I came back," Michael said. "A boomerang knows how we work. It's a good recipe for success."
As Monique got to know her new job responsibilities and colleagues during the first few weeks, a familiar feeling seeped in.
"Life seemed normal again," she said. "There's a home for me here at Capital One."
Copyright © 2023 Opinions are those of the individual author. Statements are deemed accurate at the time of posting. Unless otherwise noted, Capital One is not affiliated with, or endorsed by, any company mentioned. All trademarks and intellectual property used or displayed are the property of their respective owners.