How adoption and parental benefits helped create a family of four
The decision to add a second child to your family is exciting for most parents. For dads Ethan and Jeff, that excitement went hand in hand with the complications that come with many adoptions: uncertainty, adoptions that fall through and lots and lots of waiting. Luckily, Ethan and Jeff had the support of friends, family and colleagues that understood—as well as benefits that helped them on their journey to parenthood for the second time.
Today, Ethan and Jeff have two young children, Sloan and Gage. Ethan is a hands-on dad: he loves to bake, play and sing Disney songs with his kids. Early weekend mornings are a given, as are bi-lingual educational TV shows and long walks with their kids and dog. When reflecting on his family, Ethan remarked "to be given the gift of a family has truly been a miracle. My husband and I are so appreciative of the birth families that chose us."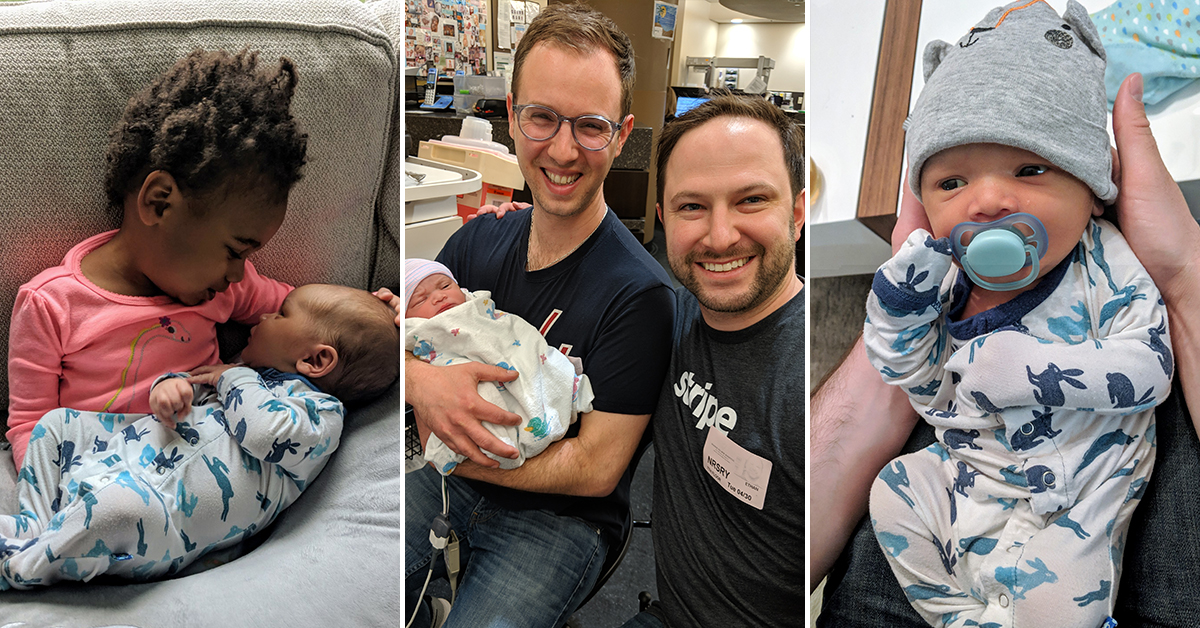 The comfort of supportive colleagues through adoption set-backs
"I had been at Capital One for about a year and we were going through the adoption process for our second child," says Ethan, who works as a Chief of Staff on the Card & Small Business Tech Operational Strategy Team. "We matched with a birth mom, and I prepared my colleagues and my manager for my paternity leave. The unfortunate thing we faced, which can happen to adoptive parents, is that that birth mom ended up changing her mind at the last minute. That was a tough time for me."
Ethan had a team meeting shortly after receiving the heartbreaking news. "My team was incredibly supportive in that moment," he says. "People came up to me individually, which was exactly what I needed, since I am a private person. I felt like colleagues were there during that difficult time for me. They knew me well and knew what I needed."
One fateful phone call leads to a new addition
Fortunately, things turned around when Ethan received a call while at work in 2019. "As luck would have it, that difficult time very quickly turned into an amazing time," shares Ethan. "Just a couple weeks later, the adoption agency told me a birth mom came to the hospital and indicated she wanted my husband and me to be the parents. It was just relief and excitement and so many emotions."
After that phone call, Ethan rushed home, packed his bags and hopped on a plane to Florida with his husband and two-and-a-half year old daughter.
He knew his team had his back and he could jump on this opportunity without worrying about things at work. "In such a personal and emotional time, the associates around me supported me," he shares. "My colleagues went above and beyond to make sure that I could take the time off that I needed to. I remember them stepping up and telling me to disconnect from work immediately so I could spend time with my newborn son. I had a team of people who were there to make sure that I could be a dad first and foremost."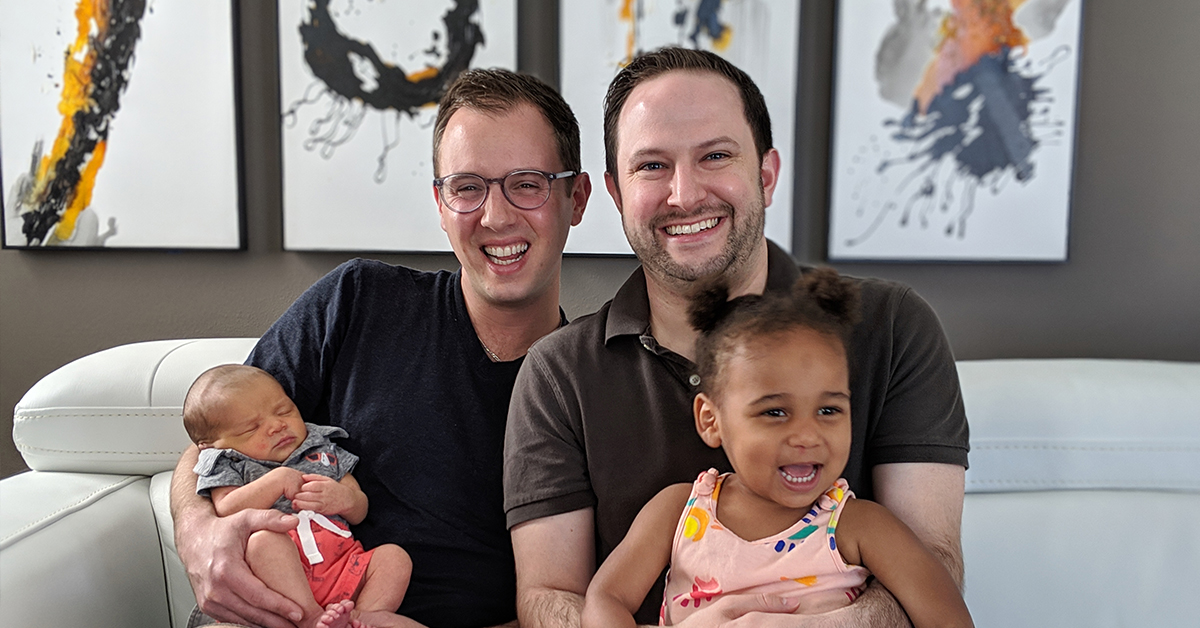 Benefits that support your whole family
"From the moment I interviewed at Capital One I was told that Capital One valued work/life balance and valued family," shares Ethan. "More recently, I was in a video meeting where I had my baby and was holding him with a bottle, and I had senior executives messaging me, 'Nice skills holding that baby bottle.' That is the kind of company that Capital One is. Our leaders are always thinking about what our associates need to be the best parents they can be and come to work and feel like they belong."
That support goes beyond supportive colleagues and extends to benefits that help the whole family. Associates, like Ethan, can care for and grow their families as they feel best. The Adoption and Surrogacy Reimbursement Programs provide guidance and financial support to associates who choose to build their families through those means. In addition to generous maternity leave, associates can take eight weeks for Paternity Leave, Adoption/Foster Care Leave, and Birth via a Surrogate. These benefits help support associates to realize their family dreams, however they feel best works for them.
For any family looking to adopt, including LGBTQ parents, these benefits have huge implications in removing a financial barrier. "Capital One embraced me with their benefits and policies," Ethan shared. "I used the Adoption Reimbursement Program for my adoption, which I'm incredibly grateful for. Adoption is certainly expensive and it's amazing to work for a company that recognizes that it's a great option to start a family for all types of families, not just LGBTQ families."
A culture where diversity is celebrated
No matter what a family looks like, they have a place at Capital One. "I am a married gay man with two children of color," shares Ethan. "My colleagues embrace my family with as much excitement and support as I could imagine and hope for any type of family. You can show up as who you are and be open about that with everyone and know that they're there to welcome you and embrace you. From the moment I started at Capital One, I felt like I belonged."
As Ethan reflects on his journey to grow his family, he sees how far he has come and appreciates what he has. "To be honest, when I came out I wasn't sure I could have a family," shares Ethan. "I was first lucky to find someone who wanted to spend the rest of his life with me. To also be given the gift of a family has truly been a miracle. Every moment that I have with my kids and with my family is a really precious moment to me."
Copyright © 2023 Opinions are those of the individual author. Statements are deemed accurate at the time of posting. Unless otherwise noted, Capital One is not affiliated with, or endorsed by, any company mentioned. All trademarks and intellectual property used or displayed are the property of their respective owners.