Developing cutting-edge skills with Tech College
All Capital One associates can enroll in Tech College, a learning platform created in-house that offers thousands of free courses for developing new tech skills. Tech College has self-guided and live courses to accommodate various learning styles and schedules. Discover how the learning platform is helping associates build their tech knowledge.
While Vanessa's career has spanned various roles at Capital One, including making an impact for customers in our call centers and now working as a Risk Manager for our Anti-Money Laundering program, one constant has been sticking to her personal mission statement.
"Empower others while continuously learning."
Vanessa consistently pursues life-long learning through Capital One's Tech College, a state-of-the-art learning platform created in-house that enables associates to participate in courses to acquire new skills and further develop their tech knowledge. Associates design and deliver comprehensive curriculums. They teach the latest tech advancements and share foundational trainings with associates so they can build skills from the ground-up and learn how to use them to help Capital One regimagine banking.
"As I've moved from an investigative, non-technical role to leading a team with a focus on advancing through technology, I've leaned heavily on Tech College," Vanessa said. "These courses enabled me to quickly build a foundational understanding of our data infrastructure and the various tools we use to build our models. This context helps me to remove impediments for my team and consider new and creative solutions."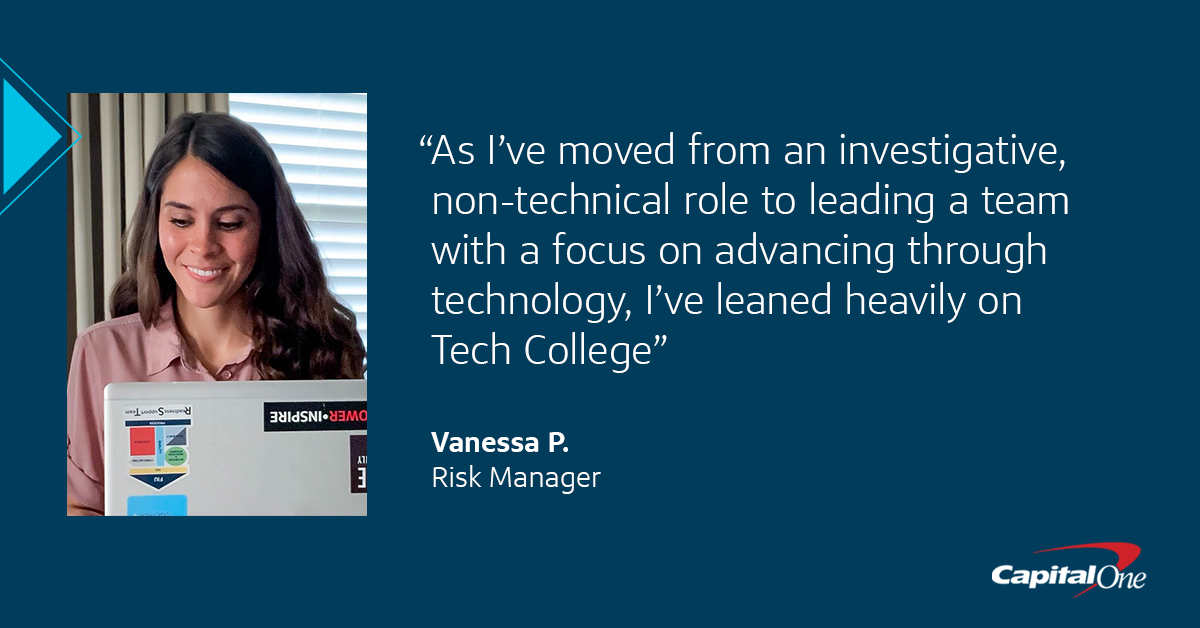 Customize your learning
Tech College gives every associate—both in tech and non-tech roles—access to thousands of free training and certification courses across seven disciplines—agile, cloud, cyber, data, machine learning and AI, mobile and software engineering—to develop skills that help create and future-proof a career in tech. The platform delivers a combination of live classes and pre-recorded courses to accommodate various schedules and learning styles. A schedule for live courses is released every month with subjects like programming languages, mobile tech, machine learning algorithms, cybersecurity and more.
Tech College is open to all associates, regardless of their job family, to help everyone increase their tech fluency and understand how technology helps Capital One become an industry leader. As the machine learning discipline exemplifies, many of these courses show how tech skills are used at Capital One and in the wider world.
Vanessa has enrolled in Tech Colleges classes on Python, Snowflake, agile processing and structured query language. She uses the learning platform to take exam prep courses as she works on her Amazon Web Services Solutions Architect certification.
"I stepped into the product owner role with heavy imposter syndrome weighing me down," Vanessa said. "Through the support of my team, Capital One and Tech College, I learn and gain more confidence every day."
Pass along knowledge as a Gosu
As associates develop skills and earn certifications through Tech College, they can support the growth of others through peer-to-peer learning. Capital One Gosu, a Korean term for a highly-skilled person, are subject-matter experts in a field of their choosing who contribute to the learning platform by teaching live courses, creating pre-recorded classes and leading study groups.
So far in 2021, there were more than 429 Gosu contributors to Tech College who have collectively contributed 5,000-plus hours to Tech learning. Matthew, a Senior Software Engineer who has been a Gosu for two years, taught 11 courses in 2020, including "Developer Bootcamp," "Code Review—Best Practices" and "Introduction to Git."
Matthew shares that teaching helps him improve his presentation and leadership abilities and network.
"Capital One is a place that will give you the opportunities to succeed," Matthew said. "Be it the opportunity to learn new technologies or take on responsibility. I have never felt more empowered at a company. Tech College is constantly providing me with ways to grow."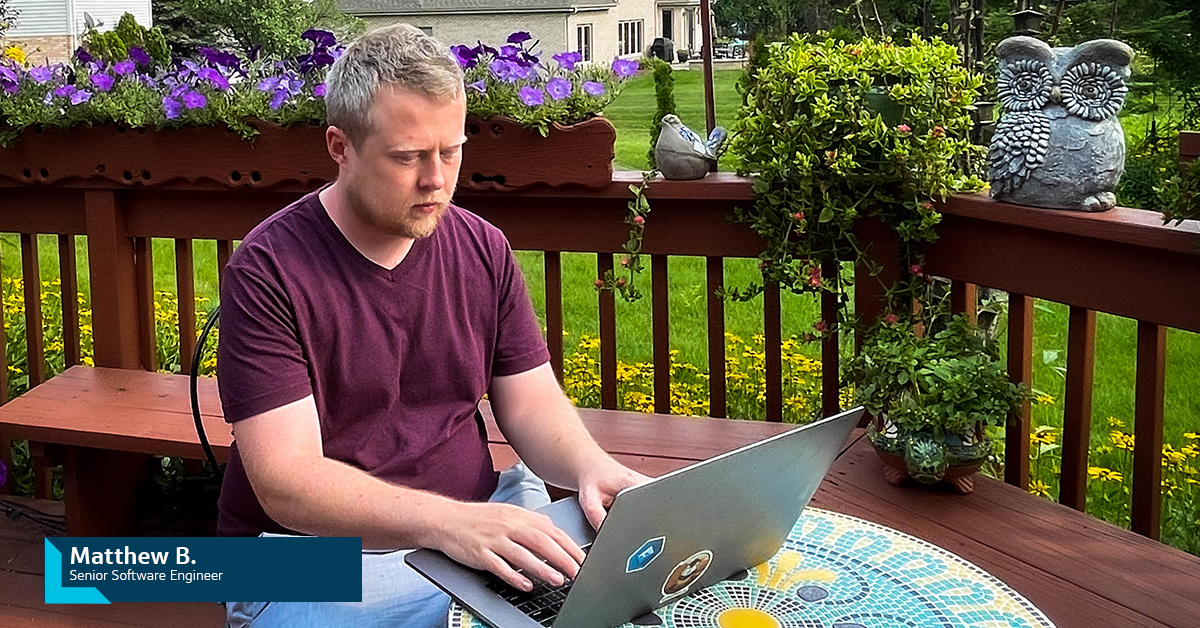 A wealth of learning opportunities
Tech College is one of many learning platforms available to associates to support growth and development and foster interests and passions.
Beyond the hard tech skills Tech College provides, Capital One learning management platform, One Learn, offers opportunities to develop expertise in presenting, problem-solving strategies, mindfulness, emotional intelligence and more. Associates also have access to a full catalogue of courses from Udemy, LinkedIn Learning, Coursera and more.
"This not only facilitates efficiencies within our teams, but it also demonstrates how invested we are in our associates' continued development and engagement," Vanessa said. "I have most valued being given the room to fail and learn."
Capital One's rich selection of career development opportunities provides the freedom for every associate to choose when and how they learn.
Copyright © 2023 Opinions are those of the individual author. Statements are deemed accurate at the time of posting. Unless otherwise noted, Capital One is not affiliated with, or endorsed by, any company mentioned. All trademarks and intellectual property used or displayed are the property of their respective owners.