Let's break down Silos: Cross-Training Engineers and Analysts
Can a data engineer become a data scientist, and vice versa? How can you grow your skills to become a well-rounded data professional? Even if you're an experienced data professional, you may still want to expand your knowledge and stretch in your career. For Sreekanth, training opportunities and a culture of support helped him grow from data analyst to data engineer.
Sreekanth was in a career advancement program that helps create well-rounded data professionals. "At Capital One, we have different data specialists, like data analysts and data engineers," he says. "But the work overlaps in meaningful ways. Some of the data analysts need the data engineering skills to complete a product end-to-end. And some of the data engineers need the analysis skills to understand the context and the data."
To address that gap, Capital One data leaders created a learning path to support all of the different data specialists in the company. It offers relevant skills programming to cross-train engineers and analysts to become experts in all things data. And it all takes place during regular business hours!
Customized training, tailored to your skillset
Sreekanth joined Capital One as a data analyst, but he could grow his career in the way he wanted. "I was able to complete the program and become an engineer," he says. In about four months, he spent close to 150 hours training himself in various topics via the learning path!
Over 50 different courses are available through the program, covering technical skills, business acumen, problem solving and machine learning. The end result? "It enables you to build any product end-to-end," says Sreekanth. "It touches all the different streams that you need to succeed in your job."
In the learning plan, Sreekanth has taken different modules customized to his skillset in a mix of instructor-led courses and training from peers on a different team. "You are asked about all the tools and your background," he explains. "And based on that, they give you a customized learning plan."
Sreekanth reflects on what he's gained from the experience. "It's not easy to capture real-time data and perform analysis in real-time. And there are some advanced tools like Kafka that Capital One uses, which I didn't have experience with before. I was never exposed to that kind of work. But thanks to the training, I was able to interact with the team that is actually using it and understand from them directly how Capital One is using it."
He also gained CI/CD pipeline experience through the program. "I didn't have CI/CD experience before which is the building-block of the Dev-ops ecosystem," he says. "How can I release a code version at the push of a button? How can I seamlessly deploy software products without human intervention? I was able to learn these technologies through the program."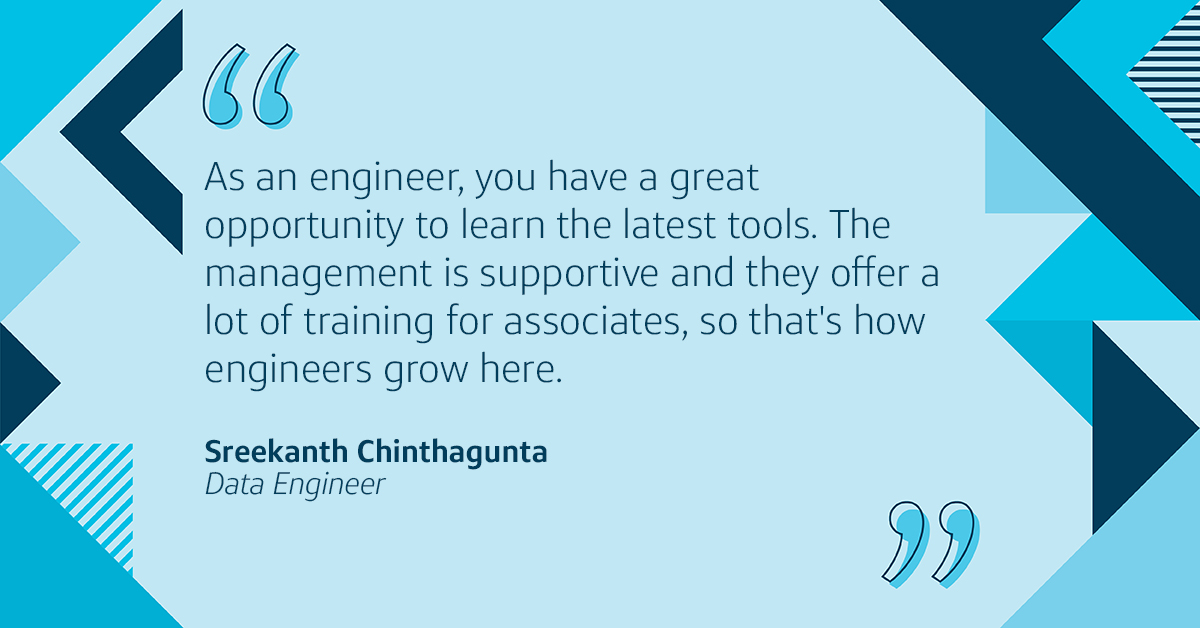 Ongoing learning for real customer situations
All of this learning comes in handy in Sreekanth's role as a senior data engineer on one of Capital One's Marketing and Analytics team. He works with Spark and builds Big Data pipelines on a data science team. The team has over 150 models, and an understanding of the full picture is key.
"Some models are Linear Models, some are complex models, like gradient boosting models," he says. "And all these models need to be applied to huge data and be deployed in production through proper data governance principles. And for that, you need technical skills like Spark and AWS, data governance principles to address security vulnerabilities and analytical skills to work with business teams. So that's what I use day-to-day. As a data engineer, I provide support to the data science team. I make sure these models go to the production seamlessly."
It's the data engineering team that brings these models into production for the end users. "Almost all users consume these models, because these are the core models that can tell you how your business is doing."
"Capital One offers great tools for you to learn because the company uses the most advanced tools available," he shares. "As an engineer, you have a great opportunity to learn the latest tools. The management is supportive and they offer a lot of training for associates, so that's how engineers grow here."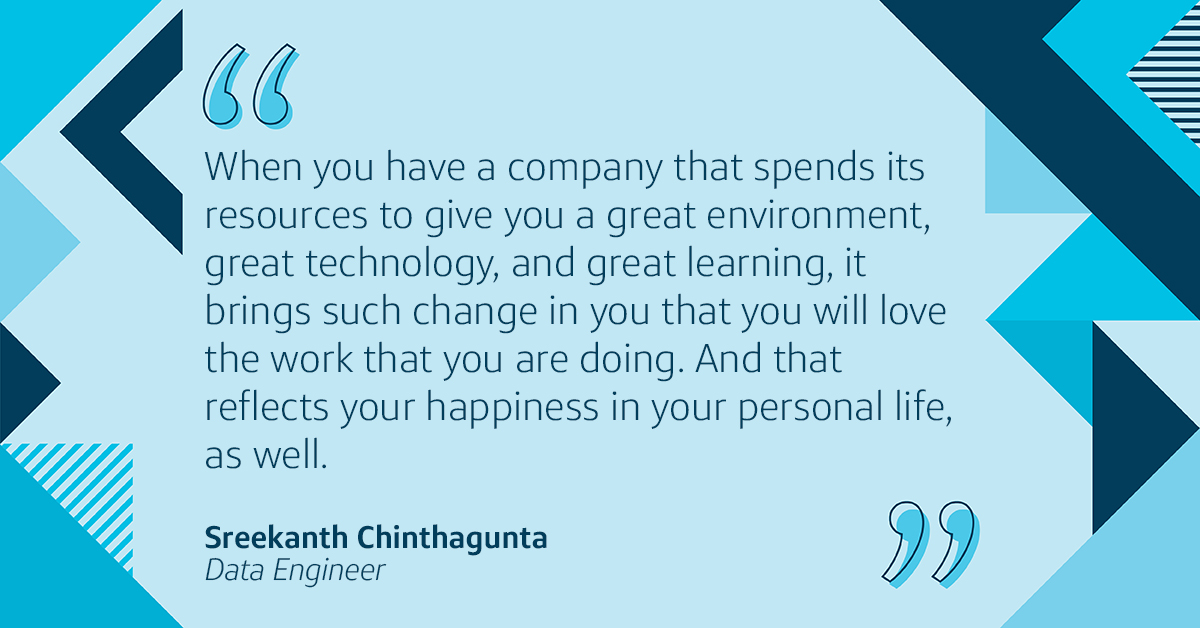 Respecting lives outside of work
Outside of work, Sreekanth enjoys attending activities and events with his team. "Capital One has a lot of community events that we do regularly: sports, team events, happy hours, team fun days, team lunches. And there are a lot of community service events."
He can also be spotted on the cricket ground! "Being in Dallas, we have a great Indian community, so I can participate in sports," he says. "I play cricket with my teammates. Most of them are Capital One associates."
Enjoying life in and outside of work is connected for Sreekanth. "Every day when I wake up, I want to go to work, meet my associates, learn the technologies and participate in community events," he shares. "When you have a company that spends its resources to give you a great environment, great technology and great learning, it brings such change in you that you will love the work that you are doing. And that reflects your happiness in your personal life, as well."
Are you looking to develop your skills in a supportive environment? Find a career where you can learn and grow.
Copyright © 2023
Opinions are those of the individual author. Statements are deemed accurate at the time of posting. Unless otherwise noted, Capital One is not affiliated with, or endorsed by, any company mentioned. All trademarks and intellectual property used or displayed are the property of their respective owners.