OnePatents: Innovation and invention for all
Catelyn's phone and computer were never-ending alarms when she was an administrative assistant. She'd receive emails, Slack messages, Google chats and texts meant for herself and the five directors she supported.
Catelyn tried finding a tool that funneled her messages into one channel, but nothing worked efficiently. So she developed an idea for a program that combines messages and tasks from multiple platforms into one interface.
"I wrote down how I thought the platform might work and all the features it might have," said Catelyn, now a user experience (UX) designer. "I was inspired by my tech colleagues' innovation and creativity."
Catelyn presented the idea to her manager at the time, who encouraged her to pitch it to Capital One's OnePatents program. The OnePatents team helps associates across all levels and job functions convert concepts and innovations into patent applications, encouraging everyone to become an inventor within Capital One.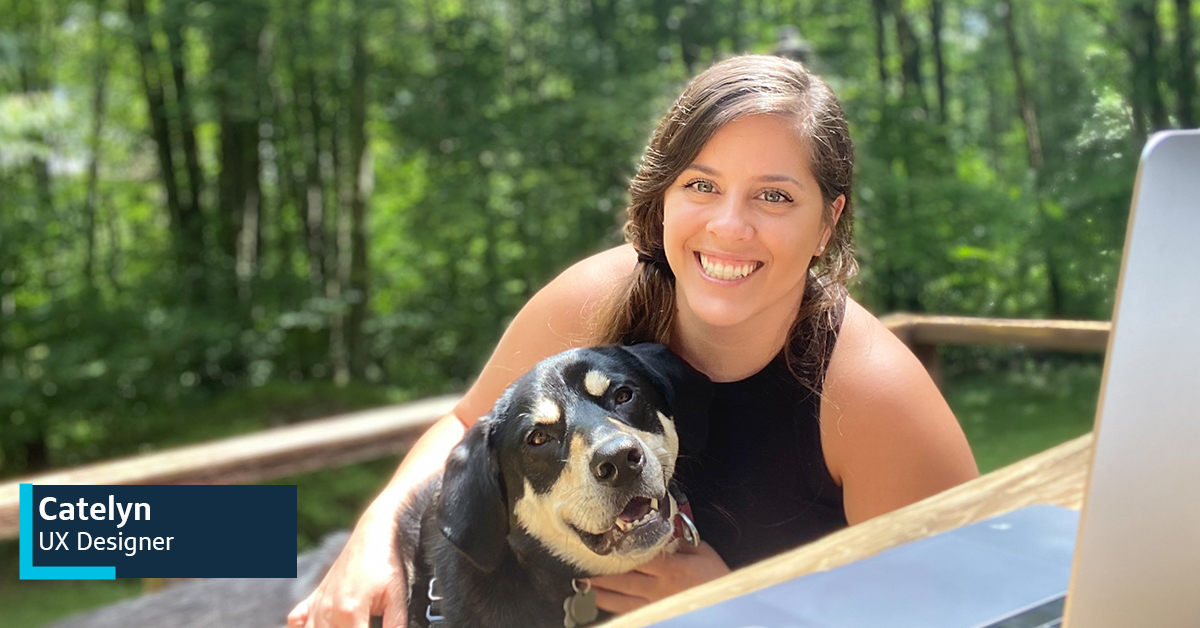 Helping associates file patent applications
OnePatents makes the patenting process a smooth and stress-free process for associates once they submit their ideas. The OnePatents team will determine the idea's business value and novelty, partner with the associate to flesh out the details, brainstorm around additional technical improvements and draft and file the application at the U.S. Patent and Trademark Office for approval.
Associates can submit ideas to OnePatents at any time. The program also hosts an annual derby, a month-long race in which teams compete to submit the most patentable innovations to OnePatents.
Inventors have submitted thousands of ideas for patent applications during past derbies, helping Capital One lead the financial services industry in U.S. patents awarded since 2019. It is this invention culture powered by the OnePatents program that has helped grow the patent portfolio to over 2,900 U.S. patents—up from 150 in 2017.
Brandon, chief patent counsel and a portfolio manager for OnePatents, says Capital One has become successful with obtaining patents because the enterprise emphasizes everyone can be an inventor.
"Innovation happens at all levels and positions at Capital One," Brandon said. "It's not just our engineers. Our Café ambassadors, human resources associates and financial analysts all find small improvements that make a huge difference to our customers and associates."
Making everyone an inventor
Ebrima, a senior distinguished engineer for Cyber, leads a collaboration between OnePatents and Blacks in Tech, our Business Resource Group (BRG) for Black technologists and allies. He organizes patent info sessions, parties to submit ideas and office hours for Blacks in Tech members to talk to the OnePatents team.
Blacks in Tech members had a 250 percent increase in patent applications filed between 2020 to mid-2022. Ebrima has submitted about 12 ideas for patent applications, including an idea for a price comparison tool through Capital One Shopping.
"It doesn't matter if you're a junior associate, admin or engineer," Ebrima said. "We all have ideas, and Capital One knows that. They make it easy with a pipeline to make your patents possible."
Rio is making the patent pipeline even easier as part of her work as product manager with the Capital One Innovation Lab. She sets up patent sessions with experienced inventors and events to coach associates in our BRGs and product teams to submit their innovative ideas.
Since starting her position in February of 2021, Rio has helped submit about 100 ideas for applications to OnePatents. One of her applications, which is pending approval by the U.S. Patent and Trademark Office, uses machine learning to help people manage their calendar and prioritize tasks.
"Growing up, I thought of inventors as old, white men," Rio said. "Capital One has helped me see that everyone can be an inventor, including myself. It feels like I'm dreaming because I never imagined myself being able to create so much."
Building additional skills
Even though Catelyn is waiting for the U.S. Patent and Trademark Office's ruling on her communications tool, she has already found success through the patent process. While working with OnePatents on her application, Catelyn taught herself user experience (UX) design to take her idea further.
After working with a career consultant through the Career Development Center to identify design as a possible new direction, she used her free Capital One membership to Udemy and Coursera—both digital learning platforms—to take beginner UX courses. Once Catelyn's previous manager introduced her to UX designers so she could learn more about the field, she worked closely with her new design mentors to create her first UX portfolio and prepare her application for a UX designer position.
Capital One's resources helped Catelyn make the career jump from administrative assistant to UX designer in March 2022.
"Before I started at Capital One and got connected to OnePatents, I wasn't sure of the career path I wanted to take," Catelyn said. "I didn't have a five-year plan back then, but now I do. The whole process of working on my idea with the patent team opened new doors and helped create a vision for myself and where I want my career to go."
Copyright © 2023 Opinions are those of the individual author. Statements are deemed accurate at the time of posting. Unless otherwise noted, Capital One is not affiliated with, or endorsed by, any company mentioned. All trademarks and intellectual property used or displayed are the property of their respective owners.