Blacks in Tech: How Black technologists connect and thrive
A diverse and inclusive workplace with diverse teams at all levels brings together unique perspectives and helps ensure that you're approaching challenges from all angles. Representation also helps to inspire and encourage future generations to expand their career horizons, all because they are able to see someone that looks like them succeeding and leading in a role. The Blacks in Tech Business Resource Group is composed of associates who are passionate about empowering each other and their broader communities. Learn how they are creating a space through education, volunteering and leadership, where Black technologists can connect and thrive.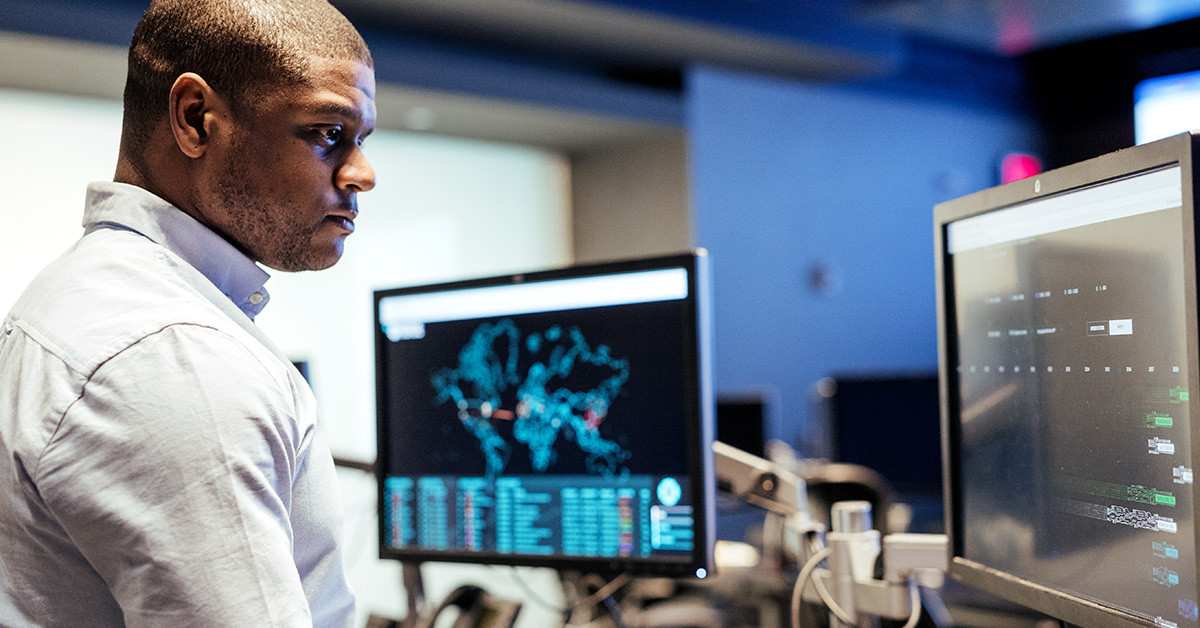 A group for Black technologists
With chapters in six Capital One locations across the United States, Blacks in Tech offers a large community of associates collaborating within an inclusive and welcoming environment. Blacks in Tech was launched in 2017, following the success of another community, Women in Tech. As Devon, Senior Director of Cyber Intelligence, explains Black in Tech aims "to create an inclusive environment and ensure that people of color who are in the technology field have a pathway to success at Capital One."
The group focuses their efforts on three larger goals: welcoming a diverse population of tech associates in an inclusive environment, creating a strong community and providing development opportunities for Black associates' career growth. "The Blacks in Tech community has been a welcoming place where I am encouraged to bring my whole self to work," says Joy, Senior Process Manager at Capital One. "We have a place to be heard and seen as it relates to our culture and our experiences in career and beyond. We learn from each other personally and professionally, and we can be vulnerable without penalty and share that knowledge with others."
Across Capital One, Business Resource Groups (BRGs) create support and community by bringing together associates who share common experiences. The Blacks in Tech BRG works closely with Hispanics in Tech, Women in Tech and an Equality Allies group to ensure everyone finds their welcoming space at Capital One. Through these connections, associates find resources and inspiration to continue growing personally and professionally.
Representation matters
For many, seeing leaders from diverse backgrounds shows that there is a path for growth. Maureen, VP of HR technology, uses her leadership platform to inspire others. By stepping out of her comfort zone as an introvert, she makes sure her voice is heard and she is seen as a Black woman in tech leadership. For Lisa, Director of Data Engineering, supporting her team's development and growth is how she inspires others, both in the office and through volunteering. "I can't explain how much it means to me to work with associates and leaders who understand how much representation matters, at work and in the community," shared Joy.
Seeing yourself reflected—and feeling that you belong—makes a huge difference. "It's creating a community for Black technologists where they can see associates just like themselves and be able to learn and grow and help each other continue to advance in their careers," says John, Senior Communications Manager in Technology at Capital One.
Jarrod, a Senior Software Engineer, adds "when I first started at Capital One, there was just something special about the environment. They asked me what my ideas were and my ideas were valuable to them."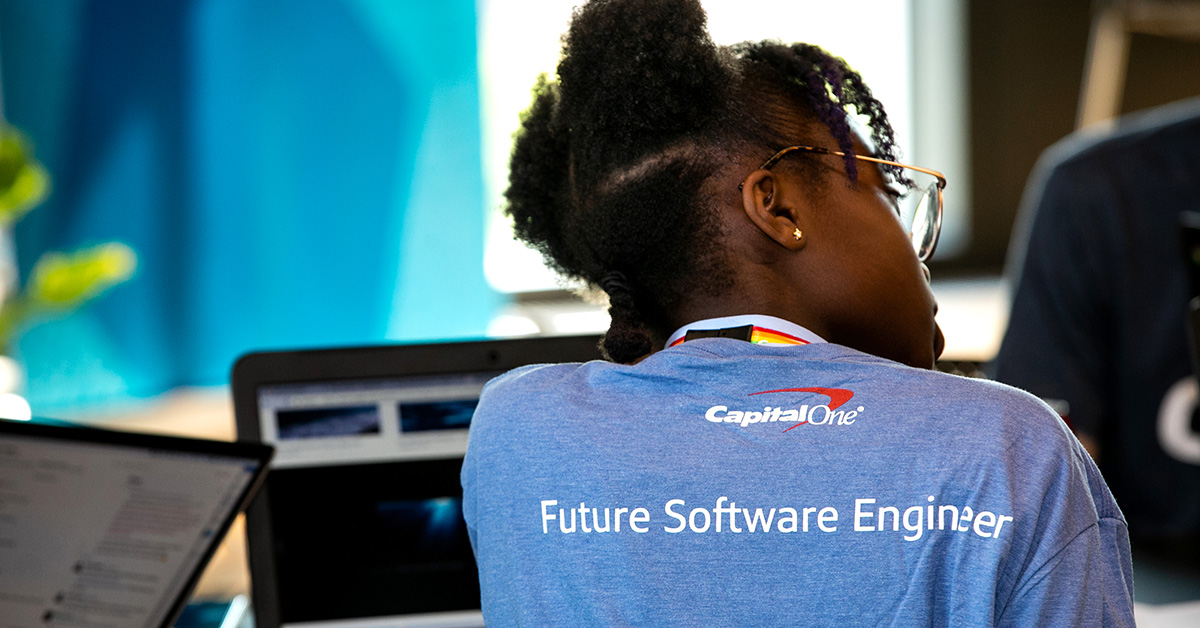 Events to inspire and engage
Fostering a community of belonging extends beyond the daily work experience, into special events, meetings and speaker sessions that inspire attendees. The Blacks in Tech Summit is a two-day career development event that attracts over 600 associates with internal and external speakers. Some of the topics they address include how to make a difference in the workplace and community, and discussions of the latest technology advances in the field. There is also an awards program which recognizes outstanding associates and their contributions.
When asked what she most looked forward to about the summit, Liz, Senior Director in External Affairs and member of the Voices BRG, shared that she was excited to "get a feel for what's going on in the tech space, what the initiatives and priorities are" as well as to "get more understanding of how we can support the BIT community in growing their community." Even for associates outside of the tech space, this summit provides a powerful opportunity to see the innovation that these associates are driving daily and to feel inspired by the wealth of talent and knowledge the teams pour into their work.
During harder times, associates across the company band together to show solidarity. During the summer of 2020, virtual town halls sponsored by BIT and other BRGs brought associates together to discuss racial equity and the Black Lives Matter movement. These meetings provided a space for associates to share concerns and voice their frustrations, while hearing reassuring words from leaders. Even though associates were working from home, they were still able to support each other, especially during a poignant eight minutes 46 seconds of collective silence in solidarity for George Floyd.
Judith, Senior Manager in Digital Focus TECH and chapter lead for McLean, VA chapter of Voices is aware of how important having a community is, especially in tough times. She added "The Blacks in Tech community is super important to Capital One. It gives us a safe space to share, grow and innovate."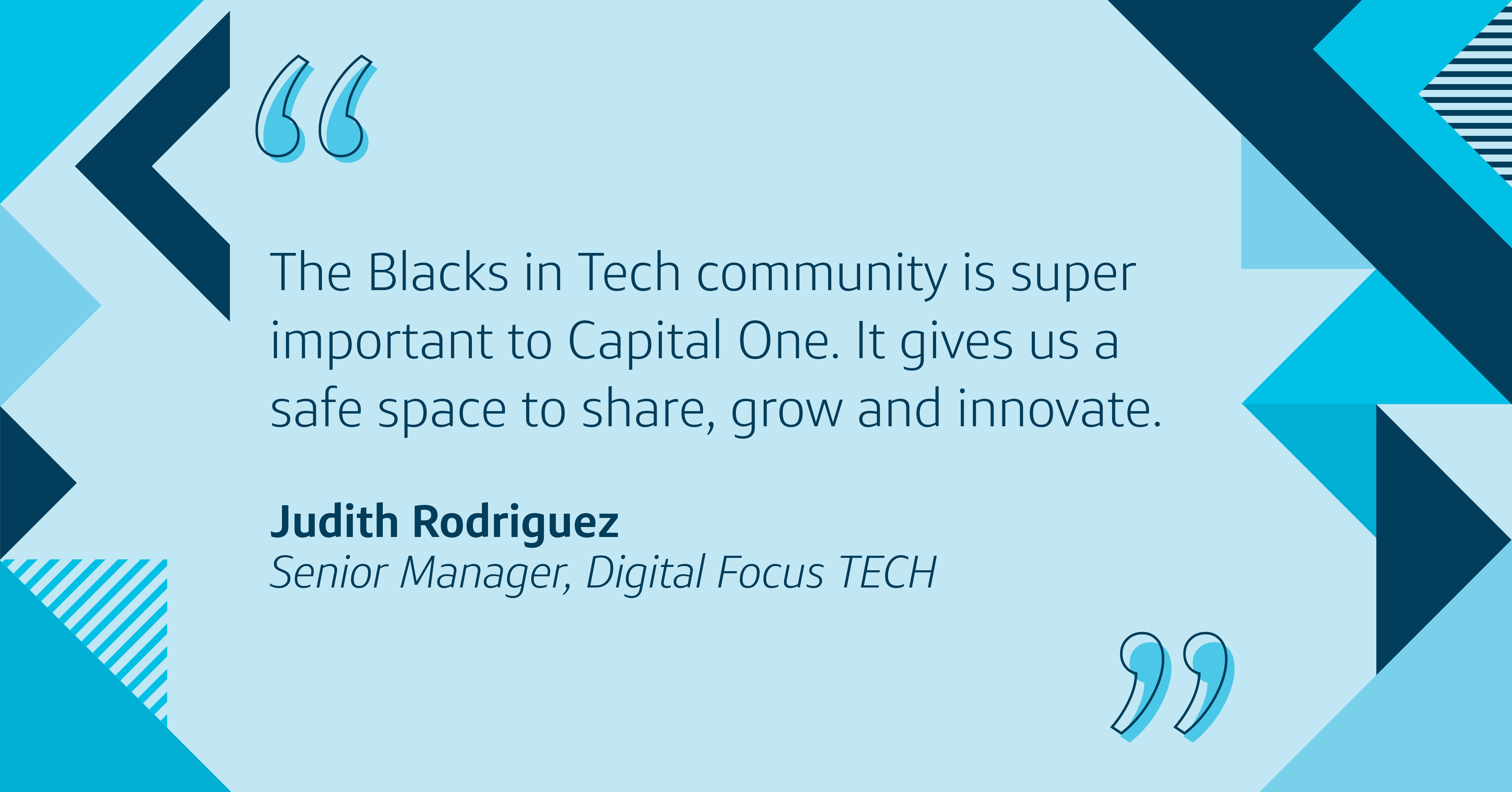 Caring extends into the community
Blacks in Tech also gives back to the community with their time and skills. They are involved with Capital One Coders, which inspires the future generations by educating, mentoring and empowering students to recognize their potential as technologists. Spreading interest and excitement in STEM careers among Black youth is a large focus of Blacks in Tech and an initiative that connects associates to the larger community. It also helps associates feel stronger about the work they're doing. Briana, a Master Software Engineer, explains "I just want to be an example, an example of someone who's passionate about what they do and is successful at what they do."
Whether it's through volunteering in the community, sharing vulnerability in a virtual town hall or learning the latest technology in a summit, members of Blacks in Tech make connections and deepen their expertise. And in the process, it makes the workplace that much more inclusive for everyone.
Copyright © 2023
Opinions are those of the individual author. Statements are deemed accurate at the time of posting. Unless otherwise noted, Capital One is not affiliated with, or endorsed by, any company mentioned. All trademarks and intellectual property used or displayed are the property of their respective owners.