Creating a tech-first career path
Our Distinguished Engineer community sets the standard for engineering excellence at Capital One. The community is made up of technologists who are leaders, visionaries and role models who help influence and build the systems that deliver on our business needs and improve our customers' lives.
Distinguished Engineers at Capital One both define engineering excellence and influence adoption of new and differentiated engineering practices. They are subject-matter experts who dive deep on a topic, bringing business, product and tech goals together. They mentor engineers, teach tech teams new tools, share knowledge and elevate engineering practices across the organization.
The day-to-day work of our Distinguished Engineers can be different depending on their particular specialization. They're architects, framework authors, mobile experts, infrastructure designers, leaders and software, data and platform engineers. They're not people managers, but they are mentors and coaches who work to strengthen the technical expertise and knowhow of our tech engineering community. They help build high-quality systems that deliver on our business needs and better our customers' lives. And they help amplify, accelerate and champion the adoption of the very best engineering practices.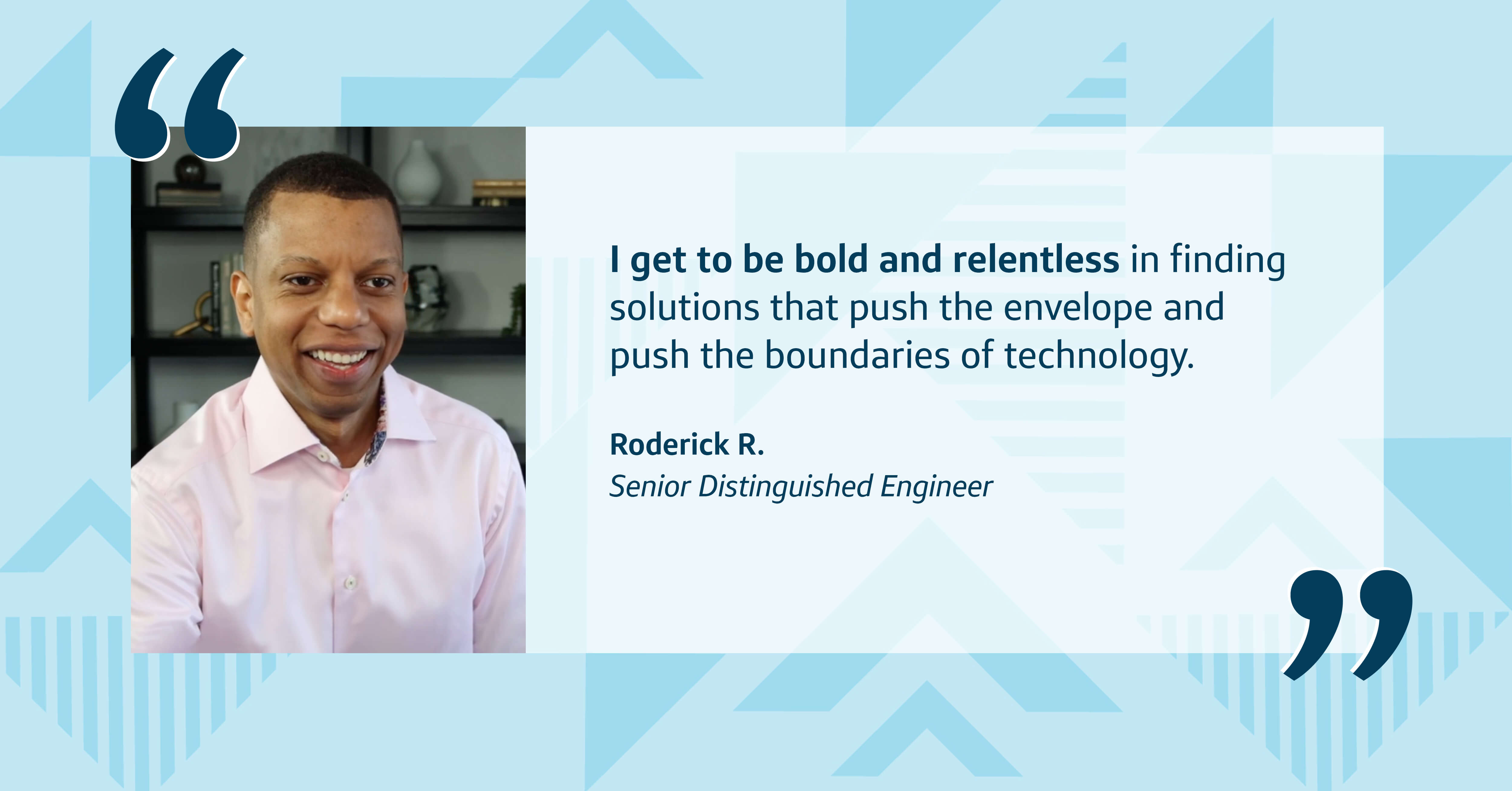 Pushing the boundaries of technology
The Distinguished Engineering community helps fuel our culture of quality and innovation that accelerates best practices across Tech. They are visionaries who communicate development processes, architecture, data security best practices and help people adopt new tools and practices.
Roderick, a Senior Distinguished Engineer, has developed Capital One's first Android app, built automation in the cloud and has done front-end development for CapitalOne.com.
"As a Distinguished Engineer, I'm always looking at what's ahead," Roderick said. "I get to be bold and relentless in finding solutions that push the envelope and push the boundaries of technology. I can focus more on the technology space and less on people management."
Distinguished Engineers are uniquely positioned to facilitate collaboration across team boundaries to ensure the success of innersourcing. While not a new concept for Capital One, engineering leadership highly values innersourcing and open sourcing of software. This comes to life across our lines of business through our reuse of existing components, platform consolidation and other efforts to ensure we're not reinventing existing resources.
Distinguished Engineers question assumptions, challenge beliefs, illuminate potential pitfalls and foster shared understanding across the engineering community. They think about how applications are going to break, how issues could scale and challenge themselves to think differently and to be thought leaders.
Mentoring the engineering community
Distinguished Engineers have a strong community in which they aid one another in deepening their skills and expertise. They have Slack channels for work and personal chatter, attend conferences and hold monthly get-togethers where associates showcase their current projects.
"It's a very close-knit community," said Jaime, a Senior Distinguished Engineer. "When somebody asks me a question I don't have an answer for, I will ask other Distinguished Engineers. Within minutes I will have a valid answer to that problem."
Mentorship plays a big role in how Distinguished Engineers support other engineers in their development. They directly mentor junior associates and are role models for those pursuing a technical career path in engineering. Associates are encouraged to sign up for formal mentorship programs and develop informal mentoring relationships to learn more about the technical and soft-skills needed to grow their careers.
One of Jaime's most fulfilling mentorship experiences occurred when he recruited a junior engineer to help code a new content delivery system for mobile devices.
"He said, 'I have never coded in a mobile device, but I'm willing to do it, I'm willing to learn,'" Jaime said. "I get to pay forward the experience that I have acquired."
Roderick recently participated in a hack-a-thon with different teams to brainstorm how to increase Capital One's protection against software vulnerabilities.
"As a new engineer, you're given the opportunity to work together with other engineers that develop solutions," he said. "You're able to be part of a team and really use our technology, use the cloud and use open-source tooling to push boundaries and solve challenges. Our work helps change banking for good in an interesting way."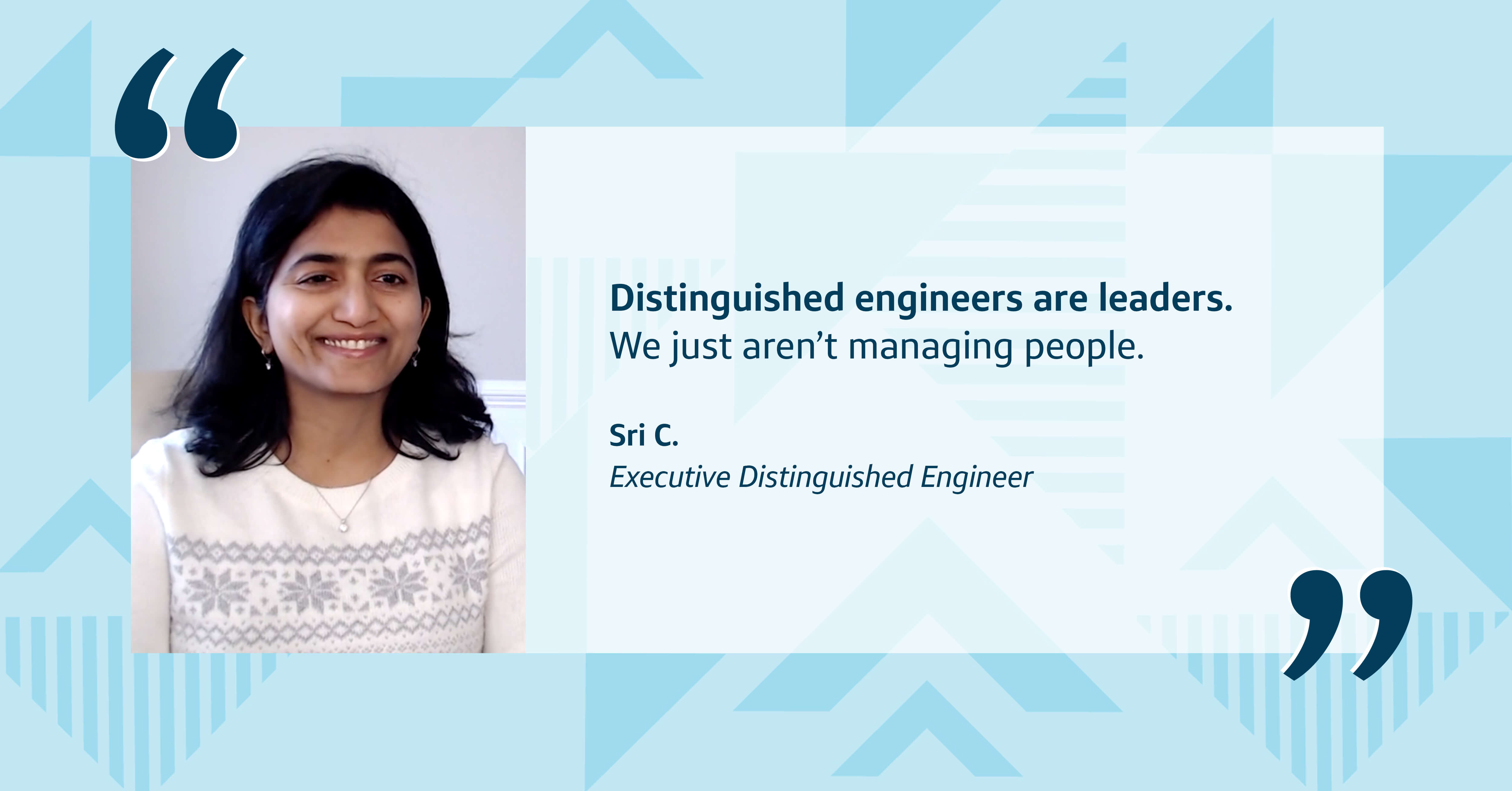 Distinguished Engineer individual contributor career path
Some engineers thrive and enjoy success through building strong and adept teams. But not everyone wants to be directly responsible for the performance and development of others. They may want to pursue their passion for tech, mentor colleagues and grow into senior-level positions without being a people leader.
The Distinguished Engineer career path at Capital One opens opportunities to continue growing as an individual contributor once an associate reaches a manager-level role. Distinguished Engineers always have the option to transition into (and back out of) people leader positions. It's Capital One's flexible culture that helps our associates own their career path and fully explore new career opportunities, while continuing to grow authentically throughout their careers.
"We aren't leading teams from a hierarchical perspective, but the strategic and technical perspective in delivering something that makes a difference for the organization," said Sri, an Executive Distinguished Engineer. "Distinguished Engineers are leaders. We just aren't managing people."

Distinguished Engineers are individual contributors who have their own career path at Capital One and don't manage anyone directly. Positions within the Distinguished Engineers path equate to roles in a traditional career track at Capital One. Distinguished Engineers always have the option to transition into (and back out of) their career path.
Types of individual contributor engineering career tracks
There are three individual contributor career tracks for Distinguished Engineers: subject matter experts, architects and developers/creators. While they spend most of their time within one of these tracks, Distinguished Engineers can move freely between all three as needed.
Subject matter experts: Distinguished Engineering subject matter experts are brought in to solve specific, complex technical problems. They may act as a tech lead and immerse with a team for a short or long period of time. They may own a technical solution or platform, and be responsible for the delivery of a technical solution and write a lot of code.
Architects: Distinguished Engineering architects see the big picture! They work across teams to assist with architecting solutions, but they don't immerse within a team. They help with or lead company-wide tech initiatives and act as experts on company systems and platforms.
Developer/Creators: Distinguished Engineering developers/creators are a blend of the subject matter experts and architecture roles. They work across teams to solve complex technical problems, but they don't often immerse within a team. They evaluate new technologies, then share the potential of that tech. They lead complex initiatives that cross teams and businesses.
Within each track, there are also consistent core technical skills expected, including: debugging and tech problem solving, the ability to architect full apps or complex features on a particular platform, knowledge a primary language or multiple languages, frameworks and platforms, introducing new or improved automated testing techniques, influencing adoption across the organization and driving awareness and adoption of modern tooling stacks.
Growing professionally while making an impact
Tanusree, a Senior Distinguished Engineer, came to Capital One in 2017 because we were the first U.S. bank to go all in on the cloud. She wanted a career where she could work in and learn about the cloud every day. Today, Tanusree leads and builds cloud architecture to ensure our tech is secure, reliable and functions well. She finds personal gratification in having time to get hands-on with technology, be a leader in her field, mentor our engineering community, deliver on our business needs and impact our customers' lives.
"The ability to have such an impact across the enterprise and leverage new technologies is a very exciting opportunity for any engineer," Tanusree said. "I like being a part of something and affecting the greater good of the company and our customers."
Explore Distinguished Engineer opportunities by searching "Distinguished Engineers" on our "Explore Jobs" page.
Copyright © 2023 Opinions are those of the individual author. Statements are deemed accurate at the time of posting. Unless otherwise noted, Capital One is not affiliated with, or endorsed by, any company mentioned. All trademarks and intellectual property used or displayed are the property of their respective owners.