Inspiring the next generation of innovators
When Byron got promoted to senior software engineer at Capital One in 2022, he was excited to tell his friends and family–and his online community of students, grads and early career professionals. With about 10,000 followers on Instagram and TikTok, Byron's content—everything from free coding and tech education resources, to job application advice—is an invaluable hub for young people curious about tech.
His feed explains the ins and outs of the tech industry, something he wishes he knew about as a high school student. As he levels up in his own career, he shares advice and resources to students and recent grads looking to break into the tech industry.
"Getting feedback from everyone—high school students, college students, technical and non-technical professionals—has inspired me tremendously," Byron said. "I'm always excited to share new resources I find and offer advice to the next generation."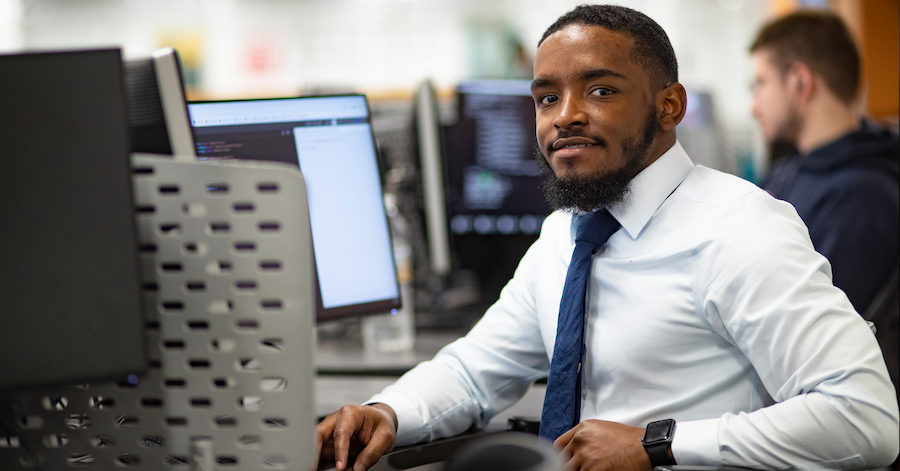 Creating his own path
Byron was a disciplined child. He spent his days training as a boxer with his father and getting good grades in school to earn computer access. Soon, he began to wonder how computers work, and the tech that went into the apps he was using.
His high school in Philadelphia, however, didn't offer tech or coding classes. So Byron did the next best thing: he Googled it. There, he found free online resources, which he used to better understand computer programming and build his first website.
The persistence he showed in teaching himself coding and tech skills propelled him to Temple University, where he earned a bachelor's degree in computer science. He got a job in fintech and was excited to jump start his tech career, only to be surprised with more free personal time outside of work due to COVID-19.
"With the extra time that I had, I wanted to build more on my technical skills. I figured, why not share my projects on social media?" Byron said. "Being transparent about my tech journey seemed like a win-win situation for me."
He began by posting content about his current personal tech projects. As his following grew, he began to receive questions from students inspired by his work. Over time, he used these questions to produce polished videos highlighting free resources and going over day-to-day activities. His online brand helped his resume stand out when he applied and interviewed for Capital One in 2021.
Community at Capital One and beyond
Once he got the software engineer job, he dove into Capital One's robust tech-education resources. Byron earned two AWS certifications within a year of his hiring, all while sharing his new knowledge online.
As Byron grew in his career, colleagues at Capital One began to notice how his content was inspiring others online. In February of 2023, he was invited to attend and participate in Capital One's HBCU Immersion Program. At this event, HBCU students are able to learn about job opportunities at Capital One, while attending workshops and seminars on career readiness. Byron's experience mentoring others online was invaluable for the program, where he coached students on personal branding and interview prep.
"I had the chance to see firsthand the future of Capital One," Byron said. "There's not a lot of people that look like me that work in the tech space. Seeing the contribution that Capital One is making to bridge that diversity gap means a lot."
Capital One's work-life balance and culture of giving back means Byron can continue mentoring others. He recently spoke at a school career day in Philadelphia.
Byron's visit focused on providing high school students with a snapshot of his life at Capital One. He spoke openly about his job responsibilities, salary and struggles and wins along the way. He encouraged the students to be curious about tech careers and their own potential paths.
The workshop was a full-circle moment.
"When I was in high school, I didn't have this level of access to people offering advice," Byron said. "Giving back and taking advantage of opportunities to give students perspective is rewarding for me."
Copyright © 2023 Opinions are those of the individual author. Statements are deemed accurate at the time of posting. Unless otherwise noted, Capital One is not affiliated with, or endorsed by, any company mentioned. All trademarks and intellectual property used or displayed are the property of their respective owners.