HBCU to innovative tech star: Jarrod's story
Great benefits, thriving culture, a team you click with, these are things you may look for when searching for your first job. But what about the chance to drive innovative, industry-leading work and have your ideas heard and valued? For Jarrod, a senior software engineer, those were the very things that drew him to start his career at Capital One.
As a first generation college student, Jarrod had a strong sense of determination instilled in him by his parents and a drive to succeed using the skills he learned in his Business and Computer Science studies. He explained "neither one of my parents had the opportunity to go to college. When I had the opportunity to go, I said, 'I'm going to make the most of this.' They always reminded me to give my all in everything I do, not do it halfway."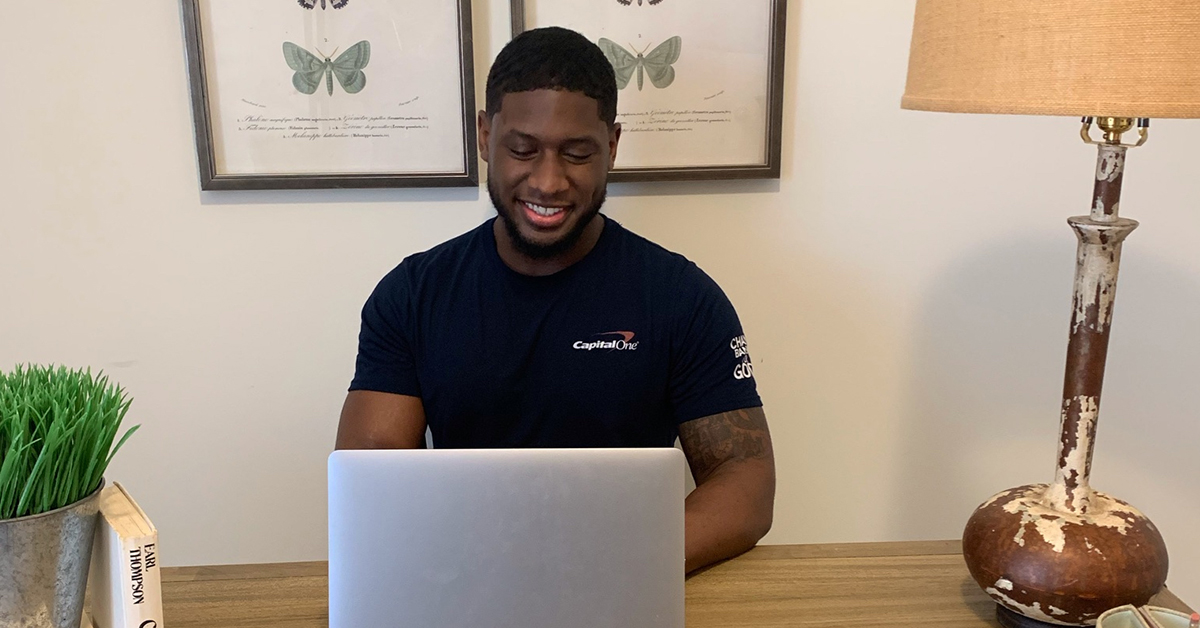 Finding a Voice To Confidently Sharing His Insights
Jarrod is a graduate of Howard University, a historically Black university, and credits his time there with empowering him to openly share his ideas and overcome feelings of self-doubt or Imposter Syndrome. He shared "being at an HBCU (Historically Black College or University) allowed me to gain more confidence and taught me to overcome the feeling that I didn't 'belong in the room' or wasn't qualified." Instead, he ensures he adds value and brings his full self to every meeting and project.
Surely, any team would be excited to have such a committed and driven individual in their midst, but for Jarrod, there were two especially important factors that he was looking for in his workplace after graduation. "The people, the culture on the team, and the tech forward, innovative approach are what made me feel this was the place I wanted to be," Jarrod shared about his attraction to Capital One.
After hearing great things from college friends and his roommate, Jarrod joined Capital One as a summer intern. But one experience really helped cement for him that this was the place he wanted to build his career. He shared "my parents always taught me to remain humble and treat people with love and respect. When I came to Capital One, I immediately felt that respect from everyone I met and worked with."
How, you might ask? Jarrod explains "They asked me what my ideas were and my ideas were valuable to them. They actually were interested in the way that I solved problems. They thought it was unique. And then, when I didn't know how to solve a problem, they immediately had other solutions and other resources that I could leverage." It was a powerful feeling for Jarrod to find a culture that supported him, from day one, in doing what he loves and a team that listened to his insights and ideas with respect.
And those moments of appreciation and respect haven't stopped since. Shortly after moving to San Francisco to pursue a new role within Capital One in 2019, Jarrod was surprised to find a full-blown birthday celebration from his team when he arrived in the office. He recalls "I was 3 months into my new role out here in San Francisco and it was my birthday. I didn't make a big deal about it or mention much that it was coming up. But I came in on the day and found 5 or 6 cards, a big cake, and lots of well wishes from my new team on my birthday. It was such a touching moment for me." Not only do Jarrod and his team work hard, but they also find the time to care for and recognize each other.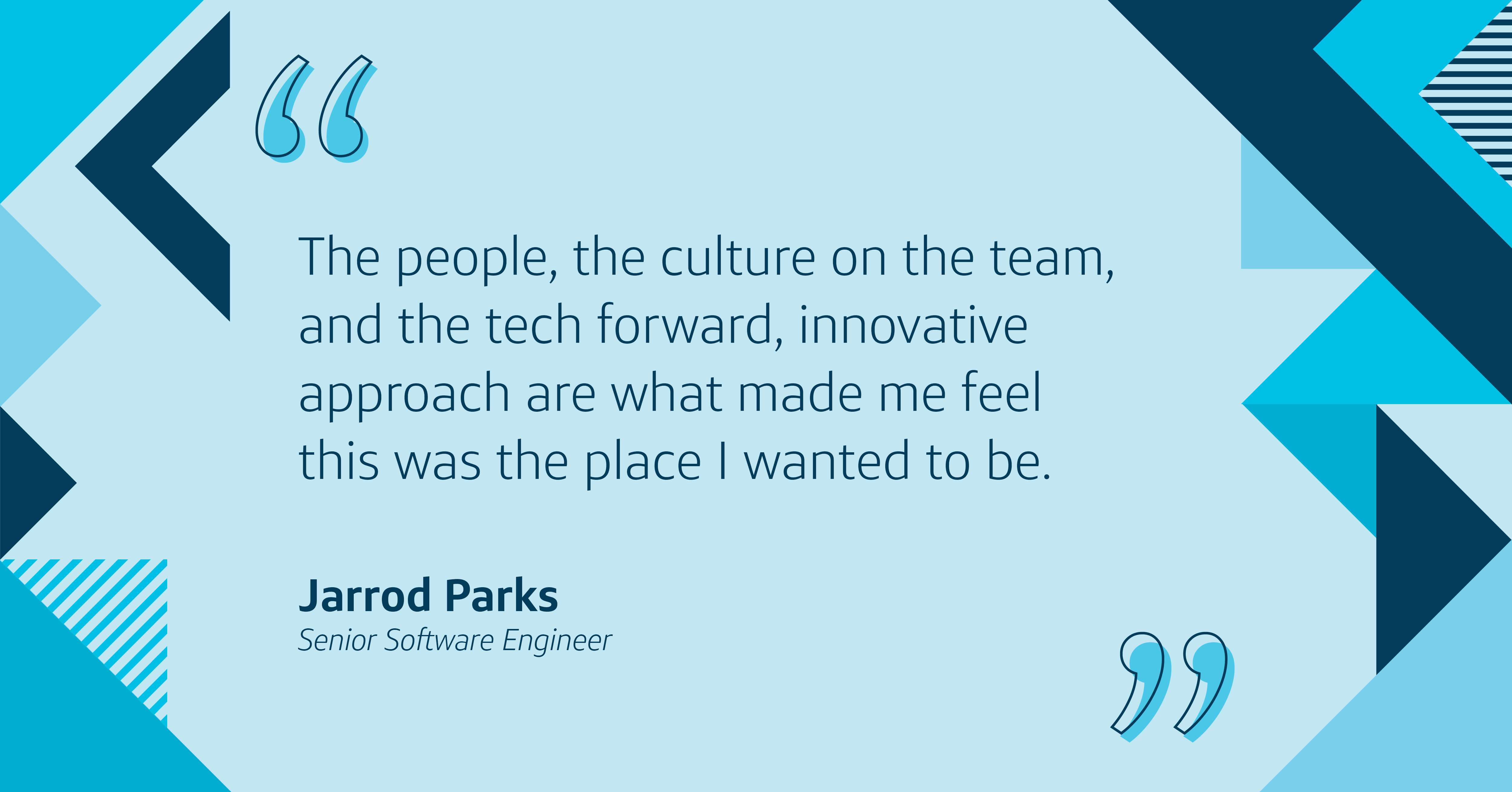 Sharing His Passion with Future Tech Talent
What is another passion Jarrod pursues through his Capital One connections? Cultivating an interest in technology in future generations for technologists. When he joined Capital One, Jarrod, who has been interested in new technology all of his life, was excited to get his hands on the cutting edge technology available to him. But that wasn't enough — he wanted to share that passion and interest with others, and one of his favorite ways to do that is serving as a mentor to others.
Jarrod enjoys talking about the innovative tech he works with, his projects, and inspiring others to see their potential in the tech field. "On a few occasions, I've presented a tech development workshop for Tech Development Program (TDP) participants, so they can better understand what software engineers like me do." He has also led coding demonstrations and lessons. These opportunities are quite exciting and informative for students. They might even take this knowledge into future roles at Capital One or elsewhere. Jarrod says "it's extremely beneficial and it just does wonders for the entire industry, as well as the whole coding infrastructure."
Another opportunity Jarrod enjoys is his involvement in helping others find their place at Capital One. He explains "I really enjoy being involved in talking with new talent and helping with campus recruiting efforts. I help prep students for tech interviews and walk them through the process so they know what to expect." Interviews can be intimidating for students and recent graduates, but guidance from kind and knowledgeable mentor figures like Jarrod can make the process much smoother.
When asked what other advice he'd share with students and recent graduates, he said "make sure you are pushing to be innovative, leading the industry, or are on the leading edge of things and propelling us into the future, I admire how forward-thinking Capital One is and that has also helped keep me very engaged in the work we're doing." Most importantly, Jarrod reminds "make sure you find a workplace that appreciates you for you, you don't have to conform or change who you are to fit in." Making sure your voice will be heard and valued is one of the most important factors in finding the right workplace for you. By recognizing and taking into account a variety of viewpoints and insights, we can pave the way for future innovations and inclusive spaces for all.
Check out the open roles in Tech and find your next opportunity!
Copyright © 2023
Opinions are those of the individual author. Statements are deemed accurate at the time of posting. Unless otherwise noted, Capital One is not affiliated with, or endorsed by, any company mentioned. All trademarks and intellectual property used or displayed are the property of their respective owners.