How to apply for a job at Capital One
Have you ever felt overwhelmed when searching for a job? You aren't alone! Especially at a large company, it can be confusing to know where to start—so many openings with unfamiliar job titles, different job tracks and what do all these different levels even mean? Not to worry—we're here to help you navigate the job application process at Capital One! We've compiled some tips and tricks so you can find the right role for you.
Finding a job on the Capital One Careers site
The best place to start is here on the Capital One Careers website, the homepage is a one-stop-shop for information and a great place to learn first-hand from actual employees about what life is like at Capital One.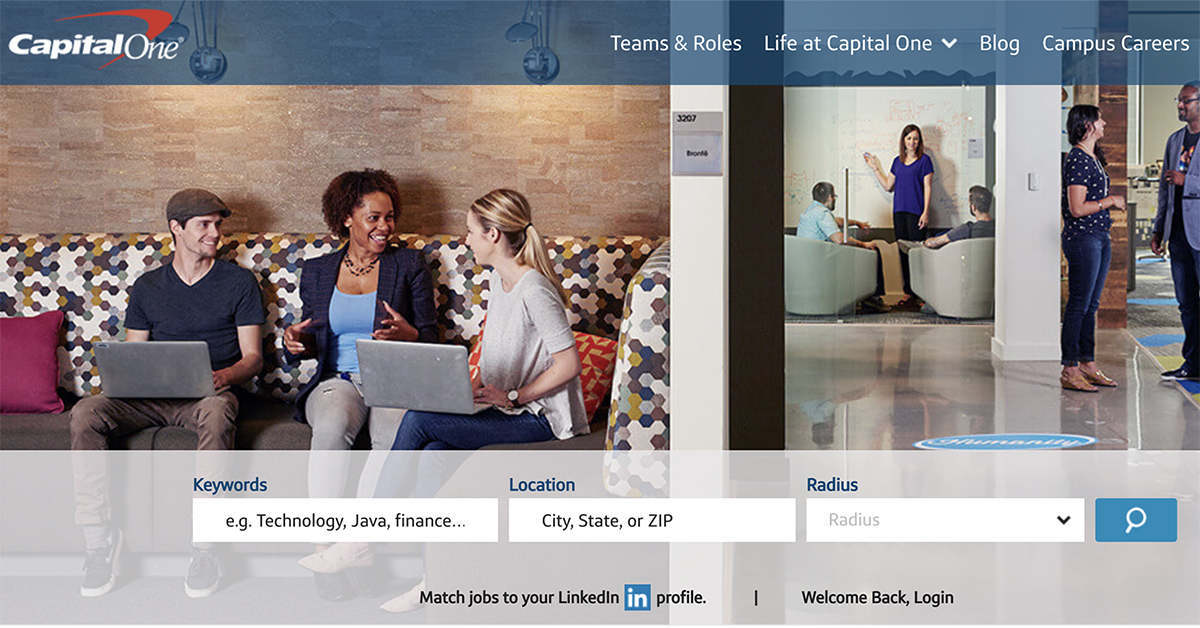 At the top of the careers homepage, you'll find quick links that will help you explore why Capital One is a great place to work. If you want to learn about various teams and associated roles, be sure to check out the Teams and Roles section in the menu. Other menu options will show you the available benefits associates have access to, as well as aspects of the culture that you might enjoy, or if you've already started the application process, you can head back to saved jobs and pick up where you left off. The Life At Capital One careers blog you are reading from now is the best place to find stories directly from our associates about everything from how they've used our adoption benefits, to what life at Capital One is like for working moms or resume tips from a tech recruiter.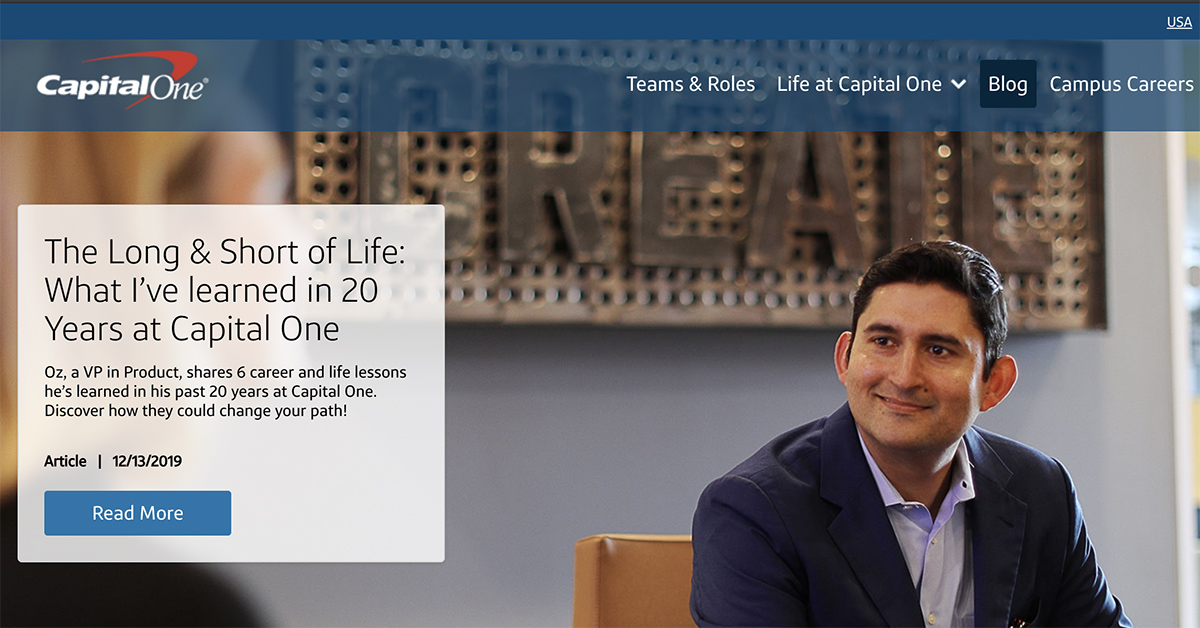 If you're still in school or have recently graduated from a graduate program, be sure to check out student opportunities through Campus Careers to find programs available for you to jumpstart your career. Here, you'll also find opportunities for internships and information on our summits. Take time to explore the videos and get to know each type of job program we offer to upcoming and recent college grads. These roles for recent grads are a great way to kick-off your career—you'll get to explore your options before committing to one particular area!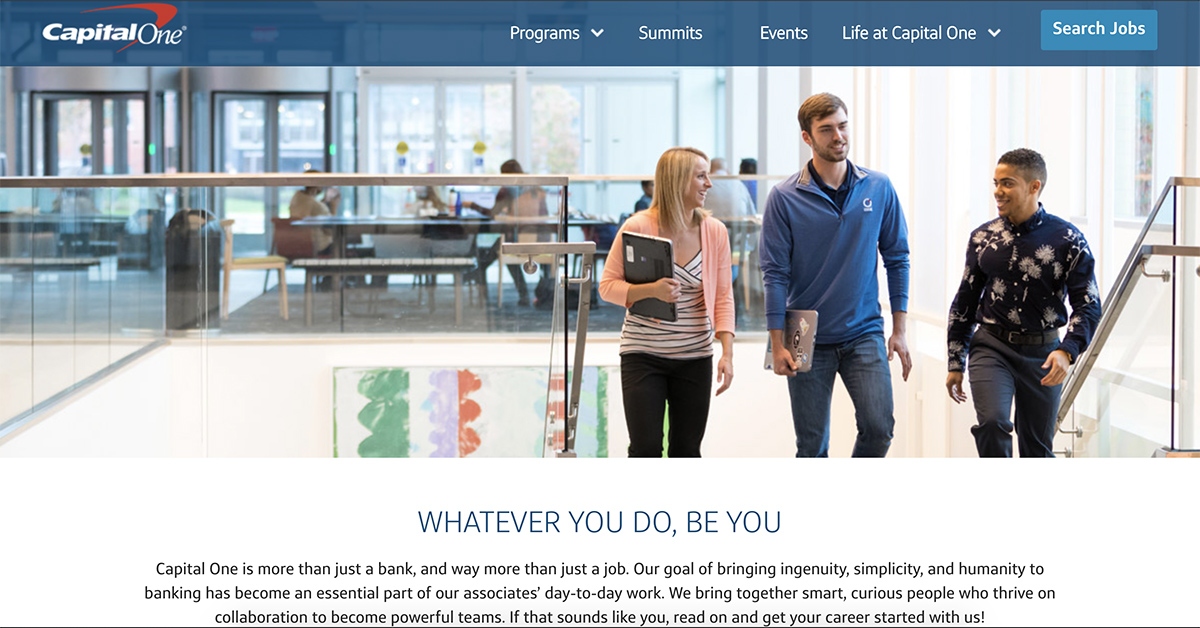 Searching by job location
If you want to work in a particular location—say New York City or Richmond, Virginia—the easiest way to find jobs is to select your preferred location from the location drop down and pick a radius. Our biggest people centers are at our headquarters, just outside Washington, D.C., as well as in Richmond, Virginia, Plano, Texas and New York City, but we have branches, cafes and people centers spanning the nation. We even have jobs in Canada, the U.K. and the Philippines! You can navigate to those at the very top of the page.
What if you find the perfect job, but it's not where you currently live? You may want to go ahead and apply anyway! Depending on the type of job, we may be able to help with relocation. Quick tip: be upfront with your recruiter about whether or not you're willing to relocate.
Teams, roles and job families help you find your job fit
If you already know what type of job you're looking for, the quickest way to find job openings is using the keyword search on the homepage. You'll receive a list of jobs that match your selected criteria.
But what if you don't know exactly what role you're looking for? Let's set the stage. You have a lengthy resume listing all the great things you've done and the skills you've acquired throughout your career, but you wonder how that translates at Capital One. Simply click on Teams and Roles to find jobs categorized into families, each with a central purpose statement about the team and how they fit in the company as a whole. Which do you identify with? Your skills and interests may lead you to consider the Company Builder family, which includes functions like human resources, marketing and legal—all careers that set a company up for success. Or maybe you see yourself more in a Product Innovator job, working in design, data science or analytics.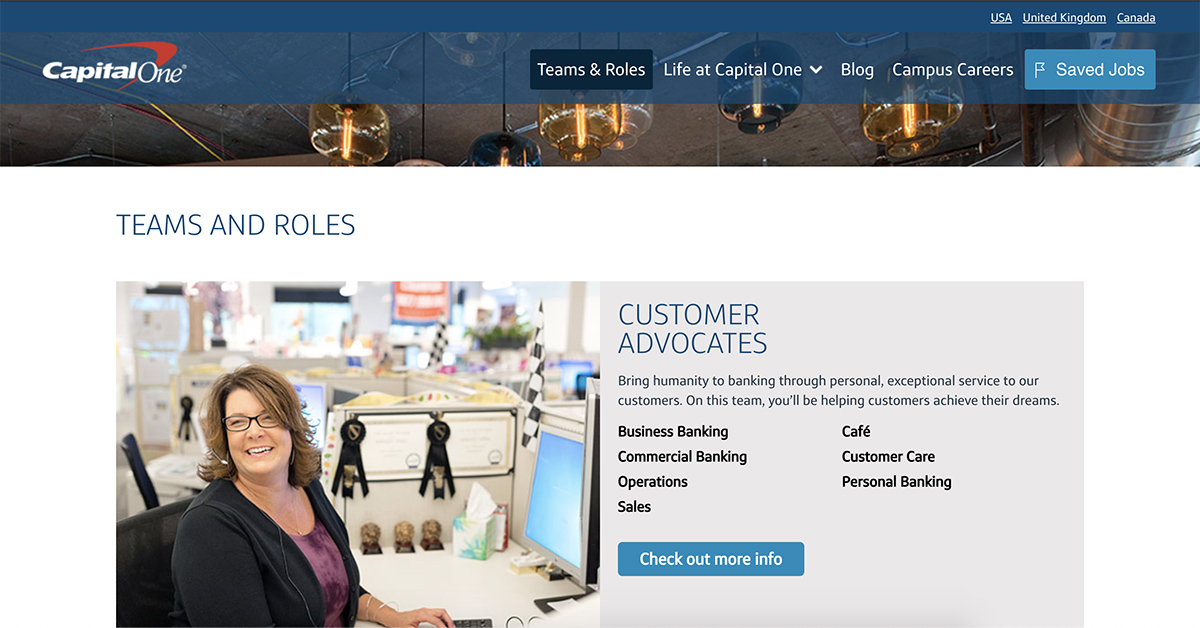 After familiarizing yourself with job families, you can click through to learn more about specific roles. On the engineering page, for instance, you'll find information about what engineering jobs are like at Capital One. You can even find short videos on this page, where Capital One engineers talk about skills they've learned on the job and what they like about being an engineer at Capital One.
Narrowing down your job search
Both the job family and role pages feature a list of current job openings that go with a particular group. Because the job family page encompasses many roles, this list will be longer than if you searched within one particular role, like engineering. To create a more manageable list from the job family page, first click "see all jobs" within that job family, then use the filters on the right side of the page to choose a location. If you're already on a job role page, the filters will already be listed.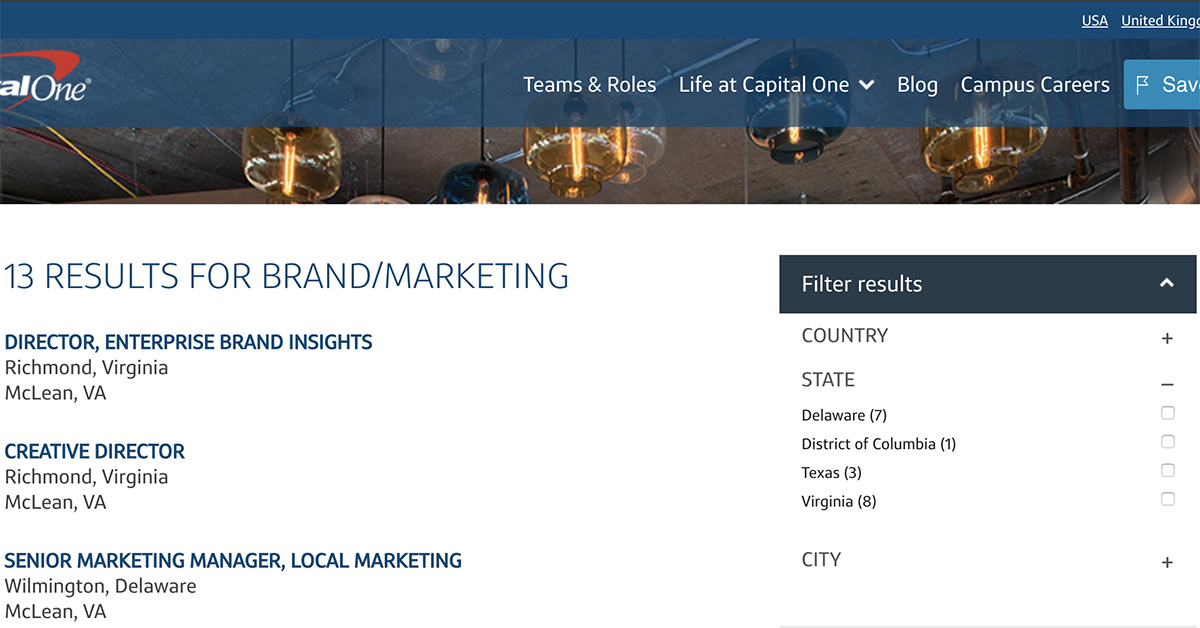 Once you've narrowed down your search, you may notice similar job openings for different departments or lines of business. For instance, there could be openings for a designer listed for both Capital One Bank and credit card. Apply for one or both! And remember, if you apply and don't get the job, don't give up. A different job opening or line of business might be a better fit for your skill set.
Ready to apply?
Once you find a job you're interested in, you can either apply now or click "Save Job" and apply later. Both options are listed on every job page under the title. Every job page also includes a list of related jobs on the right side of the page, another great place to keep browsing. When you do apply, be sure to provide all of the requested information to put your best foot forward and really give a full picture of yourself and your skills. You may even want to review your resume and make sure it's in tip-top shape!
Don't see the job you're looking for? You can set a job alert to receive email notifications when jobs in a particular category become available. You can also follow Capital One Careers on Facebook, Twitter, LinkedIn and Instagram to stay connected to our latest job news. And remember—we post new jobs every day, so keep checking back! With so many career opportunities at Capital One, your dream job is only a few clicks away.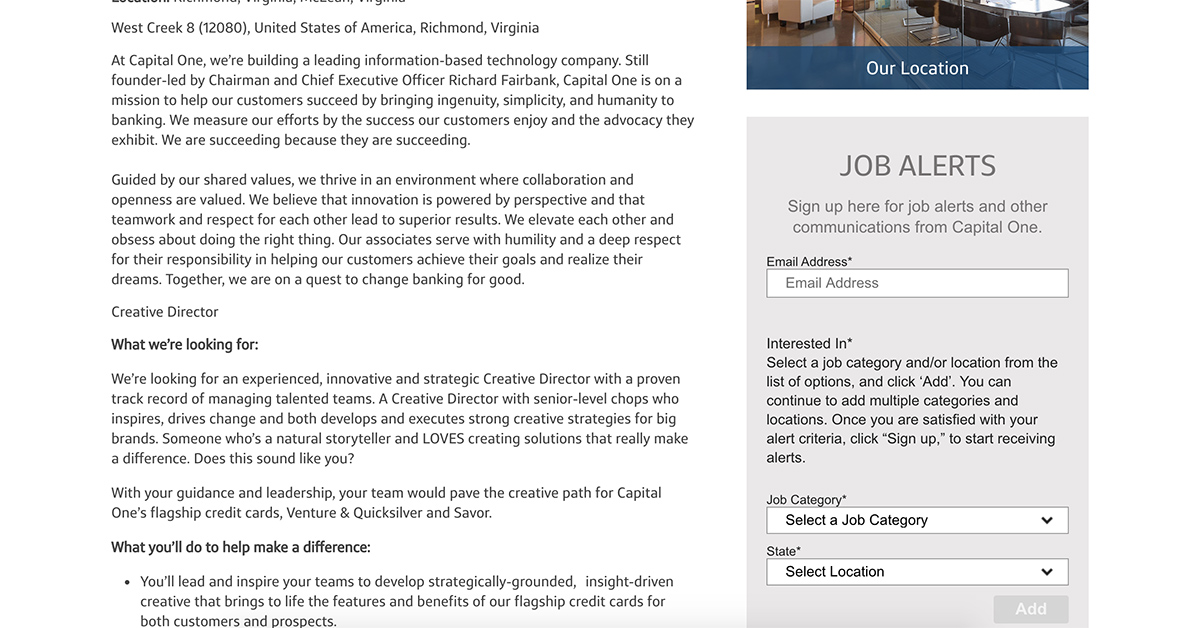 Copyright © 2023 Opinions are those of the individual author. Statements are deemed accurate at the time of posting. Unless otherwise noted, Capital One is not affiliated with, or endorsed by, any company mentioned. All trademarks and intellectual property used or displayed are the property of their respective owners.