10 things you need to know about starting a new job virtually
Adapting to working from home has been a new experience for us all, but even more so for newly-hired associates who are starting new roles or at a new company. For current students, recent grads and new campus associates, this is a unique intro to the working world. You may have uncertainty about how to make your mark in this virtual environment. But fear not! Here are some tips for making a good impression while working virtually, from onboarding to attending meetings to collaborating with other associates. Follow these tips from our campus team, and start your career on the right (virtual) foot.
1. Ask questions
Analytical minds are always welcome! Showcasing your inquisitive, curious nature is a great way to make a strong first impression with your new team and manager. Nobody expects you to be an expert, you can learn and take in new information all the time.
"I think having a mindset of showcasing your curiosity is a huge value add," says Mallory, Campus Virtual Events Lead. "From a leader's perspective, that really showcases that you're interested, you want to learn and you have ideas."
2. Research and prepare
The type of meeting or forum will dictate the prep work you should do. Will a facilitator expect your participation? Is it a brainstorming session or a meeting to reflect on a completed project? For smaller meetings, it's a great idea to come prepared with ideas that you can share in the moment or follow-up with afterward. This applies to larger forums, too.
"If you're attending a bigger meeting where there's an executive presenting or an external speaker, do enough research to make sure that you are contributing to the conversation," says Jenna, Senior HR Associate, Analyst Campus Programs. "One idea is to look up the presenter and see what they do or what their career history has been. And make sure that you understand the topic and scope of the conversation so that if and when you feel comfortable jumping in, you're doing so in a productive way."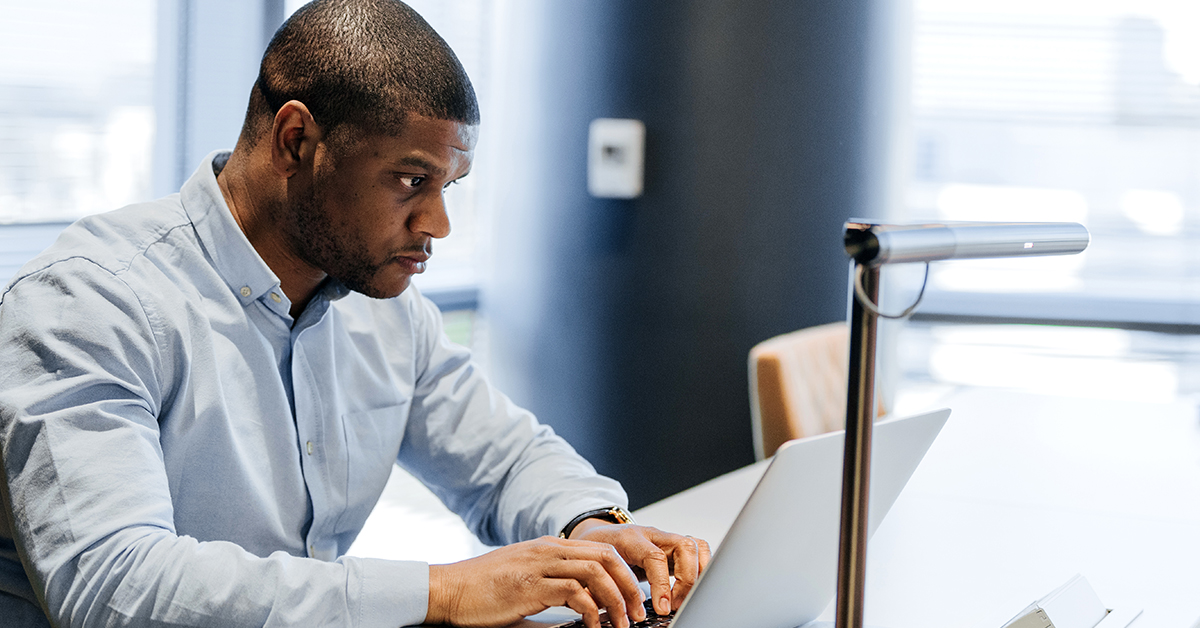 3. Bring forward new ideas
A new job can be intimidating, don't forget that your ideas and input are valuable! If you find it difficult to contribute during a meeting, you can always follow up with your ideas or feedback after the meeting, once you've had time to process.
"You were brought in and hired to the company for a reason," says Jenna. "Your ideas will add something to the discussion and expand your team's point of view. Everyone brings their own unique experiences, background, and perspectives to a team. There's no need to be afraid to be wrong or say the wrong thing."
You want to bring your best professional self to remote work interactions. Small things like making sure your camera is on during meetings so others can see your face, speaking up in a clear voice, muting yourself when not speaking and sitting in front of a clean background can go a long way. But there's more. You still need to pay attention in meetings! Turn off notifications and focus on your screen and the meeting taking place. We all have home lives, so you don't have to be perfect, just present.
"In virtual meetings, just like in-person, try to minimize distractions and be completely focused," shares Mallory. "Figure out what works for you to stay focused during meetings."
Virtual work at Capital One can be fun, too! You can play around with virtual backgrounds in a casual setting to showcase your personal brand and connect with associates in an informal way.
5. Over-communicate with your team!
In this climate, you won't have casual run-ins with colleagues in the office. You can avoid misunderstandings by sharing what you are working on, so teammates are in the loop and notice your work. Discuss with your manager to figure out the best way to communicate with your team, without going overboard. Your team members have more work experience than you, so get their input and include them in your decision making-process, where appropriate. You'll likely get a diverse set of perspectives and it'll prove beneficial in the long-run.
"Proactively make sure that you're sharing what you're working on and drawing attention to it, people won't be able to naturally see it happening since you're working from your home" says Jenna. "So make sure that you clearly communicate to your team when you've done great work." You are building your personal brand through the work you do, you should be excited to share it.
6. Figure out what works for your team—and yourself
Everyone has different preferences and needs. You might need to walk your dog every morning and start later, while your manager might be caring for small children and needs to sign off right at 5pm. "Learn what kind of management and communication style your manager has," says Bryan, Sr. Business Analyst. "With everyone working from home, being in sync with your manager has never been more important. Finding a good way to match your working and communication style to your manager's style can sometimes be a difficult process so the earlier you start, the better off you will be."
Discuss work hours and preferred communication style with your team (not just your manager). Block your calendar if you aren't reachable so colleagues are aware. Perhaps create a one-pager with your team's preferences, so you can easily reference it. Be sure you're also taking time to unplug and recharge, like having lunch away from your desk.
"Team norms have changed now that everyone is working from home," says Mallory. "It's important to be clear with what works for you and how to maintain your health while working in a fully virtual environment. Understand how to communicate your own preferences and respect your team's norms."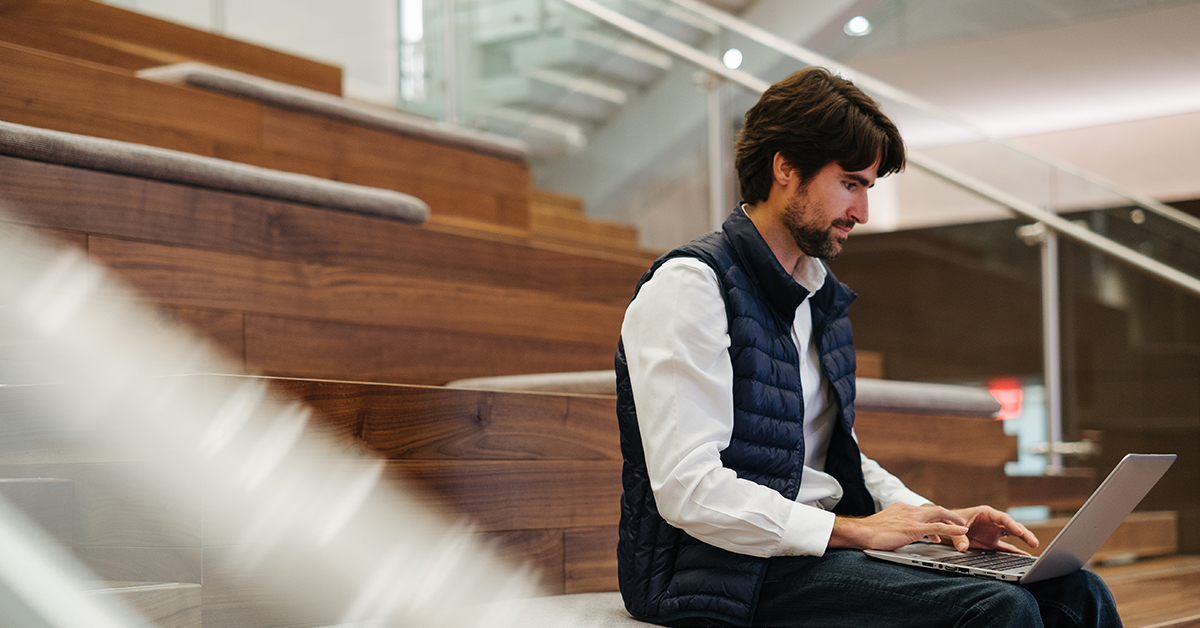 7. Network!
Obviously, you can't grab a coffee in the office with another associate. Even so, networking is great for your professional development and personal growth, so shouldn't be neglected. So forge ahead! Ask your manager for suggested meet and greets and schedule them to take place virtually. Don't be shy with reaching out to other associates to learn about them and briefly connect. Most people are more than happy to chat. And remember a thank you note after!
"It is so easy to grab a Zoom meeting with just about anyone," says Matt, Product Management Associate. "I spent a lot of time in my first few months meeting with people who I thought had cool jobs. For me, this meant Product Managers. I would ask them, 'Who else should I talk to?' That created a stream of interesting people to connect with."
Courtney, Human Resources Rotational Associate, agrees. "My advice for new campus associates is don't be afraid to reach out to associates and set up time to connect. In a virtual environment, most interactions have to be intentional, so the only way to fully connect with others is through scheduling time. Everyone at Capital One is extremely welcoming, and people are so happy to meet with you and chat about their personal and professional lives."
8. Attend presentations and connect with the presenter
Capital One offers tons of opportunities to develop professional skills and attend training sessions for your career growth. "It's so important to attend these virtual events, when possible," says Courtney. "They truly help you feel acclimated and included, even though you started your career virtually."
When you do attend a virtual event, training, or conference, feel free to email or LinkedIn message the presenter/facilitator and let them know what content resonated with you. This is a great way to have another contact in your network, and makes the presenter feel good in the process. After all, even if they are in a leadership role, everyone gets nervous presenting and it's a great way to share good vibes.
9. Use virtual tools to your advantage
Fortunately, in this remote work environment, we have so many digital tools at our disposal. Capital One stays up-to-date on the latest technology to foster productivity. Learn what your team uses, and use those tools to stay organized, make your life easier, and communicate with others.
"How can you leverage technology and different tools when you are in virtual meetings to engage the audience, connect with peers, include others, and make sure that the message or the goal of the meeting is achieved?," asks Mallory. "For example, could a poll work well to make people feel more included than having people come off mute?"
10. Take initiative, feel supported and have some fun in the process
Capital One offers whole self-development, career growth opportunities, and the ability to take on meaningful work right away, in a supportive and flexible environment.
"Capital One is a great place for new campus associates because they truly provide a welcoming, engaging, and inclusive experience, as well as resources that support associate mental, physical and emotional wellbeing," says Courtney. " As a new campus associate, you feel embraced by Capital One and extremely supported through the beginning of this huge new chapter."
You can suggest some fun team building ideas to your manager or ways to build community with other new associates. Your fresh perspective and energy are hugely valuable.
You have a lot to bring to the table (see number three above!). By following even just a few of these tips, your new team will have no problem seeing all the wonderful things you offer and great work you accomplish. You'll also find yourself feeling great about the work you're contributing to the team. And remember to have fun as you're building new connections, learning new processes and taking on new projects.
Copyright © 2023 Opinions are those of the individual author. Statements are deemed accurate at the time of posting. Unless otherwise noted, Capital One is not affiliated with, or endorsed by, any company mentioned. All trademarks and intellectual property used or displayed are the property of their respective owners.