Design team innovates across company and industry
When Heather Winkle arrived at Capital One in 2014 as one its first design leaders, the team of a few dozen design associates was mostly focused on digitizing analog tasks for customers. Heather saw potential to reframe the team's influence and business strategy to advance Capital One's mission through human-centered design.
Now several-hundred-strong, Capital One's Experience Design team is setting the standard for innovation, and others are taking note. Fast Company selected Heather, now senior vice president and head of Experience Design, to juror the 2022 Innovation by Design Awards, which honors forward-thinking design solutions and companies that are transforming industries and society. Capital One went on to receive multiple accolades in the awards: an honorable mention for Design Company of the Year; finalist in the Finance category and honorable mention in the User Experience category for its digital card onboarding welcome experience; and finalist in the Hospitality category and honorable mention in the General Excellence category for Capital One Travel.
The honors are a credit to Heather's vision—and her team's cross-functional collaboration—to expand Experience Design's work beyond digital screens (customer-facing apps and websites). The team partners with lines of business, enterprise-wide services and internally-focused teams to create experiences, systems, services and products across Capital One—for everyone from internal associates to more than 100 million customers.
"We're working on everything from new ways to interact with a bank, to helping customers make the most of their money to how we develop software and maximize cloud technology," Heather said. "It's been an absolutely transformational couple of years."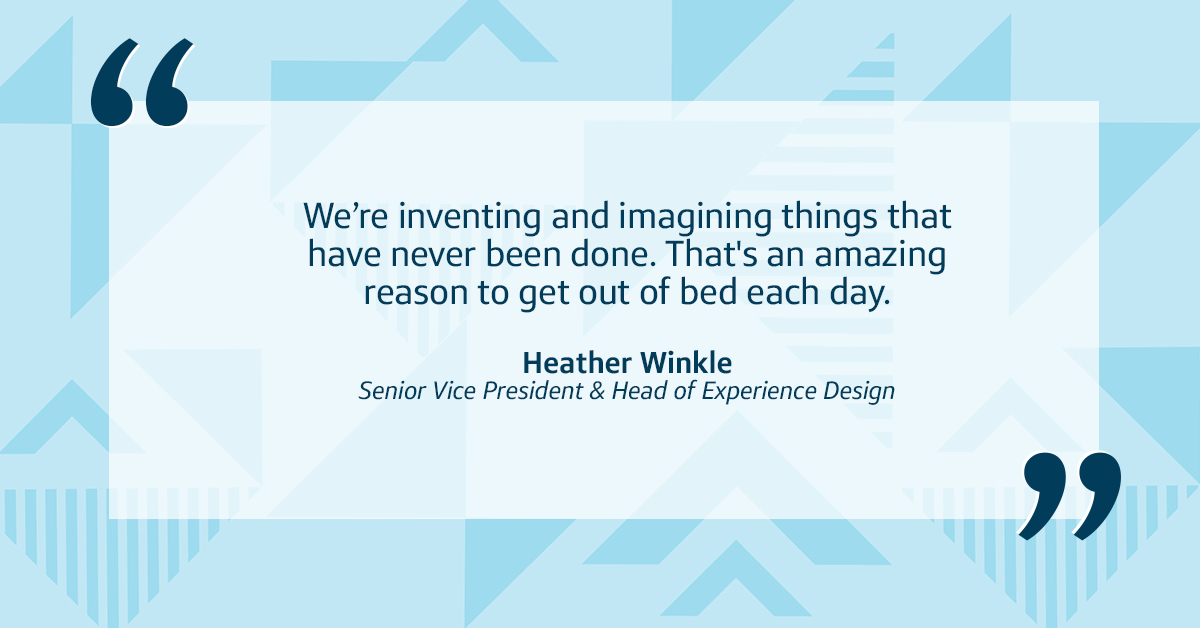 Growing innovative design at Capital One
After 20 years of working for some of Silicon Valley's top technology companies, Heather was hooked by Capital One's mission-driven focus to harness data, innovation and business analysis to change banking for good.
She envisioned design's role expanding to research, strategy, user experience, machine learning, accessibility and beyond. This holistic approach to design helps drive the delivery of products and services that transform how people experience banking, money and Capital One.
"We're inventing and imagining things that have never been done," Heather said. "That's an amazing reason to get out of bed each day. And to know that it's not just for the sake of inventing it, but it will very likely get built, go into the market and positively affect people? Sign me up."
Innovation across Capital One
From physical spaces to screens, Heather and Experience Design have been at the forefront of innovating how Capital One helps both customers and associates. They are driven by a human-centered foundation.
"We get to be partners. We get to be teachers and students. And we get to be enthusiasts for humanity," Heather said. "We get to meaningfully change the human condition outside of Capital One, in the industry, with our customer base and for the people who work inside Capital One."
To optimize the experience of Capital One Cafés, Heather's team led a series of empathy interviews with customers to learn what steps associates could take to help people feel comfortable with conversations about money. Those interviews sprouted into our Money & Life Program, which includes training for ambassadors to help them look for signals when customers are ready for a discussion.
After observing Customer Care associates wrangling numerous apps and technologies during a call, Experience Design helped create in-house software that taps into the expertise of Customer Care agents and machine learning to present everything they'd need in one intelligent application. Another project Heather's team spearheaded is the welcome experience for new cardholders. Their work built in security features—like creating tokenized virtual card numbers and getting the new card on file with favorite merchants—and reduced onboarding from days to minutes so customers can immediately realize the card benefits.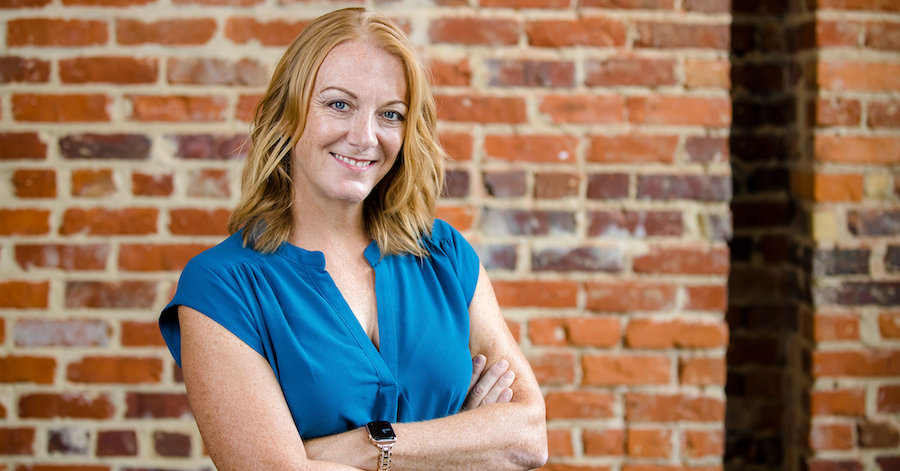 "One of my favorite parts of being at Capital One is that we have the freedom and support to be innovative," Heather said. "We not only strengthen our design practice, but we get smarter by pairing that with data, artificial intelligence and machine learning to improve our customer experience. We continue to evolve as a team and a company. That's a really powerful place to be."
In addition to innovation and creativity, an ethos of diversity, inclusion and belonging runs throughout the Experience Design team. Last year, Heather established the Equity by Design team. The team, which works in service of the design organization and partners across Capital One, focuses on opportunities to design from the customer and associate perspective while keeping equity at the center experience.
"Any system that has been designed can be redesigned," Heather said. "The team looks at how we can build equity and belonging into how we work and the products we deliver. How can we be thoughtful about the biases we might bring—the assumptions we might have—around the problem space or the customer? How does that perspective drive more inclusive and innovative solutions? It's something I'm so proud of."
Being her best self
While the mission-driven work keeps Heather inspired, Capital One's supportive benefits and culture give her the time to focus on her family and recharge.
While going through the adoptive process, Heather received only an hour's notice that she would have a daughter. Without hesitation, Heather was encouraged to drop everything and start parental leave right at that moment.
"Capital One said, 'Go, we support you. Don't worry about it. Come back as a mom in a couple of months,'" Heather said. "I never worried that I would need to compromise as I was building my family."
Even for less momentous occasions—like a typical work week—Heather feels supported in her efforts to maintain a work-life balance. She doesn't check her work email at night or on weekends and expects her team to do the same. For Heather, having that sense of balance and transparency is a crucial part of fostering a culture of innovation.
"Capital One makes it safe to show vulnerability," Heather said. "I am transparent about what I'm excited about and what I'm nervous about. At Capital One, I show up as my authentic self."
Copyright © 2023 Opinions are those of the individual author. Statements are deemed accurate at the time of posting. Unless otherwise noted, Capital One is not affiliated with, or endorsed by, any company mentioned. All trademarks and intellectual property used or displayed are the property of their respective owners.