Volunteering for veterans: Raising a future service dog in the office
Who wouldn't love getting to interact with an adorable puppy in the office on a daily basis? Over the past few years, the Plano, Texas chapter of Salute, Capital One's Military BRG (Business Resource Group) has partnered with Patriot PAWS, a non-profit organization that trains and places service dogs with disabled veterans. Our Plano team even got the unique opportunity to serve as puppy raisers for a service dog in-training. Through their puppy raising journey, they discovered they were able to help the Patriot PAWS organization and the veterans they assist, as well as brighten their fellow coworkers' days and pave the way for a more accessible work space.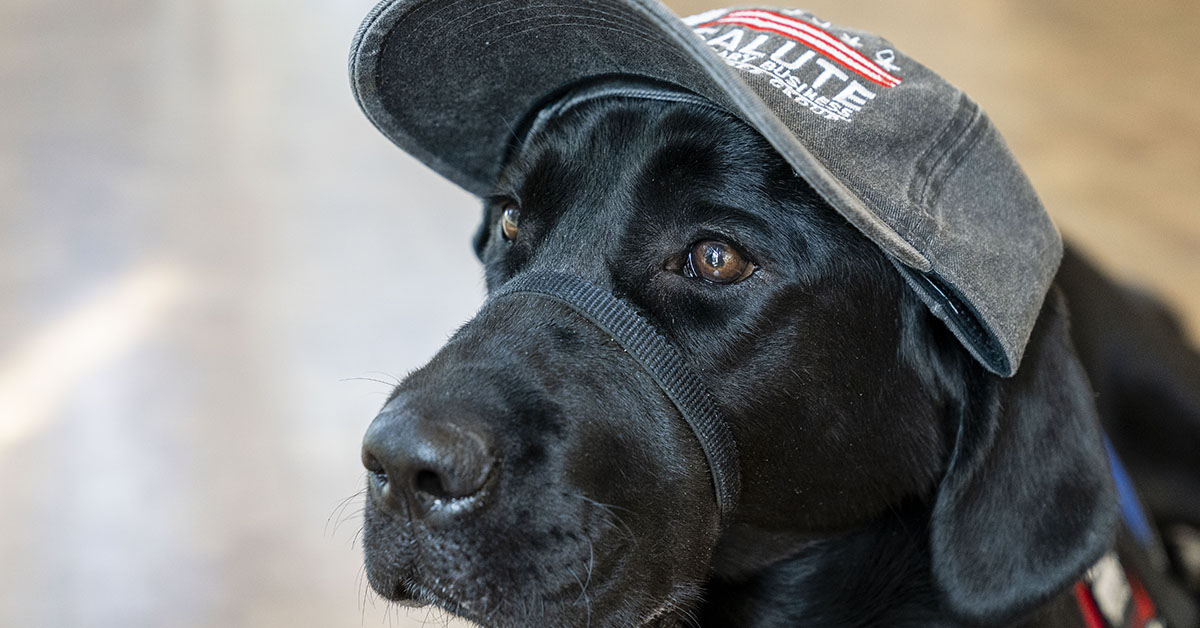 Veterans serving veterans
Associates from the Plano office provided around the clock care and nurturing for their four-legged buddy, named Franklin, for a period of 3 months. The pup even lived with an associate during the off hours between work days. The team trained and socialized Franklin within the Capital One campus environment, including introducing him to new teammates and bringing him to special events and daily meetings. They even made sure to document their pup's adventures on a company-wide blog, so other associates could follow along with his happenings.
All of this work is rooted in a mission that Salute members feel strongly connected to, setting veterans up for success in life and the workplace. Acclimating yourself into a new workplace can be a tall order for any new employee, and for veterans re-entering the civilian workforce, it can be an especially tough transition. Finding ways to connect with and get veterans involved in life at Capital One is a primary focus for Salute chapters across Capital One. Ivy R., Senior Staff auditor and member of the Plano Salute chapter, shared that "the most meaningful part of collaborating with Patriot PAWS is seeing first-hand how this program allows us to help veterans, and also offer an opportunity for our veteran team members feel more comfortable in the workplace." She noticed that the presence of a dog can be a great chance for someone to open up and start a conversation with co-workers, especially if they haven't been able to before.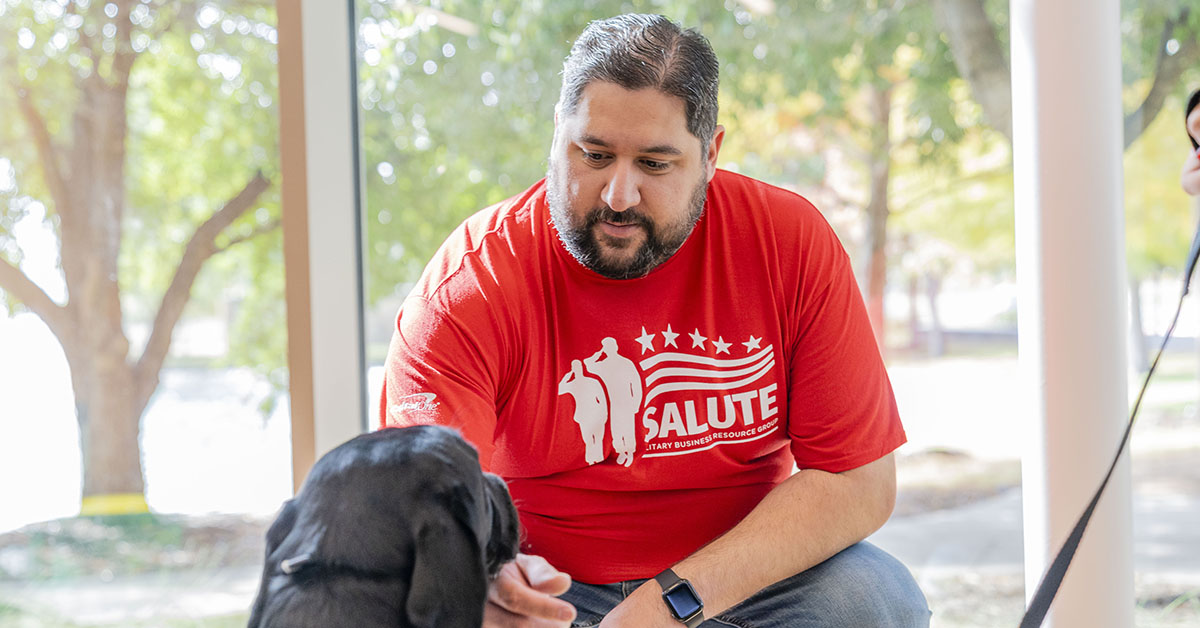 The road from playful puppy to working dog
Patriot PAWS is a 100% privately-funded non-profit organization that trains and provides service dogs at no cost to disabled United States military veterans. Their goal is "to restore [veterans'] physical and emotional independence" and the dogs help achieve that through their skills training and assistance with everyday tasks around the home and beyond. Dogs begin their training at a young age, being placed with certified puppy raisers, who expose them to a variety of social situations and get them accustomed to activity and people.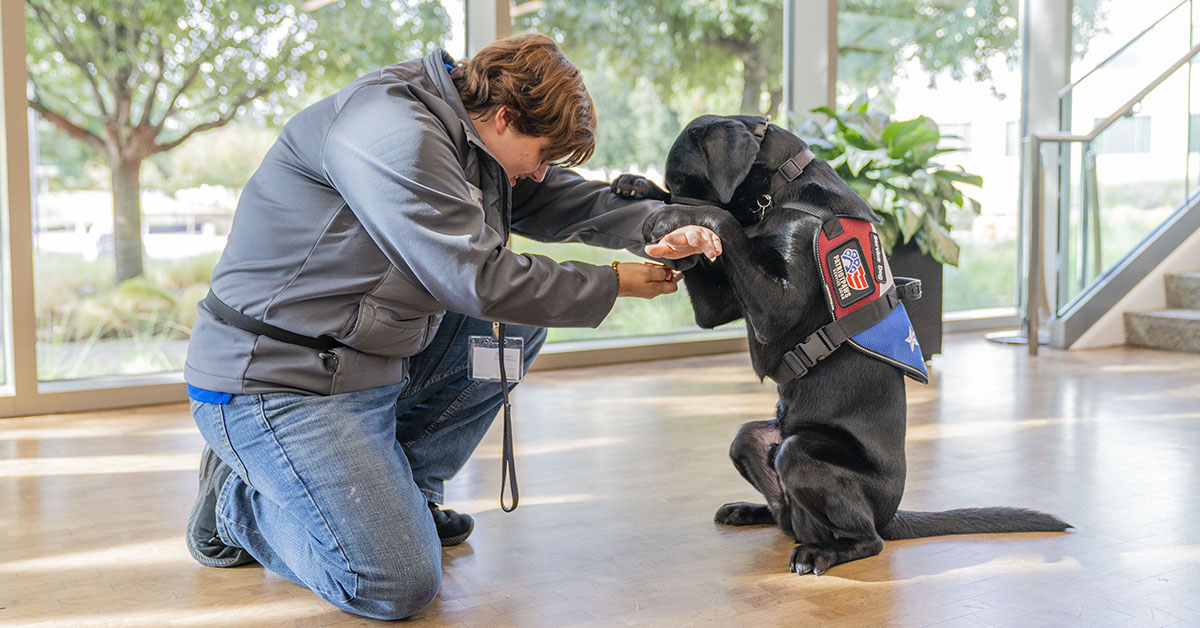 Partnering with the Texas Department of Criminal Justice, Patriot PAWS provides even more benefit to the community by helping to rehabilitate inmates through service dog training. This program offers unique opportunities for participants to gain skills that they can translate into potential employment after their release. The dog and its handler work together for a period of 18 months to 2 years to master 55 necessary commands, plus many more cues that the dog may need to know.
Bringing the pup to work
The Salute BRG chapter in Plano has always been a strong advocate for the Patriot PAWS organization. Prior to taking on puppy raising first-hand, they hosted and participated in a variety of events to benefit the organization and sponsored the training of other dogs outside the Capital One campus. These events included things like an annual golf tournament and a Memorial Day "Fur Fun" 5K run, as well as supply drives and dog toy making workshops. The team is committed to serving Patriot PAWS and allowing them to give back to those who served.
The road to puppy raising wasn't all fun and games, the team had some real questions and scenarios to tackle first. They worked closely with many different departments across the Plano campus to make sure all of the "what if's" were addressed. In the process, they paved the way for making sure their workplace was safe and accessible for ALL service animals that may one day use the space. Ivy shared that the Workplace Solutions team sent out surveys to accurately capture any allergies or other concerns that needed to be addressed. All possible issues were discussed and documented with action plans so the team was ready and prepared for the pup's arrival.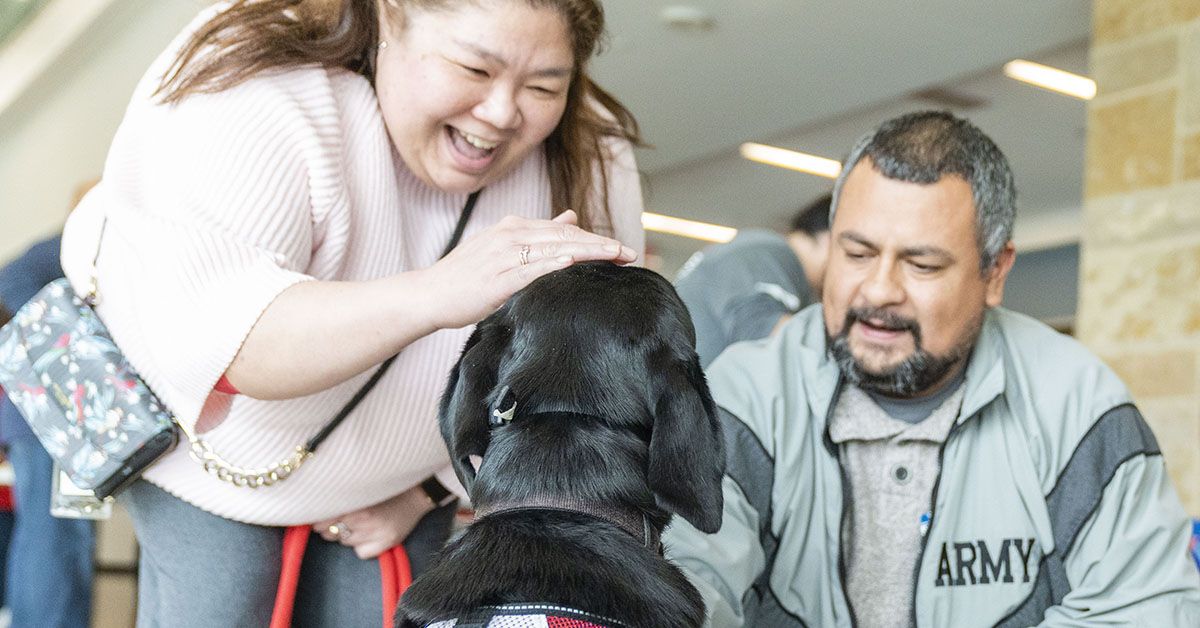 Important office impacts for associates on two and four legs
Additionally, the presence of an adorably bouncy, bubbly puppy was great for morale all over the building. Ivy recalled seeing co-workers of hers transform into "teddy bears" whenever Franklin came around. It was a delight to have a moment to pet him and she noted, "the clicker was used for training commands for the dog, but ended up becoming an unintentional cue for people that the dog was nearby, causing them to peek around looking for him." While Franklin was learning how to interact with the world around him, it also gave associates a chance to destress and get some puppy love and kisses.
Associates also learned how a service animal is involved in work day scenarios and how to properly interact with a working dog. During training, the dog was outfitted with a bandana when it's involved in an important learning opportunity, Ivy shared. This was a signal to associates not to pet or distract Franklin. He would also lay quietly under conference tables during meetings, as instructed. This means, despite the strong desire, associates had to refrain from crawling under the table to pet him.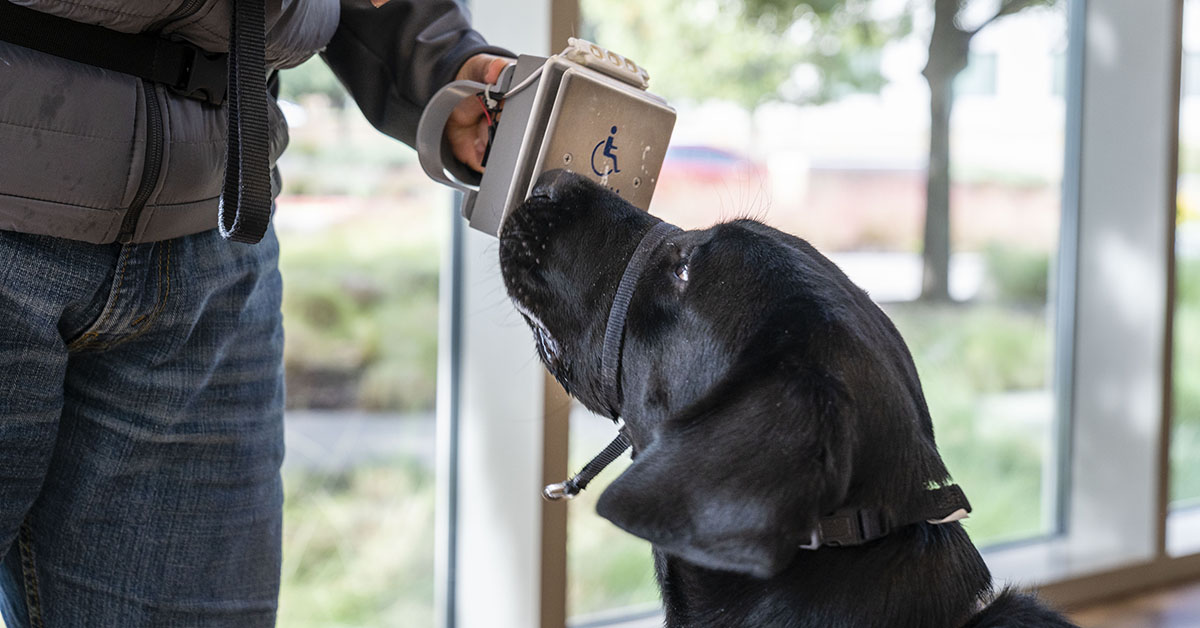 The puppy-raising journey was an important milestone for the Plano Salute chapter on many levels. Imagine being able to help someone in need and help your company implement changes that will allow a more diverse population to comfortably access your work space, and having an incredible time doing it. The Plano Salute team hopes to continue helping Patriot PAWS in the future as the organization scales their operations and training program, and also have the chance to raise another puppy in the campus environment soon.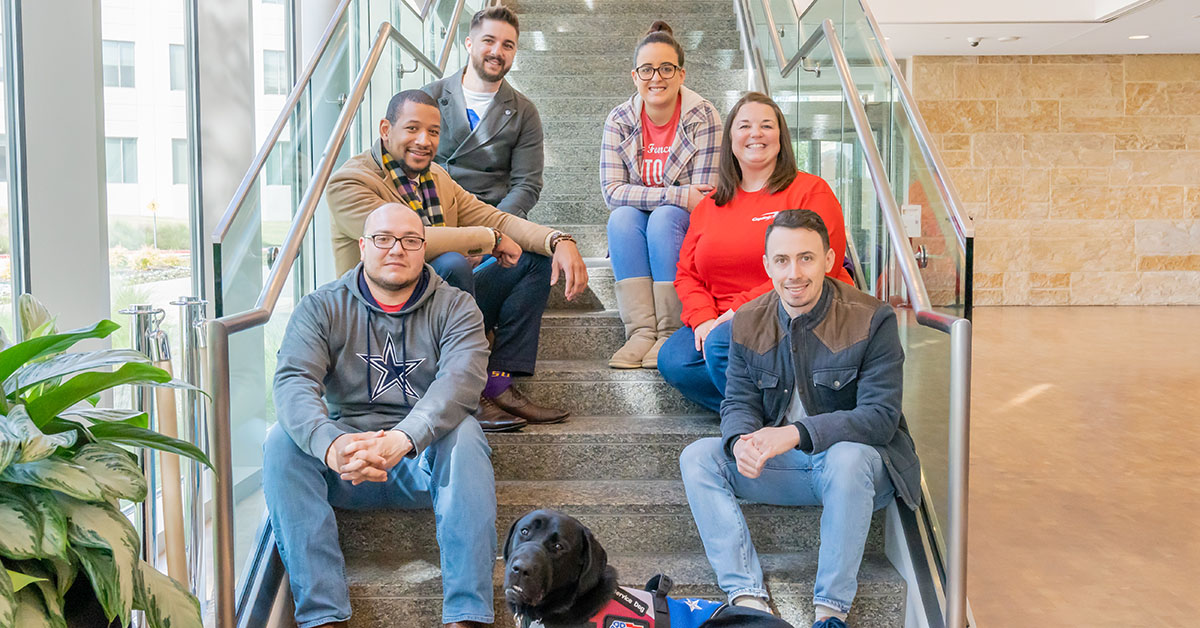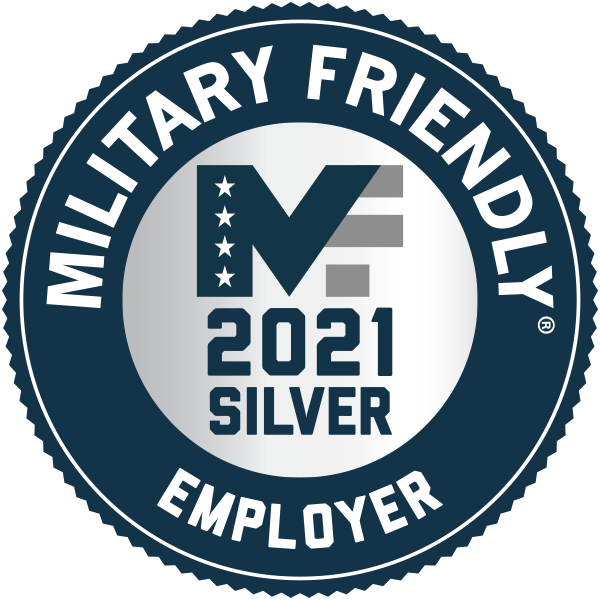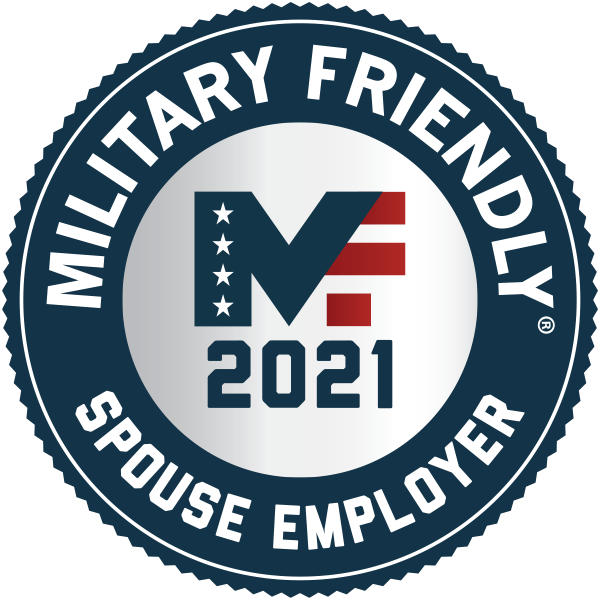 Capital One is a Silver Military Friendly Employer, as referenced in the 2021 Military Friendly Employer Guide. The Military Friendly designation creates better outcomes for Veterans by setting the standard for American companies. This accolade is a testament to Capital One's commitment to Veteran programs and diverse and inclusive culture of belonging. We're proud to celebrate this achievement with our Military Business Resource Group, and across the company.
Copyright © 2023
Opinions are those of the individual author. Statements are deemed accurate at the time of posting. Unless otherwise noted, Capital One is not affiliated with, or endorsed by, any company mentioned. All trademarks and intellectual property used or displayed are the property of their respective owners.