Workspace design through data: how Capital One works
Can you harness the power of data to better understand what makes a workplace work? At Capital One, we think so! Workplace Solutions (WPS), the in-house team responsible for creating and implementing our workplace design strategy, recently wrapped up its third annual Work Environment Survey, which gave 3,500 full-time professionals across the U.S. an opportunity to share thoughts on their office environments—what do they want, expect and need? Through the survey, our WPS team aims to understand: What spaces and amenities do professionals currently have? What's not working? What do they want more of? (Spoiler alert: This year we found that people want intentional design, adaptability and more focus on well-being and mental health.)
Let's unpack why this survey is so important to how we design, maintain and evolve our workplace to keep our teams engaged and focused.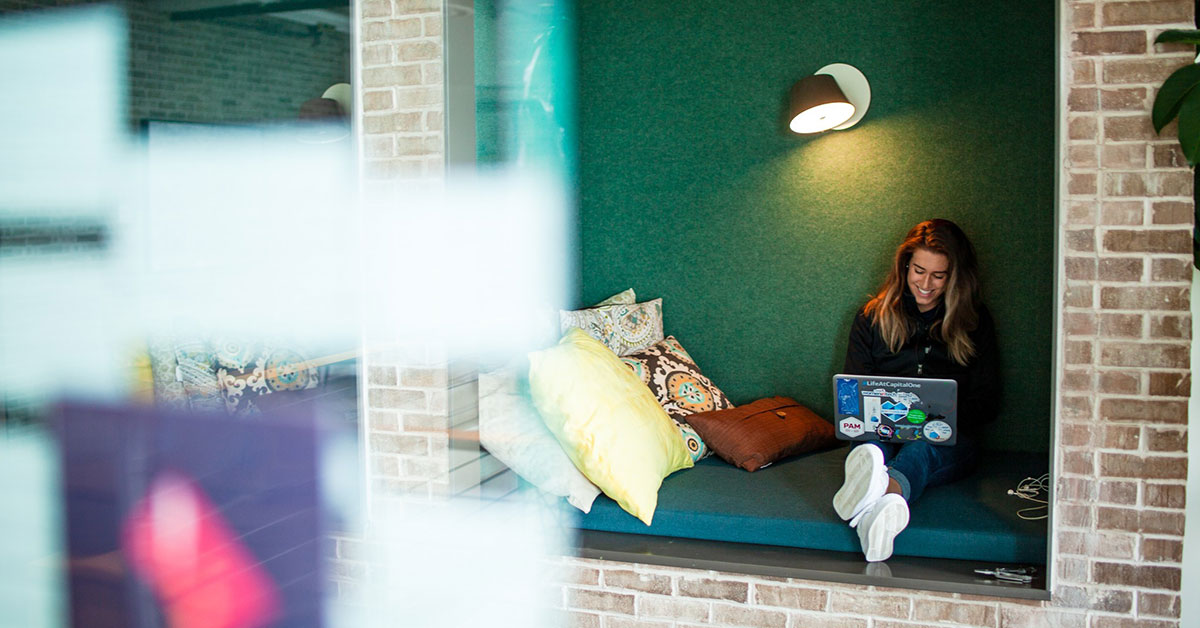 Data-backed workplace design
Capital One is a data-driven company, so the survey data is a key part of our evolving workplace design strategy. It's the third year we've collected this kind of data, and along with previous years' data, we're starting to see noticeable shifts in workplace trends that reaffirm and inform our own workplace strategy.
By listening to feedback from professionals outside of Capital One, we're better able to stay ahead of the workplace design curve and understand what trends will be most impactful for our associates. In turn, we use this data to inform our strategy in updating the way we work at Capital One.
What do people want? Intentional design, adaptability & well-being
Workplace design is about so much more than the colors on the wall or how comfortable the furniture is in any given space. It's about the holistic work experience and good workplace design can make a big impact on your overall well-being. It can also impact career decisions, how we perceive our ability to do our jobs and our overall mental health and well-being.
So what did the survey actually find? Let's take a look!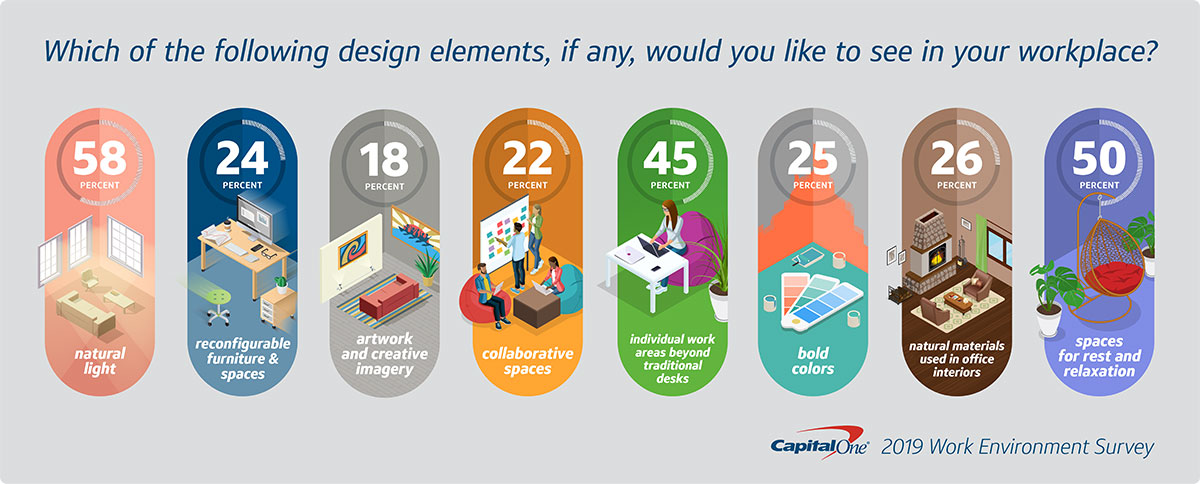 Most-desired workplace design elements: Natural light (58%) and natural materials (26%), reconfigurable furniture (24%) and collaborative spaces (22%), bold colors (25%), artwork and creative imagery (18%), spaces for rest and relaxation (50%)

Well-being and mental health resources that would move improve satisfaction at work: Flexible work schedules (67%) and access to natural light (53%), quiet spaces for rest or to unplug (42%), active workstation options (30%) and outdoor workspace options (28%), tools and spaces for creativity (19%), healthy food options on-site (43%) and a variety of communal dining areas (25%)
People are looking for flexibility and adaptability:
65% say they're more productive when they change physical location while working throughout the day
73% are more productive when they have access to flexible furniture (like sit-to-stand desks that are standard at Capital One offices)
77% say they perform better when their workplaces provide spaces for collaboration, while 88% say space for focused, heads-down work helps them perform better
45% say they would like to have space aside from their traditional work station for individual work
People are focused on well–being. Especially when it comes to achieving better work/life integration:
87% agree that employers should create spaces and programs that support mental health and well-being
67% crave flexibility in their schedules, saying it's a mental health resource that would improve their satisfaction at work
Office design elements including access to natural light and spaces for rest and relaxation are other mental health resources that can improve job satisfaction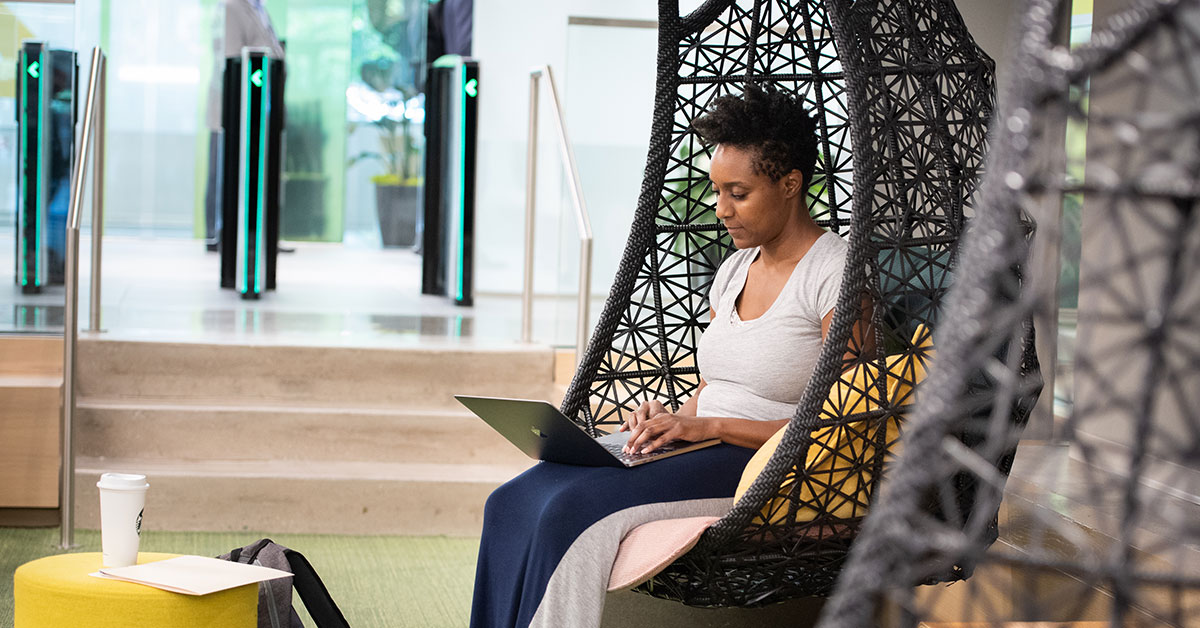 Inspiration. Choice. Culture.
So what exactly is our "design strategy" and how do we apply it to our workspaces? At the core of it all, our spaces are unique to Capital One and how we work. Our workspaces are designed to reflect our culture: innovative, inclusive and flexible. Our teams are driven by diverse perspectives and are empowered to work when, where and how they need to succeed.
Everyone works differently throughout the day—whether you thrive in an energized environment, or need to find a quieter place, our spaces invite associates to work in whatever way suits their individual needs and tasks. That's why we offer variety, choice and the flexibility to customize for our dynamic workforce. By creating the physical space to operate for all work styles—from large collaborative teams to quiet solo thinking and in between—we promote balance and empower associates to embrace their preferred method of productivity and innovation.
What's next for workspace design?
This year's study confirmed the connection between workplace design and mental well-being is strong. As the lines that separate work and private life continue to blur more and more, we are focused on fostering holistic well-being for our associates while they are at work, with the ultimate goal of fostering better work-life integration.
The data we uncover from this survey helps us iterate and refine the spaces and amenities that matter most to our associates. Capital One will continue to evolve, listen to feedback from associates and invest in using data to understand what works, what doesn't and where we can make the biggest impact in design to help our associates thrive and ultimately create the best products and services for our customers.
All in the details
The Capital One Work Environment Survey was conducted by Morning Consult and was sent to 1,000 working professionals nationwide, as well as 500 working professionals in each of the following markets: Washington DC, San Francisco, New York City, Chicago and Dallas. Discover more here.
Copyright © 2023 Opinions are those of the individual author. Statements are deemed accurate at the time of posting. Unless otherwise noted, Capital One is not affiliated with, or endorsed by, any company mentioned. All trademarks and intellectual property used or displayed are the property of their respective owners.