Mental health first: Jeffrey's self-care journey
What are some of the ways you prioritize your well-being in the midst of a flurry of activity and tasks to accomplish? For many, it can be all too easy to get swept away with all of the to do's on their list and because of that, their own needs can fall by the wayside. For Jeffrey, a unit manager in our Las Vegas call center, this became a scary reality when stress in his personal life took its toll and landed him in the emergency room. But thanks to the support of his team and leaders, and the encouragement to utilize his time off and health benefits to the fullest, Jeffrey has shifted his focus to prioritizing his health and wellness. Plus, he's also making sure his team feels empowered to do the same while sharing experiences and creating an open space for communicating and problem solving.
Making self-care a priority after a health scare
On the surface, everything was going great for Jeffrey—he had a job he loved working with a great team, he and his family were very close-knit and he was dreaming up new places to travel when he next got the chance. But, as Jeffrey now admits, "I had a lot of things going on in my personal life that were starting to get to me and I wasn't taking the time to take care of myself." The push to refocus his thinking came when he was in the emergency room, with no feeling in half of his face and the diagnosis of a possible mini stroke. The possibility of such a diagnosis scared the not yet 30-year-old Jeffrey. Instead, he learned that he was having a severe anxiety attack, a revelation which he credits with changing his entire outlook.
After that experience, he explained, "I focused on my health and I took on a new mindset in life, which was encouraged by my leaders and by Capital One." He and his leaders talked through the flexibility in his paid time off, medical resources available to associates, like therapy and on-call nurses, and other leave options that gave him the time to get in a better head space. He shares, "I got to renew, I got to rejuvenate myself and I got to come back a stronger, better person and more focused on taking care of myself. And I use my story as a cautionary tale to others." Jeffrey's experiences help him to encourage others to take care of themselves first and listen to their own needs.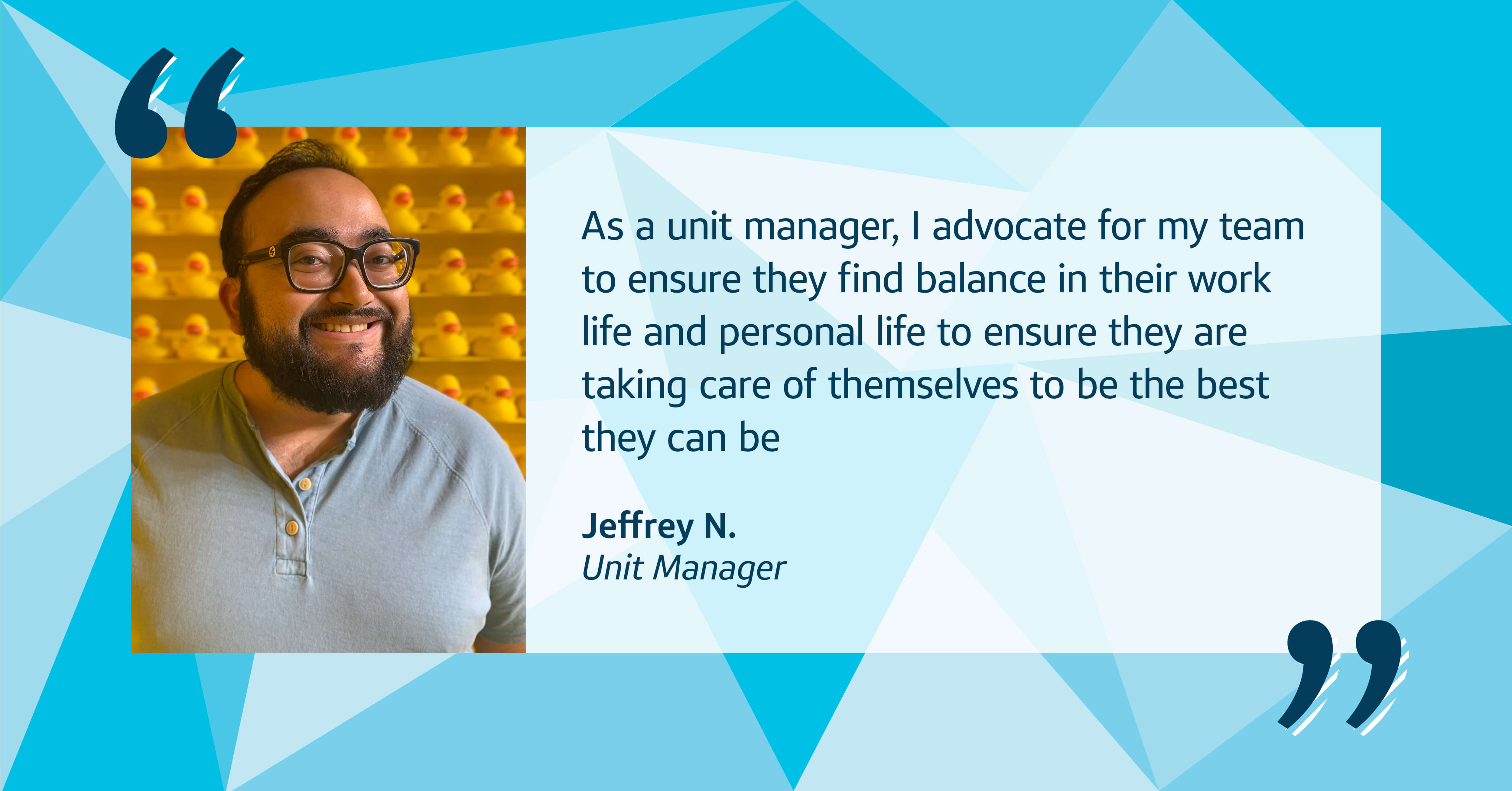 Nurturing well-being at work and at home
Jeffrey and his team work hard every day to serve Capital One customers and ensure they have a positive experience. But, as a leader, Jeffrey is also making sure his team has an inviting, positive working environment each day as well. "As a unit manager, I advocate for my team to ensure they find balance in their work life and personal life to ensure they are taking care of themselves to be the best they can be," he shares. Part of the way he advocates for work-life balance is by sharing his own experiences and struggles. Jeffrey's authenticity helps to foster an inclusive environment where everyone feels welcome to be their full selves too and have honest discussions about their needs.
"The flexibility we have at Capital One is something that's very important to me," Jeffrey shares. He added, "as someone with depression and anxiety, if I need to step away for a moment, there is encouragement from my leaders to take the time to focus on me and make sure my mental health is OK. They also check in regularly to make sure I'm doing OK. It means the world to me."
Jeffrey also encourages his team to use their paid time off and prioritize time to relax or do something fun outside of work. When he experienced his health scare, Jeffrey was reminded of the importance of taking regular time off to recharge and focus on himself, while finding full support from his coworkers and leaders to do so. He explains, "in my 9 years at Capital One, there has been constant support to focus on our well-being and the support is found from the top down. It's always senior leadership advocating for their associates to take the time and encouraging leaders to support their agents." Jeffrey is one of those leaders strongly advocating for his team to take the time they need. Whether it's encouraging them to use their full break time each day, being mindful of the hours his team is putting in or reminding them it's ok to plan days off regularly, even if you don't have a trip planned. Jeffrey tries to support his team to the fullest, anyway he can.
Leading with honesty
Another way Jeffrey uses his experiences and voice to help others is through his involvement in OutFront, Capital One's LGBTQ+ Business Resource Group, and in the Diversity, Inclusion and Belonging programs. Jeffrey knows the importance of representation in helping others feel connected and seen at work. "I get to be a part, to represent someone who suffers from anxiety disorders, who is a gay, LatinX associate and I see myself in Capital One. I see myself growing. I see other leaders like me because of the openness of our mental health, our well-being and our individuality. I see myself in others." By sharing their experiences and discussing their struggles openly, leaders like Jeffrey create inclusive spaces for talking about and working through challenges together. He also added, "Capital One helps show you that you are not alone in your journey and Capital One will help you in your journey for growth career wise and in your own personal journey."
He adds, "that's something that you don't see in so many other places. I'm proud to be able to be that leader, to show others it's OK to be different, it's OK to be who you are authentically and it's OK to have faults. I got to where I am while being all those things and I want to help get you where you want to be as well." Whether he's sharing mental health tips and resources with his team or speaking on a panel about his own experiences and the mental health battles he's winning, Jeffrey is open and honest and that helps others feel comfortable as well.
With leaders like Jeffrey, who are willing to be real and vulnerable about things they struggle with, associates can find support to work through their own situations. A strong commitment to maintaining a culture where everyone has the flexibility to prioritize their needs helps teams integrate work-life balance in the best way for them. For Jeffrey, this is one of his favorite aspects of Capital One culture; "People think that Capital One is just a bank but it's so much more, it's a family, it's a celebration of diversity, it's a place where you can grow as your true self."
Copyright © 2023 Opinions are those of the individual author. Statements are deemed accurate at the time of posting. Unless otherwise noted, Capital One is not affiliated with, or endorsed by, any company mentioned. All trademarks and intellectual property used or displayed are the property of their respective owners.