Using my health benefits to take control of my diabetes and learn better nutrition
By Randy G.
Randy is a Market Experience Multimedia Manager at Capital One.
My journey to gain control of my health resembles the pattern of ocean waves. I've ridden the physical and emotional highs and lows of fluctuating weight and its subsequent health issues for years. Before my mom passed away from cancer, she challenged me to get control of my health and treat my body with more care. So, I wholeheartedly devoted myself to that mission after her passing. The years since have been a bit of a roller coaster, but through my own determination and some help from the benefits available to Capital One employees, I'm navigating the changing tides of my health journey. It's time for me to flow more like a river—strong and steady.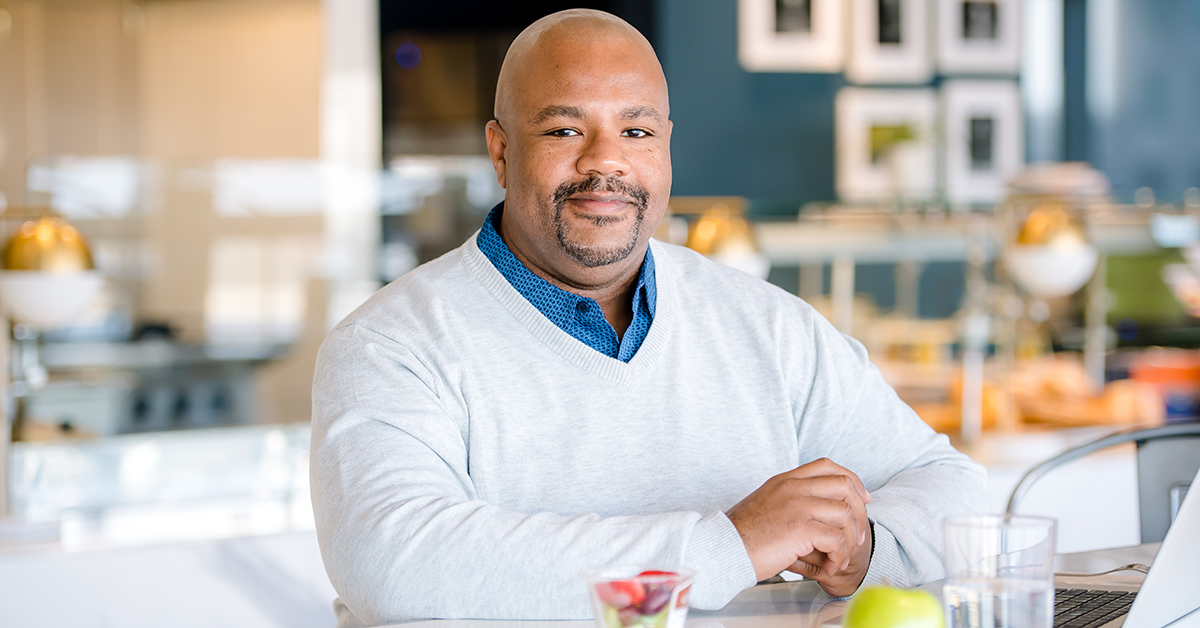 The hard beginnings of my health journey
New Year's Eve 2014 is etched into my mind like a photograph. I can recall almost every moment of that day. It was the day that my mom, my best friend, my muse and the bedrock of my family, was diagnosed with pancreatic cancer.
I remember standing beside her hospital bed, holding her hand. She periodically and intuitively squeezed my hand tightly when I needed reassurance. We watched the ball drop on her hospital room TV, as I wondered how we would weather the storm ahead in the new year.
My mom was always the personification of quiet but sure-fire strength for me. She never once showed fear, doubt, sadness or worry, but focused on the wellbeing of her children. She passed away that April, just a few short months after that New Year's Eve that's so ingrained in my memory. She had a dying wish for me—get healthy and live a better lifestyle.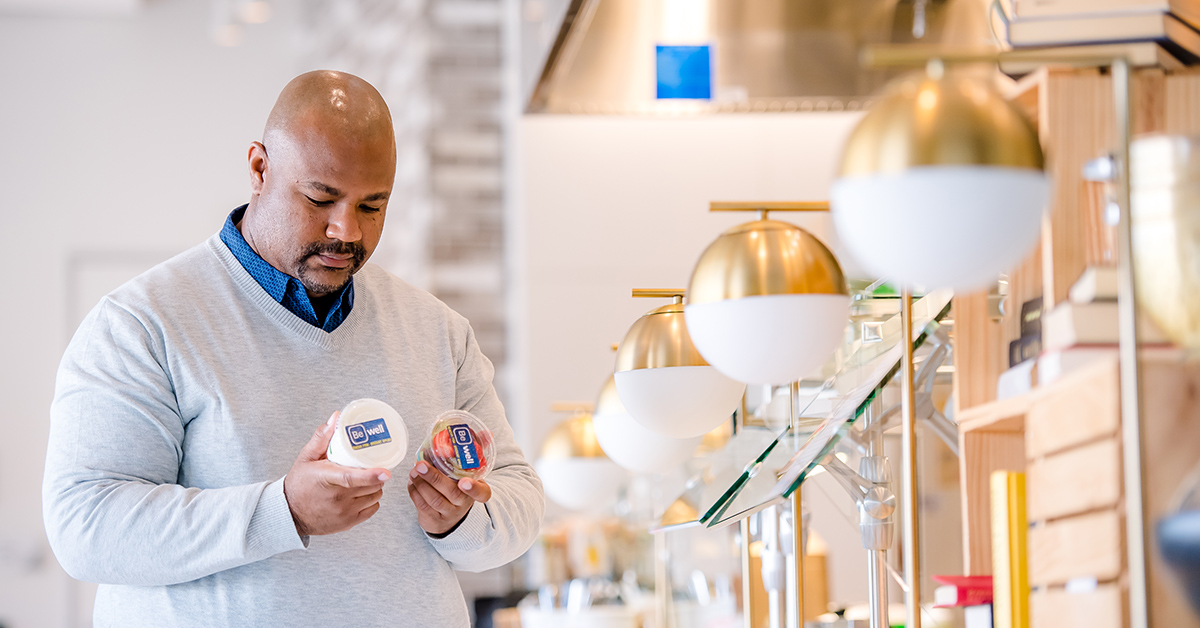 I began the journey to fulfill her wish immediately, I started a cleanse to remove toxins and boost my metabolism, joined a kickboxing class at the YMCA and planned a meal routine to immediately follow the 10-day cleanse. Fast forward eight months later, and I was physically on top of the world—62 pounds lighter with newfound energy and a little bit of "I-can-do-anything-ness" in the back of my mind.
But just as quickly as it was achieved, it all came crashing down.
Feeling defeated on the scale and off
The power of denial can be formidable, and I failed to realize that once I relaxed on the six-day-a-week workouts and meal routines, the weight would start piling back on, slowly and bit-by-bit. In hindsight, it was ambitious of me to think I could maintain these strict guidelines long term, but I was just so focused on achieving that end goal and success. Eventually, I was hit hard by the truth of the situation.
It wasn't until I tried to put on my favorite pair of jeans and couldn't get them past my thighs that I faced the harsh realization that I had gained back almost all of the weight I worked so hard to lose. The cherry on top? Two weeks later, I was diagnosed with Type 2 diabetes.
For the longest time, I blamed myself. Diabetes is rampant in the black community. My grandmother, father and two sisters all deal or dealt with the ugly condition, along with many others in my personal circle. My father passed away from diabetic-related complications when I was only 20.
With that previous awareness and knowledge, I kicked myself for not doing more to prevent these issues sooner. While a large culprit of diabetes is genetics, I felt that I had an earlier-than-usual onset due to my lifestyle and the poor eating habits I had resumed. I couldn't shake the feeling that I could have prevented it with better choices.
Going from my smallest weight as an adult to being overweight, having diabetes and giving myself daily insulin injections, all in one fell swoop, sent me into an emotional spiral. I went through a silent and very private depression for longer than I care to admit.
Finding the tools to get back my health
Eventually, I picked myself up off the floor of despair and decided to take back control. At that exact moment, I got up from my desk and went downstairs to the health center in my Wilmington, DE office building and met with a dietitian. It was one of the best decisions I've made in the recent past.
Capital One has dietitians on staff, working in their on-campus health centers to help you determine nutrition plans to meet your health goals, like minding a medical condition in my case. We are lucky enough to have these primary care health centers on 9 of our campuses, including mine, but Capital One associates also have the ability to conduct phone check-ins and health and wellness coaching through our BeWell wellness program even if they don't have a health center on their campus. I was pleased to see that the plan my dietitian came up with was quite realistic and manageable. She helped me create nutrition goals and provided support that helped me feel that I had the upper hand on my condition. Through working with my dietitian, I've gained the confidence to face my health struggles head on.
She went above and beyond, not just helping me determine what to eat and not eat, but also helped me think through logistical challenges like how to eat balanced, low-carb, low-sugar meals that could work for my sometimes intense travel schedule. She always had some new resources or info for me with every visit. Once, she even gave me a cookbook focused on crockpot meals for diabetics. I'm so thankful that Capital One offered me access to health professionals, like the dietitian, right on my campus. They make it convenient to fit the appointment into my daily schedule, and the company culture is so supportive of taking care of yourself.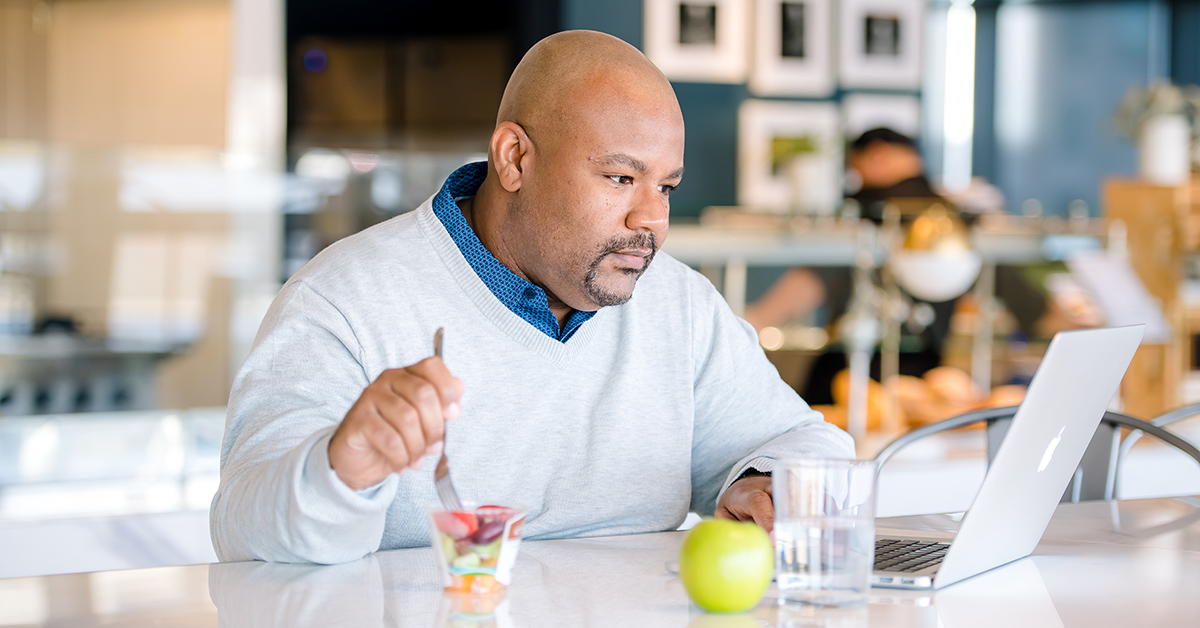 That initial visit was two years ago. Since then, I've learned so much about the incredible resources that are afforded to Capital One employees like me. It has helped me start my journey of getting back on track.
Hope for a healthier future
I'm still working through this health journey. And while I was paralyzed by the fear of yet again failing for quite some time, I finally realized a setback is only a failure when you don't learn from it. This go-around, I now view health management as a marathon instead of a sprint. I'm focused on long-term sustainability and defining a lifestyle rather than putting a band-aid on the situation.
Most importantly, I began to understand that although I can't control the disease I have, I can control how I respond to it. It's solely up to me to own my health. It is important to become knowledgeable about what resources are available to you, and take the steps to use them to your full advantage. There's no time like the present. Think about your health goals and explore what's available. Capital One has set me up well with some wonderful resources during my quest for better health. I feel like I am in control and equipped to improve my life for the better and live a healthier lifestyle for the long term. Now, I intend to live it and keep rolling on like a flowing river!
Copyright © 2023
Opinions are those of the individual author. Statements are deemed accurate at the time of posting. Unless otherwise noted, Capital One is not affiliated with, or endorsed by, any company mentioned. All trademarks and intellectual property used or displayed are the property of their respective owners.