Hispanics in Tech: A community for Latinx talent
At Capital One, we prioritize communities that create welcoming spaces for all associates to learn, grow and celebrate one another. The Hispanics in Tech Business Resource Group is one of many Capital One entities that fosters community, career building and connections. See how Hispanics in Tech is empowering associates and creating a culture of belonging.
Rosa felt like she was home among her colleagues with the Hispanics in Tech Business Resource Group (BRG). She was attending the group's inaugural conference last year, where she reveled in being surrounded by 300 Hispanic, Latinx and ally associates talking about professional development, cultural intelligence and leadership.
"Hispanics in Tech truly is about elevating others," said Rosa, Agile Delivery Lead. "No matter who you are, you have a home in this community. That's what our culture represents."
Rosa's experience is just a snapshot of the Hispanics in Tech BRG's mission to create an inclusive environment in technology that is approachable and welcoming to all.
Jose, Senior Director of Data Engineering, helped start Hispanics in Tech in 2018 to build Latinx representation in technology. Only 12 percent of people working in technology in the United States identify as Latinx, according to the "2020 People of Color in Tech Report" by TrustRadius, a review site for business technology.
"This is a place where you can flourish regardless of ethnicity and background," Jose said. "We're really showing that and supporting that. We're constantly evolving. It's progress, not perfection. We're supporting the future leaders and really walking the walk and not just talking the talk."
While Hispanics in Tech now has local chapters in five cities, members of the Business Resource Group stay connected virtually to elevate the focus on Latinx talent in technology through awareness, engagement and education.
Learn how Hispanics in Tech is helping current and future associates succeed.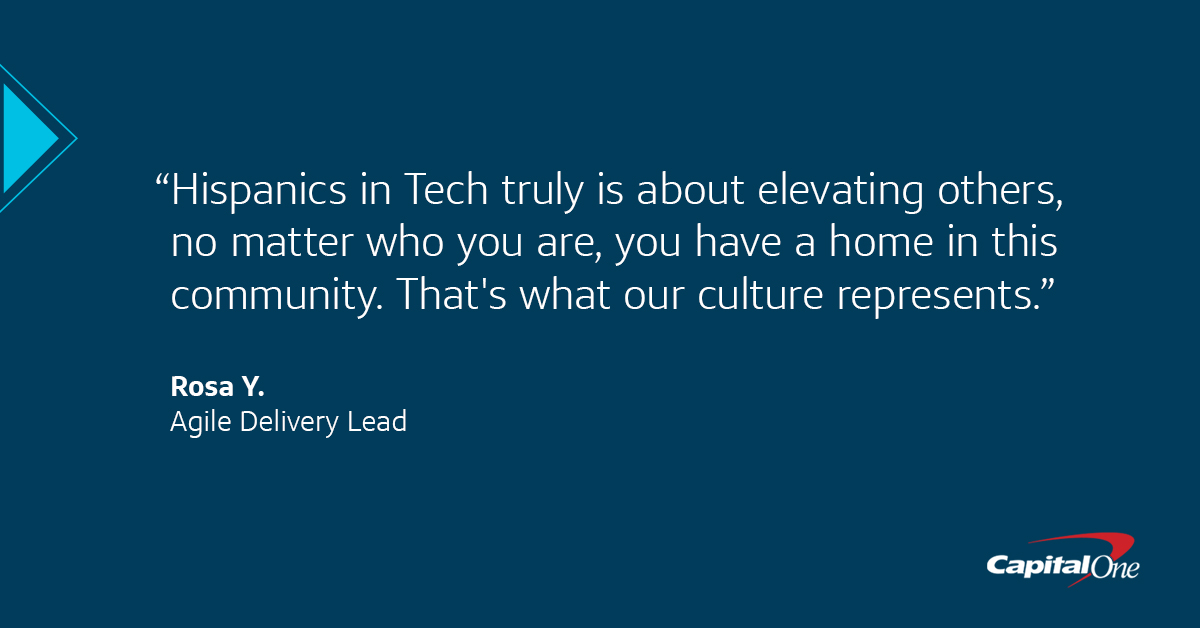 A group for personal and professional growth
Hispanics in Tech connects associates with opportunities to pursue professional development and foster a culture of community engagement and social responsibility.
Associates gather annually for the Hispanics in Tech Spring Conference, where they can hear from Hispanic and Latinx leaders, gain tech and leadership skills and meet and network with colleagues across Capital One. The conference switched to a virtual format in 2021 because of COVID-19.
Jennifer, a Vice President of Product Management and Hispanics in Tech (HIT) leader who helped organize the conference, said the event is one of many ways the group makes her feel comfortable and included.
"The most powerful thing about HIT is the community," she said. "In rooms where you have a minority position in representation or lack of understanding of how culture impacts our work, it can be exceptionally difficult to effect change. HIT makes it safe because you can see allies, partners and fellow HIT community members with our associates wherever they go at the company."
Outside of in-person and virtual gatherings, Hispanics in Tech members keep conversation flowing on the group's Slack channel. Associates give shout-outs to colleagues, share professional development and exchange volunteer opportunities with nonprofits in the community.
Hispanics in Tech members find ways to inspire the next generation of Hispanic and Latinx technologists. The group hosted high school students on Capital One's campuses to share stories about their professional journeys, spoke to college students in webinars about careers in technology and led coding sessions for the nonprofit Girls Tech Together.
"Capital One's culture is one of belonging," Rosa said. "HIT is a Business Resource Group that exemplifies this type of culture where your ideas and voice matters and where you can make a difference not only for yourselves but for others by bringing them along in this wonderful journey of equality and fairness."
Supporting others to create inclusive spaces
Hispanics in Tech frequently works with groups, both inside and outside of Capital One, on a shared commitment to supporting and encouraging diversity, inclusion and belonging.
The Business Resource Group sponsors the Hispanic IT Executive Council, a global leadership organization that provides career development, mentorship and philanthropic efforts. Hispanics in Tech also partners with Capital One's Blacks in Tech and Women in Tech Business Resource Groups, among others, to promote and partake in well-being events, professional development courses and fun trivia nights.
Jose said Hispanics in Tech's partnerships help create a larger community for associates to connect and help one another.
"My dad was a blue-collar mechanic who didn't understand the challenges I face in corporate America," Jose said. "Having HIT helps me have others to bounce ideas off of and brainstorm ways to work through challenges. There are groups of us out there that are succeeding, and we're adding others and supporting them along the way."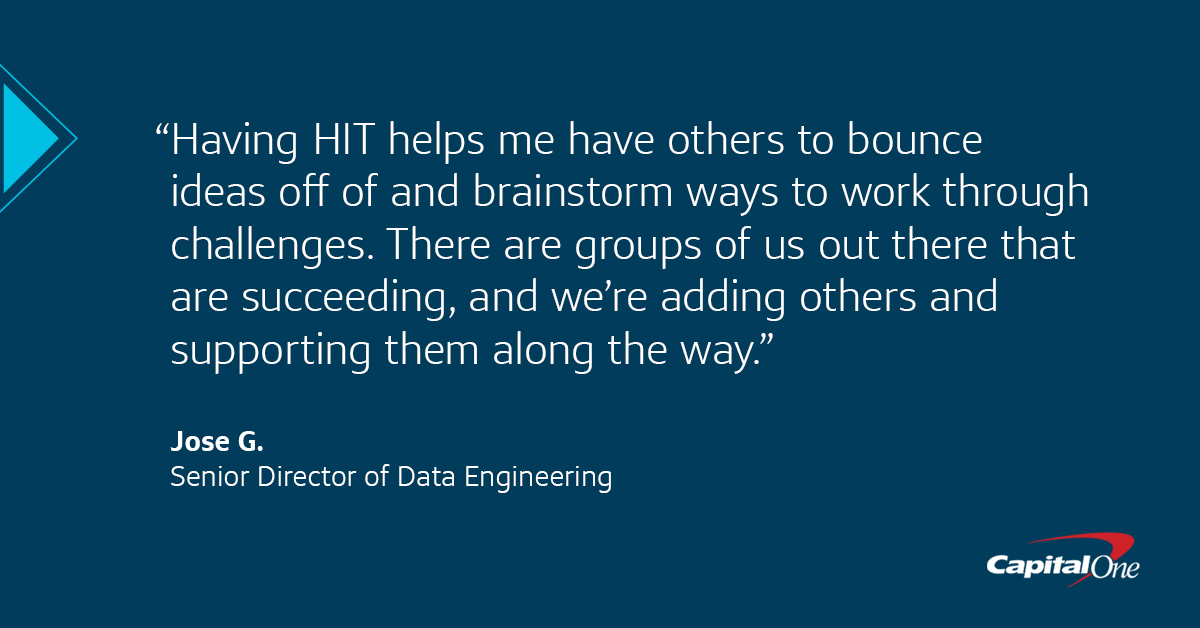 Building a future of Hispanics in tech
Hispanics in Tech associates have an eye on the future with three objectives for 2021 and beyond.
The group wants to make Capital One a case study for attracting and onboarding top Hispanic and Latinx talent, create a mentorship program and other development experiences for current associates and increase outreach to the broader community to inspire participation and belonging in the technology industry.
"We build and run HIT for our Latinx associates and future generations of Latinx technologists," Jennifer said. "For many of us, we have been trained to be the only, the surprise, the exception to the rule. Here we are working to meaningfully change that and allow your specialness and uniqueness to be driven by you and not by what someone might think of you. We get that in HIT and Capital One. We can all walk up, go to the office or get on Zoom and know that we are recognized for our accomplishments and our special and unique perspective. That's what organizations like HIT support in the culture of Capital One."
Copyright © 2023
Opinions are those of the individual author. Statements are deemed accurate at the time of posting. Unless otherwise noted, Capital One is not affiliated with, or endorsed by, any company mentioned. All trademarks and intellectual property used or displayed are the property of their respective owners.