Hispanics in Tech Summit: Inspiring Latinx talent
Tucked away in Judith's home is a whiteboard that she turns to for moments of inspiration.
The whiteboard reads: "Instead of backing down, I doubled down." Judith, an Agile Program Lead, heard the phrase from Nonny de la Peña, CEO of the AR/VR company Emblematic Group, during the Hispanics in Tech Spring Conference.
Nonny de la Peña was one of the dozens of speakers at the annual conference hosted by the Hispanics in Tech Business Resource Group (BRG).
"There aren't enough words to express how it makes you feel to see all of these greats and know you too can make history if you allow yourself to find and live in your purpose," said Judith.
At this year's three-day virtual conference, associates enjoyed a schedule full of high-profile guest speakers and break-out sessions on innovation, leadership, well-being and diversity, inclusion and belonging.
Check out what you missed from the annual Hispanics in Tech Spring Conference.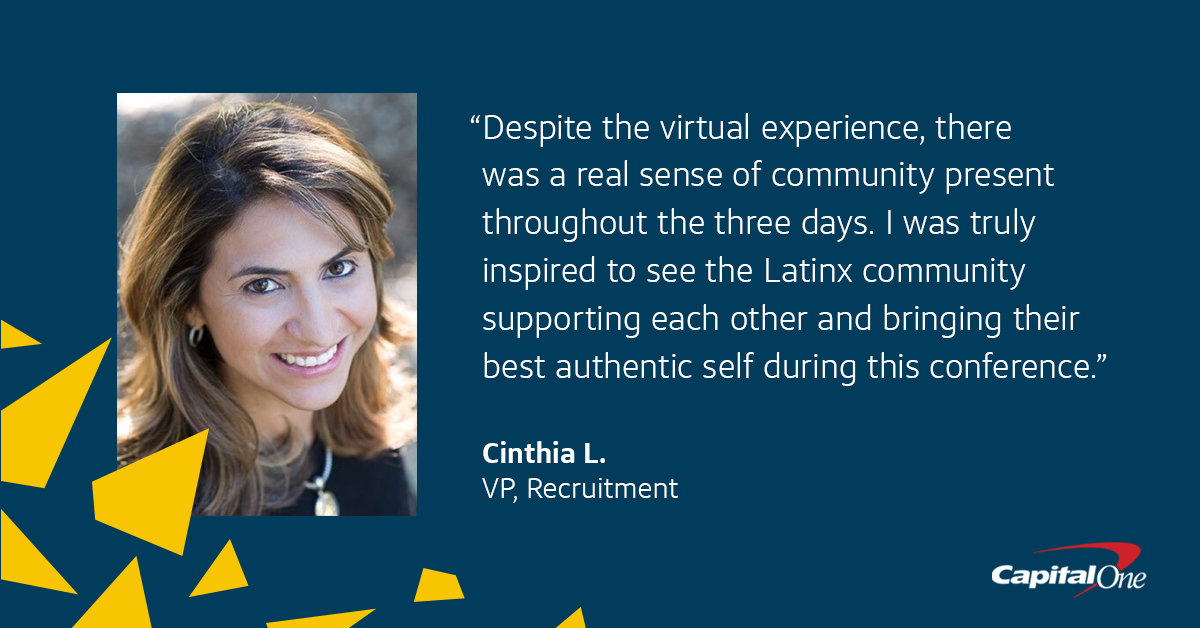 A chance to hear from industry experts
The Hispanics in Tech (HIT) Spring Conference is an opportunity for Latinx technologists and allies to get inspired by Hispanic pioneers in technology, learn tech and leadership skills and hear how Capital One invests in diversity and supports the hiring and development of Latinx talent.
The conference is also the chance for associates like Jonathan, Cyber Intelligence Analyst, to experience what it is like to be in the company of hundreds of Latinx professionals in technology.
"The HIT Spring Conference is a place to connect with fellow associates in a safe place of learning and shared culture," Jonathan said. "It's an event to elevate associates, regardless of how they identify, in a setting inspired by the Hispanic culture and community."
The theme for this year's conference was "The Breakout: Moments that Matter."
"In the year of 2020, what do our associates need," said Jennifer, a Capital One Vice President of Product Development and Hispanics in Tech leader who organized the conference. "How do we take this moment that has impacted all of us, and how do we actually make it into something really meaningful? This has to be a breakout year for all of our Latinos in technology, all of our Hispanics in technology."
This year's conference had nearly two dozen sessions featuring Capital One associates leading and moderating panels about the power of Hispanic talent, becoming a people manager and how to support, and be supported by, allyship.
Guest speakers included actor John Leguizamo; Claudia Romo Edelman, a diplomat and activist for diversity, inclusion and equity; and astronaut Ellen Ochoa, the first Hispanic woman in space and former director of the Johnson Space Center.
Cynthia, a Program Manager for Enterprise Data & Machine Learning, loved hearing Ochoa speak. Pettoruto credits her childhood love of astronauts for launching her into an engineering career.
"The lineup of talented speakers was phenomenal," Cynthia said. "Despite the virtual experience, there was a real sense of community present throughout the three days. I was truly inspired to see the Latinx community supporting each other and bringing their best authentic self during this conference."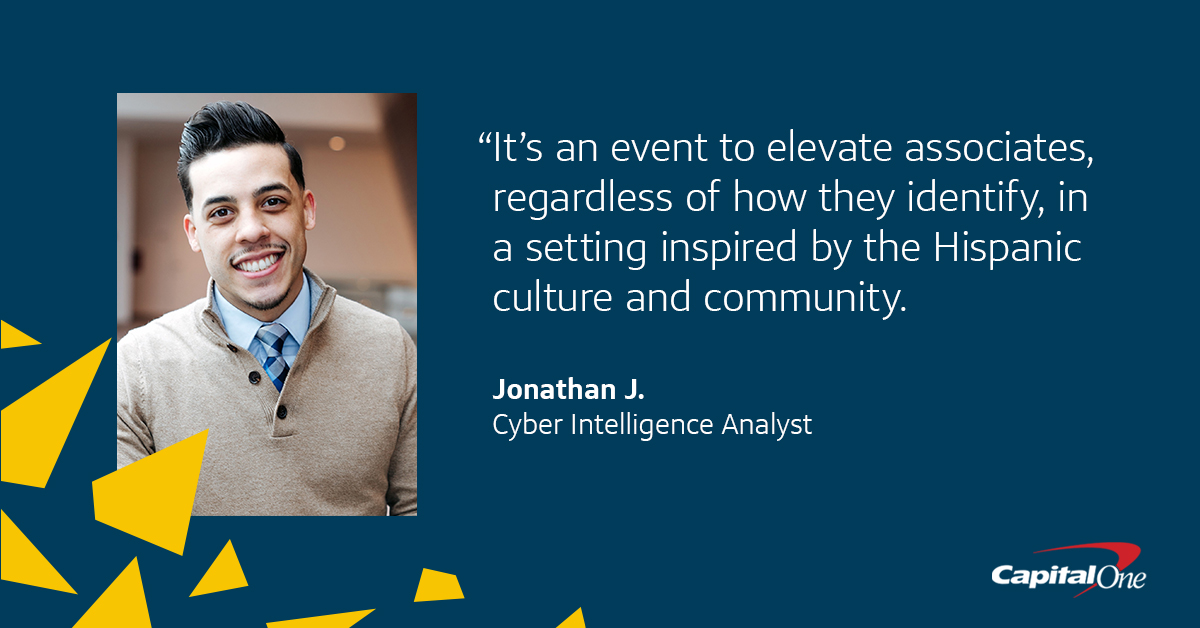 Supporting diverse voices
Many of the conversations within the conference focused on diversity.
Panelists spoke on prioritizing the Latinx community and diversity, inclusion and belonging at Capital One. Associates discussed how the Hispanics in Tech, Blacks in Tech and Women in Tech BRGs can support one another. Cinthia López, Vice President of Students and Grads Recruiting and Programs, spoke about meaningfully hiring Latinx talent.
Judith said the conversations helped her realize how highlighting diverse voices and actions make dreams come true.
"Not sure I realized how much passion I have for bringing forth the voices of Blacks and Hispanics in this country," Judith said. "I learned that we are so powerful. The narrative has got to be changed so that we can be recognized for all of the amazing contributions we've made to this country."
Hispanics in Tech members had a chance to celebrate their contributions with the "HIT Excellence Awards," which celebrate associates who are delivering great results or making a meaningful impact at Capital One or in the broader tech community.
Connecting over coffee
There was still plenty of time for fun and centering during the conference.
Associates participated in guided meditation, yoga and dynamic stretching. A DJ played Latinx hits. Karen Attman, a Colombian coffee expert, instructed participants on how to determine the quality of coffee. Music duo Pa'Baila played Salsa music that Capital One associate Jonathan danced to with his family in their living room.
"In general, professional development and career-focused learning never felt so fun, engaging and authentic," Jonathan said.
Cynthia appreciated the virtual photo booth to memorialize the conference. Associates uploaded photos with festive backgrounds, family members, pets and plenty of flags representing Central America, South America and Caribbean countries.
"The conference organizers knocked it out of the park," Cynthia said.
The conference is just a sample of the many resources the Hispanics in Tech BRG provides to associates. Learn more about Hispanics in Tech's work to create an inclusive environment in technology that is approachable and welcoming to all.
Copyright © 2023 Opinions are those of the individual author. Statements are deemed accurate at the time of posting. Unless otherwise noted, Capital One is not affiliated with, or endorsed by, any company mentioned. All trademarks and intellectual property used or displayed are the property of their respective owners.