Drawing up a connected culture in our art program
When Laura joined Capital One in 2021 as a product manager for Retail Bank, her team was working remotely. She wondered how she would connect with colleagues and build a community given the shift to working from home.
Shortly after starting, she found the Capital One Art Program, which inspires creativity and builds community across the company through arts-based experiences no matter where associates work from. She jumped in—signing up for the Art Program newsletter, participating in virtual events to create watercolors and mixed media and listening to conversations with artists.
"I love seeing my coworkers' artwork," Laura said. "Seeing their creativity inspires me, and I've met so many amazing folks because of the Art Program."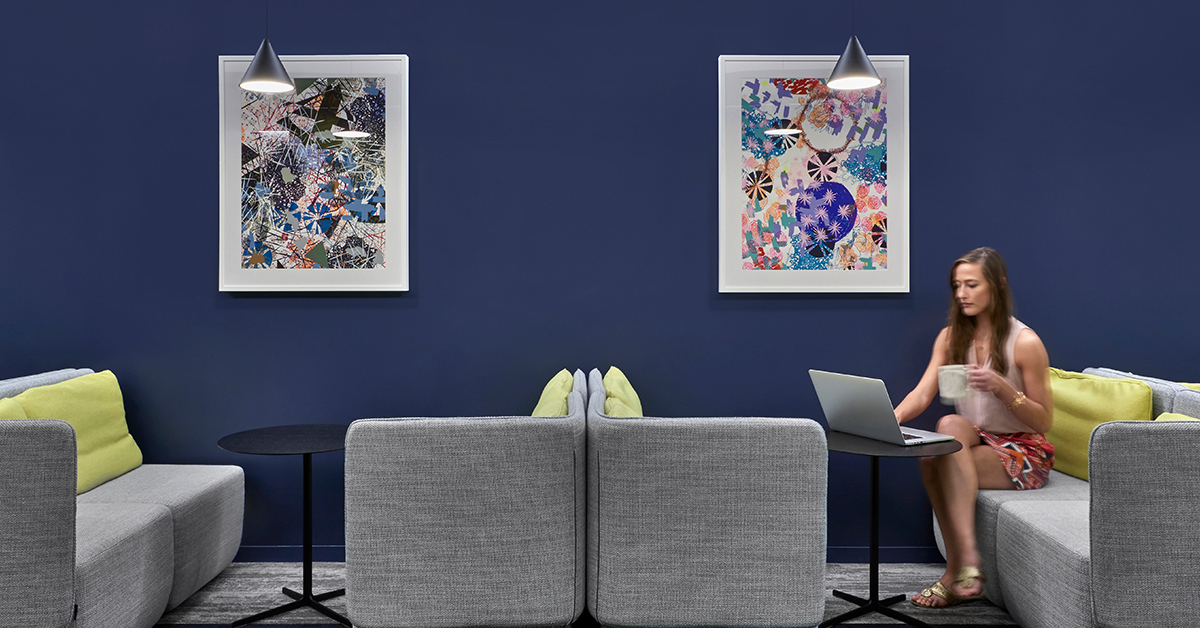 Innovation. Creativity. Community.
The Art Program started as a way to create inspiring spaces for our associates, reflect Capital One's culture of creativity, inclusion and innovation, and connect us to the communities in which we live and work. While the program manages more than 7,700 pieces of art in Capital One's collection, many of which can be seen across our campuses, the Art Program team had to rethink how they connect to associates when most of Capital One shifted to remote work in 2020.
"We had to innovate," said Anne, director of the Capital One Art Program. "On the fly, we had to figure out how to do these programs without all being in the same place in front of the artwork. In doing so, we were able to reach associates across the company, wherever they lived, and bring people together in a new way."
This work included fostering intentional spaces for associates to share their passion and talent for art. Exhibitions, classes and the lively Art Program Slack channel allow associates like Izzy, software engineer for our Tech team and a talented painter, to show off their whole selves.
"I think it is a blessing to be able to share my artwork at my day job and to have such a kind, supportive art community," Izzy said. "I did not know or expect that when joining Capital One. Art is such a big part of myself, and I feel very understood and seen being able to share that at my day job."
Izzy's creations range from smaller pieces to murals stretching larger than 14 feet. She thinks of art and her work as a software engineer as a symbiotic relationship.
"I think it's wonderful that I can do a job I enjoy, which also pays for another thing I enjoy," Izzy said.
Connecting art and justice
Anne and team worked to understand and internalize what was happening in the world—the stress and fear of the pandemic, the calls for racial and social justice—and provide an avenue for people to talk about these issues through art.
"We wanted to create a safe space for conversations about these difficult topics," Anne said, "and to really look at these issues through the type of lenses that only artists can provide."
The Art Program began hosting Arts for Equity, events where associates can have direct conversations with artists and curators about the meaning behind their works, and how their art intersects with social justice causes. In addition, the Art Program now hosts virtual exhibitions that honor and highlight various communities, like "Memory & New Beginnings," an exhibition to celebrate Asian and Pacific Islander Heritage Month, featuring works by Filipino-American artist Roberto Jamora and a Japanese-American artist Greg Ito.
The Art Program team began holding virtual creativity workshops to help people deal with the stress of the current day and try out new creative outlets.
"Art is an amazing stress reliever," Anne said. "We use art to give our associates an outlet. We give people opportunities to learn and new ways to express themselves. It's been amazing to see what they've created."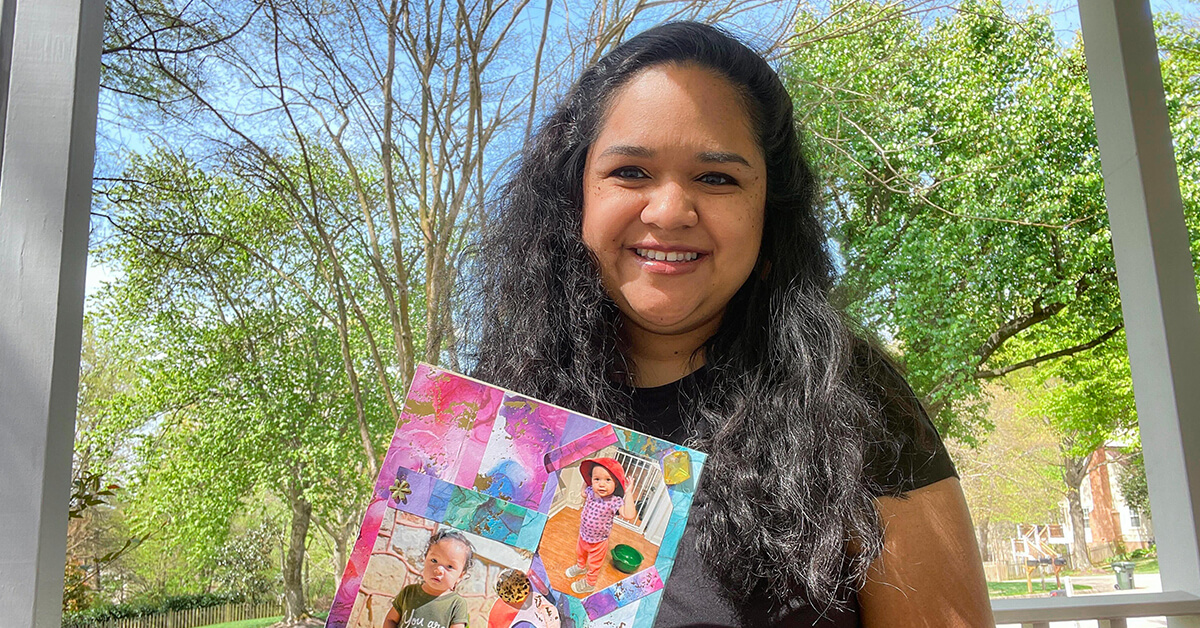 Laura holds a mixed media work she made in the Capital One Art Program.
Claudia, a translations manager for Capital One Card, experienced how the Art Program emphasizes diversity and creativity first hand. Claudia is an active member of HOLA, our Business Resource Group for Hispanic associates and allies. She worked with the Art Program to host a virtual art event celebrating Hispanic Heritage Month in September and October.
"It was amazing to share the richness of artists' experience as well as how associates brought their own passions and experiences to the call,'' Claudia said. "Art is all around us, and in this particular event, we saw how the art around us influences our work."
Like Izzy, Claudia also shares her work on the Art Program Slack channel. She says that engaging in the Slack channel helped rekindle her love of painting. Even though she won awards for her art as a child, Claudia says she never thought of herself as an artist. She now shares her work on Slack and draws inspiration from a speaker at an Art Program event who said, "There are no mistakes in art. It just is. It evolves and changes."
"Sharing my work with coworkers, and vice versa, brings diversity to the creation and appreciation of art because we learn to admire different perspectives," Claudia said. "This is an environment where all opinions are welcome."
Copyright © 2023 Opinions are those of the individual author. Statements are deemed accurate at the time of posting. Unless otherwise noted, Capital One is not affiliated with, or endorsed by, any company mentioned. All trademarks and intellectual property used or displayed are the property of their respective owners.