Fulfilling dreams and building community
BJ is a Capital One Café ambassador who joined the company in 2019 once she became aware of Capital One's promise to make the communities where we live and work their best. Learn more about BJ's journey—from finding the courage to pursue her personal and professional goals, to living out our commitment to ensuring our customers and communities thrive.
BJ gripped the armrest tightly as her flight took off from Richmond, Va. to Boston. She was on her way to starting a new position within Capital One, an opportunity that culminated in her flying and moving away from her hometown of Richmond for the first time.
"It was a nerve-wracking moment leaving home, but I've always had ambitious goals to work in the community and give back," said BJ, a Café ambassador. "I had to work up a lot of courage, but I knew I could take on a new job and a new city with Capital One's support."
While this leg of BJ's journey was Boston, the flight represented her continuous personal and professional growth with Capital One. New experiences and challenges are plentiful here. The most recent of which BJ fulfilled was a personal goal of moving to the West Coast. She transferred as a Café ambassador to the Los Angeles metropolitan area.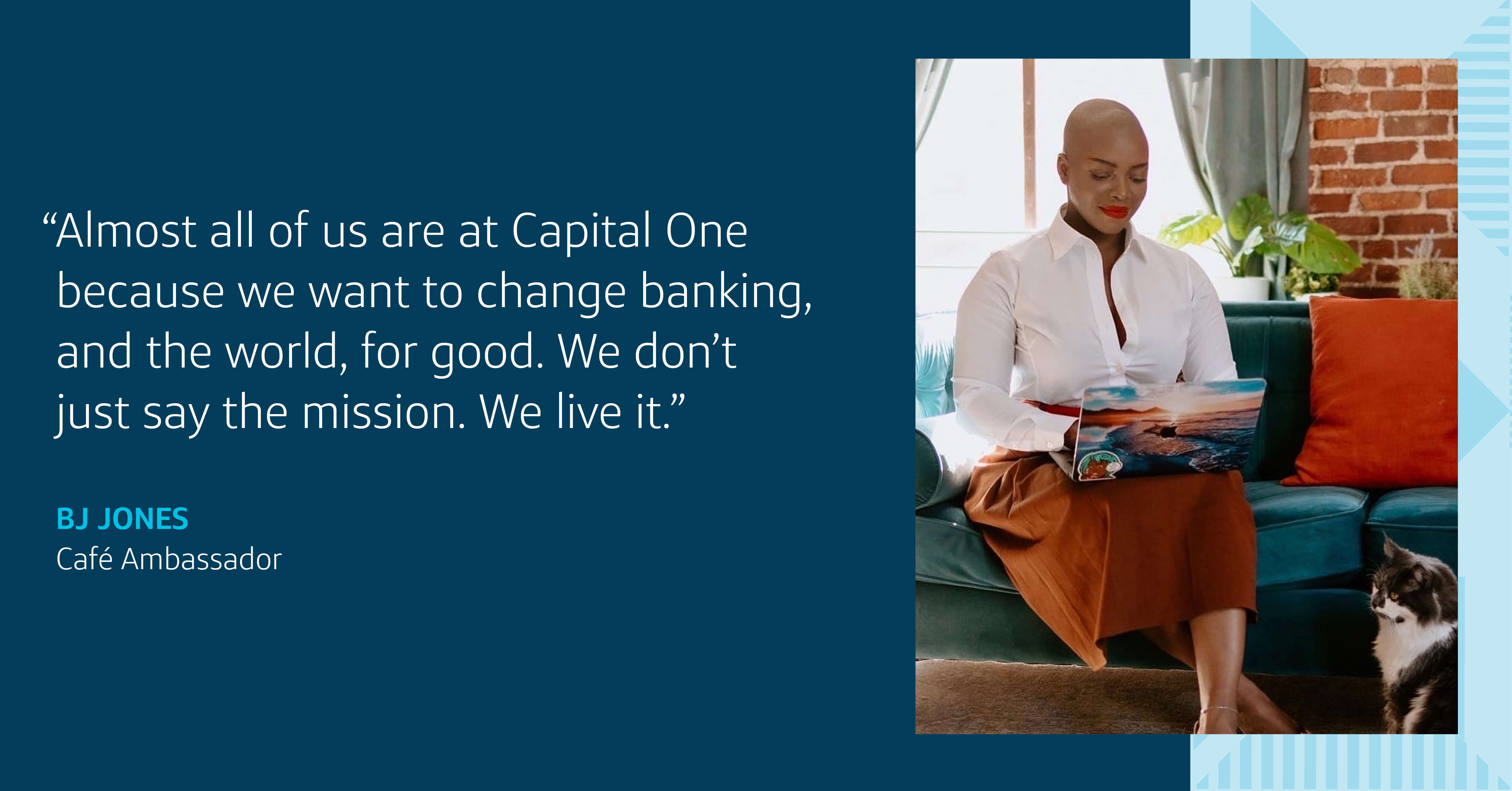 Image by Summer Roden
Following through on inspiration
BJ cites two sources of inspiration for working in banking. One was a mentor who taught her personal accounting and money-management skills, which fueled her passion to empower communities through financial literacy.
The other influence is Maggie L. Walker, a native of Richmond, who founded the St. Luke Penny Savings Bank in 1903, becoming the first Black woman in the United States to charter and serve as president of a bank.
"Maggie was an amazing example of what you can achieve no matter what obstacles are thrown at you," BJ said. "She showed me I can succeed in the financial world."
BJ worked as a teller at another bank for her first job in finance, but she always had her eye on Capital One because of our commitment to investing in our customers and the communities we serve. Our mission resonated with BJ, who has volunteered at library branches and food drives since she was a teenager.
BJ started with us as a customer solutions coordinator. Over the phone, she helped customers with their checking, savings and certificates of deposit accounts. Offline, she organized various volunteer outings for her team, including children's holiday gift drives, clothes sorting and financial literacy tutoring for elementary students.
"Almost all of us are at Capital One because we want to change banking, and the world, for good," BJ said. "We don't just say the mission. We live it. We're in our local communities, empowering others. It's inspiring to work for a company that takes giving back so seriously."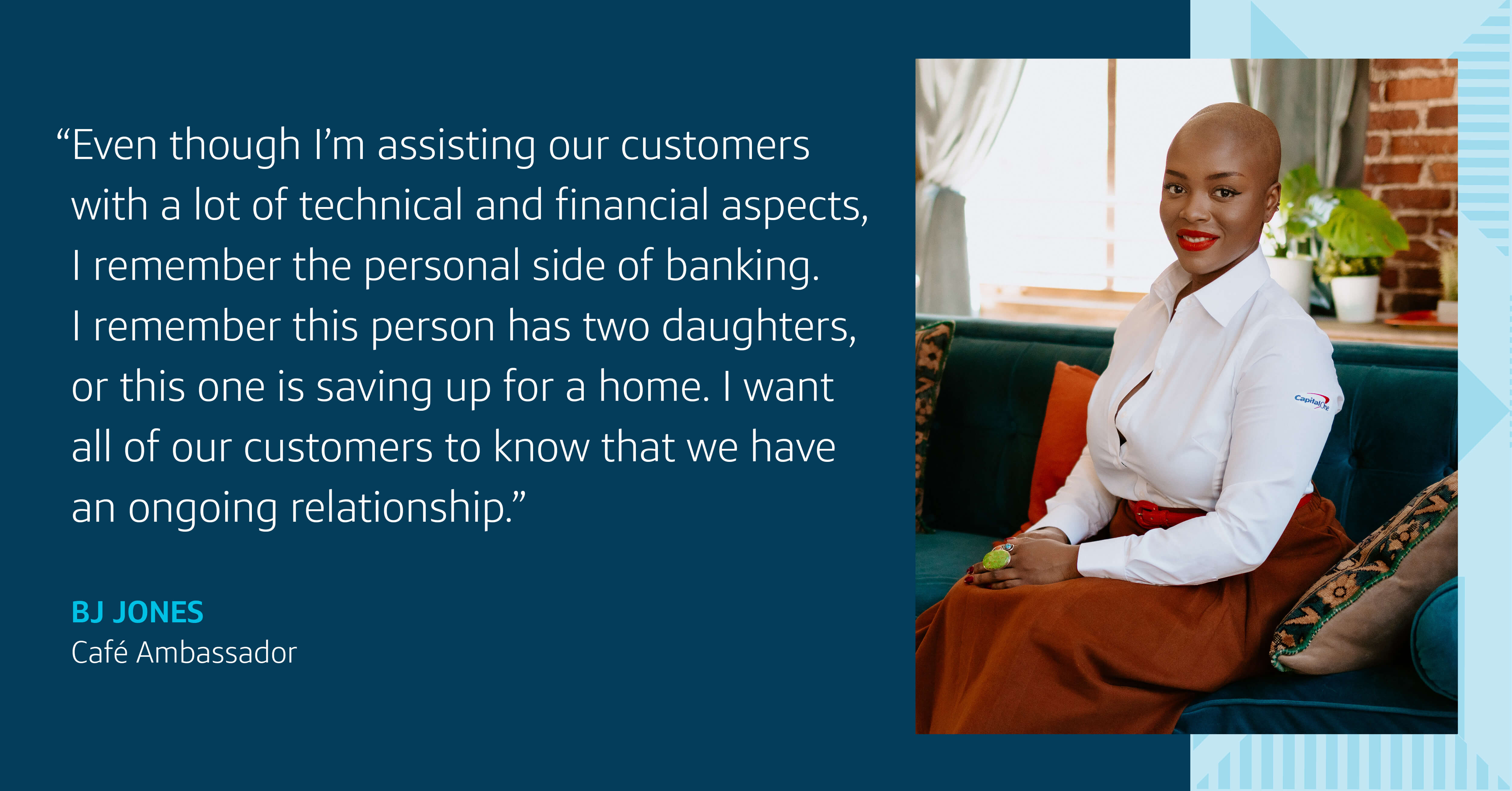 Image by Summer Roden
Adding a personal touch to banking
After learning about the role Café ambassadors play in Capital One Cafés to help customers and empower their financial future through face-to-face assistance, BJ was compelled to apply for the role.
BJ officially accepted a Café ambassador position in Boston in the fall of 2019. As an ambassador, she helps customers develop financial literacy, answers questions about their accounts and works with nonprofits to plan events in the Cafés.
"Even though I'm assisting our customers with a lot of technical and financial aspects, I remember the personal side of banking," BJ said. "I remember this person has two daughters, or this one is saving up for a home. I want all of our customers to know that we have an ongoing relationship."
BJ ensures the Café customers leave with a smile on their face and some new knowledge about financial literacy. She informs customers about our Money & Life Program, which helps our customers think through financing behaviors that connect to their goals, and Home Lending programs.
"I was walking home from work once and met a woman who expressed how stressed she was about refinancing her home," BJ said. "I took the time to tell her about our home lending offerings and invited her to stop by the café anytime for help."
Stepping in to help
BJ's caring nature extends beyond the Café customers.
She supported her Café colleagues when they shifted to remote work for six months in March of 2020. BJ assisted with workshops that trained Café ambassadors to work in the call centers, helped with onboarding new associates and provided emotional and developmental support.
BJ also volunteers with Capital One partner Year Up to help high school students develop their writing and interviewing skills to land competitive jobs. Year Up is a 12-month intensive program that helps 16 to 24 year olds without a bachelor's degree close the opportunity divide and launch careers.
"We're all proud to be at Capital One," BJ said. "Someone has paved the way for us to be here, so it's nice to find a way to pay it forward to someone else."
A wish fulfilled
BJ gained the confidence and skills to check off one of her biggest goals in 2021: moving to Los Angeles. She now works at a Capital One Café in Glendale, a suburb of Los Angeles. BJ, who is also a visual artist and singer-songwriter, has wanted to live in the city for some time because of its bustling arts scene.
She thinks of her life at Capital One as going hand-in-hand with her art. Both are meant to inspire and hopefully make someone's day better.
"Living up to Capital One's values aligns with my personal principles," BJ said. "The fact we make a positive impact in the community makes me so excited. So much of what I was looking for in a career has been fulfilled."
Copyright © 2023 Opinions are those of the individual author. Statements are deemed accurate at the time of posting. Unless otherwise noted, Capital One is not affiliated with, or endorsed by, any company mentioned. All trademarks and intellectual property used or displayed are the property of their respective owners.