The art of the workplace: How art inspires great work
How does your work environment influence the work you do? Albert Einstein once said, "Creativity is contagious," and that is certainly evident when you walk through the halls of any Capital One building! The Capital One Art Program, which curates the art displayed in all of our offices across North America, is composed of over 70 rotating exhibits a year and a permanent collection of almost 8,000 pieces. The heart of the program is the belief that when people are surrounded by thoughtful, detailed, beautiful work, they will create thoughtful, detailed, beautiful work. Anne Fletcher, the Art Administrator for Capital One, explains that above all, through the program, "we want to create really innovative, vibrant work spaces for our associates."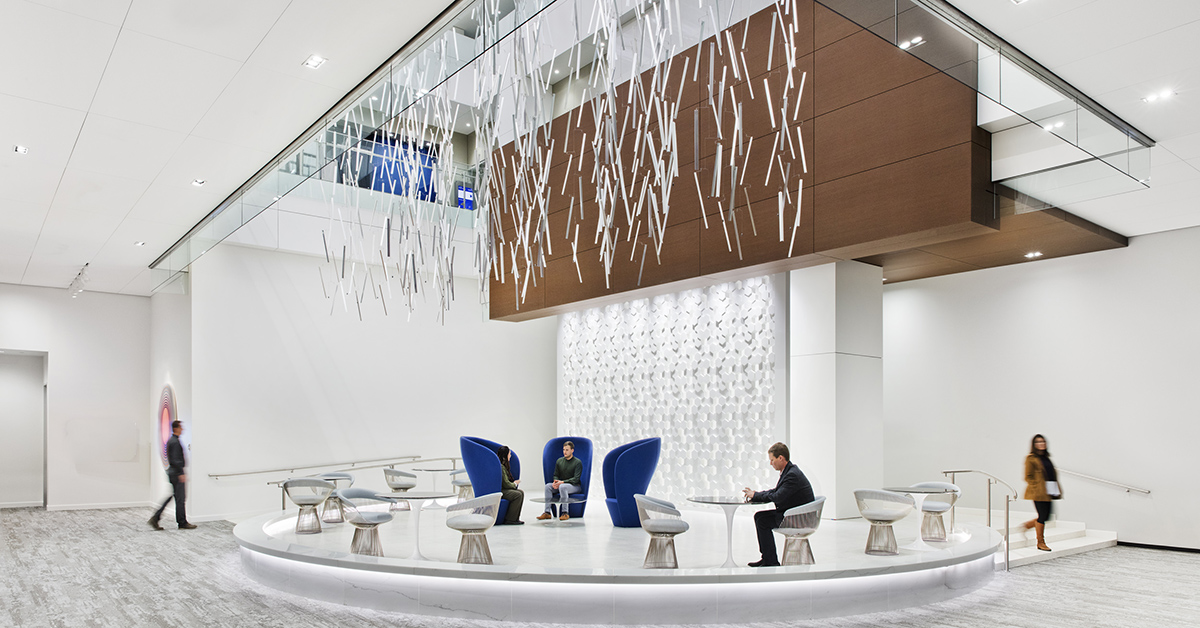 Prentice Colbert, Inc, Windfall, 2018
In addition, this robust collection of art provides opportunities to strengthen partnerships within the community, offers a glimpse at the unique culture at Capital One and gives associates a platform to display their very own art.
Sourcing art for the office from within our communities
If you're like us, you want to stay rooted in the community where you're working. By sourcing the art for our buildings from local artists, we're surrounded each day by artwork from people within our communities. It also offers a platform for local artists to showcase their creativity and talents where they will be admired. Anne explained "It's not just about the high end artists; it's finding that artist talent in our own backyard. Art helps us to build those bridges between Capital One and the community."
Omer Arbel, Bocci 28.240, 2018
Capital One has offices all over the US, including locations in Plano, Texas and our headquarters in McLean, Virginia. The art program has offered a unique opportunity to create ties between these different offices, by sharing the talents of one community with the associates in offices in another location. Capital One had the exciting chance to partner with Gabriel Dawe, a Mexican-American artist living in Dallas, near the Plano office. Gabriel investigates the visible spectrum of light through his large-scale installations of sewing thread. His rainbow installation is made from 60 miles of thread and hangs in the McLean office. You can't help but find yourself in awe of the striking piece, which is why it's a favorite among associates and visitors alike.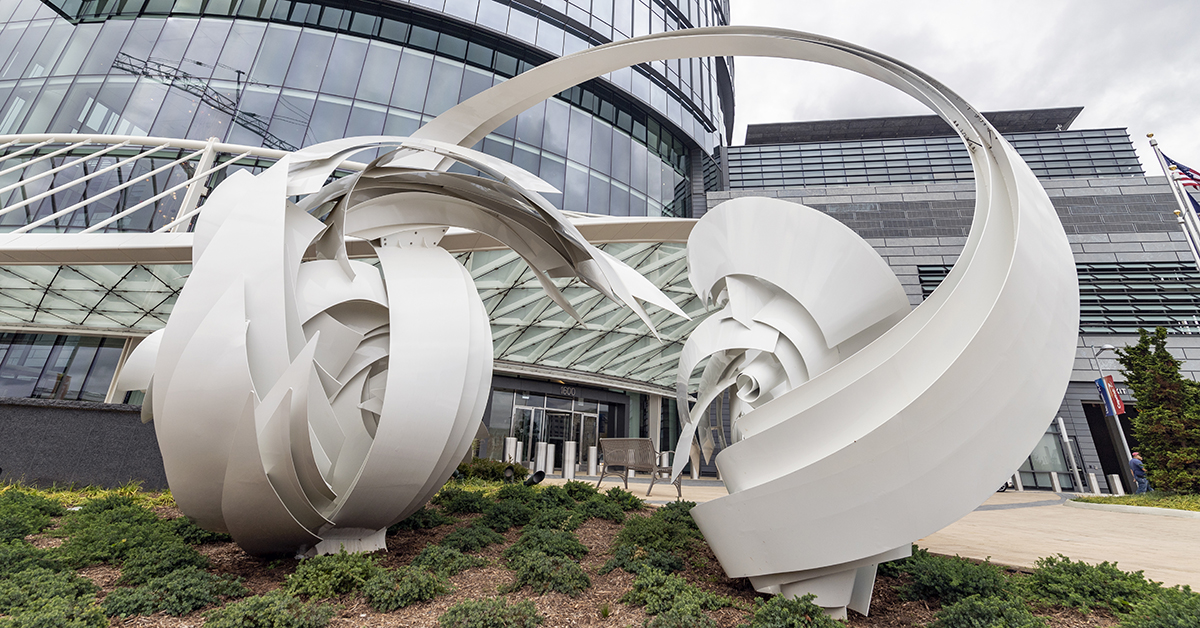 Alice Aycock, Hoop-La, 2016-2018
Representing diversity through art
Internally, the Art Program creates a unique avenue to celebrate the diversity within the team. Roza Tulepbayeva is one of the many associates at Capital One using their art as a way to tell their story. She shares about her paintings, "I'm originally from central Asia, so I incorporated some ornaments, color schemes and landscapes from my region. I thought it would be a great opportunity to share a piece of my culture with my colleagues!" She was touched when her entire team went to see her pieces and recognized her work in their weekly meeting. "I was really amazed and impressed that Capital One provided this opportunity to associates: we have SO many talented associates," Roza explains. "Sharing about our lives is so important to being more inclusive and learning more about each other."
Many of the rotating exhibits are also organized alongside cultural history months or in partnership with our Business Resource Groups (BRGs), who champion the many identities represented in our workplaces. For example, there have been exhibitions of paintings by Jane Eccles in honor of Women's History Month and graffiti artwork by CRASH in celebration of Hispanic Heritage Month. In solidarity with Pride Month, the peaceful installations of Bryan McGinnis and Stephanie Mercedes showcased their dedication to advocate for injustices and their compassion and mercy stemming from their queer experience.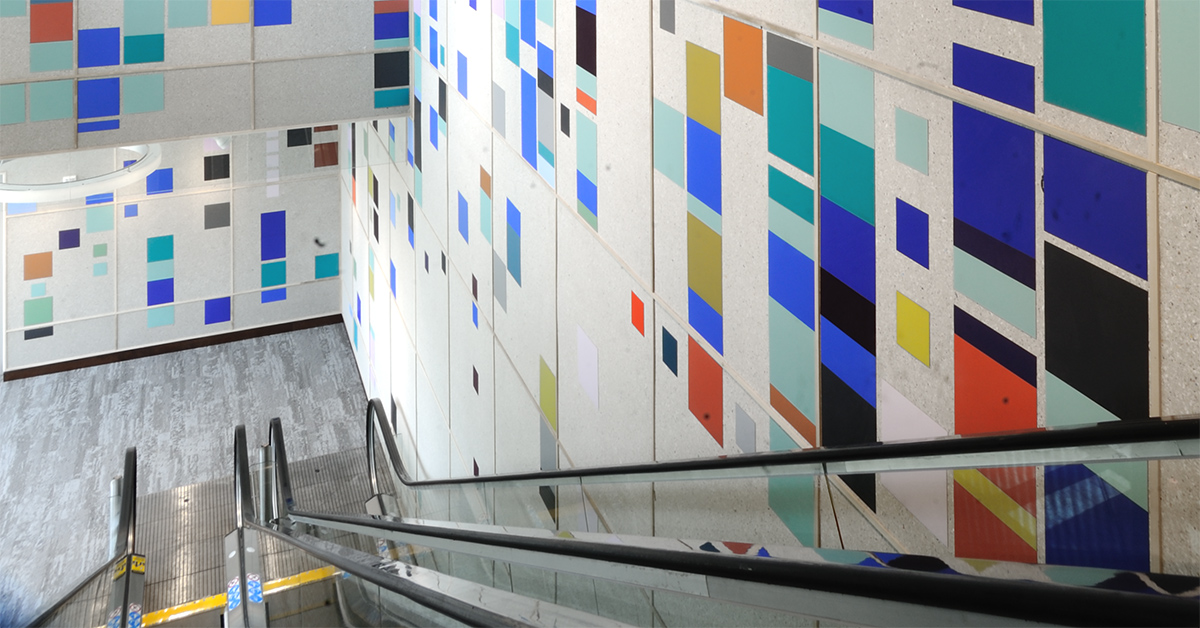 Laurie Frick, Human Foraging Patterns, 2018
Showcasing associate's artistic talents
Showcasing associate's artwork, just like Roza's, is an ongoing goal in each office space, with special efforts made to be inclusive of all media and levels of experience. In fact, Perry Matthews, who's been with Capital One for much of her career, entered her digital photography into an exhibit for the first time ever 10 years ago, after seeing an inquiry for the Art Program's Women's History Month gallery. After her photograph was chosen and hung in the Town Center of the West Creek Campus in Richmond, Virginia, Perry continued to submit her work to galleries all over the region. Her work has been displayed across much of Virginia, from Williamsburg to Lynchburg. "That was my first introduction to the Art Program and to showing anything that I have done," Perry reflects. "Capital One and the associate art program really did get me started and build my confidence…"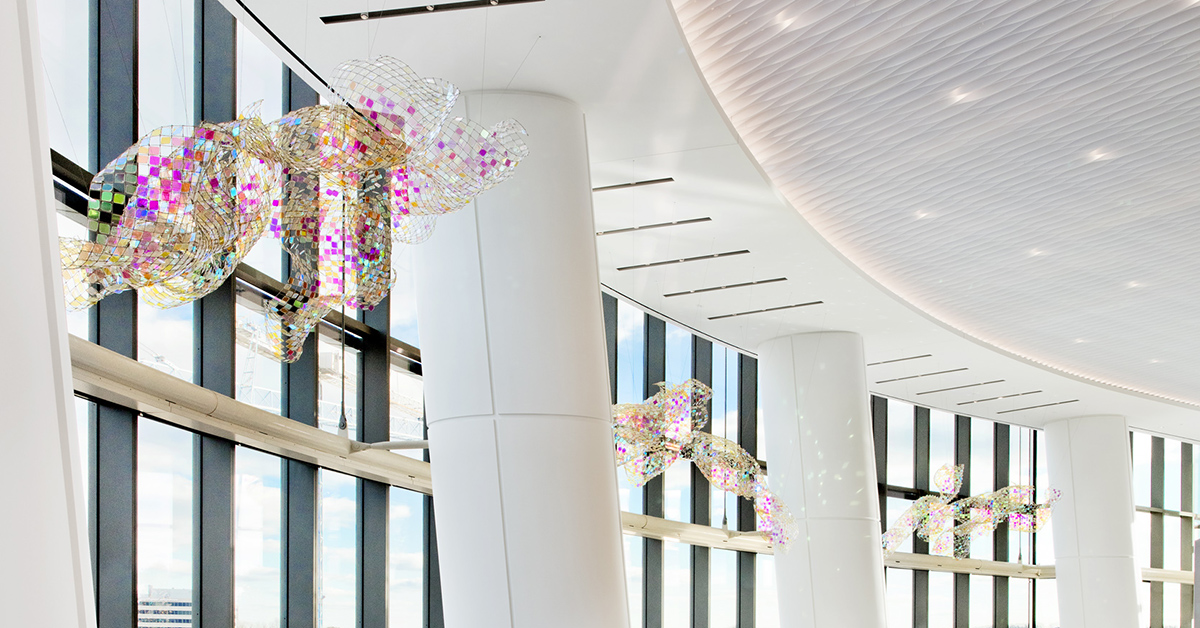 Soo Sunny Park, Capturing Light, 2018
Another associate, Aaron Dishner, took up photography as a hobby when he moved to Richmond to start his Capital One career in 2014. He also launched his artistic journey through the Art Program. Aaron shared, "The art program is a fantastic opportunity for Capital One employees to share their work and talents with their peers and to gain great exposure… I would encourage anyone who loves art to share their work with Capital One, whether they are a professional or a novice like me!"
The artwork hanging on the walls at Capital One is so much more than "pretty pictures"—though they are definitely that as well! These pieces and spaces curated through the Art Program aim to tell a story of innovation and inclusion. As Anne shared, the Art Program seeks to "bring humanity and soul into a space where you might not otherwise get that sense." And while we used a data-backed approach to workspace design, we know that art is an integral factor that brings an office space to life and sparks the desire to create and thrive in our work environments.
Copyright © 2023 Opinions are those of the individual author. Statements are deemed accurate at the time of posting. Unless otherwise noted, Capital One is not affiliated with, or endorsed by, any company mentioned. All trademarks and intellectual property used or displayed are the property of their respective owners.