Asian and Pacific Islander at Capital One: How Origins fosters connection and career growth
For members of Capital One Business Resource Groups (BRGs), finding community support in the workplace is something they can count on. Members of Origins, our Asian and Pacific Islander BRG, celebrate their heritage and find a dedicated community committed to empowering associates to speak up and bring their full selves to everything they do. "Origins can be many things to many people. It can be a place for development, a place to connect, a place to learn or a place to engage," shares Pient, Vice President, Regulatory Relations and part of the Executive Steering Committee for Origins. Through mentoring, cultural programs and celebrations, as well as communication and networking, Origins members and allies can thrive in their careers, while bringing their full, authentic selves to work.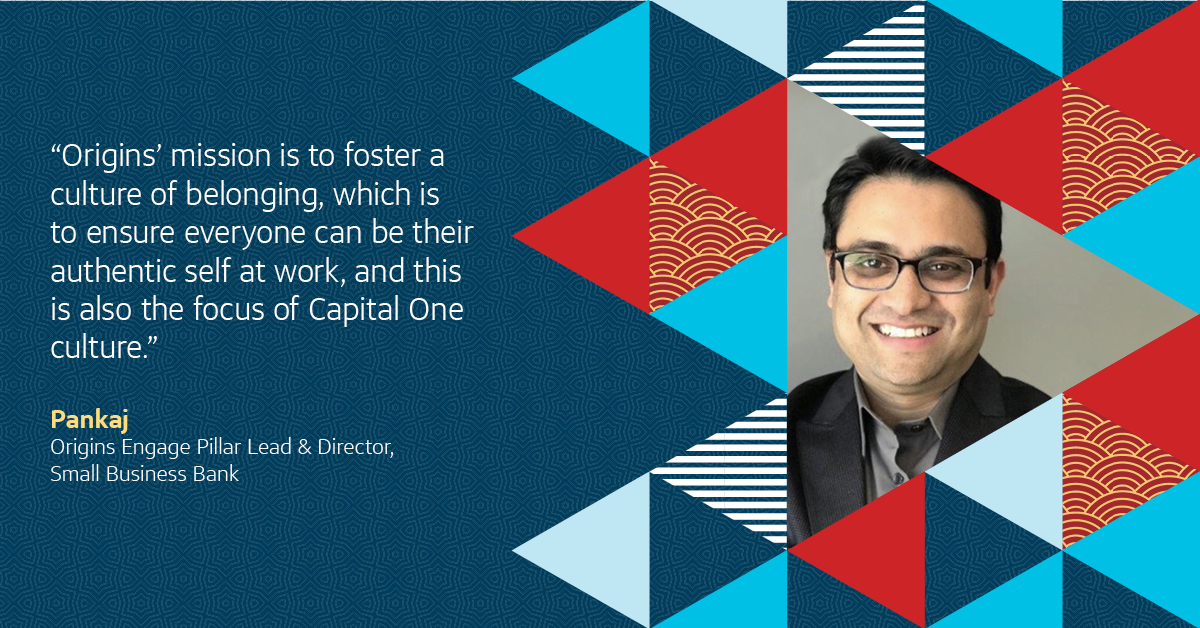 Creating inclusive spaces and open dialogue for Asian and Pacific Islanders
The primary work of Origins stems from the goal to increase visibility and support the development of Asian and Pacific Islander associates and their allies. Through development opportunities, engagement and retention of leaders in these groups, associates can feel empowered to take an active role in shaping the culture at Capital One. Pankaj, Origins Engage Pillar Lead and Director, Small Business Bank, shared "Origins' mission is to foster a culture of belonging, which is to ensure everyone can be their authentic self at work, and this is also the focus of Capital One culture." Origins is made up of a vast network of committed associates who are working to create a welcoming, inclusive space for all, in addition to driving exciting and innovative work.
To help increase visibility and support Origins associates in an inviting, inclusive way, the BRG hosts a variety of speaking engagements, cultural celebrations, and engaging observances during important heritage months and holidays. Yi-Chen, Origins National Lead and VP, Data Science believes "cultural awareness and celebration are critical to create a sense of belonging." Over the years, Origins has brought prominent Asian and Pacific Islander journalists, activists, and other figures to offer remarks to associates and share their insights into how they celebrate their heritage in their professional lives as well as their personal lives.
Some of the most impactful speaking engagements come from the Origins leaders and community themselves. In the face of a rise in anti-Asian sentiments related to the COVID-19 outbreak, Origins leaders and community members came together to host a Town Hall meeting, open to all associates, where the panel discussed their reactions to current events and how it was impacting their daily lives. Pient, who was on the panel, appreciated the space that was created in this event "for us to go out there and talk about our perspective on Asian racism with the highest level of the organization." Under the leadership of Phil Kim, Origins Accountable Executive and MVP, Capital One Ventures, and with support from Celia Edwards Karam, Chief Audit Officer, and Sanjiv Yajnik, Origins Executive Sponsor and President of Financial Services, the panel shared their honest feelings and reactions, along with encouragement for others to speak up and call out these acts of racism in their communities.
The powerful conversation left a huge impact on all who attended and was a great opportunity for the Origins community and larger Capital One community to stand in solidarity. Ruchi, an Administrative Assistant in Strategy and Analytics, shared her reflections on the event and the impact it had on her. She reflects, "in a particularly tough year for racial justice, BRGs like Origins have stepped up to have difficult conversations that we otherwise suppress in order to work. Having an outlet, especially one where so many people can relate to and/or share your experiences has been such an emotional relief." By collectively talking through these events as a community, associates have space to connect and process together, while figuring out a way to forge a path forward.
This event was part of a larger initiative from Origins to encourage associates to "go off the mute button" and speak up against racism and discrimination. Associates are encouraged to individually and collectively activate their voices to speak up—for themselves, their cultures and for the issues that affect their communities. By providing safe spaces for discussion and sharing untold stories, as well as educating allies and helping to outline steps and ways to get engaged in efforts, the Origins BRG network hopes to empower and elevate associates and communities.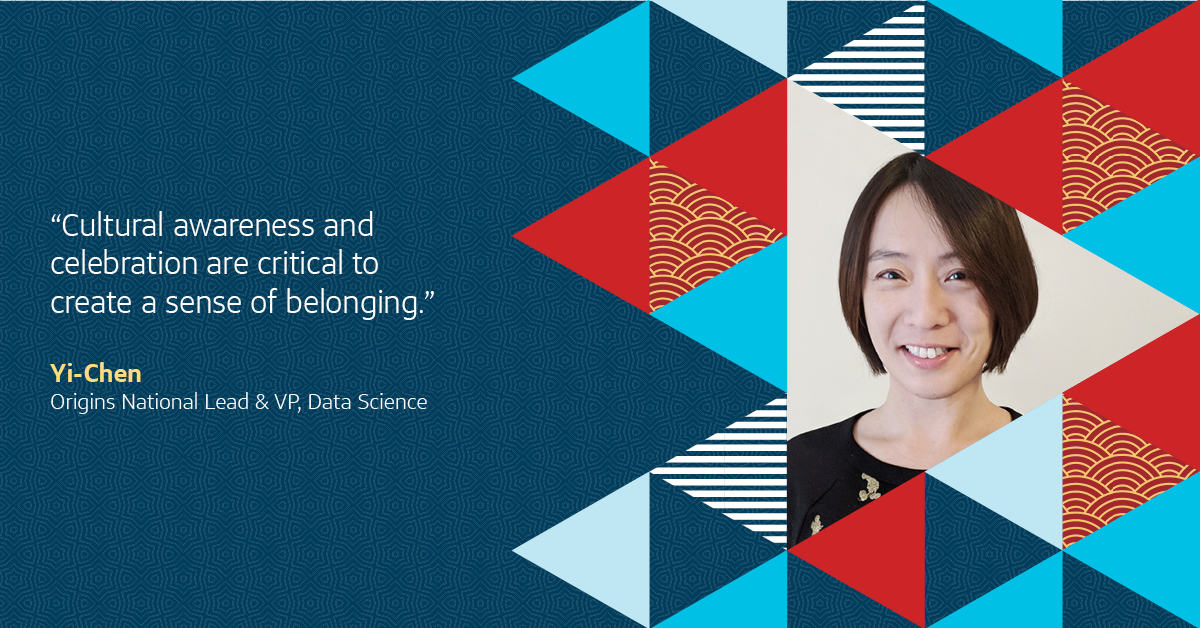 Celebrating Asian and Pacific Islander culture together
Other events hosted include celebrations of important cultural moments and holidays. Dipen, Origins' Virtual Chapter Lead and Sr. Director, Product Management, shared "Diwali, a festival of lights, is one of the biggest festivals in India. After coming to the US, I always felt a part of me was missing, especially during the time of Diwali. I missed the colorful traditional dresses, food (mostly sweets) and celebrations with a large group of friends and family." These strong memories and connections to culture were not something Dipen was expecting to find or strengthen in the workplace. He explained, "I had decided to join the Diwali celebration to enjoy 'free food' but I walked away with a whole new perspective of Origins and Capital One's focus on creating belonging for every associate like me—no matter what group you associate with." When he attended the celebration, he was met with familiar sights, sounds, and experiences that reminded him of the celebrations in his memories. He saw leaders dressed in traditional attire, heard Indian music, and enjoyed delicious food and treats. "Seeing hundreds of people at work in a large room celebrating Diwali with me was a jaw dropping experience for me," he added.
Helping associates feel empowered to bring their full selves and unique parts of their identity into the office helps to create a culture of understanding and helps everyone appreciate a variety of experiences and perspectives. Angie, East Asian Growth & Leadership Efforts (EAGLE) Lead and Director, Quantitative Analysis, explains "the events and development programs that Origins provides help to strengthen the connection and sense of belonging across associates with Asian and Pacific Islander heritage. They also drive better understanding between the Origins community and our allies."
A supportive work environment for the Asian and Pacific Islander community
In addition to virtual and in-person events, Origins also sponsors a variety of programs to help associates thrive and grow in their careers and beyond. The EAGLE program, which Angie co-leads, is geared toward East Asian associates. It addresses self identified developmental interests, aids in bridging cultural differences, and helps others to understand and best leverage the talents and different perspectives of this population. Through the work of EAGLE and Origins combined, associates have access to mentoring resources and connections, can attend hosted events that integrate and celebrate eastern and western cultural practices, and utilize educational resources on immigration processes and practices.
The BRG also leads the Leadership Essentials for Accelerated Progress (LEAP) program to help equip managers and other leaders with the tools that help them continue to grow and evolve their leadership abilities. By building on the foundation of similar backgrounds and mindsets, participants can learn from each others' unique experiences and adopt new strategies to broaden their perspectives. When leaders are in a space where they feel comfortable and understood, they feel empowered to grow and learn in new ways that will mold their leadership style. Dipen shared. "I was fortunate enough to be part of this program and I have recommended many of my team members to make a huge impact on how they lead as coming out of the program."
The primary function of a Business Resource Group, like Origins, is ultimately to help associates feel welcomed and encouraged to flourish in their careers and within a supportive workplace. The presence of groups like Origins "helps make a big company feel a lot smaller," explains Shreya, a rotational program associate, "I've been able to grow my network, lean on others for advice, and have opportunities to get involved in things bigger than myself, which may have been more challenging to do had I not participated in any BRGs." Through building connections, hosting cultural celebrations and sharing of traditions, and creating open dialogue to understand and care for each other, Origins members and allies are helping to create a workplace where all feel welcome and encouraged to be their full selves each and every day.
Copyright © 2023
Opinions are those of the individual author. Statements are deemed accurate at the time of posting. Unless otherwise noted, Capital One is not affiliated with, or endorsed by, any company mentioned. All trademarks and intellectual property used or displayed are the property of their respective owners.