Breaking the bamboo ceiling at Capital One
Suehaila grew up listening to her mother—an immigrant from Syria—who promised that success would result from studying and continuous hard work.
Suehaila's hard-working ethic did bring success to her academic life, but before Capital One, as she settled into her first job, she noticed that wasn't always the case. Colleagues who started around the same time she did were getting promoted when her work was just as exceptional. She frequently heard leadership reiterating the statement "Own your career," but she didn't actually understand how to do just that. As a first-generation American, Suehaila wished to know the secrets to success in the corporate world.
"It was all unfamiliar to me," said Suehaila, a senior manager and agile program lead for Capital One Tech. "I didn't know how to get to the next level. I didn't know I needed to advocate for myself. I thought people would naturally see how hard I was working and how much value I was contributing."
This roadblock early on in Suehaila's career represents the concept of the Bamboo Ceiling, an extension of the Glass Ceiling that refers to the limitations and discrimination that Asians face in the workplace. A 2022 survey by Bain & Company, a management consulting firm, found that only 16 percent of Asian men and 20 percent of Asian women said they feel included at work.
While Suehaila encountered the Bamboo Ceiling early in her career, she's since developed the agency and support from Capital One's culture of belonging to help tear it down. She and three other Asian-American women leaders recently discussed how they break the Bamboo Ceiling for future generations of Asian women in tech.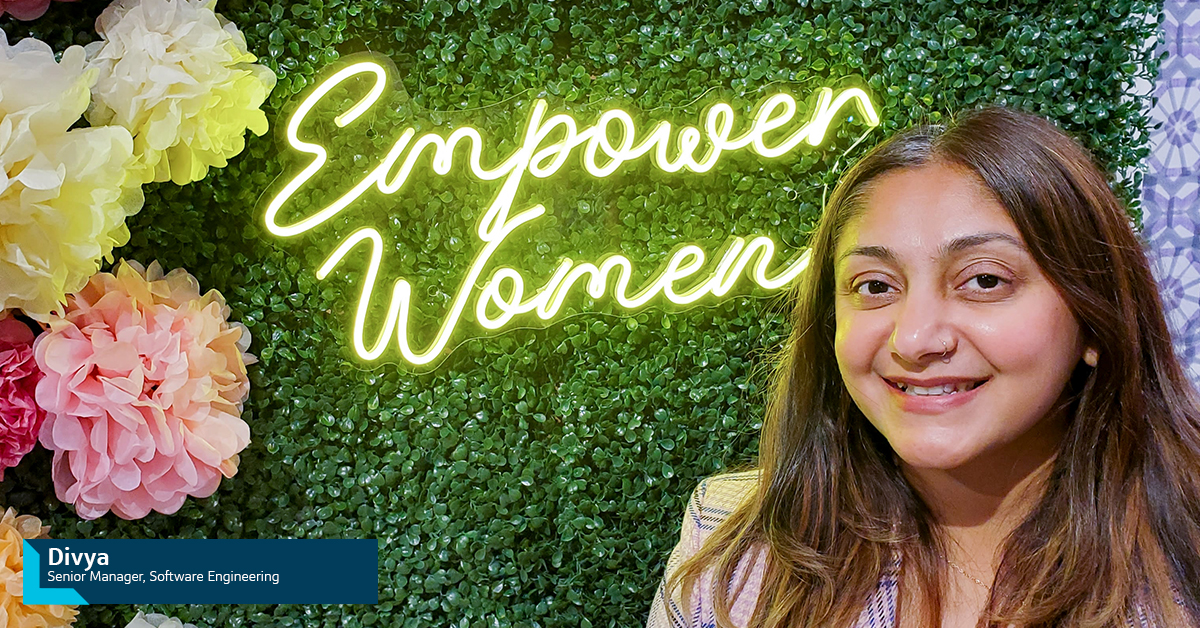 How Capital One supports their growth
Having grown up in Mumbai, India, one of the first things people remarked about Divya early in her career was her accent. They'd ask how she learned English or remark about how well she spoke the language.
Divya, a senior manager for software engineering, brushed the comments off and got to work. With Capital One's support and her passion to help customers, she has found success in Marketing Technology and started "Uplift," a podcast in which she celebrates everyday women being phenomenal by the virtue of their unique stories. Divya is also earning an Amazon Web Services certification.
"The occasional comment about my accent still exists, but I've noticed that as I've grown into my career with Capital One, the comments have subsided," Divya said. "People don't listen to my accent but what I have to say about technology and business."
As a third-generation Chinese-American, Ilene Eng, vice president of software engineering in Card Partnerships Technology, has had to be intentional about speaking up. Like Suehaila, she grew up thinking she needed to listen, keep her head down, work really hard and not make waves.
"I've always been an active listener," Ilene said. "I'd intentionally make space to hear the stories of other people. I wouldn't share my story with people because I thought that others' stories were more interesting than mine."
Ilene found opportunities to share her story after joining Capital One in 2020. She has since become the co-lead for Origins, our Business Resource Group for Asian associates and allies. She participates in conversations about being a woman in tech and writes blogs about her Chinese-American identity, investing in herself and working in the office.
Ilene also moderated a Capital One discussion about the Bamboo Ceiling with Suehaila, Divya and Sungmi, a director of agile portfolio lead.
"At Capital One, every voice is heard and matters," she said. "As a leader, I must use my voice to speak up and create space for others to shine."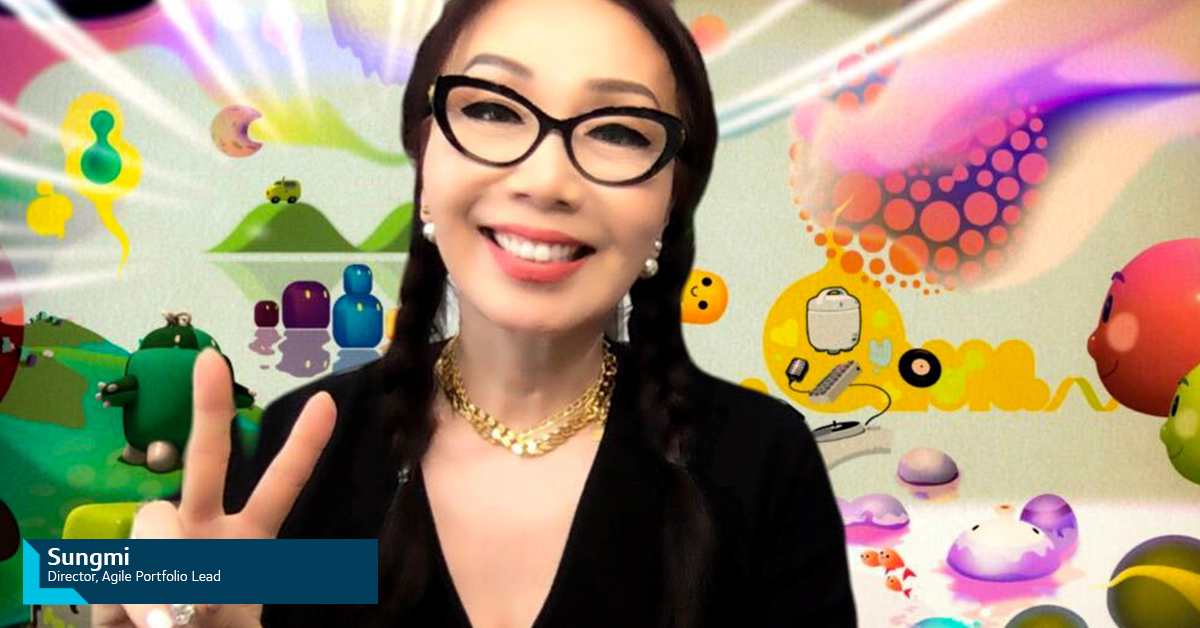 How they support women's career growth
Sungmi has noticed a more diligent effort through her 15 years at Capital One to recruit senior leaders from underrepresented groups and get young people of color interested in fintech.
Sungmi has committed to the latter, hoping to eliminate barriers like the Glass and Bamboo Ceilings for future generations. As co-director of the Chicago chapter of Women Who Code, an international nonprofit dedicated to inspiring women to excel in technology careers, Sungmi helped kickstart the "STEM Expo for Girls" program in 2018. "STEM Expo," which Capital One sponsors, is an annual event for girls between fifth and eighth grades to learn about robotics, programming and machine learning.
"I want to eliminate the Bamboo Ceiling by sharing my knowledge and elevating others," Sungmi said. "People ask me why I've stayed at Capital One so long. It's because when I tell my leaders I want to give and provide support to the community, they say, 'How can we help?'"
Suehaila has received the same level of support from Capital One in pursuing her passions to mentoring women, immigrants and young talent on how to navigate careers in corporate America and advocate for themselves.
After joining the enterprise in December of 2021, Suehaila became a co-lead to MENA, a subgroup of the Origins BRG serving Middle Eastern and North African associates and allies. Earlier this year she coordinated a Capital One all-women leadership panel that spoke to George Mason University students at its annual Cloud Innovation Conference for a conversation entitled, "Up Close and Personal with FinTech Cloud Women."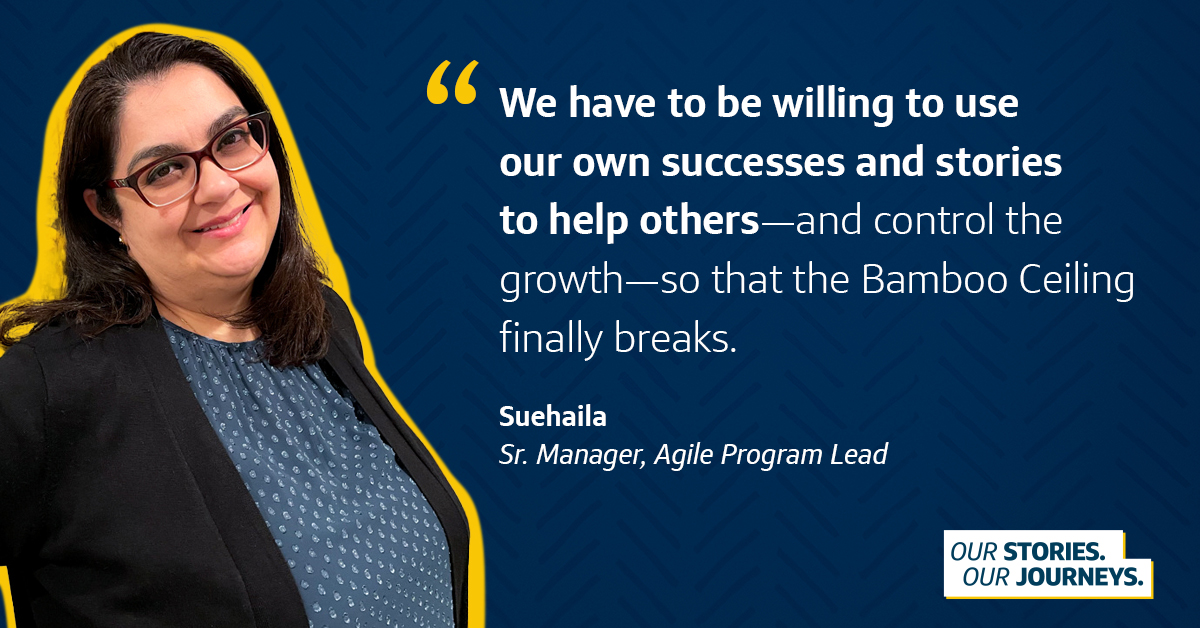 And, later this month, through Capital One, Suehaila will volunteer at a Genesys Works event, serving the organization's mission to expand career pathways and opportunities for youth from underserved communities. Among other organizations, Suehaila also frequently volunteers with Upwardly Global, a nonprofit that helps refugees and immigrants rebuild their careers in the United States.
"When I hear the word 'bamboo' the first thing that comes to my mind is 'invasive species.' You can't ignore invasive species because they can spread out of control and create unthinkable damage." Suehaila said. "We have to be willing to use our own successes and stories to help others—and control the growth—so that the Bamboo Ceiling finally breaks."
Copyright © 2023 Opinions are those of the individual author. Statements are deemed accurate at the time of posting. Unless otherwise noted, Capital One is not affiliated with, or endorsed by, any company mentioned. All trademarks and intellectual property used or displayed are the property of their respective owners.