How API Associates amplify their voice at work
With a Ph.D. in applied mathematics, Ge had all the technical skills needed for her job as a principal quantitative analyst when she started at Capital One in 2019. She develops and revamps modeling space with next generation machine learning techniques, understands customers needs and provides data insights on product strategies.
With the increasing need for building collaboration, Ge, who grew up in China and moved to the United States in 2011, felt the need to improve her overall communication skills related to presenting her work to different audiences. So she enrolled in Leadership Essentials for Accelerated Progress (LEAP), a Capital One program for Asian and Pacific Islander associates who are non-native English speakers to strengthen their communication, influence and leadership skills.
From speaking up in meetings, to better understanding American communication norms in business settings, LEAP is empowering associates to amplify their voice and bring their whole selves to work.
"The program helped me learn communication skills and improved my confidence and motivation in speaking with others from different cultures and backgrounds," Ge said. "I'm now much more proactive in expressing myself both in my personal life and at work."
Lessons in using your voice
LEAP began after members of Capital One's East Asian Growth & Leadership Effort (EAGLE) associate group indicated they wanted to enhance their communication skills.
"Our Asian and Pacific Islander associates are craving self-improvement, and we want to be with them on this journey," said Carson," an EAGLE lead and director of data science. "We run development programs such as LEAP to let them know that they are not alone and have help when they need it."
Following positive feedback from the inaugural cohort of 30 associates, LEAP organizers expanded the program for 2022. Origins, our Business Resource Group for Asian and Pacific Islander associates and allies, partnered with EAGLE for the program to expand LEAP's curriculum to include leadership development.
The 60 associates in the 2022 LEAP cohort learned about building partnerships and mentors, delivering successful presentations, integrating East Asian and American business cultures, providing constructive feedback and managing up. After each LEAP session, participants also practiced communicating in a professional setting through small breakout groups.
Biying, a senior data scientist who moved from China to the United States in 2013, joined LEAP to gain more confidence in presenting during meetings. She appreciated the program's mix of group discussions and one-on-one coaching.
"It was helpful for me to get personalized suggestions on how I can communicate better," she said. "At the same time, the group work made me more comfortable speaking up now that I understand that many have shared a similar journey to me."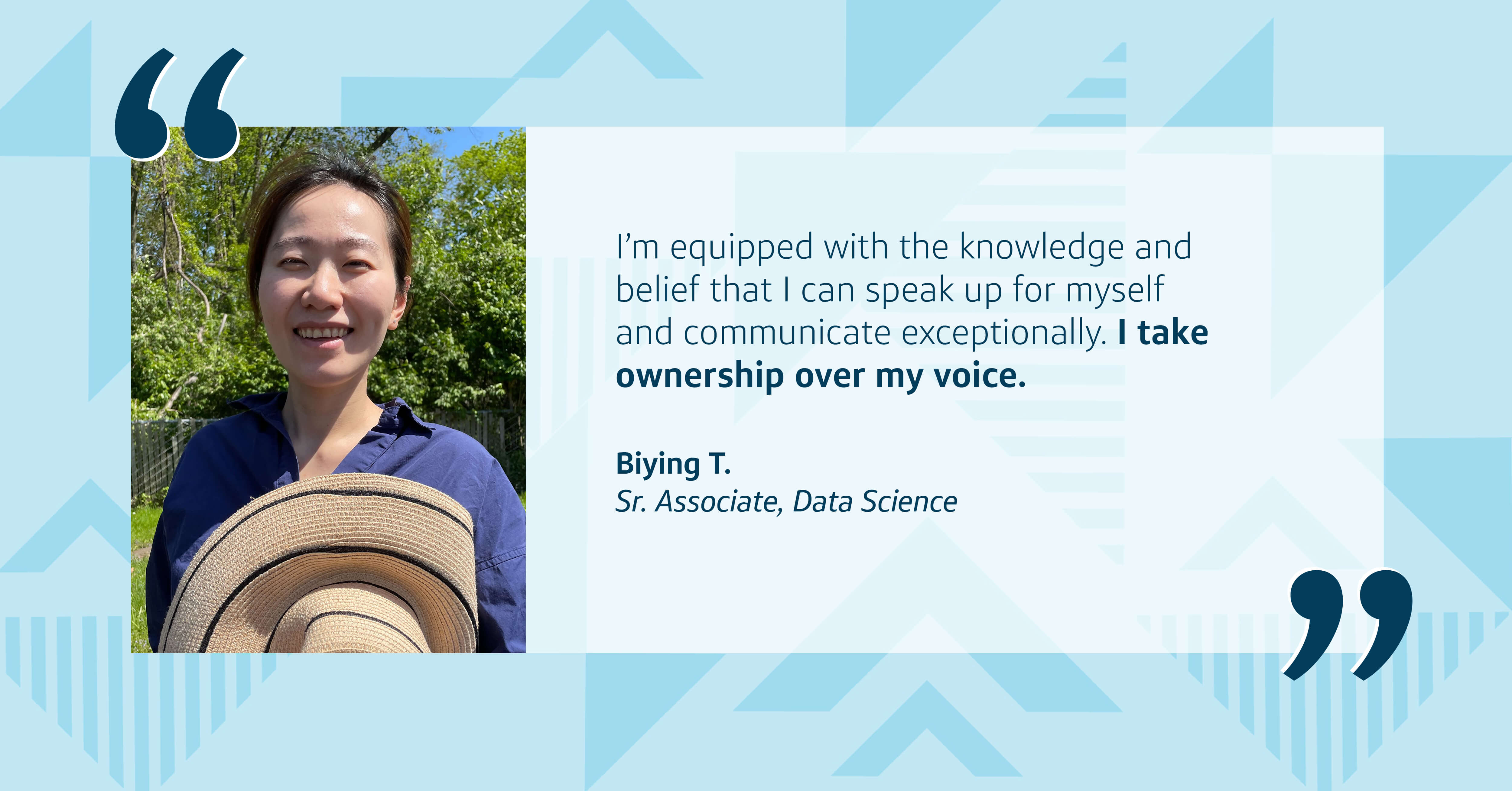 Activating their mics
Both Biying and Ge took the tools they learned from LEAP and quickly put them to practice.
During a recent presentation with business partners, Ge noticed she was at ease—for the first time—addressing their concerns and challenging their thinking.
"With the skills and confidence gained from the program, I am inspired to influence more and have a mindset for long-term success," she said. "Professionally and personally, positive changes are happening, and I'm excited for more improvement."
For Biying, she now has an easier time switching between explaining her work technically to colleagues in data science and conversationally to associates outside her field.
"I'm equipped with the knowledge and belief that I can speak up for myself and communicate exceptionally," Biying said. "I take ownership over my voice."
Copyright © 2023
Opinions are those of the individual author. Statements are deemed accurate at the time of posting. Unless otherwise noted, Capital One is not affiliated with, or endorsed by, any company mentioned. All trademarks and intellectual property used or displayed are the property of their respective owners.