The value of persistence in work and life
By Janeth G.
Learn how Janeth, a Business Director in Mainstreet Card at Capital One, used the passion for learning and hard work, instilled in her by her parents, to build a rewarding career, while mentoring and preparing others for success along the way.
Growing up in a low income family in Colombia, I couldn't imagine that I'd one day be leading teams and creating products that help others build a stronger financial future. The strong ideals and values my parents instilled in me have pushed me to always seek out new and better experiences and to grow. This girl from Bucaramanga will always carry her mother's thirst for knowledge and her father's relentless work ethic in her heart, pouring that into every task she takes on. Now, as a Latina in leadership, I have the opportunity to also inspire others to achieve their goals and grow their careers.
Paving my own way by pursuing higher education
Education has opened many doors for me in life and my career and is one of the things I proudly share when I talk to others about my journey. I was recruited for a Data Analyst position at Capital One in the last year of my Computer Engineering Master's Degree program at the University of Puerto Rico in Mayagüez. I could feel the supportive energy from Capital One from the very start. I was also drawn to the opportunity to help others in my work while continuing to expand my own knowledge in my field. Later on in my career, I even earned my MBA in Global Business from the University of Virginia's Darden School of Business. The generous benefits at Capital One fully paid for my degree program. My love of learning and growing has been a lifelong passion and I'm so thankful to work with a company that also shares that value.
Education was the most important thing for my parents, even though they themselves didn't have many opportunities. My mom had graduated high school and became an elementary school teacher. My dad, on the other hand, only finished 2nd grade before he had to leave to help out his family. We were very privileged that my mom, a former teacher, was our own private tutor growing up. She instilled in us a love of reading and learning that set us up for success in school and in our careers. We had many books in the house and I had read through most of our local library before I was 10. Reading was my gateway to the world beyond my neighborhood.
But since my parents didn't have a college education themselves, they didn't understand the impact of education on your career growth. After I graduated from high school, I explained to them that college was what I needed to do to get ahead and support myself. My parents helped me cover some of the cost of school and I was able to live at home during college. They could feel my passion for learning and how important it was to me, so they supported me how they could.
I worked very hard to stay in school, leaving the house at 5am and not returning until 11pm. I worked full time and traveled over an hour from my house to the university. When I wasn't working, I was studying. But, it was all worth it. I graduated with honors at the top of my class and a degree in Computer Systems Engineering. I also won an award for my undergraduate thesis on pushing the boundaries of Artificial Intelligence in e-commerce.
My parents thought after graduation I'd finally get a job and help out financially, as they saw other neighbors' children doing. My mom admired the washing machine a neighbors' kid had helped them get. She had never had one but longed to. To her, that machine represented a better life and more financial stability. But, I knew I had to keep focusing on my education if we were truly going to have a better life. I felt, in the end, I'd be able to realize my dreams and also give back to my parents, who supported me. Instead of taking a job, I told them I had accepted a research assistantship at the University of Puerto Rico in Mayagüez.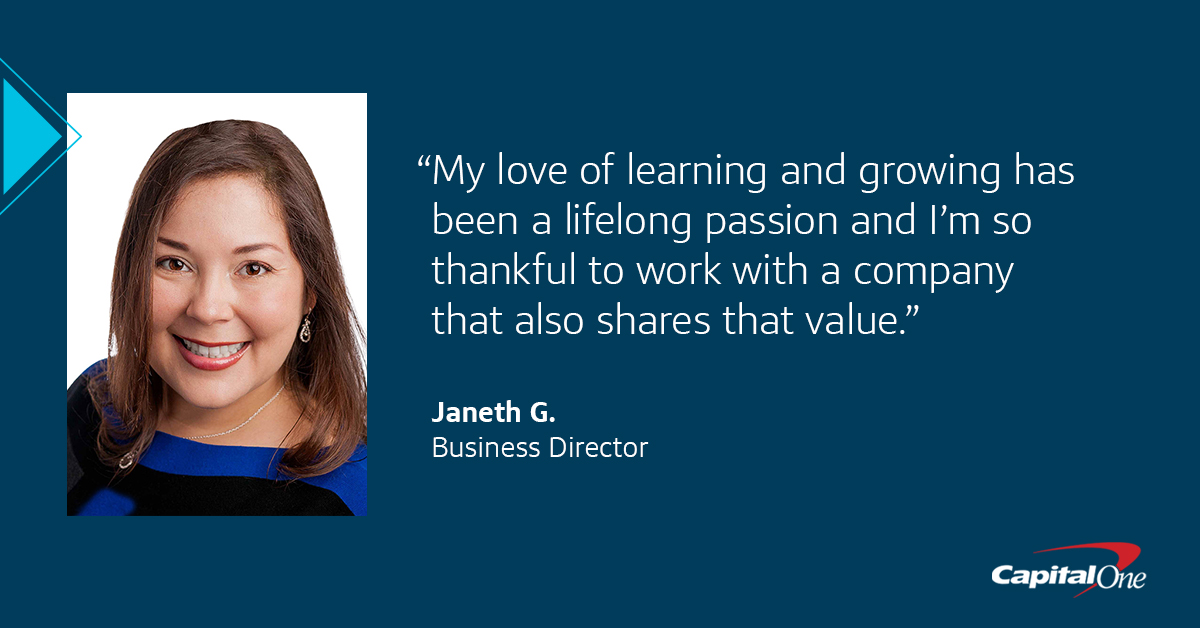 Working to increase access to credit by channeling drive, determination
While my mom was the primary inspiration behind my drive to learn, I got my work ethic from my dad. Until I was 5 years old, my whole family lived in a rented bedroom of an unfinished house. My dad felt it was important to have our own family home, so he worked around the clock to provide that, ultimately building our first home himself with the help of family and friends. He never complained. He had two jobs and worked 12+ hours a day and almost every weekend. Watching my dad's drive, determination and how he made sure we were provided for inspired my own work ethic.
My work isn't about building houses, but instead I'm building solutions and products that deliver meaningful results. As a Business Director at Capital One, I lead a product team for our Mainstreet Card New-To-Credit customers. We build products and experiences specifically tailored to the needs of those individuals. In the US, you need credit to have access to credit. But you can't get credit if you don't have credit. My team partners with Underwriting, Marketing, Tech, Design and other product teams to find ways to build and offer products that expand financial inclusion.
I've explored many roles, locations and lines of business during my career at Capital One. But the most important thing I've grown in every role is my continued passion for solving complex problems our customers may face. Sometimes, when I'm solving a problem, I almost visualize it in my head and see the connections between what our customers need or want, what we can do from a technology perspective and how our business needs might line up. It's such an incredible satisfaction to see my teams engaged and pushing the envelope on making possible the impossible. Just as my dad went out of his way to provide for our family, I put my energy and focus into making sure we are giving our customers the best solutions to help their families thrive.
Growing a career while inspiring others to grow
The most amazing opportunity and platform Capital One has given me is the opportunity to influence countless Hispanic and Latinx men and women by sharing my story. I want to be an inspiration and an example to those who are striving to go to college but are experiencing pushback from their families or feelings of self-doubt. I get to be that voice telling them "sí se puede" (yes, you can) and it's possible to change your story, even if you have to fight against people who doubt you. I did it and you can too. During my time at Capital One, I've had the chance to be a part of panels, speak at events representing Capital One and take part in networking events where I connect with others and share my career journey. I am also an active part of scholarship and mentorship programs. Representation is so important when you're early on in your career and looking for an inspiration or model to chart your own course.
I am most honored when I hear the stories from students or young professionals who say, "you gave me the courage I needed." I love mentoring and coaching others so they can also find their path to fulfillment and happiness. Although I was always a dreamer, I never really believed my dreams could come true. I've had to learn to dream for myself and to push myself to take risks. I'm proud to be in a position to show and remind others that they too can reach their goals through hard work and determination.
As for my family, my brother is now a brilliant and accomplished engineer in Colombia, after also going to college. My dad is now retired and enjoying some much needed rest. My parents supported me and instilled the important traits in me that have made me who I am today. I am proud to be able to give back to them and can care for them as they cared for us. Don't ever forget the lessons your parents and family taught you. You never know how fundamental and affirming they can be to your own approach to life and your career. And, yes, I got my mom that washer she longed for with my first paycheck from Capital One.
Copyright © 2023 Opinions are those of the individual author. Statements are deemed accurate at the time of posting. Unless otherwise noted, Capital One is not affiliated with, or endorsed by, any company mentioned. All trademarks and intellectual property used or displayed are the property of their respective owners.