How tuition reimbursement helped a Customer Care associate further his career
Have you ever had a really great first day at a new job? On his first day as a Customer Care associate at Capital One, Immanuel (Manny) was immediately impressed with the number of tools at his disposal to help him brighten a customer's day. With his experience manning the phones at a huge electronics store, he was used to helping customers through tough spots…but was impressed with how many more ways Capital One equipped him to genuinely help people.
And while you might expect a company to have great support in place for its customers, you may be surprised to learn that Capital One extends that support to associates as well. As refreshing as it was to be in a Customer Care position that gave him the ability to support customers, Manny would soon discover how Capital One benefits would in turn support him through tuition reimbursement benefits available to all full-time associates!
Tuition reimbursement and professional development? Win-win!
During his first month at Capital One, his manager took time to learn more about Manny, his career goals and what drives him personally. Beyond his love of longboarding (skate, not surf) and movie reviews, she found out he was in school earning a degree in Information Securities. She immediately asked if he was taking advantage of Capital One's tuition reimbursement program. After just a few clicks, Manny was fully enrolled to have the cost of his tuition, books and even some lab fees reimbursed.
Not only was Capital One fully investing in his education—he was getting hands-on experience at the same time! How? He was asked to test a new system being piloted for his team. Manny gave feedback on new software, figuring out what worked well, what didn't and what new functionality would be helpful for users. From there, he connected with a mentor in Cyber Security who gave him further advice on growing from his current Customer Service role into his goal of working in Information Systems.
Balancing school while working full-time
If you've ever worked full-time while trying to go to school, you know that it can be challenging to balance the two. Luckily, Manny quickly realized that his schedule as a Customer Care Associate allowed him the time he needed to go to class, study and maintain a healthy life balance. He's able to leave his work at work and head out in time to make it to his evening classes. And while he's busy taking online classes and studying at night, he loves spending his days helping people and making a real difference in their lives at the call center.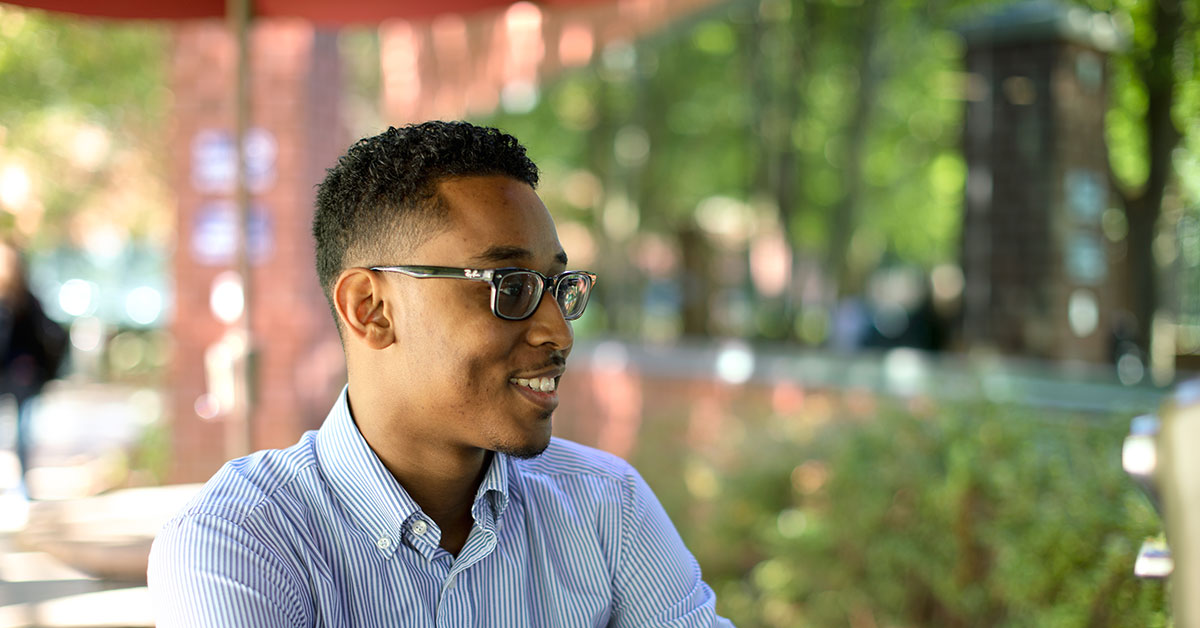 A passion for helping customers turns into a promotion
When you're ambitious at work, it can feel great to be recognized for your talents. And while verbal recognition is always appreciated, it's even sweeter when that recognition translates into a promotion. For Manny, it was immediately clear to his managers and leadership that he was driven and passionate about helping customers, in addition to pursuing his degree. "One of the many things I love about working at Capital One, is that there is so much I can do to assist my customers; even if one particular method of problem solving doesn't meet the customer's needs, there are many different ways we can find and implement a solution," Manny said. Because of his ambition, can-do attitude and results, his manager put him up for a promotion. And after just over a year as a Customer Care associate, Manny was promoted to a senior role!
Investing in your development
Figuring out how to get a degree while working full time can seem impossible or overwhelming. But like many other Capital One associates, Manny is able to work towards his degree while doing a job he loves, aided by benefits like tuition reimbursement and the support of his team.
Ready to launch your new career? Check out our open Customer Care roles!
Copyright © 2023 Opinions are those of the individual author. Statements are deemed accurate at the time of posting. Unless otherwise noted, Capital One is not affiliated with, or endorsed by, any company mentioned. All trademarks and intellectual property used or displayed are the property of their respective owners.