Singing the power of advocacy
Caitlin was used to being one of the few women in many aspects of her life.
She had mostly men as classmates while earning a mechanical engineering degree. In her first job working for a natural gas company, she was one of the few women at industry events. And as a singer for a country-rock band performing around Richmond, Virginia, Caitlin is often outnumbered by musicians who are men.
After a chance encounter with a Capital One associate led her to joining the company, Caitlin experienced Capital One's commitment to filling rooms with associates of all backgrounds. She found joy in sharing her interests, pursuing new career fields within the company and exploring new ways to share her advocacy and empowerment messages with her peers.
"Being one of the few women in engineering, music, banking—really anywhere—is isolating," said Caitlin, a manager in the Commercial Bank Strategic Investments Group. "Capital One showed me the importance of creating a coalition of peers who believe in the importance of your perspective."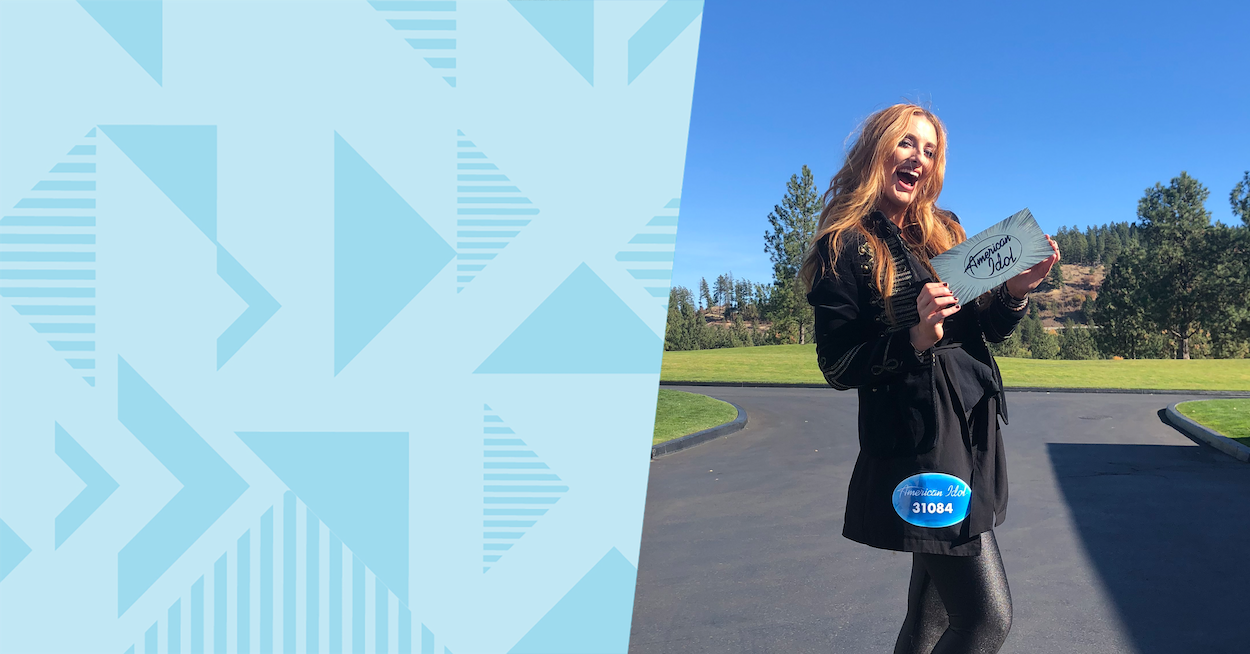 Finding joy
Caitlin spent much of her childhood pursuing artistic interests, from singing to crafting, and eventually realized that the skills used for knitting scarves and making jewelry went hand-in-hand with physical science fundamentals. Her crafting interest evolved into a passion for mechanical engineering at the University of Virginia. She loved that the major required hands-on work, spatial reasoning and a lot of questions about how things come together.
Caitlin moved to Richmond after graduating to work as a commercial gas policy and compliance analyst. The job combined her public policy acumen and engineering background into a role that allowed her to examine commercial requirements for pipeline activities and understand their application and monitoring. At the same time, Caitlin wrote music, learned guitar and sang at bars and breweries in the area. She even successfully auditioned—in front of judges Katy Perry, Lionel Richie and Luke Bryan—for the 2019 season of "American Idol." Caitlin performed in all three rounds of Hollywood Week, where she was eliminated shortly before the next round.
"Working in an energy, engineering or finance field and singing don't seem like they would go hand-in-hand, but there's a lot of overlap between the two," Caitlin said. "You cannot be successful in those realms without a strong, supportive team."
While performing around Richmond, Caitlin coincidentally joined a band with a Capital One associate. Her bandmate raved about working at Capital One. He told Caitlin about our innovative work and collaborative environment. She was interested, so he recommended her for a job at Capital One.
Caitlin started at Capital One in 2020 as a principal risk specialist. The financial industry was new to her, but Caitlin had the compliance expertise and program management skills to thrive in the position. She also had coworkers and mentors who answered all of her questions, took the time to explain the fintech industry and actively encouraged her to pursue new interests and connections at Capital One.
In early 2022, Caitlin earned a promotion and moved into the Commercial Bank business. As a manager in the Strategic Investments Group, she is on the Program Management team overseeing a unitranche loan program that focuses on the commercial and healthcare real estate sectors.
And she still had plenty of energy to sing and perform around Virginia.
"I've never felt like I had to choose between my corporate and singing careers," Caitlin said. "Life at Capital One truly means finding joy and chasing the opportunities that fill you with happiness and excitement."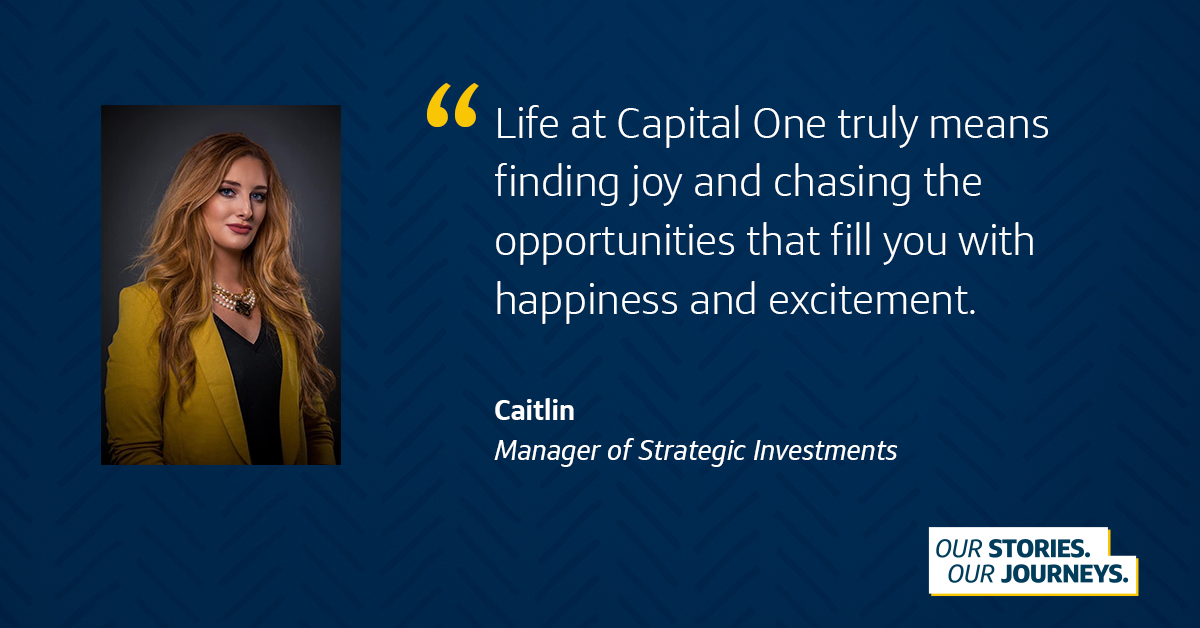 Using her voice to advocate
As Caitlin has found joy, community and confidence in her life at Capital One, she's worked to ensure others have the same chances for success.
Caitlin partnered with other members of empowher, our Business Resource Group for women associates and allies, to hold a conversation in 2022 about how women can advocate for themselves and others. She and her teammates moderated the discussion, which featured women leaders sharing their own personal stories about the importance of advocacy at work, how advocacy can shape careers and tactical ways to advocate for yourself and others in the workplace.
Advocacy has always been a cornerstone of Caitlin's career, but it became especially important to Caitlin after she read a 2019 study by the National Bureau of Economic Research that indicated men rate their execution 33 percent higher than equally performing women.
"This study absolutely shocked me," Caitlin said. "Women in corporate America, women in STEM, women in music and women everywhere should all be loud about their accomplishments."
Caitlin recognizes there were moments in her career when she would have downplayed her successes switching industries, earning a promotion or even getting on American Idol. Since joining Capital One and finding a coalition of peers who advocate for her, Caitlin has opened up about her wins.
"Whether you're building a bridge, writing a song or shaking things up in corporate America, it's important to use your voice," Caitlin said. "It's you and your skills that are driving things forward. Be unapologetic about your contributions and desires so people take notice."
Copyright © 2023 Opinions are those of the individual author. Statements are deemed accurate at the time of posting. Unless otherwise noted, Capital One is not affiliated with, or endorsed by, any company mentioned. All trademarks and intellectual property used or displayed are the property of their respective owners.