Military Onboarding: Hit your stride from day one
Capital One is committed to hiring and helping service members, veterans and military spouses find meaningful employment. Learn about our resources, guides and communities that support new military hires during their first 90 days and beyond.
Tim felt mostly good about his decision to leave the Army after eight years. He was ready to settle down in Richmond, VA with his wife and young son and stop moving across the country at a moment's notice. But Tim was worried about feeling out of place. After all, the Army provided a community of mentors, friends and colleagues.
"What's my day-to-day life going to be like after I leave? What is the workplace culture going to be like," said Tim, now a Principal Risk Specialist for the Enterprise Services Risk (ESR) team. "Am I going to be happy? There was a lot of stress about whether I was making the right transition."
Tim's worries were quickly relieved after starting at Capital One in 2021. His new team sent him a welcome basket with a card from ESR leadership. He joined Salute, Capital One's Business Resource Group for the military community and allies. And along the way, Tim had Capital One's many resources—including the support of his manager and team—to ensure he had a smooth start in his first 90 days.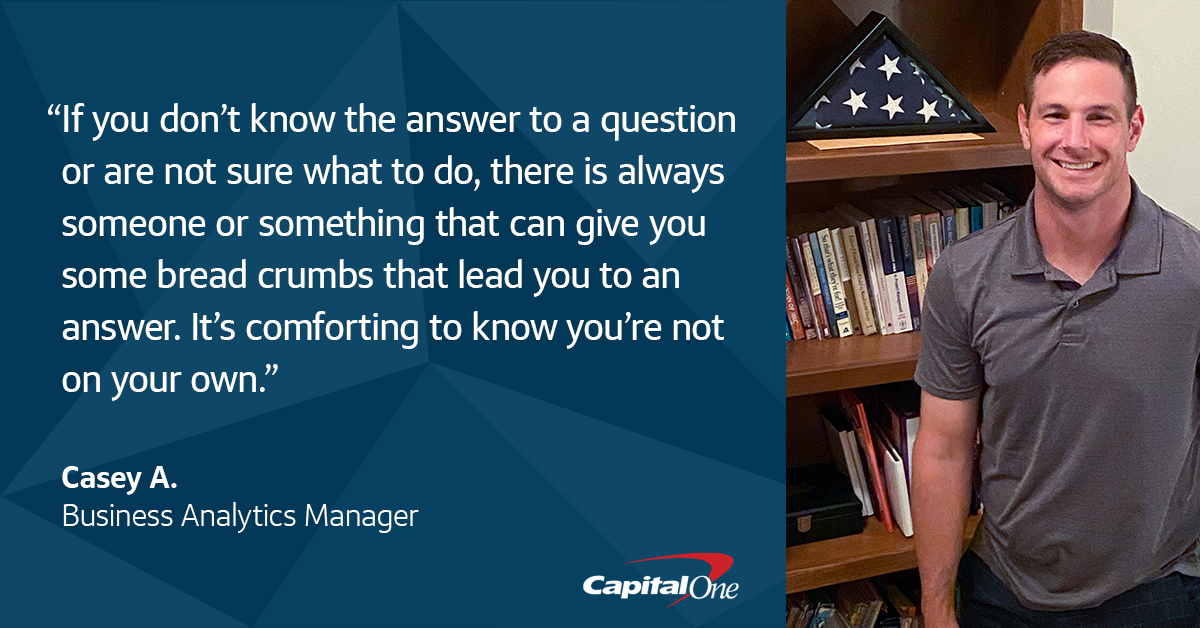 A helping hand for onboarding
There's a lot of information to process in your first few days at Capital One—new colleagues to meet, benefits to sign up for and new job responsibilities to learn. With a full suite of tools to support transitioning service members, veterans, and military spouses, new recruits are able to both quickly and successfully thrive in their new career.
Military hires gain the confidence to tackle their duties and learn about Capital One's culture through a checklist of to-dos to complete within their first 30-, 60- and 90-days, one-on-one support from colleagues and learning modules for veterans and military spouses. A course for hiring managers provides support in creating tailored transition plans for new military hires.
Casey, a Business Analytics Manager and Air Force veteran, had about 15 meet and greets with associates and leadership during his first 90 days. He also completed internal courses on "Introduction to Capital One Economics" and "Statistical Pitfalls for Business Analysts" to learn more about Capital One, and his new role, while onboarding.
"I had everything I needed to have a solid understanding of Capital One and my role in the company," Casey said. "If you don't know the answer to a question or are not sure what to do, there is always someone or something that can give you some bread crumbs that lead you to an answer. It's comforting to know you're not on your own."

Support to be successful starting day one
From day one, there's a wealth of opportunity for veterans and military spouses to build community and learn from those who have been there before them.
Salute, the military Business Resource Group (BRG), includes more than 5,000 members with 15 chapters across the United States. The BRG regularly hosts networking events, trivia nights and volunteer activities. Salute's Serve the Reserves program checks in with military spouses and families while their spouse or parent is deployed.
Quickly after starting at Capital One, Tim connected with Salute members through the BRG's trivia events and active Slack channel.
"Your experience at work comes down to people and interactions," Tim said. "Knowing there are so many people in the company with a similar background as me is great. That's correlated to a very positive experience here."
Veterans and their family members aren't limited to any specific BRG, associate group or Slack channel. Capital One Business Resource Groups focus on awareness, education and advocacy for associates of all backgrounds and experiences.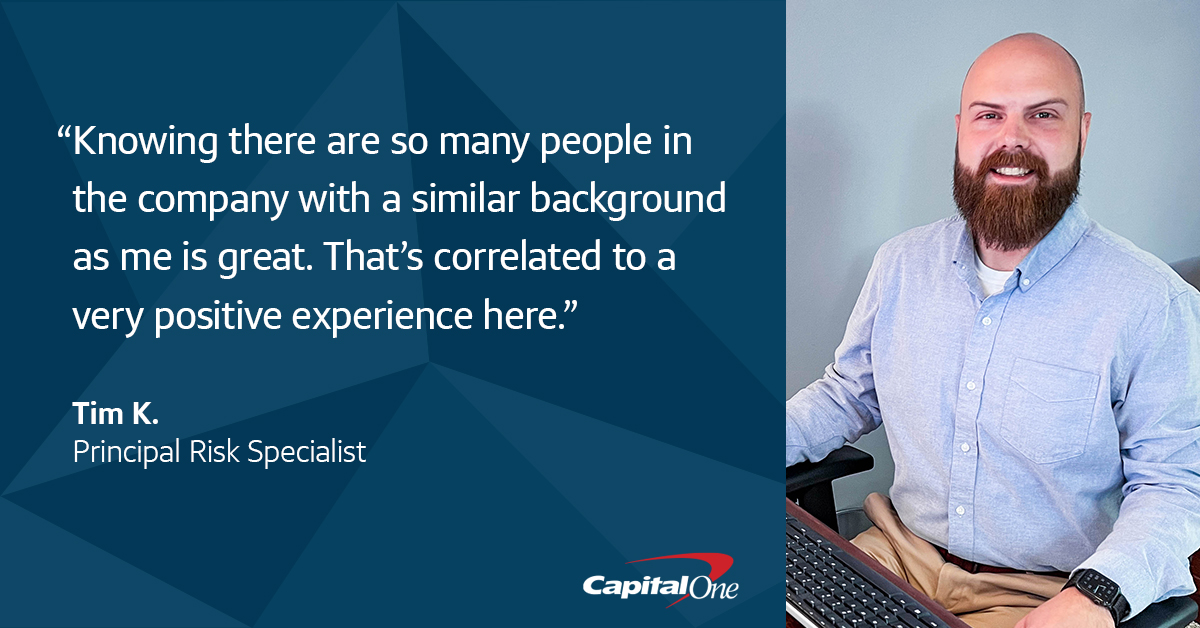 Transition sets the stage for growth
As associates from the military community grow comfortable in their role at Capital One, they will begin to find opportunities for career development, mentorship and participation in volunteer activities.
Casey uses his analytics skills to build a dashboard for Salute leadership to track metrics for event attendance. Tim is completing training webinars on risk management. Additional programs exist for the military community to host veteran networking sessions, participate in mock interviews and resume reviews. Capital One's health, wealth and life-related benefits also support each associate and their family.
"The switch to Capital One hasn't been only a job change but a lifestyle change as well," Tim said. "People work hard here, but they also want to see you grow and have a healthy work-life balance. I could not have asked for a better transition."
You can learn more about Capital One's commitment to our military and their families and explore available resources on the military page of the Capital One Careers site.
Copyright © 2023 Opinions are those of the individual author. Statements are deemed accurate at the time of posting. Unless otherwise noted, Capital One is not affiliated with, or endorsed by, any company mentioned. All trademarks and intellectual property used or displayed are the property of their respective owners.