Innovative banking roles you didn't know about
At Capital One, no two jobs are identical, but everyone contributes to the same mission: change banking for good. While some positions—Café ambassadors, business bankers and tech teams behind our digital tools, for example—have a more direct connection to our customers, we have a variety of roles that help take our work to exciting new places.
Discover how a few associates in finance, legal and communications support innovative banking and why they chose to work at a place like Capital One.
Breaking down finances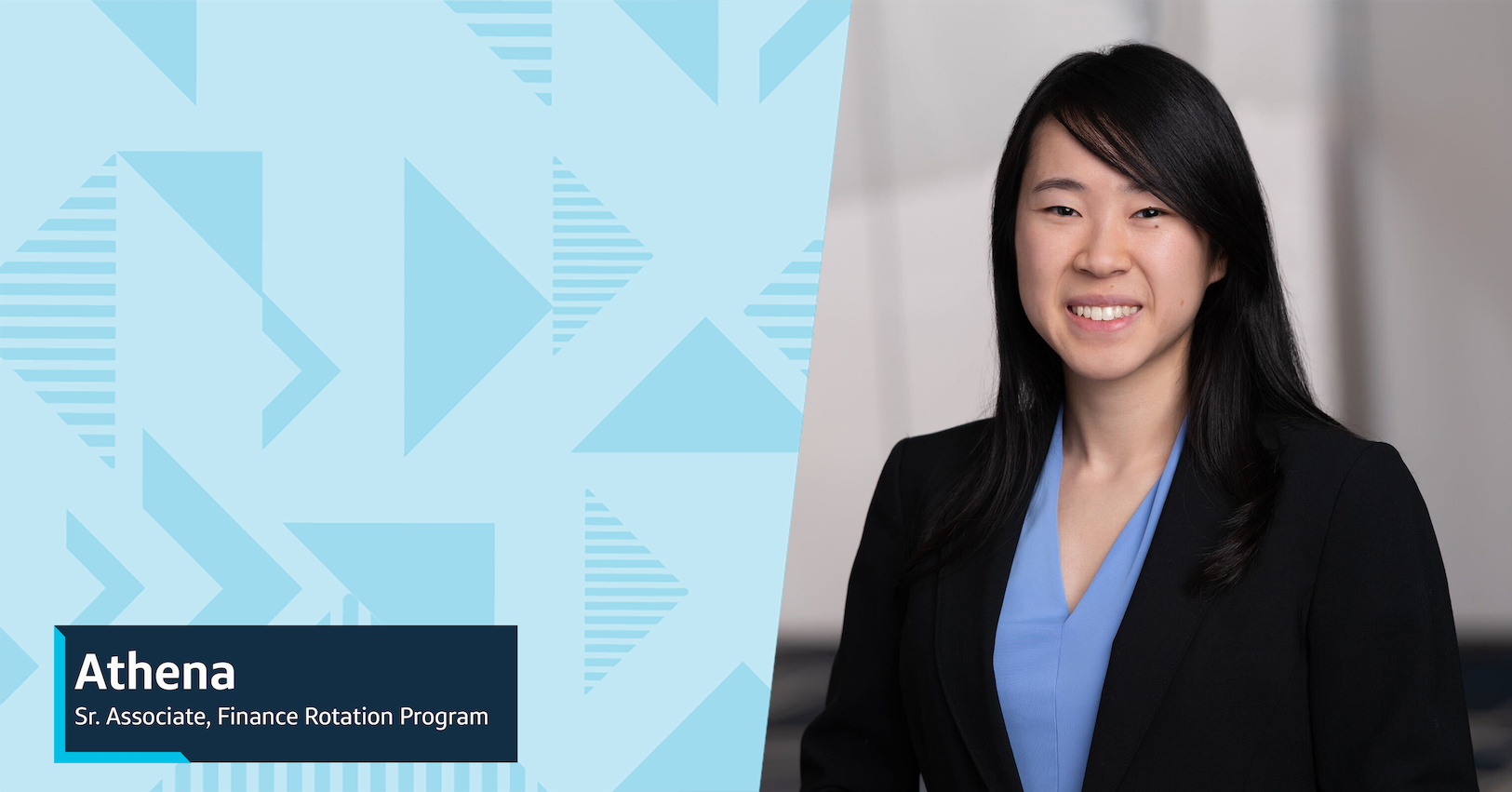 Athena's best days happen when she helps associates understand a complicated quilt of numbers.
Athena, a senior associate in the Finance Rotation Program, forecasts and manages budgets for Human Resources teams. As part of that process, she meets with various HR representatives to break down their budgets and answer any questions they have.
"It's easy in my job to have tunnel vision on crunching numbers, so it's nice to see how my work directly supports our teams who recruit talent," Athena said.
Athena has supported Capital One since day one of the Finance Rotation Program. She spent her first year with the Liquidity Risk Management team, upkeeping forecasting models reported to the Federal Reserve.
Both positions have given Athena plenty of opportunity to become better at supporting associates and Capital One. She's learned from her manager how to use the programming language Python to make budget databases easier to manage. She's also taken Capital One-designed courses about Amazon Web Services, how the enterprise generates revenue and tech for non-engineers.
The investment in her growth is why Athena joined Capital One.
"There's this endless cycle of support," Athena said. "I might be helping someone as part of my job, but part of why I do that so effectively is because countless people have supported me in my own growth. It's been an invaluable learning experience."
Creating a Capital One footprint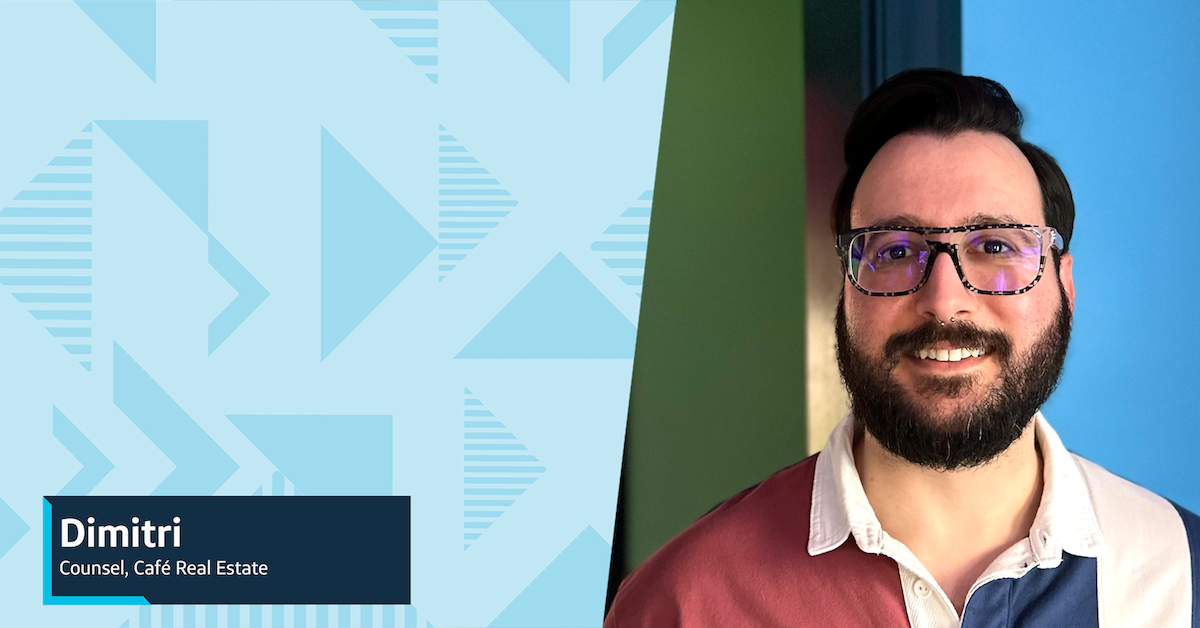 Every Capital One Café is a pleasant reminder of Dimitri's work.
Dimitri, Café Real Estate business counsel, handles legal matters that affect our Cafés. His week includes everything from drafting, reviewing and negotiating leases, to advising on construction and operations questions, to working with in-house and outside counsel litigation attorneys on pre-litigation matters.
"One of the best parts of my job is I get to see my contribution," Dimitri said. "My advice is being implemented, and I get to help establish safe and comfortable spaces for our customers."
Dimitri started at Capital One in February of 2020, initially focusing on how the enterprise followed laws set by federal, state and local governments. A month later, he also began tracking COVID-19 executive orders from all 50 states and communicating them to impacted business lines. The work was fast-paced and ever-changing, but it was one of the first times in Dimitri's legal career that it felt like he had a team to support him.
"I've found working as in-house counsel, rather than being in private practice, to be a lot more collaborative because we're all supporting the same client," Dimitri said. "We get to focus on and learn about that client without having to hunt for new opportunities."
The collaborative culture means Dimitri has the time and support to study new legal areas. He's working with his manager to understand associate safety, security and risk laws.
"I've always felt like I can make my own decisions at Capital One," Dimitri said. "It's empowering to know I can do great work that makes a difference while still learning from people at the top of their fields."
Connecting associates and customers to Capital One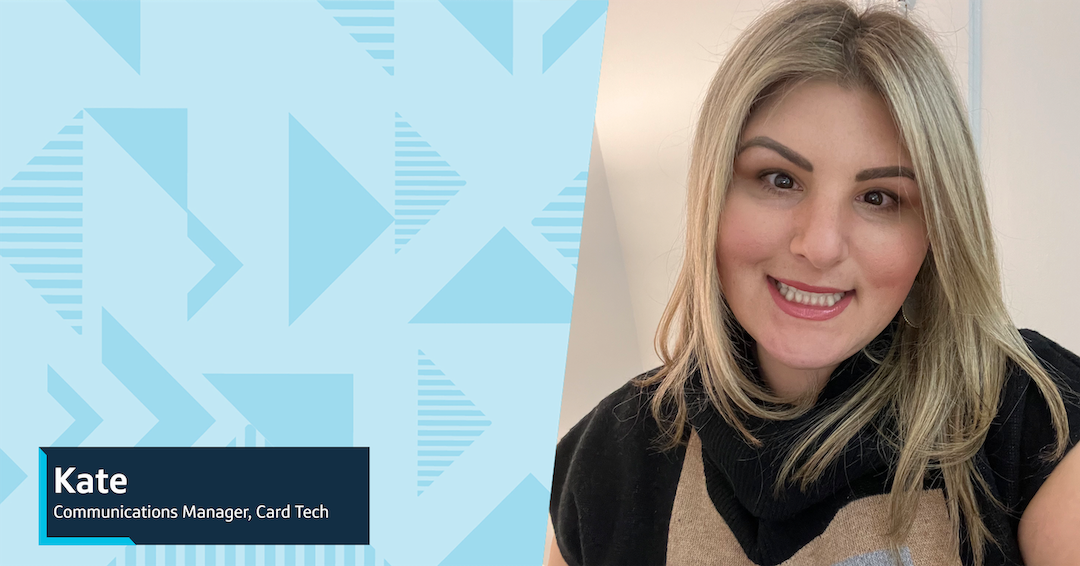 In a world where associates are spread out across the country, Kate helps 1,500 members of the Card Technology team stay connected.
As a communications manager, Kate crafts emails to associates on everything from recognizing product launches to sharing organizational announcements. She helps leaders build their brands by finetuning their messaging. She plans events and activities—like a Lunar New Year lunch and a college basketball bracket challenge—that create moments for associates to engage with each other.
"No two days are the same, but my work has a throughline where we create and maintain a supportive right culture and norms that allow our engineers to do their best work," Kate said. "When they have the information they need, feel valued and have fun, great things happen."
While Kate's work focuses on creating and communicating opportunities for others, she has the time to pursue her own development. She came to Capital One as a contractor in September 2019 and became a full-time associate in July 2021. She earned a promotion in January of 2023.
Kate volunteers as the communications lead for Salute, Capital One's Business Resource Group for the military community, which she joined to show her support for active service people and veterans. She is also using Capital One's tuition assistance benefit to help offset the cost of her MBA.
"While our work is incredibly beneficial to our customers, we don't take ourselves too seriously at Capital One," Kate said. "We have fun, maintain excellence and do the right thing."
Copyright © 2023 Opinions are those of the individual author. Statements are deemed accurate at the time of posting. Unless otherwise noted, Capital One is not affiliated with, or endorsed by, any company mentioned. All trademarks and intellectual property used or displayed are the property of their respective owners.