5 reasons you'll love working at Capital One
There are countless reasons our associates decide to work at Capital One and choose us year after year. From being mission-driven to change banking for good, to cutting-edge work across all types of roles, to empowering associates of all backgrounds to celebrate and bring their authentic selves to work, our associates find many reasons to continue choosing life at Capital One.
We asked a few to share why they're proud to work here. Check out what they had to say about how Capital One is more than "just a bank"—it's a place to build a career with limitless opportunities, too!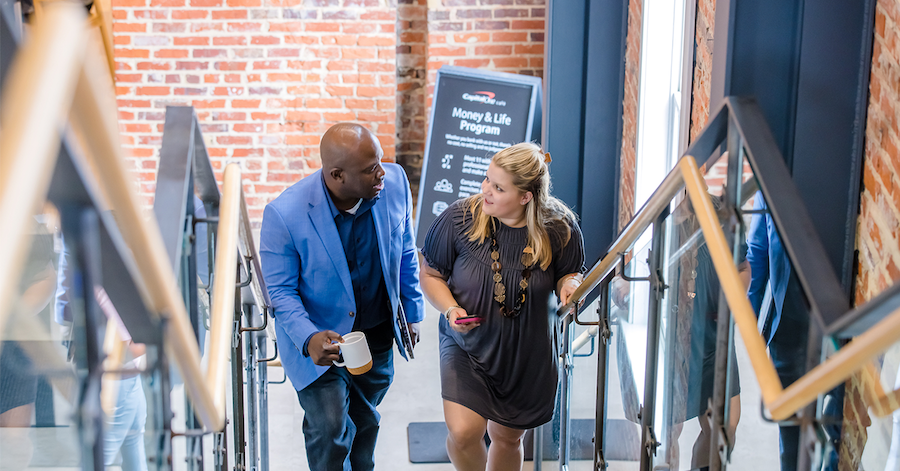 You can have a worthwhile career without a financial background.
"I had no technology or business background, so I thought 'Why would a bank want me?' But I found the Management Rotational Program, which appeared to suit my skill set, so I applied anyway. Capital One brought me in for an interview and hired what they deemed a good person with potential. They helped me hone my skills in various roles that gave me exposure to areas I'd never really thought of. To develop in a program like that was a great start to my career, and I'm grateful for the opportunity." - Chesdin, product manager
"I never thought I would work for a bank. I was a lawyer in Cuba, and working with money was not my strength. My sister worked for Capital One and loved it. One day she told me I would be a good fit here because I have great customer service skills. At first, I said, 'No way,' but I saw how happy she was. She convinced me to try. I never regretted it for a second. I feel appreciated and valued here." - Yida, branch ambassador
"I had no idea about the financial industry and how it worked. I never thought everyday people like myself could land a job at a Fortune 100 Company and succeed. To me, it was a bit of a mystery. You think of such an iconic company, and it's hard to imagine the associates being down to earth. Once I got here, I was surprised at how genuine the people are." - Kate, communications manager
We innovate and collaborate.
"I always thought banks were antiquated and not up-to-date with current technologies since they've been around for decades. Capital One has defined the modernization that a bank can showcase. I'm consistently surprised at the tech-forward approach here, most notably the full shift to Amazon Web Services and the cloud. Capital One has exposed me to many new technologies and always keeps me learning." - Jack, software engineer
"I try new things and embrace failure as a learning opportunity. We recognize we're not perfect. We admit when there are obstacles and collaborate to solve them. This willingness to listen and allow anyone to have a voice and express ideas is a mark of a culture that really values trust and collaboration. That's the kind of culture that aligns with my own values." - Tanusree, senior distinguished engineer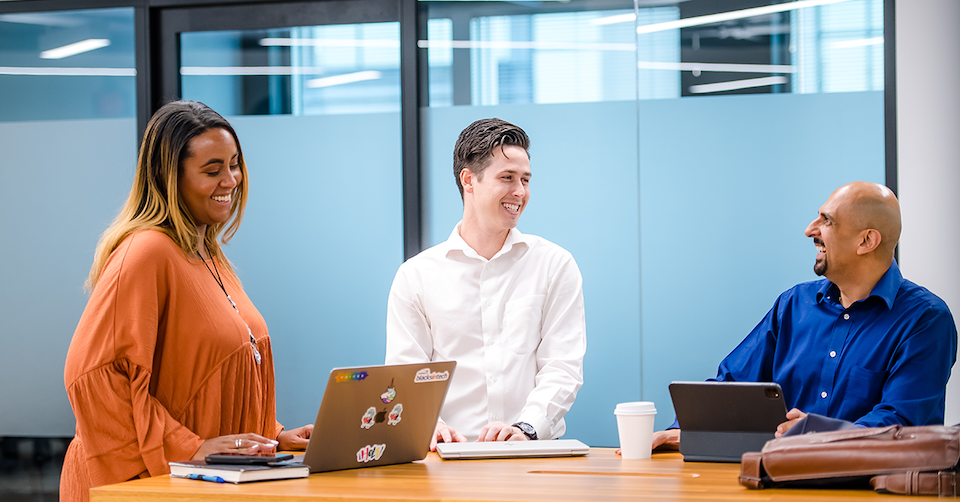 We invest in you.
"My career growth is constantly in motion, thanks to Capital One's investments in product management opportunities, like workshops, conferences and career coaching. I've also grown personally, because my team helped me embrace who I am and identify my superpowers, like communicating complex ideas and fostering an inclusive culture. Plus, I've been able to change roles to challenge myself. Capital One values your long-term career and adapts to you, instead of forcing you to adapt to one role with limited options." - James, product manager
"I love that Capital One allows me to grow in my current role and invest in my future self. Capital One is helping pay for my bachelor's degree in psychology. I build my future savings by contributing to Capital One stock and a 401(k). The company does so much to help me and my family secure a better life." - Dana, branch ambassador
We want you to be yourself.
"I'm a nerd. I'm outspoken. I'm queer. I wear hoodies and t-shirts mostly. I have tattoos and facial piercings. All of this is valued. I have quickly moved up the ranks to be a respected engineering leader. You have the freedom here to be yourself and create your path. Make your destination known. Capital One will help you get there." - Justin, director of software engineering
We support our customers and communities.
"The work we do matters, and it's never boring. I help people from all walks of life. We get to have amazing conversations with people that come into the Cafés. We help a local food bank sort donations. Café ambassadors volunteer to deliver essentials and visit people who are homebound in the San Diego area. We help students with career readiness. No matter what we do, we have empathy and compassion for people." - Zendie, associate in the Customer-Facing Associate Mobility Program
"I thought banks were just places where you deposited money, but little did I know Capital One was going to change my perception of banking. Our associates treat you like family. We listen to your problems and help you find solutions while providing options. One of my favorite ways to help educate about financial literacy is through the Student Banker Program, where we teach high schoolers how to manage money and open savings accounts. I love to help people bank in more ways than they could imagine." - Kelisha, market manager
Copyright © 2023 Opinions are those of the individual author. Statements are deemed accurate at the time of posting. Unless otherwise noted, Capital One is not affiliated with, or endorsed by, any company mentioned. All trademarks and intellectual property used or displayed are the property of their respective owners.