How to work from home with kids
Working from home may be a welcome change from going into the office every day, or it could be a standard part of your work week. What happens when your kids are suddenly home with you, too? How do you balance getting the necessary work done, showing up for your team and keeping your child safely occupied and entertained? With an increasing number of people working from home, whether temporarily or on an ongoing basis, we polled some Capital One parents to get their top tips for working from home with their kids.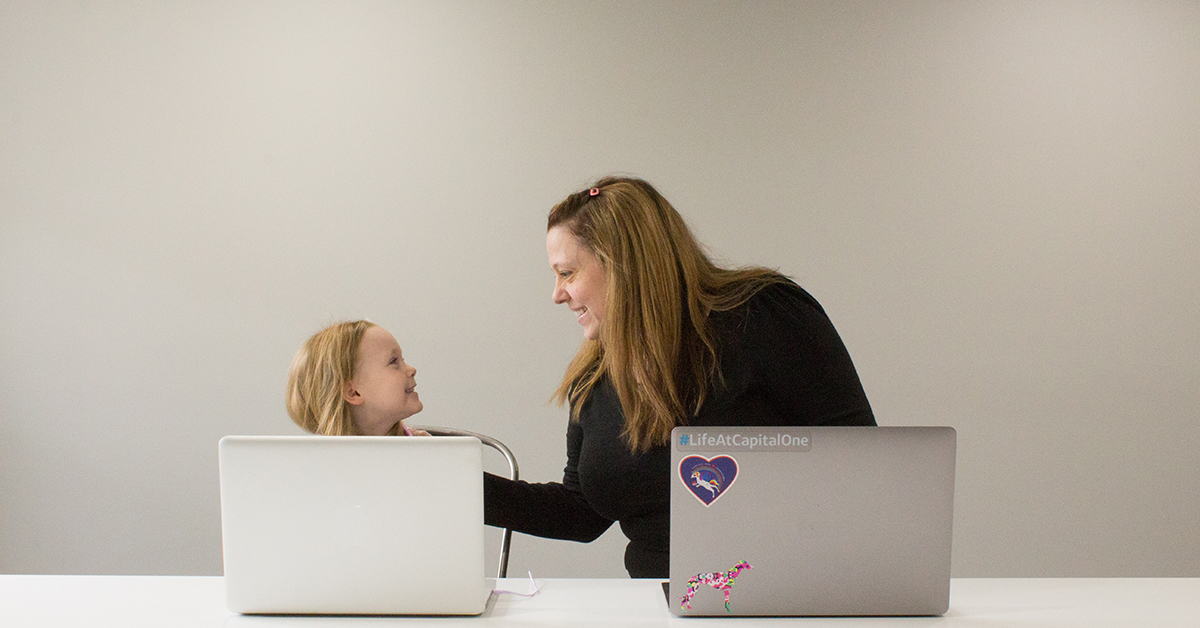 Communicate with your leadership and team about your schedule
It is likely that at least a few fellow parents on your team are also going through the same situation. Being up front with your manager and team that your kids will be home with you helps them understand your work environment and better support you. Sharing your schedule in advance if you need to manage your day a little differently than you traditionally do—like if you'll need to be offline for part of the day or take care of a sick child—will keep everyone informed so there are no surprises. Take a look at your calendar to see if you need to schedule any breaks so you can set up new activities for your kids, give them lunch or open snacks—if you have a planned schedule, it will be that much easier to know when you might need to take a break!
Create a schedule—for you and for the kids
Keeping a work schedule for yourself will ensure you're keeping work on track without sacrificing more of your truly at-home time. When working from home, it's easy to send just one more email and can be hard to really disconnect from work—effectively working from home requires clearly established boundaries for work time vs. home time.
When the kids are at home with you, keeping a schedule becomes even more important. It can help them understand when they'll see you (lunch breaks!) and if you're available for a quick conversation or to help open a snack. Kids are used to schedules at school, too, so giving them a structure at home will help keep a sense of continuity throughout their days. Try incorporating time for learning, snacks, lunch, playtime, crafts and other activities you can rotate daily to keep them engaged and stave off the dreaded 5 letter B-word—BORED.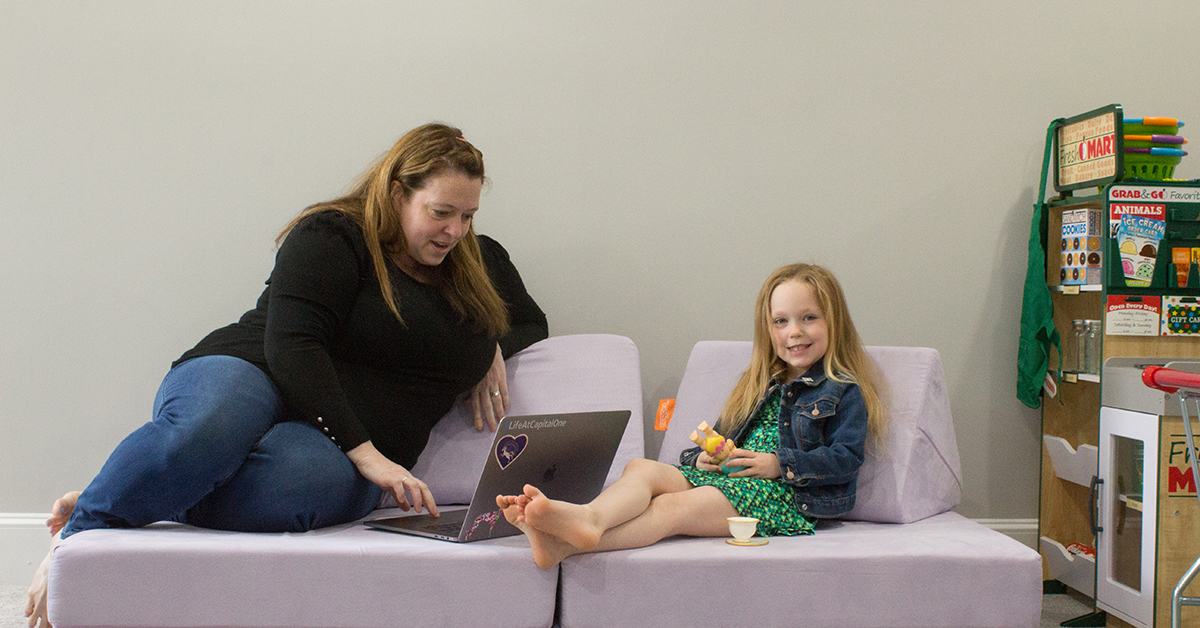 Start the day off right for everyone—get up and get ready
You may not be headed to the office, and the kids may not be headed to school, but taking a shower and putting on real clothes will help you feel better prepared for the day ahead and will keep more of a sense of normalcy and structure (which kids crave). Plus, you'll be ready to hop on a video call at a moment's notice without worrying about whether you're dressed appropriately or need to brush your hair. Your kids will feel like there are distinct phases of their day, too—getting out of pajamas and into play clothes will help transition them into different activity times instead of spending the whole day in jammies (though sometimes, that's fun, too!).
Designate work areas and play areas
Create an engaging environment to keep your child's attention by setting up a dedicated area for your child to play or do activities. One associate shared that when she works from home with her little, she sets up a play area and gives her daughter one of her old computers so she feels she is working alongside her. Having crafts and books to read, as well as various activities to rotate throughout the day will help keep kids' attention. Another associate encourages parents to think creatively about how to keep their children occupied. She once took a call while pushing her daughter around the house in her push car, and she found moldable dough to have the best mileage per dollar. Also, she saves screen time for when she really needs it! Busy bags filled with simple activities and toys for toddler-aged kids are a great way to rotate toys and keep the interest of little ones.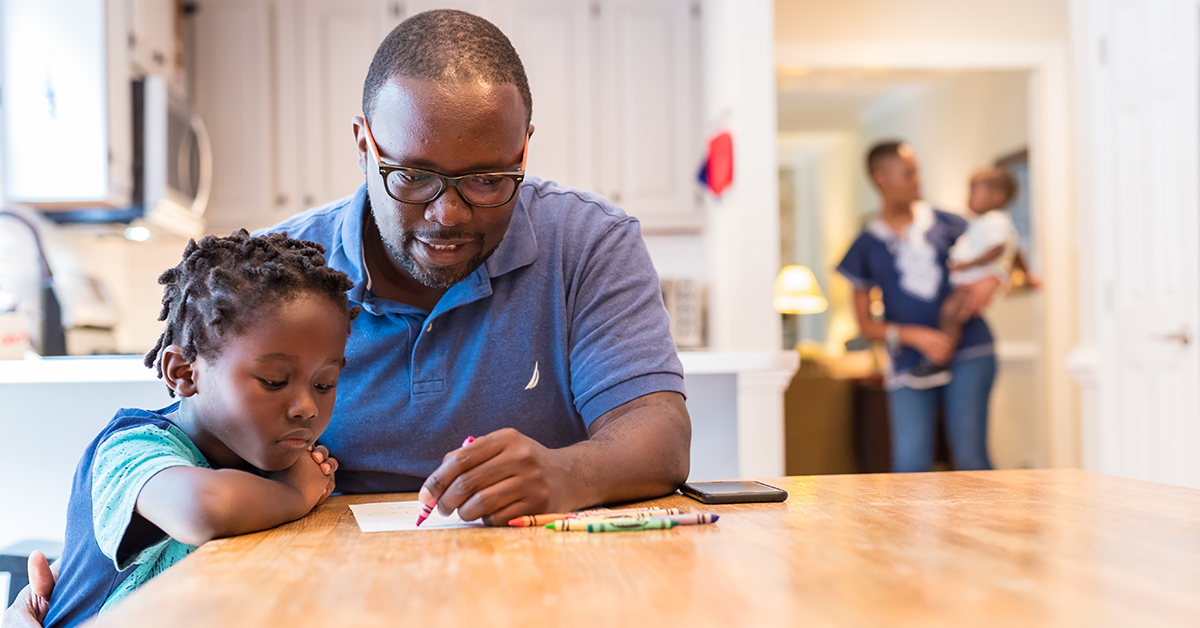 Have patience and make concessions
Unless you are able to split duty with someone, don't expect to give 100% of your attention to any one thing for an extended period of time. If working at home with your child is a short-term arrangement, easing typical rules around screen time may be beneficial. Knowing when your child has reached their limit without your attention is key as well. Giving them undivided attention and time to connect with you for even a few minutes can fill their need and reset them for another independent activity. If you are able to share the parenting load with a partner throughout the workday, take shifts so each of you has dedicated time to focus on work while the other cares for the children. Compare schedules in the morning and create a plan for the day if more frequent hand-offs are needed (back-to-back meetings, anyone?). Above all, be patient—with your child, partner and yourself! Balancing work and parenting at the same time is tough under the best of circumstances.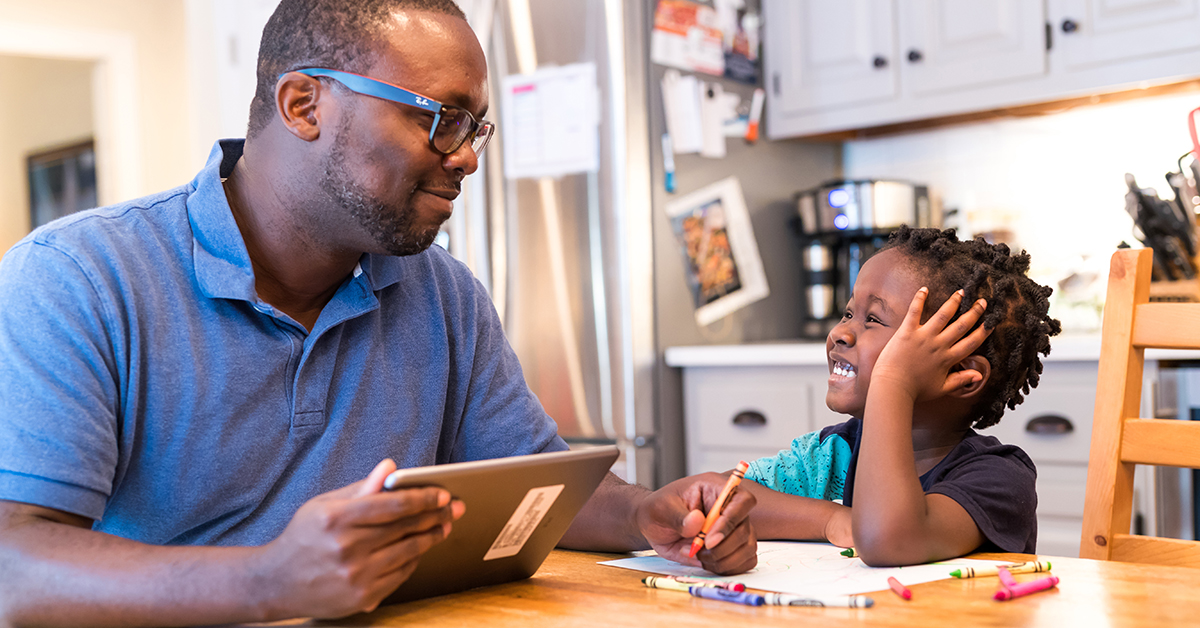 Create pockets of time to work in
If your child is still at the age of taking naps, try to use that time to schedule meetings (or at least the most important ones). Getting work done early in the morning or late at night when they are sleeping are also good options (don't forget to talk to your team if you need to work offset hours). Take on the work that needs your undivided attention the most during these undisturbed pockets of time. As you work at home more with your child, you'll get a better understanding of how much quiet time you'll get when you offer different activities. Send the kids outside to play while you write a few emails. Keep a few special activities handy (like a favorite show) for when you need some uninterrupted time to yourself. For older children, let them stay up late with you so they will sleep in later—instant free time for you to handle a few meetings before they wake up! And, if your child is young enough, baby wearing with a sling or wrap will keep your little one close and calm while leaving your hands free to work!
Be empathetic and flexible as a manager and coworker
Encourage everyone to over-communicate their needs—sharing things like your schedule, time off, meetings, deliverables and project statuses, as well as the feedback and inputs you need from others will help the work day run more smoothly for everyone. Be sure to maintain an open and regular stream of communication to share this kind of information clearly so everyone is in the loop. Proactively ask your team to share how they are feeling, how their families are doing or how their day has gone so far to help open lines of communication. If you're a parent with kids at home while you're working remotely, share how your day is going, activities your kids are doing to keep busy or resources that the parents on your team may benefit from as well.
Showing empathy when someone on your team is struggling is critical to helping them feel supported, included, seen and heard. That doesn't mean you have to feel sorry for them—empathy is all about listening to what's really going on with them, seeking to understand how they are feeling, acknowledging the difficulty of their situation and, above all, connecting with your teammates in a way that shows you genuinely care and respect them. Above all, when a team member comes to you with a concern, helping them feel heard and validating their feelings will help them feel like they aren't alone and are still an important part of the team!
Conference calls at home with kids
Working from home while your children or other family members are home too can be stressful at the best of times, but add in the need to connect with your remote team via video or other calls, and suddenly you could have a whole new set of worries—are there socks or toys visible on screen? What if my partner doesn't realize I'm on a call and asks me a question? Can my team hear my dog barking?
Using a video conferencing system, like Zoom, can help you feel more connected while also easing some of your environment concerns. Check your video system settings to see if you can swap out the backdrop of where you're actually working for a virtual one so you don't have to worry about an untidy house.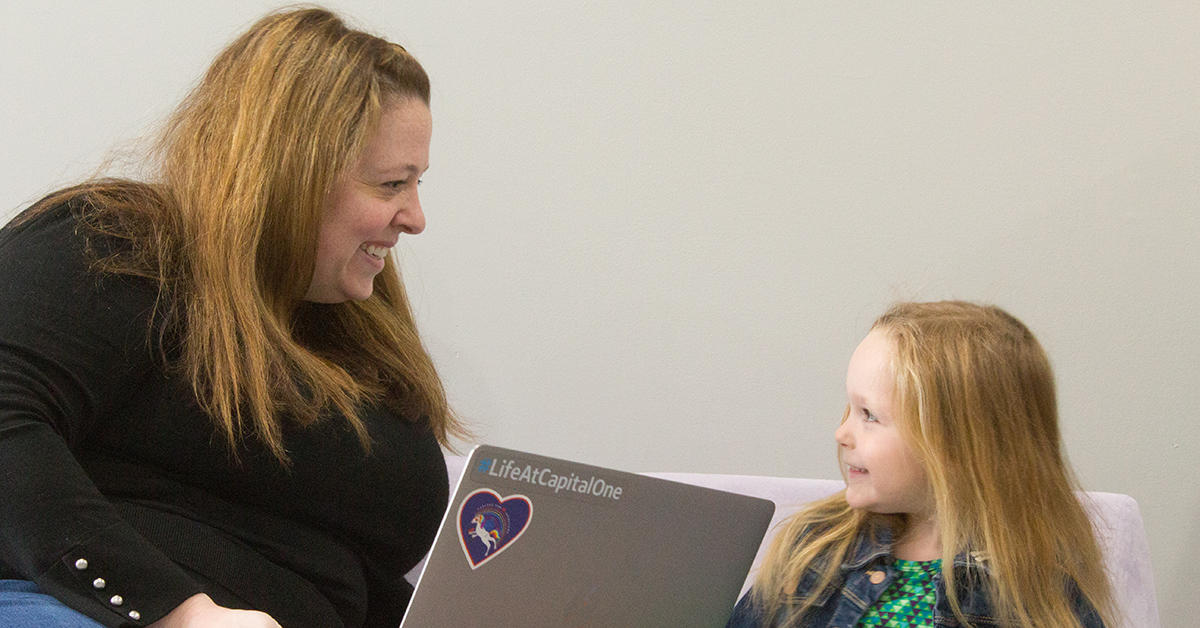 Worried about your child or partner accidentally interrupting an important call? Minimize the impact of any surprise noises in the background by keeping your audio settings on mute unless you're actively presenting or talking! For older kids and partners, you can also establish a non-verbal "do not disturb" signal (aside from the classic closed door) like putting a specific toy on your desk that means they have to wait to talk to you.
Above all, be flexible and know you're not alone
Full-time working parents are used to the near-constant demand of juggling the endless projects, practices, meetings, doctors appointments, business travel and child care arrangements. The increased feelings of pressure to consistently deliver at work and for our families—with the added mental load of having our children at work with us—can exponentially increase stress levels. Remind yourself that this is just a rough patch in the short-term. In the long-term, you'll be back in the office (or the kids will be back in school) and some normalcy will return to your life.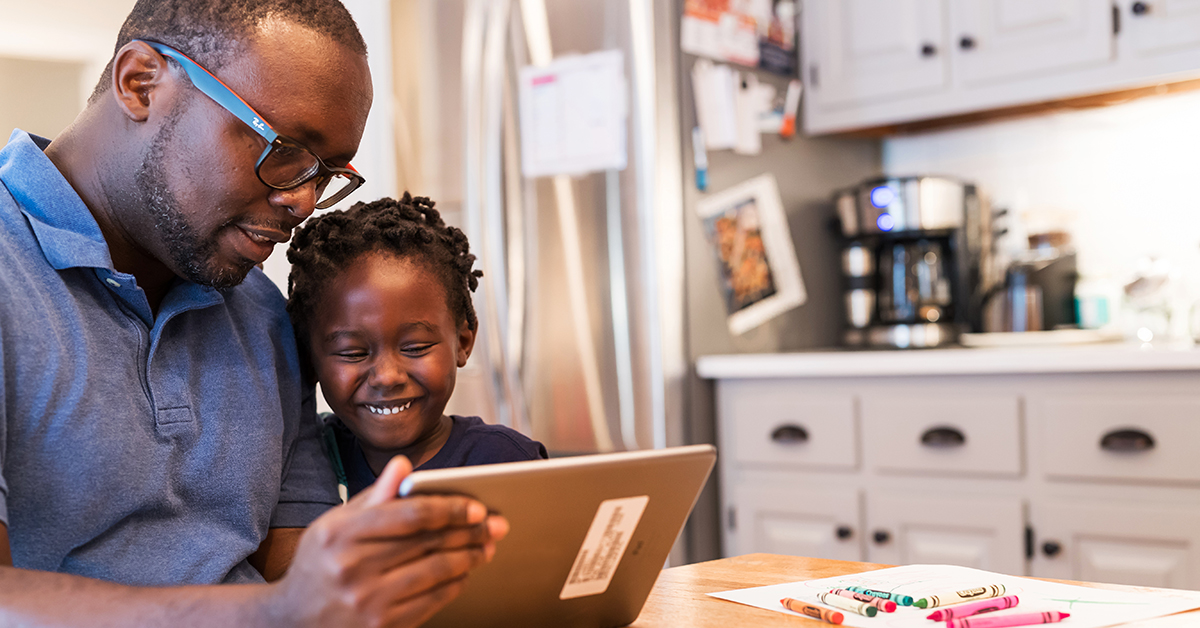 Copyright © 2023 Opinions are those of the individual author. Statements are deemed accurate at the time of posting. Unless otherwise noted, Capital One is not affiliated with, or endorsed by, any company mentioned. All trademarks and intellectual property used or displayed are the property of their respective owners.