Black Girl Magic Digital Summit—finding your voice
Since 2019, Capital One has partnered with Boss Women Media–an organization committed to empowering & educating Black women. Core to our partnership is our shared commitment to support and celebrate the achievements of women of color in business, entrepreneurship and at home.
On August 21-22, 2021, Boss Women Media and Capital One hosted the two-day Black Girl Magic Digital Summit for women of color who are corporate professionals, entrepreneurs and student changemakers at Historically Black Colleges and Universities (HBCUs). Programming empowered attendees to take ownership of their careers and financial futures and brought forward resources and thought leadership to an audience of over 20,000 that promoted growth, learning and a sense of community for women of color.
Capital One leaders Shavonne Gordon, VP of Diversity Recruiting, and Kanika Raney, Senior Director of Diversity Recruiting, came together for an open and honest conversation about the barriers women of color face in the workplace. The discussion, moderated by Jessica Pumphrey, Corporate Communications, unpacks how to overcome negative self-talk, secure work champions and position yourself for advancement.
Advocating for yourself—owning your voice and story in the workplace
Push up, pull up. To Shavonne, it's a mantra that means looking around the virtual tables she sits at and figuring out how she can pull up others while supporting—pushing up—those who are already there with her. She feels compelled to use her seat at the table, despite how uncomfortable it may be, because she recognizes that she's able to open the door for others who aren't yet there with her. While it's not always easy, it's important to her that she continues to share that it IS possible to push up, pull up.
Kanika echoed that she feels compelled to use her privilege so it's not a wasted opportunity. "When I think about my voice, who else—who else can have my voice? Who else can say what I can say?"
That doesn't mean it's easy. Combating negative self-talk—the little voices that say you're not good enough, that you're not worthy—can help shape the stories we tell ourselves, and help women remain strong in their identities in the workplace. Kanika recognized early on that the negative self-talk isn't based on facts—they're stories we create in our heads around experiences or things that happen to us. "Once I recognize that a lot of it is just the stories [I've created], I start to unpack it."
To actively dismantle the negative self-talk, Kanika starts her day by listening to recordings of herself saying multiple self-affirmations for about 10 minutes. She also keeps affirmations on her desk and uses them as a touchstone prior to presentations.
Shavonne added when she hears the negative voice in her head—the "should have, could have, would haves" as she calls them—she writes them down, then writes down all the reasons they're not true. "The other part is, who are your people—your people will help you with your negative self-talk, and they'll also give you the feedback you need to hear," shared Shavonne.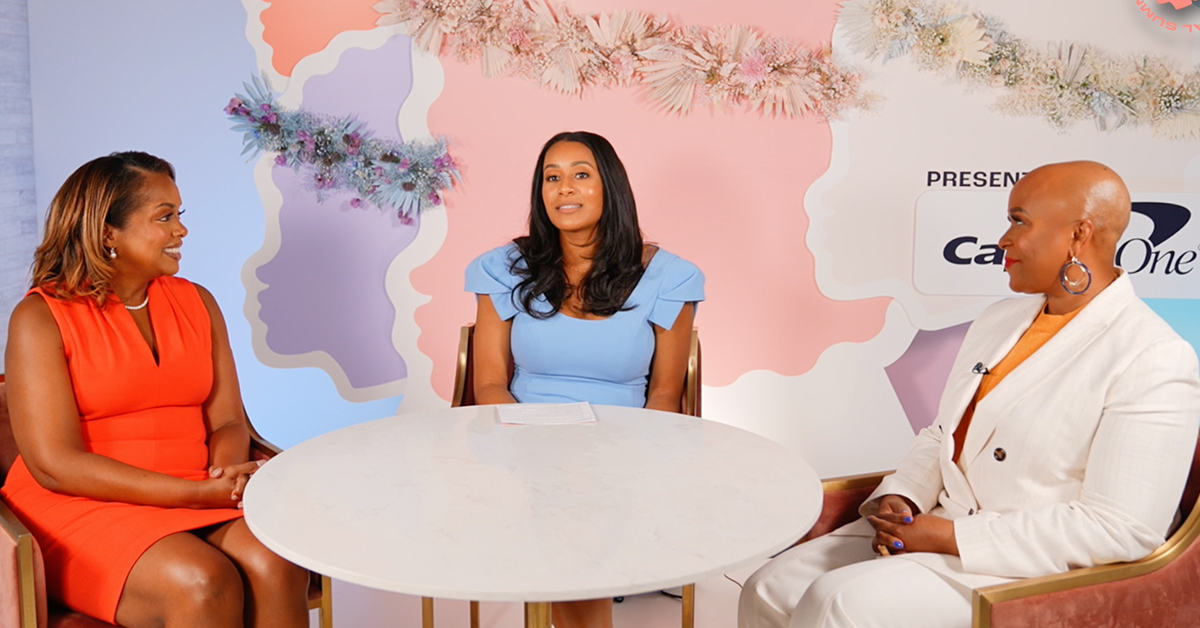 Driving towards advancement in the workplace by securing work champions
One major key to success Shavonne and Kanika shared was not only owning your voice and story, but finding a sponsor—someone who will advocate for you. A sponsor is typically more senior, and they can create opportunities for you and provide specific coaching.
Shavonne said she's blessed to have those advocates and sponsors. Typically, she builds those relationships with people through work projects. Maintaining those relationships is key. Former leaders are great advocates and sponsors, because the relationship is already there. They know your work, and they'll be willing to advocate for you. "As the person being sponsored, I need to be prepared to help that sponsor tell my story, and to speak and advocate on my behalf," shared Shavonne.
You don't usually just ask someone to be your sponsor, so Kanika asked, "How do we as Black women secure sponsors in corporate America? How do you position yourself to get sponsored?"
Shavonne, who sits on the Advisory Council for Voices, the Black associate Business Resource Group at Capital One, suggests leveraging your local associate groups. "They'll typically sit down with you and help you map out who could be your sponsors. Particularly senior leaders in the group—they want to help! You can tap into that network of people who have been there and done that, and maybe they can be your advocates and sponsors and help you forge those relationships."
Supporting the professional development of women of color in the workplace
In 2020, Capital One was ranked one of the top 20 Best Workplaces for Women to work in the financial services industry, in part due to the focus on professional development opportunities for associates. Business Resource Groups and their programming are one way professional development and community connection is fostered at Capital One.
Shavonne shared her thoughts on how Capital One supports associates. "In Voices, Magellan is a program designed for earlier career associates who may not know what they want to do. The leadership program helps participants build their brand and vision." She also said that in Tech, associates have started leveraging lean-in circles—smaller groups within the business resource groups who come together for real talk and peer support.
Beyond professional development, Shavonne emphasized how women are encouraged to take care of themselves—acknowledging the stress and family responsibilities that women take on. "We encourage a lot through our mental wellness programs and benefits, and having those lean-in experiences where you can learn from others."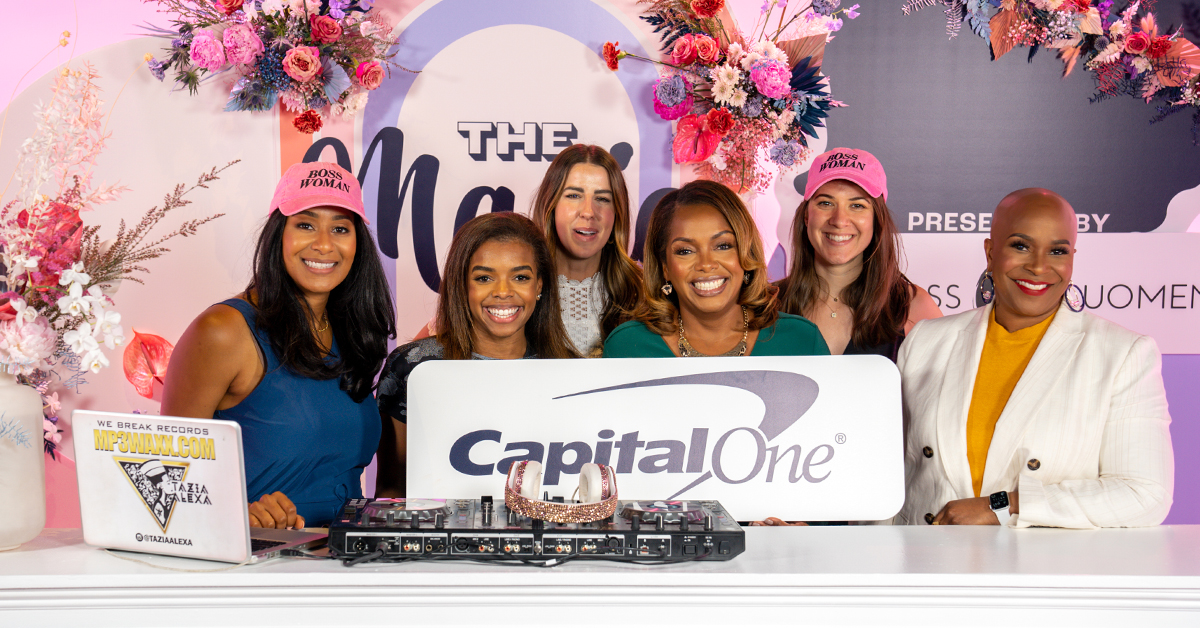 Aspirations for the future workplace
Asked how they contribute to a workplace that is more equitable and inclusive, Shavonne and Kanika left the Boss Women with their dreams of the future.
Kanika's goddaughter, who attends her alma mater, Spelman College, comes to mind. "I think about her future, and what am I doing to create a future that's going to be better for her, for her peers and all the women who are coming behind her. I have found myself in work that is doing exactly that. Work that is very specific to identifying inequities, but then how do we course correct for those inequities. And then how to ensure these things don't happen again." she shared. "I find joy in being able to use my voice to ensure we are creating a different corporate America for tomorrow."
"I just want my daughters to have every opportunity that any other human has," Shavonne said.
Copyright © 2023
Opinions are those of the individual author. Statements are deemed accurate at the time of posting. Unless otherwise noted, Capital One is not affiliated with, or endorsed by, any company mentioned. All trademarks and intellectual property used or displayed are the property of their respective owners.