How to bring diverse tech talent to the table
How can leaders empower young women to pursue a career in STEM? What advancement opportunities are there for Black technologists to grow and give back to the next generation? The STEM field can be intimidating for underrepresented groups who aren't used to seeing themselves reflected. Lisa knows this, and leads by example to inspire others to find their path—and their voice.
Lisa is a Director of Data Engineering at Capital One. "I like to look at how technology and data can help solve business problems," she says. "During my time at Capital One, I've worked primarily in the data warehousing space, looking at how massive amounts of data can tell us things about our customers, about our products, and about what our strategy should be." She leads four teams: an enterprise business intelligence team, a risk and compliance team and two data application teams.
Opportunities for tech mentorship and helping people excel
As much as she is a tech star, Lisa's true passion is around supporting and developing people. "I have a passion around people development and making sure that people have a good career," she says. And she brings her own experience to bear. "As someone who comes from a diverse background, there are definitely times when I have felt insecure, when I felt imposter syndrome. I try to make sure that the people who I work with are confident in the things that they bring to the table, and also have the runway to be able to excel."
Part of that approach to development includes volunteerism. "As I talk to my associates about what their plans are for the year, volunteerism is part of that," says Lisa. "How are you going to give outside of the work environment? Because you learn so much, not only just networking with your peers, but you learn so much about yourself, what's going on in the world and what's important for our community by being part of it."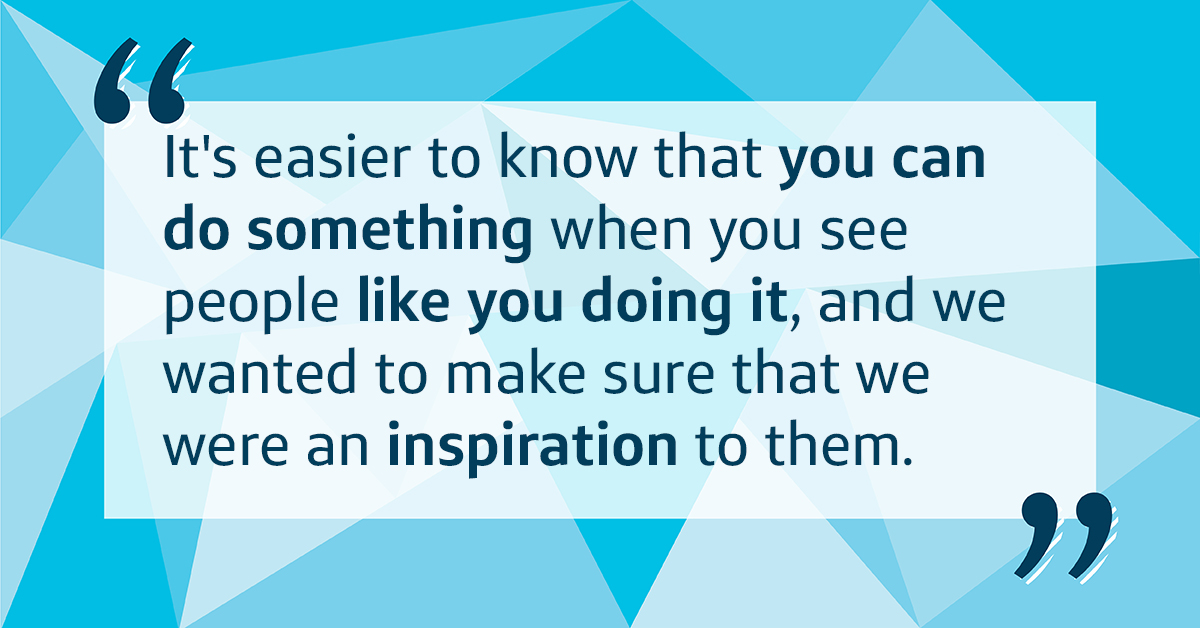 Giving back with skills, while celebrating diversity
Lisa has volunteered as a mentor with Capital One Coders, which inspires the future generation by educating, mentoring, and empowering students to recognize their potential as technologists. "I think Capital One really wants to be part of the community," she says. "It's really great that I can give back as part of my job in a way that I'm passionate about."
Lisa felt a special kinship to the girls who were learning how to code. "Some of the girls who participated went to the exact same Richmond public schools that I went to," she says. Lisa noticed one girl sitting by herself, and she could see how the girl looked intimidated.
That moment stuck out for Lisa as a way to give back even more. "Seeing her really made me want to do more," Lisa shares. "And so I got involved with Blacks In Tech, one of our Business Resource Groups within Capital One. I got them involved in sponsoring Capital One Coders sessions where we would go into schools where the students looked a lot like us, and they would see technologists that look like them. It's easier to know that you can do something when you see people like you doing it, and we wanted to make sure that we were an inspiration to them." The Capital One associates taught the students how to code, and they also served as mentors and role models.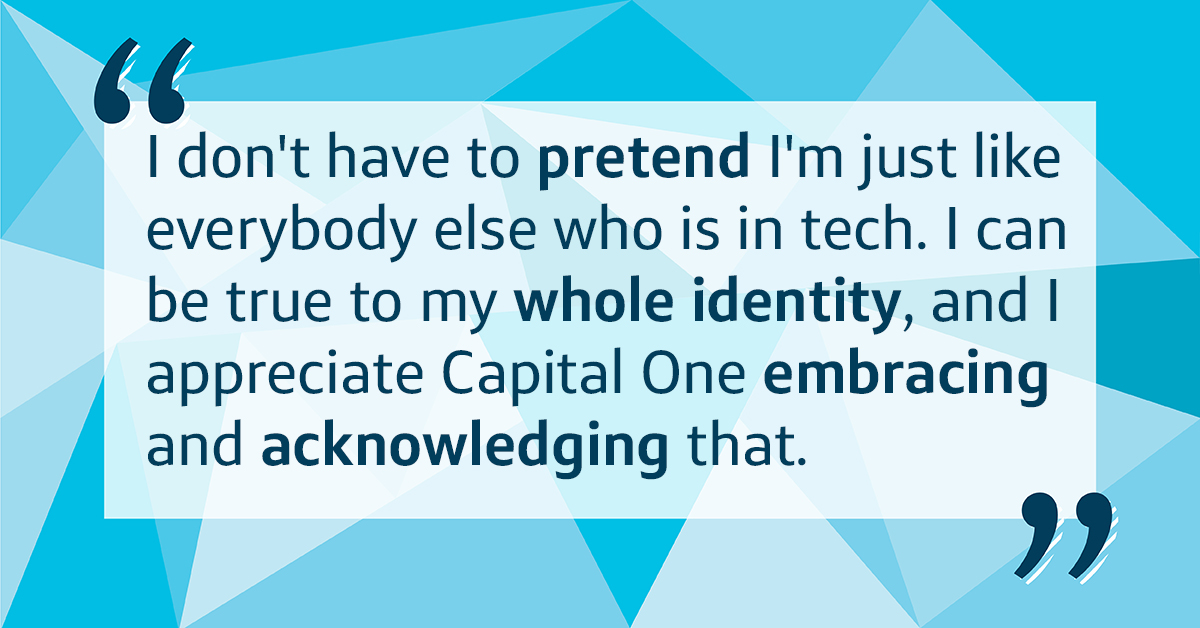 A culture of being our true selves
Not only has Lisa mentored students through the volunteer program, she also continues to inspire others in her daily work. "I've mentored several people within Capital One on a one-on-one basis who may have seen my success and have looked for their own success and how to navigate it," she shares. "I find that most of it is not about whether they can learn something technically, because they can. A lot of it is putting away the preconceptions—either they have or they believe others have about them—and really focusing on who they are, and showing that person to others. I also want to make sure that I create opportunities for people. Seeing people and acknowledging their talents and acknowledging their intelligence helps to create more opportunities for them."
Lisa feels emboldened to bring her true self to work. "It feels great that I have the opportunity to say: I am a Black in tech," she says. "I don't have to pretend I'm just like everybody else who is in tech. I can be true to my whole identity, and I appreciate Capital One embracing and acknowledging that. They really do care about the whole person."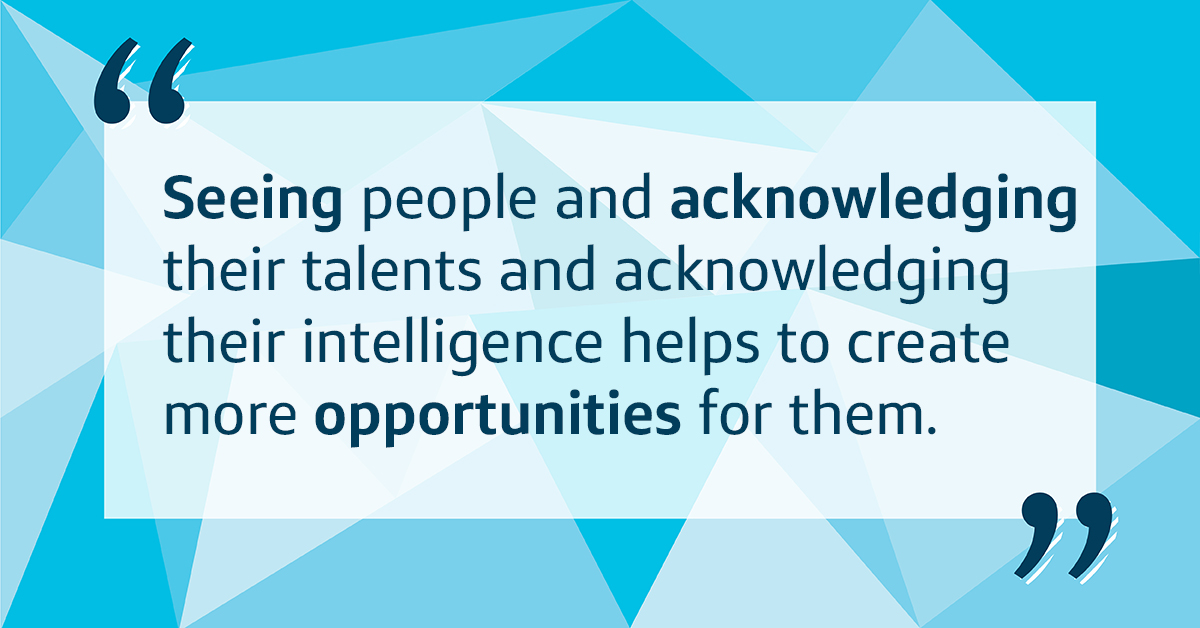 Copyright © 2023
Opinions are those of the individual author. Statements are deemed accurate at the time of posting. Unless otherwise noted, Capital One is not affiliated with, or endorsed by, any company mentioned. All trademarks and intellectual property used or displayed are the property of their respective owners.