Associates come together to #StopAsianHate
In the wake of the acts of violence committed against members of the Asian community, the Diversity, Inclusion & Belonging team, alongside Capital One senior leaders, initiated an open and inclusive conversation about race. More than 11,000 associates from across Capital One gathered virtually for #StopAsianHate | A Town Hall on Racism, which was led by the Origins Business Resource Group (BRG). During this time together, leaders acknowledged that this conversation and level of openness and vulnerability can be difficult but is essential to raise awareness on uncomfortable topics and incite action
and allyship.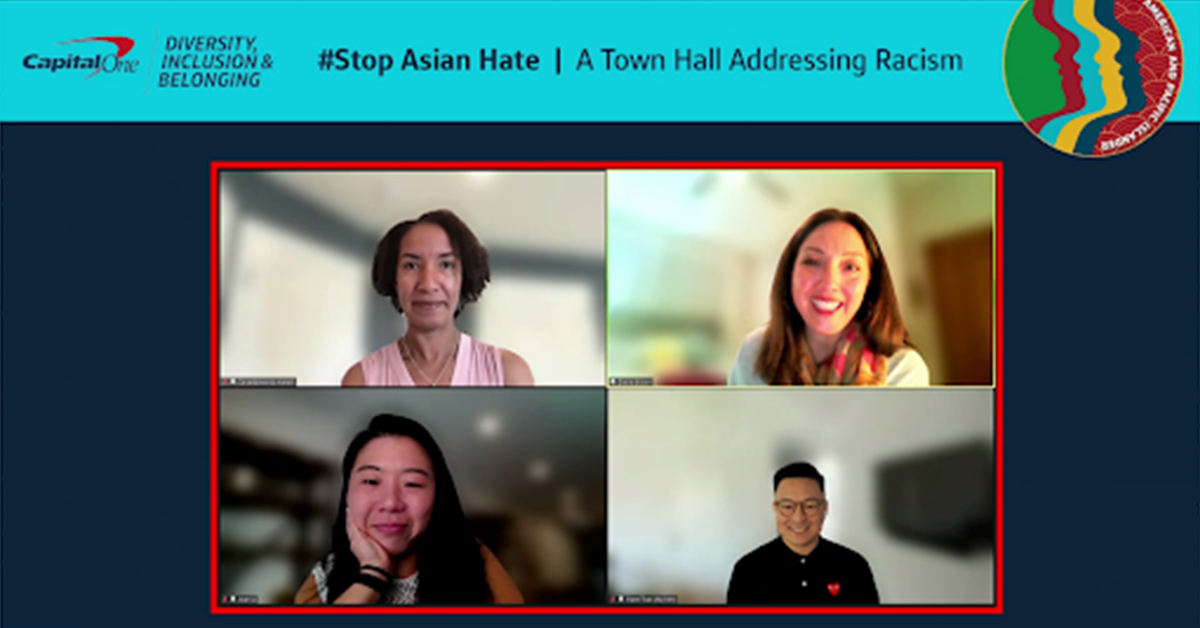 By hosting a Town Hall for all of Capital One, associates learned from one another's experiences and found ways to support their co-workers, neighbors and global community. The Town Hall, part of a series of events that have helped associates connect on issues of racial justice and commit to change, addressed the current moment as well as the historical past, acknowledging a community that has too often been ignored. Leaders shared their stories and experiences, and provided actionable takeaways for all associates.
Phil Kim, Origins lead and MVP, Capital One Ventures, reflected on the current incidence of violence against the Asian and Pacific Islander community, and spoke to the fear and anger he feels, and his deep concern for his children, parents, extended family and friends.
He also acknowledged the tapestry of emotions associates shared as they entered the Town Hall, including hopeful, open, compassionate and concerned. "My hope is that our conversation provides a platform to elevate the voices of Asian and Pacific Islander associates... That today's Town Hall creates more awareness of and empathy for the sometimes public, but often silent, impact of racism on everyone."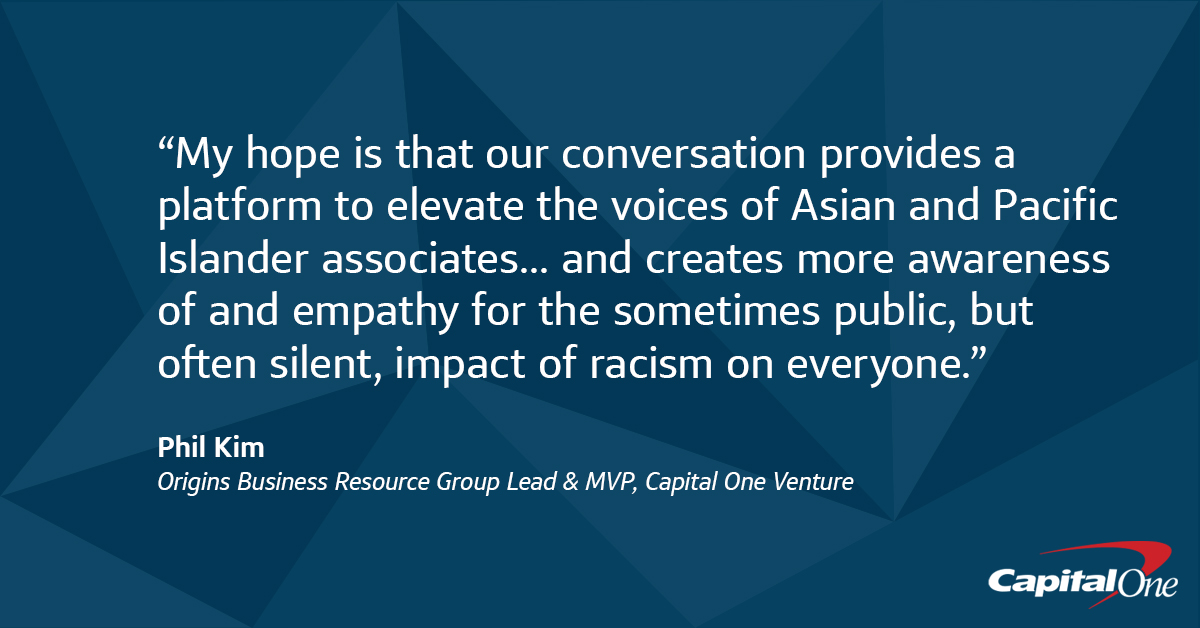 Celia Edwards Karam, Executive Sponsor for the VOICES BRG for Black associates and allies, and Chief Audit Officer, spoke to the importance of allyship. "Following the sad atrocities committed toward Black people last year, racial justice has seen a renewed surge of support. Sometimes we think that focusing on the challenges experienced by one group, means that we don't care about the experiences of another. That's a false choice in my mind."
Celia reminded participants that, "Although it is encouraging to see more conversations, more commitments from companies like our own, and more allies participating in the movement—the sobering reality is that racism isn't new and we still have a long way to go."
Throughout the dialogue, panelists Diana Brown (VP, HR for Capital One Canada), Jean Li (VP, Small Business Card) and Pient Tran (VP, Regulatory Relations) spoke candidly and powerfully about the immigrant experience, the idea of the "perpetual foreigner," the myth of the model minority and the critical importance of speaking up.
They each also shared recommendations for actions allies can take in this moment. Pient, who spoke earlier about his experience with anti-Asian sentiment, expressed the importance of small, empathetic acts like reaching out to colleagues, "It's the little things that will lead to the big things." Diana underscored the importance of educating oneself and understanding the history of racism Asians have experienced. And Jean shared, "If I were to leave this team with one thing, it would be to allow yourself to get a little uncomfortable." Without honest, difficult conversations, we can't make change.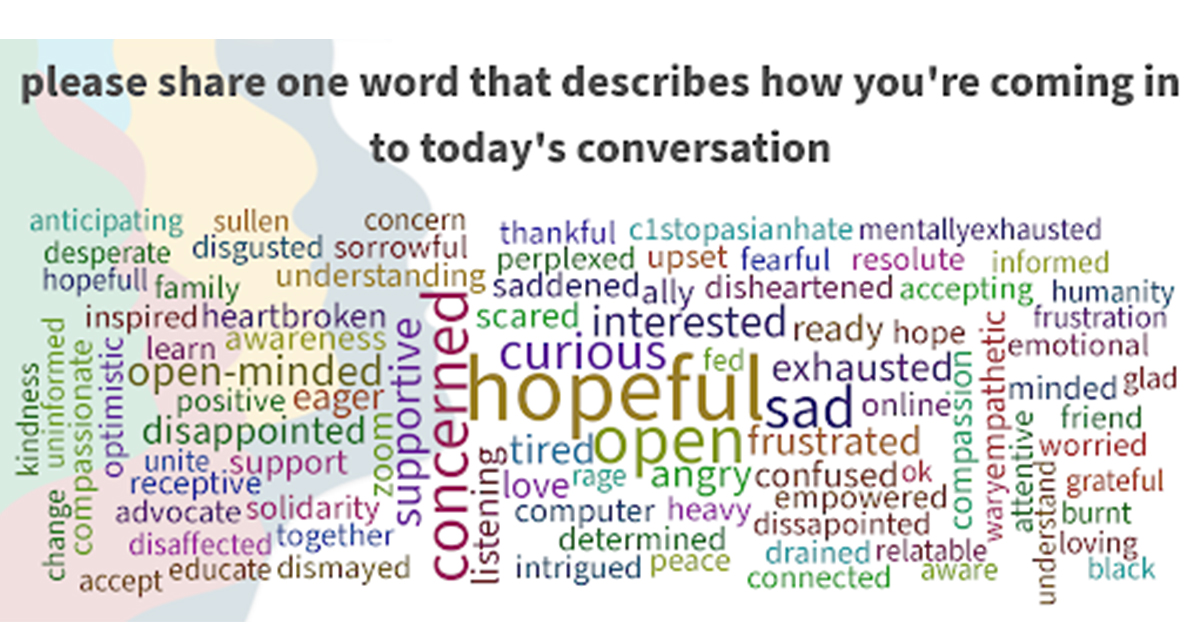 Sanjiv Yajnik, Origins Executive Sponsor and President of Financial Services, shared with panelists that "you're speaking into ears that are listening." Sanjiv spoke to the pride he feels in being Asian with dual citizenship in the U.S. and Canada. He celebrated the remarkable contributions of Asians around the world, and offered his perspective that the despicable acts of the few do not represent the prevailing beliefs of the many. His message to associates of Asian and Pacific Islander heritage was, "Capital One is your home."
Sanjiv also announced a new Capital One initiative extending support for the Asian and Pacific Islander community—an Associate Matching Gift Program, with Capital One matching, dollar-for-dollar, all donations made by associates to Asian Americans Advancing Justice, Asian American Legal Defense and Education Fund, National Coalition of Asian Pacific American Community Development and OCA Asian Pacific American Advocates.
Associates quickly took action, engaging in the Associate Matching Gift Program—resulting in the largest single day of donations in the history of Capital One.
Copyright © 2023 Opinions are those of the individual author. Statements are deemed accurate at the time of posting. Unless otherwise noted, Capital One is not affiliated with, or endorsed by, any company mentioned. All trademarks and intellectual property used or displayed are the property of their respective owners.