Ahmad's story: Leading with heart
Ahmad spent much of his early life molding himself to the surrounding culture. Born in Afghanistan, Ahmad lived in Saudi Arabia, Pakistan and Germany before settling in the United States in 1998.
Ahmad adapted his clothing, vernacular and his everyday interactions to wherever he attended school or worked. It wasn't until Ahmad joined Capital One in 1999 as a part-time bank teller that he felt comfortable being himself at work.
"Colleagues would talk to me about my background and take time to understand my life," said Ahmad, now a senior director of hospitality and engagement for Capital One Cafés. "Here, differences are considered strengths."
With Capital One, Ahmad can have it all: an invigorating career path, meaningful leadership journey and the space to prioritize his family.


Growing as a leader
Ahmad left Capital One in 2004 to earn a bachelor's degree in finance and try out a consulting role at another company. While he enjoyed the work, he missed the Capital One culture that supported him through leadership development and creating pathways to success.
He returned in 2006 to oversee the operations of six branches in Maryland. Over the next 15 years, Ahmad earned promotions and participated in internal leadership development programs, which taught him to use his experiences to relate to and motivate others.
"We obviously hold a high bar for talent, but the most impactful thing I've noticed at Capital One is how human-centric we are," Ahmad said. "Leaders focus on understanding us and helping their teams grow."
No matter the job, Ahmad's favorite aspect of work has been connecting with colleagues. In his current role—where he oversees the team responsible for creating elite programming, food and hospitality services in Cafés—Ahmad has conversations with new associates to understand their backgrounds.
He recalled one experience where he connected with a branch associate who wasn't confident with public speaking because English wasn't their first language. Ahmad shared his own fears of presenting as someone who didn't grow up speaking English and emphasized the value the associate brings to Capital One.
"What really mattered to me was that individual cared about doing a good job," Ahmad said. "They had their heart in the right place. The confidence would soon be there to match."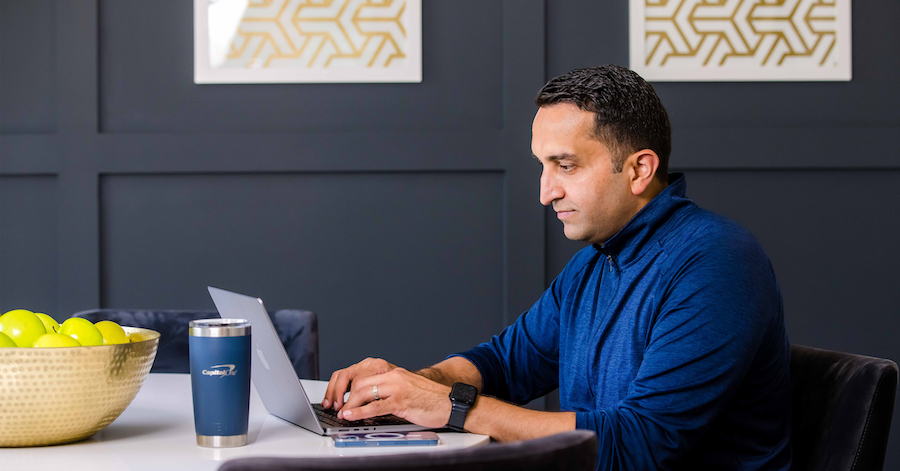 Prioritizing family
The same support Capital One has provided to Ahmad's career extends to his family and work-life balance.
When Ahmad and his wife—who also works at Capital One—had their second son, Zayn, in 2021, he and his wife took extended time through the company's parental benefits. They also use the Bright Horizons Care Advantage Program, which provides 15 days a year of free alternative child and adult care options when normal arrangements fall through, for their two kids.
"Capital One's benefits have saved us thousands of dollars and given us valuable time to focus on our family for the good days, bad ones and everything in between," Ahmad said.
Ahmad is open about what's going on in his life. His children regularly make appearances during his Zoom meetings. He tells colleagues when he steps away to help his kids with their morning routine or take them to soccer practice.
"Sharing what's going on behind the scenes is all part of Capital One ethos to bring your full self to work, not hide who you are," Ahmad said. "I must be vulnerable to be a good leader. We're all human, and we must have empathy and understanding."
Copyright © 2023
Opinions are those of the individual author. Statements are deemed accurate at the time of posting. Unless otherwise noted, Capital One is not affiliated with, or endorsed by, any company mentioned. All trademarks and intellectual property used or displayed are the property of their respective owners.