Able at Capital One: how associates with disabilities encourage diverse thinking
One of the most important ways we can help teammates do their best work is to help them feel empowered to embrace their full identity while at work. This includes making space and encouraging associates living with disabilities or caring for those with disabilities. The CapAbilities Business Resource Group (BRG) is a network of associates whose focus is to support and encourage understanding for those who thrive within a broad range of disabilities and caregivers. Learn more about the important work they do to make sure Capital One associates feel cared for, seen, supported, and encouraged in and out of the workplace.
Ensuring everyone is supported to succeed
Kristy, a leader in the Dallas-Fort Worth chapter of CapAbilities shared, "Whether it's you or someone you're close to, 1 in 5 people in the U.S. have some form of disability. Our mission is to promote and facilitate an inclusive culture for individuals with disabilities, caregivers and allies by encouraging disability awareness and providing a foundation for a support network." To accomplish this work of awareness and education, CapAbilities focuses on key workstreams where associates work together to create a welcoming and inclusive environment for everyone, based on the needs of those different groups.
One of those workstreams is Accessibility, which focuses on ensuring every associate has what they need to succeed. In order to make this happen, they work closely with the accommodations team and connect with associates to find out where improvements could be made to our processes and working spaces. They also create helpful resources to guide associates through the process of requesting or accessing accommodations that are available. In the virtual working environment, one of these initiatives that has been especially helpful is the availability of captioning in certain Zoom meetings. In larger group meetings, it can be difficult to both hear the presenter and absorb the information they are sharing, especially if someone is hard of hearing. With the captioning, associates can follow along with the transcript of the audio and ensure they are getting the correct information and not worry about missing or mishearing something.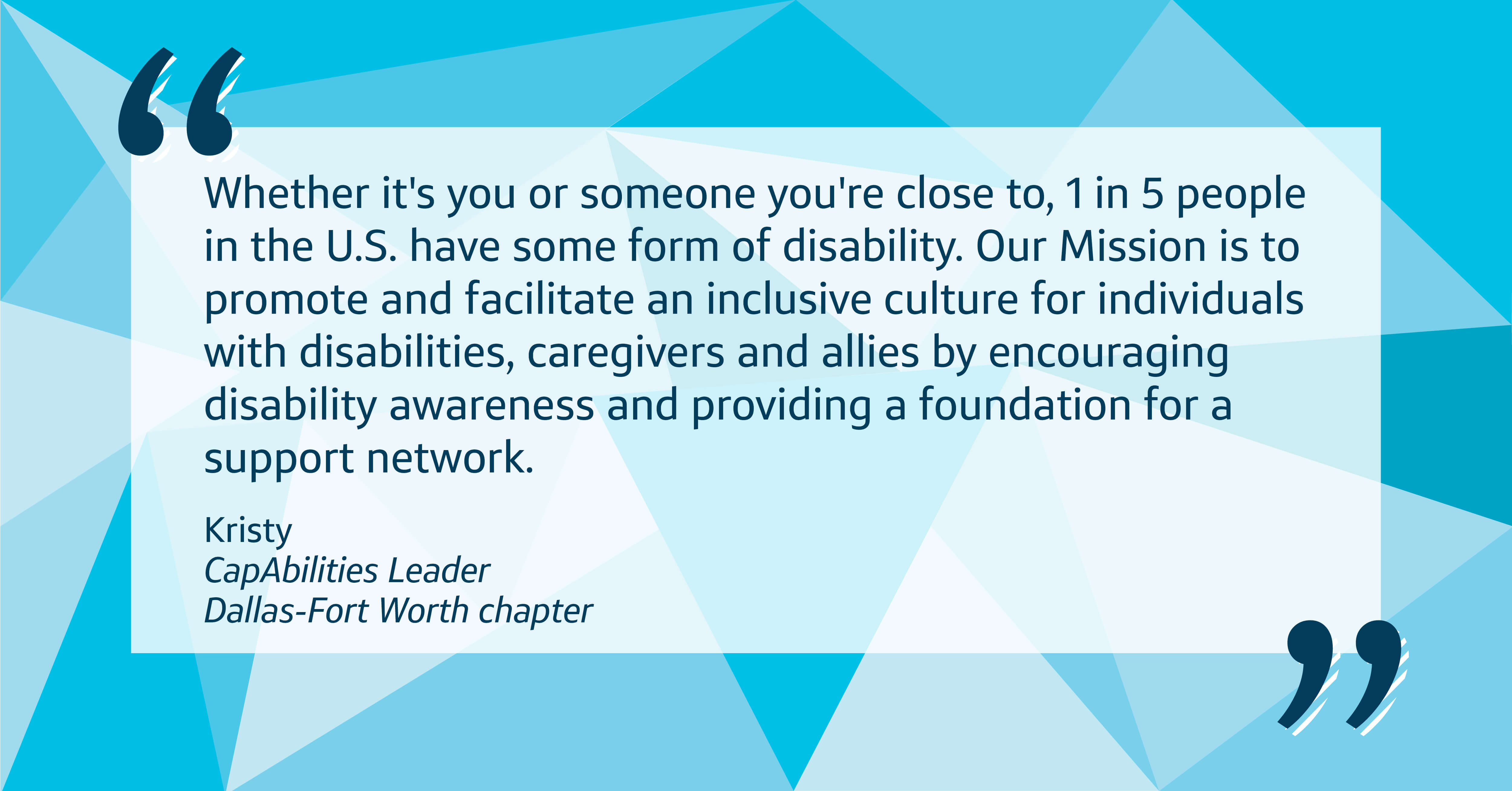 Focusing on how our different perspectives make our work stronger
Connecting associates with available resources and building communities of support are parts of CapAbilities' work that extend into many of the BRG's workstreams. Gray Matter is the mental health workstream within CapAbilities that provides mental health awareness and helps associates locate mental health resources and information. They focus on their mission to "promote optimal mental health and well-being for all through resource suggestions, peer support, education, and allyship." Nowhere is this more evident that in the Slack channel hosted by the workstream.
Within this safe space of trusted co-workers, associates share their thoughts, ask about resource recommendations, and find camaraderie. Gray Matters also shares educational information to increase understanding and support for mental health. During Minority Mental Health Month in July 2020, Gray Matter and CapAbilities helped to connect associates with Black leaders across the organization to discuss the importance of caring for one's mental health and wellbeing. It was very powerful for associates to hear leaders' own stories and advice on caring for yourself and others, both within the work environment and in light of the ongoing social and societal changes we've all experienced in 2020.
There is another workstream devoted to developing and supporting our current and future neurodiverse associates. In addition to recognizing and celebrating the unique perspectives our neurodiverse associates bring to their teams, this workstream creates awareness for the different types of neurodiversity represented, such as autism or ADHD. They also help navigate and access Capital One's health and wellbeing benefits, like how to connect with community services, such as therapists and academic resources. Much of this education helps to remove the stigma around talking about and thriving with a disability or condition. By understanding, we can appreciate our differences.
Another part of CapAbilities work focuses on Intersectionality and connecting with others to focus on important initiatives and training opportunities. By partnering with other Business Resource Groups, there are more people and resources to help bring awareness or encourage participation. At the end of 2019, CapAbilities partnered with the Voices Black BRG and EmpowHER Women's BRGs to host a talk by actress and Parkinson's Disease and Autism advocate Holly Robinson Peete. Holly shared her stories about living a purpose-driven life and compassionate care for loved ones. Her discussion of caring for her father as he battled Parkinson's while also helping her son, who was diagnosed with autism, struck a chord with many associates in attendance. As a Black woman with a passion for disability advocacy, Holly's message spoke to the missions of all three of these BRGs and the work they do to empower associates.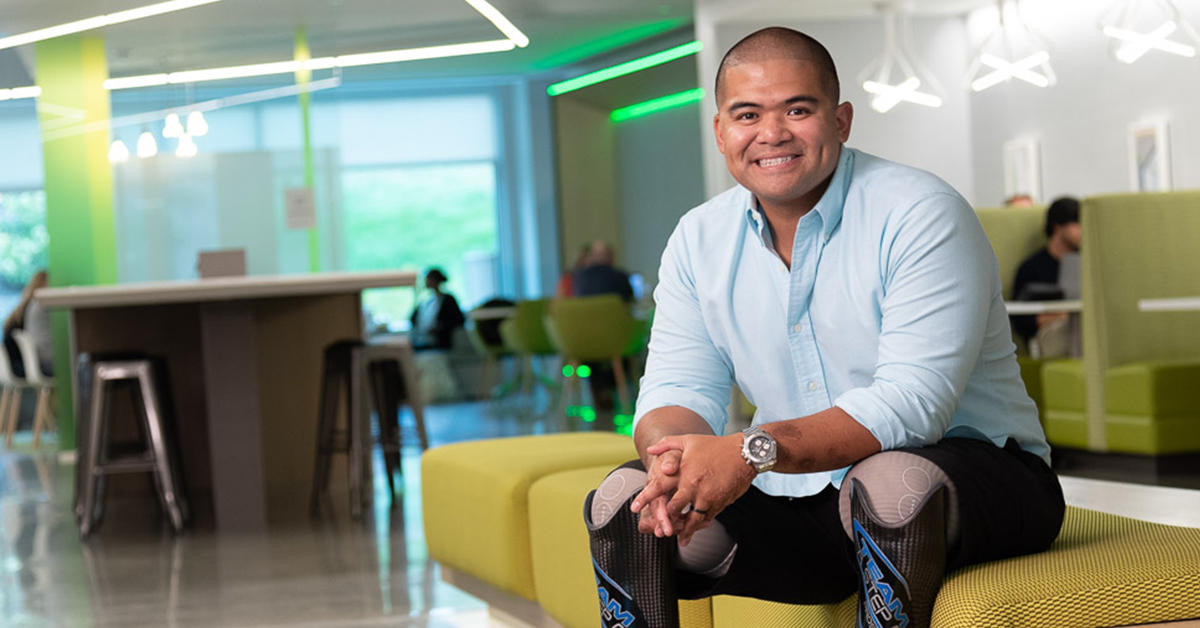 Education and engagement pave the way for inclusion
Throughout the year, CapAbilities will host or sponsor events to bring awareness and understanding to various topics or disabilities. This diverse programming helps unite associates from a wide variety of backgrounds. Associates feel seen and understood when they connect with events that speak to their experiences with different disabilities. For example, in October, which is National Disability Employment Awareness Month, CapAbilities delivers webinars, hosts discussions, and provides helpful resources for associates who are differently-abled, caretakers or allies seeking to understand and help create an accessible and inclusive work environment. One of these events is a seminar with Sam Barnes, founder of Star Tutoring in Dallas, TX, on Executive Function and ADHD, packed full of helpful skills for efficiently and effectively working from home. He also offered some great insights on how teams benefit from the unique perspective of a peer with Attention-Deficit/Hyperactivity Disorder (ADHD), as well as ways teams can support associates with ADHD. Additionally, he offered his tips for setting up a productive workspace and how those with ADHD can have productive conversations around their needs and self-advocacy.
They also sponsored a poignant and powerful campaign to encourage associates to pledge to build an inclusive community through a personal commitment. "Spread the Word Inclusion" is designed to "inspire respect and acceptance by advocating for inclusive words and actions," as the BRG shared on their internal blog. Through this movement, one can influence the world around them to be mindful of how we are speaking to and with each other and how our words and actions can affect others. Not only do we want to keep Capital One a welcoming, inclusive environment, but this will hopefully also invite change outside of the workplace as well. Those involved with CapAbilities, no matter their experience, hope to remind others that having a disability does not make one less capable or productive in society. Through education and awareness, we learn that we all bring different approaches and outlooks to the table and that we'll create stronger work by seeing issues from all sides.
Having a disability doesn't define an individual and it doesn't define their working life either. At Capital One, we welcome all passionate associates doing great work. With the work of our BRGs, like CapAbilities, we can ensure that everyone has a welcoming workplace where they're able to thrive and collaborate freely.
Are you a candidate looking for accommodations throughout the application process? Please contact Capital One Recruiting at 1-800-304-9102 or via email at RecruitingAccommodation@capitalone.com. All information you provide will be kept confidential and will be used only to the extent required to provide needed reasonable accommodation.
Copyright © 2023 Opinions are those of the individual author. Statements are deemed accurate at the time of posting. Unless otherwise noted, Capital One is not affiliated with, or endorsed by, any company mentioned. All trademarks and intellectual property used or displayed are the property of their respective owners.