A journey to self-discovery and career success
Jordan logged into her team's daily meeting in April 2021 expecting the usual talk about project updates, weekend plans and pets. Her colleagues had something else in mind.
They surprised Jordan with matching Zoom backgrounds celebrating International Day of Lesbian Visibility.
"The fact that three cis, straight men demonstrated their allyship to my identity in this way is one of the reasons I love working at Capital One," said Jordan, a product manager for Retail Bank. "It creates a sense of safety and a feeling of belonging."
After years spent exploring her truth and working on self-discovery, Jordan is finally in a place where she is living her authentic personal and professional life.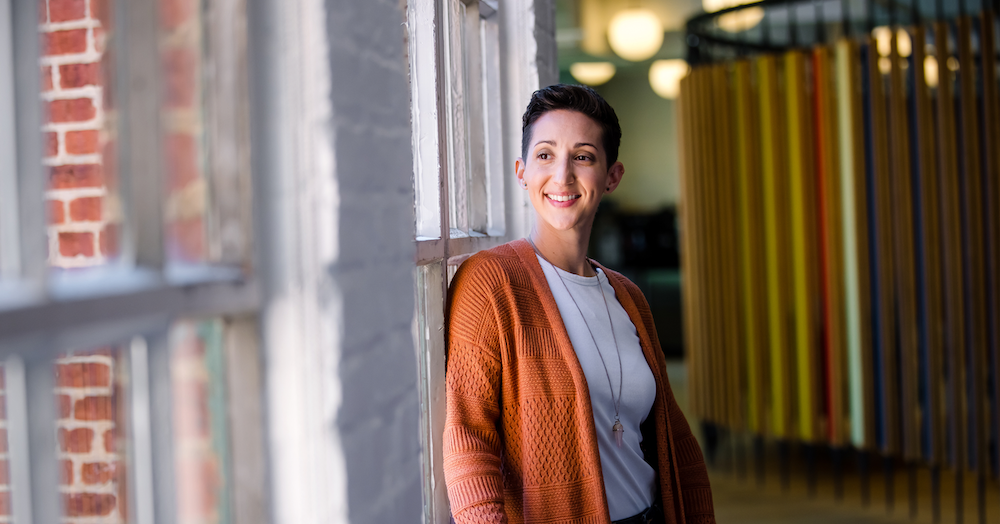 Discovering the real Jordan
Jordan came out during her first year of college. Initially, every moment that represented freedom, independence and a fresh start—like getting her first girlfriend—came with a mix of grief, anger and depression.
"I didn't know who I was," Jordan said. "I had to figure out what I loved. Life means not shying away from the parts of my identity that make me feel whole."
Jordan's experiences in and out of the classroom helped her learn more about herself. She was introduced to queer culture by listening to LGBTQ+ musicians and attending Pride festivals. She earned a biology degree with an environmental studies minor, a master's degree in forest hydrology and watershed management and a Ph.D. in infrastructure and environmental systems.
After working as a consumer research analyst in North Carolina, Jordan joined Capital One in 2017 as a market research manager. She saw Capital One's culture of belonging in action during her interview with a vice president—also an LBGTQ+ woman—who told Jordan this was a safe place where she could be open about what matters to her most.
Once she started, Jordan connected with many of our Business Resource Groups (BRG). She wrote about her coming out experience for OutFront, our BRG for LGBTQ+ associates and allies. She attends events with empowHER, our BRG for women and allies.
Jordan also got involved with Gray Matter, a mental health group part of CapAbilities, our BRG for associates who have disabilities, as well as caregivers and allies. She enjoys learning about colleagues' mental health practices and sharing her own experiences and habits. Jordan practices a morning wellness routine that includes a two-mile walk outside and 20-minute meditation.
"I don't know of anyone else who works at a company where you have thousands of people who are so open about their mental health," Jordan said. "There's an openness and vulnerability at Capital One that builds my sense of belonging."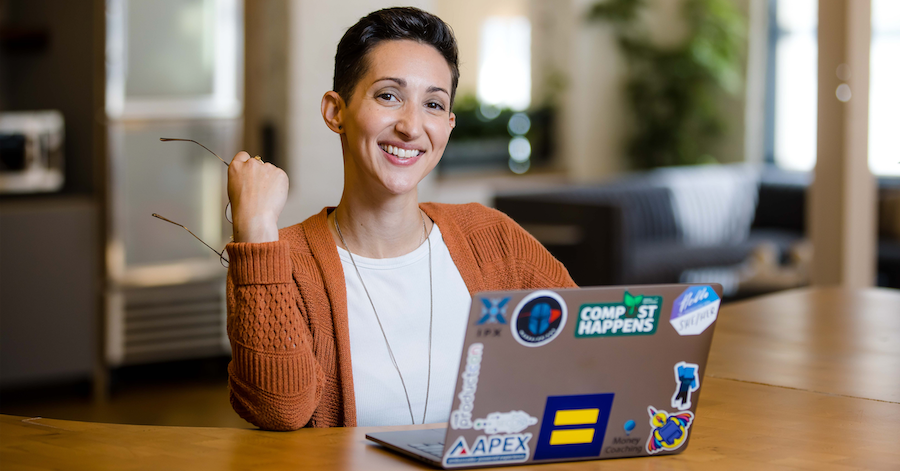 Finding a new career path
The peace that comes with Jordan being her authentic self means she can fully lean into her opportunities at Capital One, like exploring new career paths. While working as a market researcher at Capital One, Jordan discovered a passion for product management.
"One of the reasons I joined Capital One was exposure to other fields," Jordan said. "Product management was a job I had been working toward all along, but didn't know existed. I love how cross-functional it is. I work with partners in Tech, Design and many other areas to develop new experiences to help our customers."
As a manager for Bank's In-Person Experiences team, Jordan helps leverage innovative technology to build digital tools that empower customers and associates working at Capital One Cafés and retail branches.
One of Jordan's responsibilities is supporting the Money & Life Program, which helps customers think through their financial behaviors and build a plan to reach their goals. She helped create two digital exercises—"Map Your Spend" and "Goals Planner"—that help users visualize their spending habits and make progress toward a financial goal.
And showing up as herself means she has the energy and creative output to help others achieve their dreams.
"I am proud to work at Capital One because I am seen as more than my job title," Jordan said. "I show up every day as my authentic self and that means so much."
Copyright © 2023 Opinions are those of the individual author. Statements are deemed accurate at the time of posting. Unless otherwise noted, Capital One is not affiliated with, or endorsed by, any company mentioned. All trademarks and intellectual property used or displayed are the property of their respective owners.