6 steps to overcome imposter syndrome
Mikela dealt with nagging feelings of imposter syndrome, the psychological belief that you're inadequate, for much of her early career. She worried about being a technology professional with an industrial engineering background, downplayed her accomplishments and compared her skills to others.
"I attributed so much of my success to faking it," said Mikela, a senior software engineering manager for Enterprise Data Machine Learning. "You can have all of the praises and receive awards, yet still wonder if people doubt you. You have that question in the back of your mind of 'Do I belong? Do I know as much as I should?'"
Mikela's self-doubt is common. About 82 percent of people deal with imposter syndrome in their careers, according to the American Psychological Association. As Mikela researched imposter syndrome, she realized there weren't many resources specifically addressing how to handle it in tech.
"The technology industry is dynamic and always changing," Mikela said. "I struggled because I always saw imposter syndrome being framed as a one-off thing, but it's something many people face regularly, especially in a tech career when you're always learning new things."
So she developed her own solution.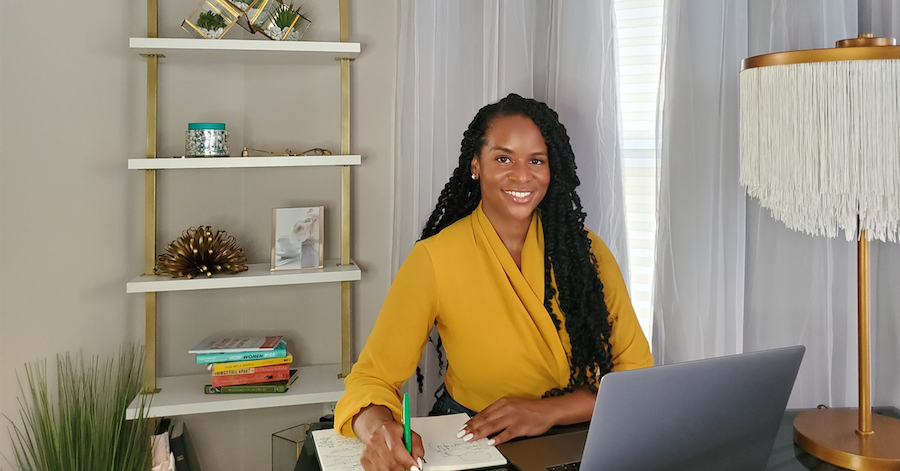 Learning to aspire
Mikela's ASPIRE method is a six-step program to help anyone work through their doubts and develop a more positive mindset. ASPIRE stands for:
Acknowledge
Shift
Pinpoint
Identify
Reframe
Execute your plan
Mikela developed the method to squash her imposter syndrome when she had to take on a new leadership role with the cloud migration team.
Mikela acknowledged that she felt underqualified for the role. She shifted to the positive by thinking of her excellent track record for completing complex problems. She then pinpointed that her fear stemmed from a lack of knowledge and identified a solution: meeting with cloud experts. She reframed her mindset to think about the learning opportunities with the new position. Finally, Mikela executed her plan by discussing the job with her manager and other stakeholders.
"I felt like I needed to be an expert to take something on, but my ASPIRE method has shown me otherwise," Mikela said. "I've realized just how much support I have at Capital One. I don't have to rely only on myself or keep my fears hidden to be extremely successful."
Mikela has since shared her ASPIRE method to groups like Black is Tech, a conference for Black technologists; Women Who Code, an international nonprofit dedicated to inspiring women to excel in technology careers; and the Grace Hopper Celebration of Women in Computing, an annual gathering of women and non-binary technologists.
Mikela said the soft skills engrained in her ASPIRE method—emotional intelligence, teamwork, problem solving and communication—are important for all tech professionals.
"If you don't feel great, and don't feel heard, then you don't feel like you fit. You won't produce great work," Mikela said. "I appreciate that Capital One values soft skills and emotional intelligence because those are aspects of what it takes to be a good teammate."
Helping others 'Rise-Up'
Mikela's presentations about imposter syndrome led her to another opportunity to assist Capital One associates. She helped create the Rise-Up Mentorship Program within Blacks in Tech, our BRG for Black technologists and allies, and Women in Tech, our BRG for Women technologists and allies.
Rise-Up is a six-month mentorship program in which associates help colleagues make connections, shape career goals, build their brands and discuss any roadblocks to success. The program provides mentors and mentees with supplemental materials to help them make the most of their time together.
Nearly 300 associates have participated in Rise-Up as a mentor or mentee.
"As a mentee, you walk in and say, 'I'm not sure what I want mentorship on,'" Mikela said. "As a mentor, you may not have any insight into what your mentee is asking. I'm happy to help create safe spaces and resources for people to have honest, in-depth conversations."
The Rise-Up earned a Circle of Excellence award, the highest honor associates can receive at Capital One, and a Julie A. Elberfeld Tech Diversity, Inclusion, and Belonging Award.
And with the help of the ASPIRE method, Mikela is proud to share her accomplishment.
"I know my negative self-talk will never fully go away, but I'm much better about owning my successes," Mikela said.
Copyright © 2023 Opinions are those of the individual author. Statements are deemed accurate at the time of posting. Unless otherwise noted, Capital One is not affiliated with, or endorsed by, any company mentioned. All trademarks and intellectual property used or displayed are the property of their respective owners.