Why passion is the key to finding career bliss
By Tyrell "Ty" H.
While I was still in college, I heard about this fast growing credit card company called Capital One hiring in the area. It was 1999 and, little did I know, it would be the start of a 22+ year career journey that ultimately led me to pursue my passion for technology. I didn't become a data analyst the traditional way, but Capital One has provided me with opportunities to move around the company in pursuit of my passion. I hope that by sharing my story, you too will find the inspiration and encouragement to follow your career passion and cast off doubt.
An unconventional path to a rewarding tech career
I love technology. Ever since I was in Mrs. Smith's 6th grade Introduction to Computer class, I knew I wanted to have a career working with computers. This was the early 1990's and computers weren't as accessible as they are today, so school was the only place I could go to work with computers. Initially, I just loved typing on them but after meeting an acquaintance at the local newspaper who built computers on the side, I saw the potential to really pursue a career in the tech field. He knew I loved technology and would tell me about all of the computers he built for his customers. He was a computer science major and hearing his stories helped me realize that I, too, wanted to go to college and major in Computer Science.
While in college, I heard about a new, fast growing credit card company, called Capital One, that was hiring in the area. At that time, I was working as a debt collector at another company while I was a full time student, studying Computer Science. I knew this job was not the best fit for me and I was ready for change so I applied to Capital One and was hired into a role detecting fraud on customer accounts. I excelled in the role and helped keep many customers' accounts safe, but I knew I wanted to continue advancing in my career, particularly in the tech field. During this time, I was able to network with IT professionals in my department to learn about mainframes, database administration and network security. These discussions also gave me a better understanding of what I was learning in college.
After graduation, I was promoted to a Quality Assurance Auditing role, where I enjoyed the work and was a top performer on my team. This role gave me the opportunity to analyze complaint data and identify drivers of customer dissatisfaction, which I was then able to share with the senior leaders in my department. I loved doing this, but my passion was in doing more, deeper analysis. I started to network with the department's data analysis team and I quickly realized that I wanted to be a Data Analyst. Talking with other Data Analysts at Capital One, learning more about a Data Analyst role and analyzing customer complaint data motivated me to pursue a more analytical role in the company.
Taking a risk can pay off in huge career satisfaction
With the support of my manager, I was able to be promoted into what I thought was an analyst role in another department. But, I ended up realizing the role was more process management than I was interested in doing. It was not the right fit for me, but I was able to leverage my network to find a junior data analyst role, which was a demotion from my current position. It was a hard decision because I worked hard for my current position, but I knew I wanted to be a data analyst. It was a risk taking a demotion, but I thought of it as an opportunity to transition into a role related to my passion. I took a leap of faith, worked with my manager and accepted the demotion into the junior data analyst role.
In the new junior analyst role, I executed reports and scripts that were already developed. The more I did that, the more I realized I wanted to develop my own work and support the stakeholders in the department. This inspired me to work on improving my programming skills. Within a short period of time, I was proficient enough to start taking on my own requests from stakeholders and developing my own scripts and reports. I loved programming and doing analysis full time, but I still hoped for something more.
As a junior analyst with my enhanced programming skills, I was working on the same stakeholder requests as the senior data analysts. As a result, I was promoted to a data analyst. This allowed me to expand my scope of responsibilities while continuing to strengthen my programming skills, often working on those skills during my nights and weekends after my work was done. I felt a strong need to prove myself and earn my peers' respect because of my unique career path. It made me more motivated to work even harder and I started to work on more complex projects in order to demonstrate my abilities. As a result, I was promoted to a Senior Data Analyst and had a new opportunity to take on a leadership role. All of my hard work was paying off!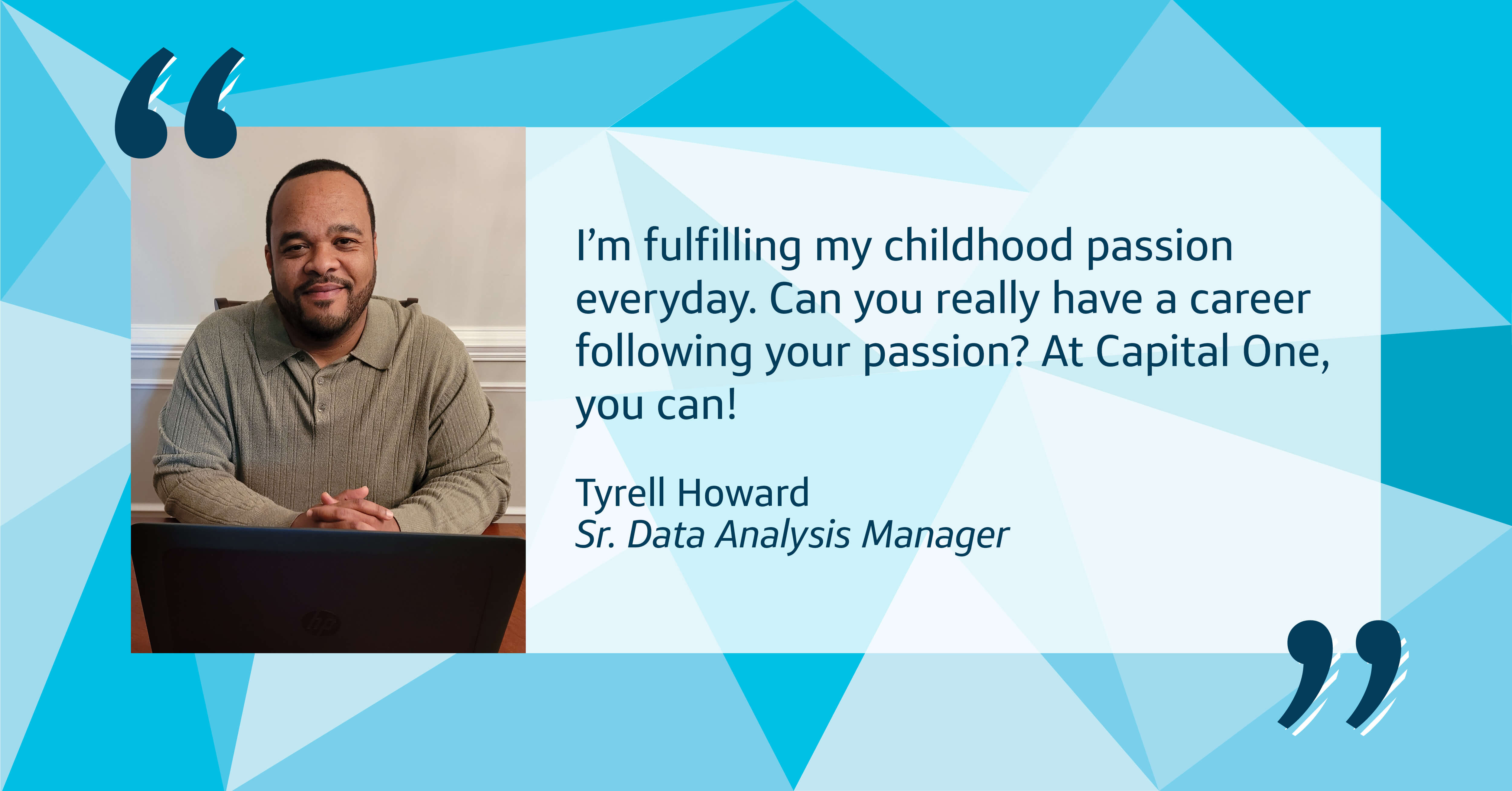 Embracing my leadership potential
My team manager transitioned to a new role soon after my promotion. This was my first chance to take on more of a leadership role in my team. I was one of the only senior data analysts in the company with an associate reporting to me. It was an exciting opportunity to increase my responsibilities and demonstrate my leadership skills. I was even promoted again to a Principal Data Analyst the following year. Back-to-back promotions, can you believe it? I was so proud to have my hard work and dedication recognized.
With that promotion, I started to support a mission critical function in my department and had multiple associates reporting me. I continued to increase my responsibilities and was promoted twice to eventually land in my current role, Senior Data Analysis Manager. I enjoy being a people leader and helping people grow to be the best they can in their role. I found an opportunity in the company's technology risk management department to build a data analyst team. This was a great opportunity to gain a deeper understanding of the company's technology framework and use my analytical skills to identify technology and cybersecurity risks. I built an innovative, hard working data analysis team. We're tackling new and challenging tasks every day and helping to keep our data safe.
I've worked many jobs as I have built my career in customer service, collections, retail and the numerous roles I've had at Capital One. I never stopped pursuing my passion for technology and even picked up a passion for analytics and people leadership. I may not be in IT, but I work with the best technologies everyday and get to work on projects with the IT professionals in the company. I'm fulfilling my childhood passion everyday. Can you really have a career following your passion? At Capital One, you can!
Copyright © 2023
Opinions are those of the individual author. Statements are deemed accurate at the time of posting. Unless otherwise noted, Capital One is not affiliated with, or endorsed by, any company mentioned. All trademarks and intellectual property used or displayed are the property of their respective owners.