Personal growth with our Money & Life Program
Jordyn, a Café ambassador, was finishing her lunch in a Washington, D.C. park when she ran into a mutual acquaintance who noticed her Capital One name tag. He asked Jordyn if Capital One had any programs that might help him figure out how to save for a house.
She knew just the resource. She recommended Capital One's free Money & Life Program, which helps people reflect on their relationship with money and adopt new behaviors to reach their financial goals. The friend signed up for the program and worked with Jordyn, a Money & Life mentor, who helped her friend put together a savings plan through three one-on-one sessions.
The program doubles as a career-development resource for our Café ambassadors, who can expand their influence by becoming Money & Life mentors.
"We believe that money is deeper than how much is in your account," Jordyn said. "We help customers develop healthy financial behaviors. Capital One taught me not to limit myself, and I share that mindset with my clients."
Doing good for our customers
The Money & Life Program began in 2021 as a personalized way to help people—whether they're Capital One customers, associates or have no connection to us and just want to sign up—improve their financial wellbeing and gain clarity on what matters most to them.
The program has three free resources: Money & Life Mentoring, when customers meet one-on-one with a mentor to reflect on how money fits into their lives; Money & Life Exercises, self-guided activities that help visualize spending habits and build goals; and Money & Life Workshops, online seminars led by mentors.
Café ambassadors must complete a one-month training program to become a Money & Life mentor. Participants complete practice mentoring sessions and develop skills like active listening, asking powerful questions, reading body language and building trust.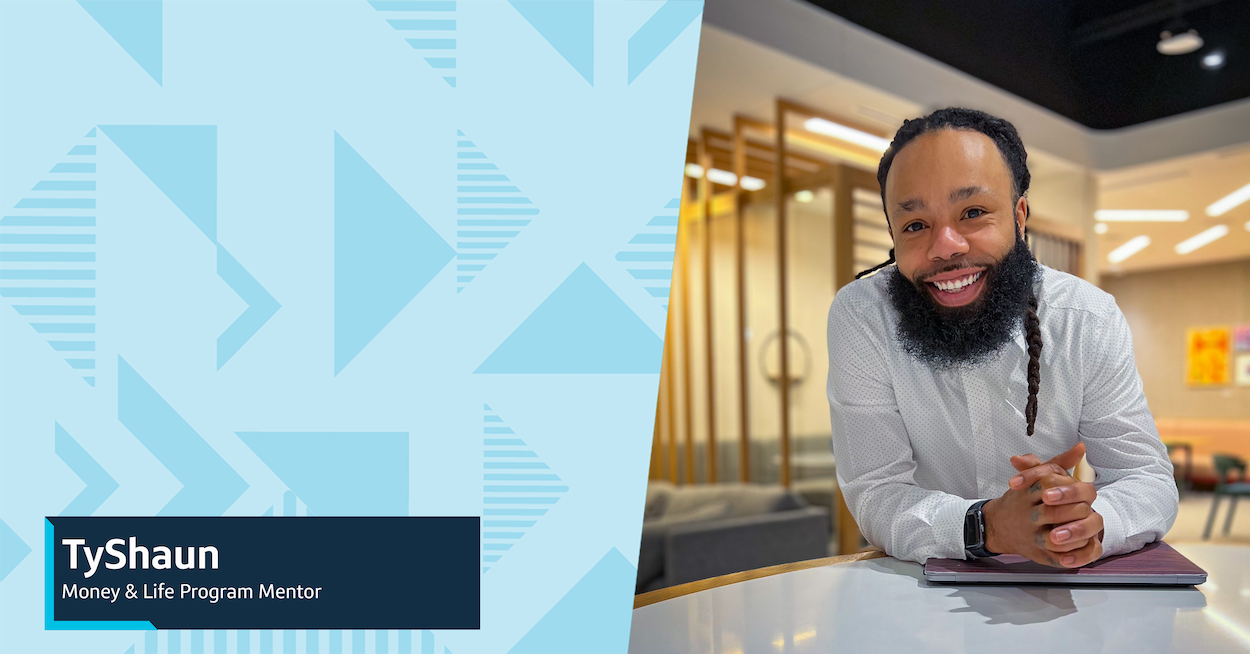 About 40 associates are Money & life mentors as of January 2023, including TyShaun, a Café ambassador. He said the training boosted his confidence and customer service skills.
"We all have special powers that make us unique," TyShaun said. "I learned how much I love fostering conversations so customers can trust me in helping eliminate their roadblocks and creating different paths to their goals."
Breaking down financial goals
Money & Life mentors have the flexibility to create their schedules within the program, choosing how many mentoring sessions or workshops they want to lead each month.
Quade, a Café ambassador and Money & Life mentor, typically completes three sessions each week that focus on anything from reducing credit card debt to helping identify what financial values are important to the client.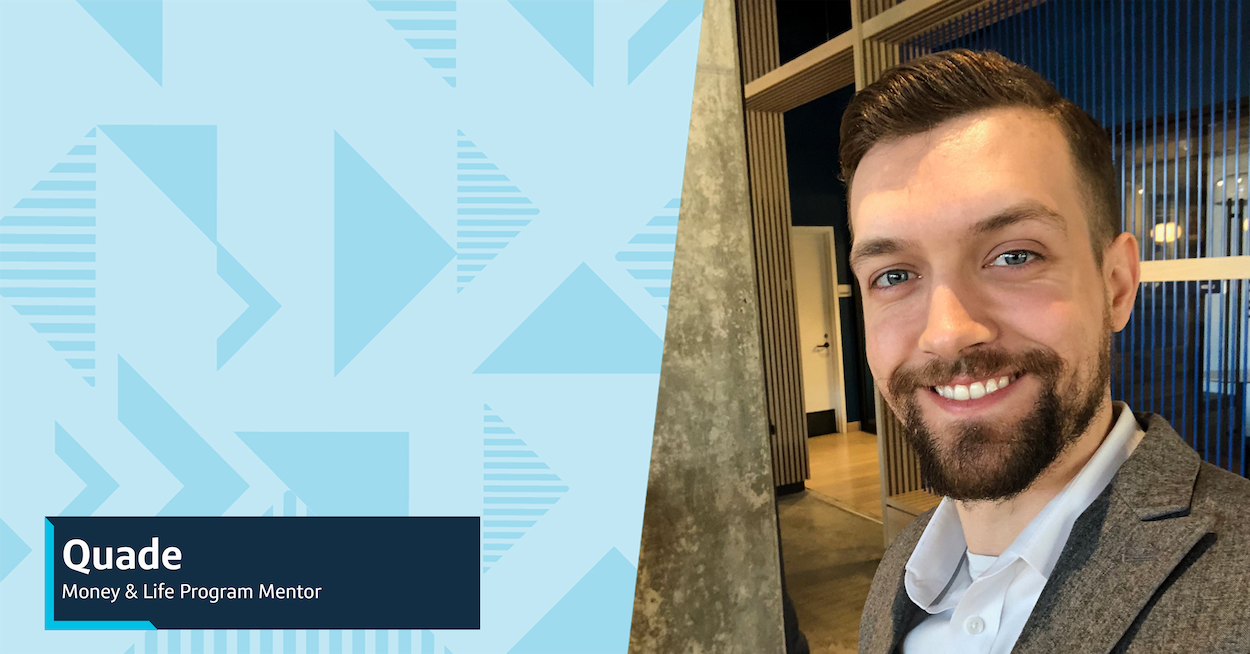 One notable session involved reshaping a client's perspective on how he viewed his money and savings. Quade helped the client adopt a positive mindset. By believing his life would one day change, the client's relationship with money could help him reach new goals.
"It fulfills me to have these aha moments with clients," Quade said. "I do this work to see people walk away with positive attitudes and validations about their life."
Building your career
Chris' first interaction with the Money & Life Program came as a client. While working at Capital One as a Café coach, he enrolled in one-on-one mentoring to better understand his own finances and finished the experience with a budgeting plan—and a desire to be a Money & Life mentor.
"It's hard to talk about money because you don't want to be judged," Chris said. "But once I experienced all the greatness of Money & Life, I knew I wanted to provide others the same experience of achieving financial wellbeing."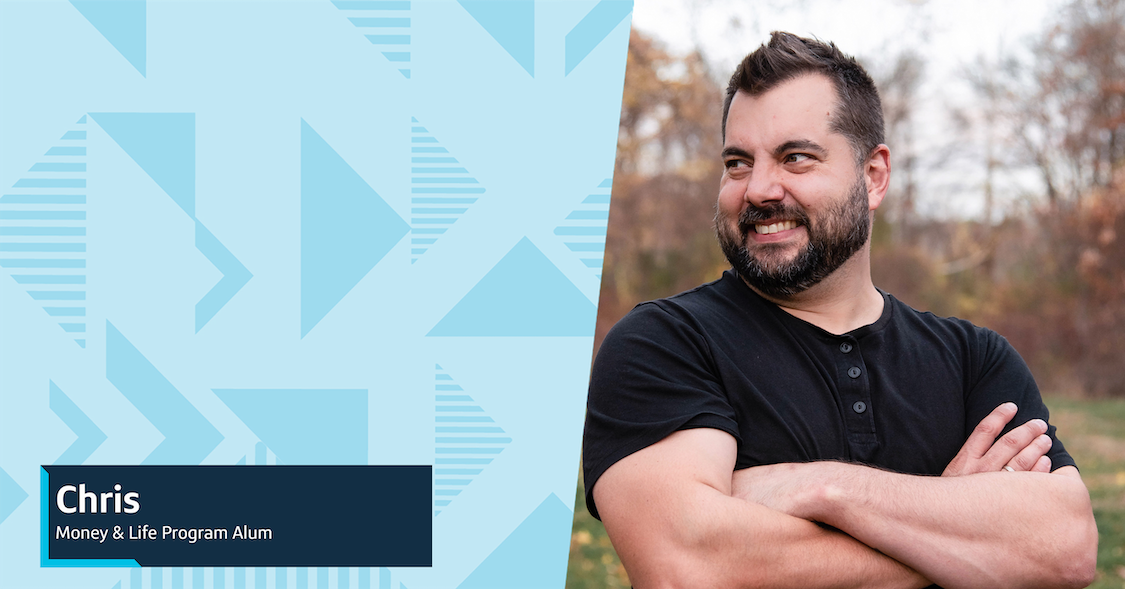 As a Money & Life mentor, Chris helped customers better their relationship with money. He leaned into his ability to relate to people and learned how to build trust and intimacy. The confidence and connections he gained through Money & Life helped Chris on his career journey, leading to him becoming a learning manager in Human Resources.
He now assists customer-facing associates in finding career development opportunities like the Money & Life Program.
"One of the most beautiful and amazing things that happened to me at Capital One is knowing I make a difference," Chris said. "Working at Capital One has changed my life."
The Money & Life Program and Money & Life Mentors are not financial advisers, or accountants, or tax specialists. Materials have been prepared by Capital One for instructional and educational purposes only. The information provided is not intended to encourage any lifestyle or changes without careful consideration and consultation with a qualified professional. Not intended to provide legal, investment, or financial advice or to indicate the availability or suitability of any Capital One product or service to your unique circumstances. For specific advice about your unique circumstances, you may wish to consult a qualified professional.
Copyright © 2023 Opinions are those of the individual author. Statements are deemed accurate at the time of posting. Unless otherwise noted, Capital One is not affiliated with, or endorsed by, any company mentioned. All trademarks and intellectual property used or displayed are the property of their respective owners.