Investing in others: How Aleta fosters big changes
Aleta is a Senior Director in the External Affairs division at Capital One where she leads a team of Corporate Social Responsibility professionals who deliver on our $200M+ corporate philanthropy initiative, as well as its volunteerism and Community Reinvestment Act commitments.
"Be kind, enable others and be purposeful," that is the mantra I've told my 5 children all of their lives. I was taught these values from a young age and they are also at the heart of the impactful work I do every day at Capital One. As a leader on our External Affairs team and a steward of our commitments to the communities where we work, I have the pleasure of leveraging Capital One's voice, resources and network to make change for marginalized groups. The Capital One Impact Initiative is our promise to make the communities where we live and work their best. We do this by creating sustainable outcomes that break the cycle of poverty. My job is to help ensure that Capital One and its partners are delivering on that commitment and I am truly inspired each day, as we work with our partners and communities toward that shared goal.
Inspired to make lasting change a reality in our communities
For a multitude of reasons—including race, geographical area, native language, gender, access to resources or income—there are people in our communities who need assistance in breaking free from the cycle of poverty. That is where the Capital One Impact Initiative comes in! My team helps Capital One partner with organizations who solve the problems these individuals and communities face.
Some of the ways our partners create change include making resources available to help families move out of poverty or supporting small business owners on their path to sustainable growth. But they all have one thing in common—a shared goal of making lasting change and improving long term outcomes. That means shifting our thinking from solving for one specific outcome to viewing the whole scope of challenges facing individuals and communities. This shift allows us to create lasting change that elevates communities for the long term, using evidence-based outcomes to make decisions.
So how do we decide who to partner with? We look for partners who are tackling the entire problem—not just a piece—and solve those issues by involving the particular community they work with. After all, these are real people and families. They know their lives and challenges best and should have a say in making decisions with policy makers and corporations. It's vital to think about how these communities use their resources, what they want and need and how each decision will impact them.
What happens when you don't involve the community and don't solve the holistic problem but instead focus on a single issue? I previously worked with an organization who committed themselves to increasing the graduation rate among high school students in their area. Over a 10 year period, they saw great success—graduation rate skyrocketed and based on that data, you'd think the problem was solved. Upon closer examination, it came to light that graduation rates increased because of policy changes that lowered the benchmarks of success and the requirements to graduate. Students were not equipped with the tools for the future, such as standardized test scores or the appropriate class requisites to prepare them for college. So while this organization succeeded in its mission to increase the graduation rate, it ultimately did not solve the larger problem of preparing students for life in college and the career world. Those aren't the outcomes the Impact Initiative, or Capital One, is seeking.
A holistic approach to philanthropy and change
I am very fortunate to spend most of my days with real life superheroes, both at Capital One and across the 2,900 organizations my team partners with. These people are the kind that see potential in every human, no matter the circumstances, and won't stop serving until the problem is solved. This is the hallmark of what makes a great partner for us—the drive to create lasting change in our communities. They participate in activities that make their communities better, not for a day, but for good. They are equipping people with the grit and tools they need to be successful.
When my team seeks out new ways to help improve our communities in which we work, we look for partners, not just people to donate to. Capital One brings everything we have to the relationship—every resource, brain cell, and all of our public platforms, and we look for partners who are doing the same.
Organizations grounded in data (evidence) and heart make very strong partners in this mission. They keep their communities and those they aim to help at the center of their efforts and focus on sustainable outcomes. These organizations are also living out tenets of our Capital One mission, while solving critical issues, like housing instability, relevant workforce reskilling and increasing emergency savings for individuals and families, all of which help people in the struggle rediscover their power. The most important thing for me and the team is that we partner with organizations who bring the community members to the decision table as an equal stakeholder. We haven't seen as much success in solving issues FOR the community but instead solving problems WITH them and creating efforts that can be owned and carried out by us all.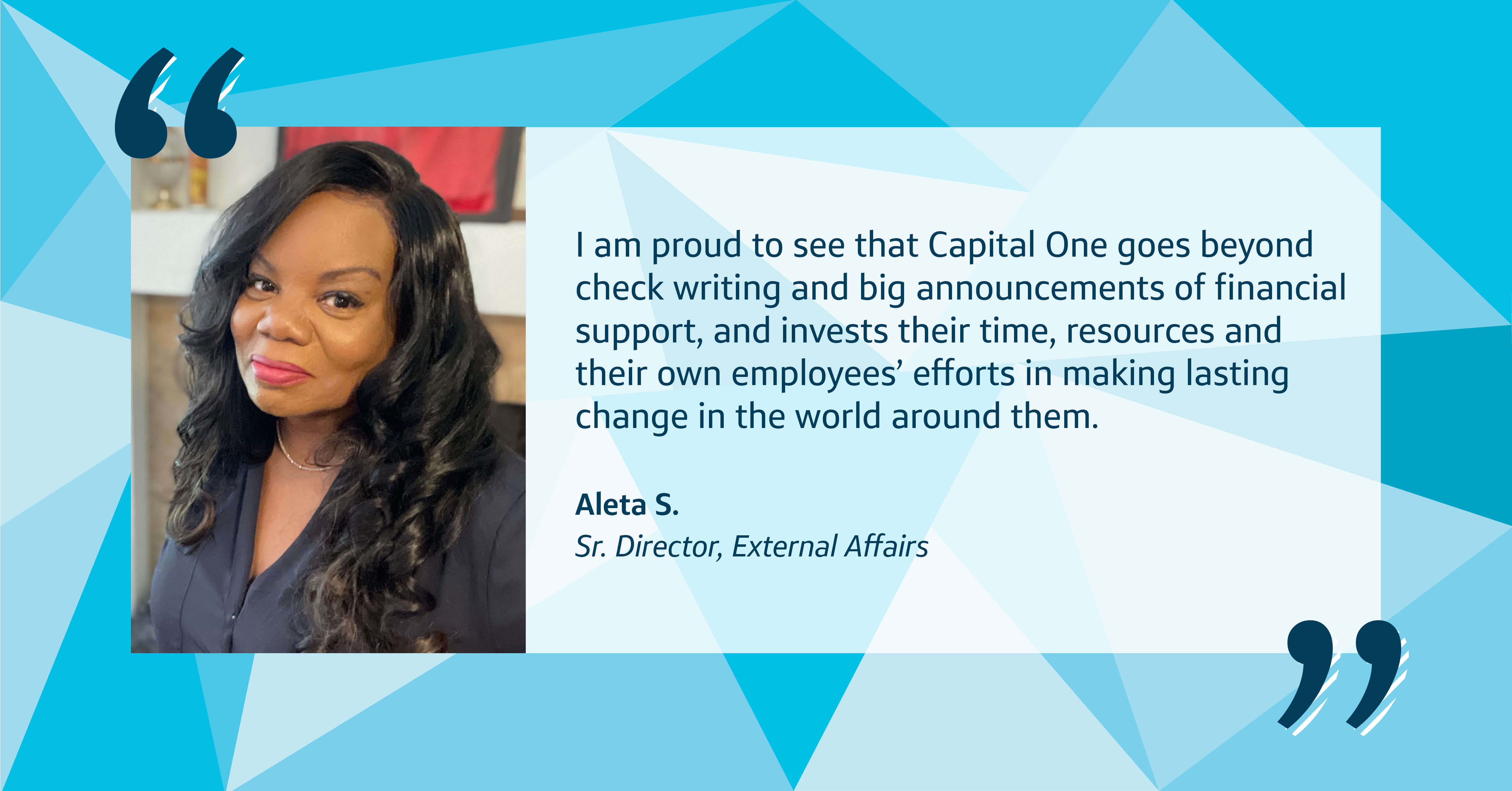 Investing in success and nourishment of others
My mom spent 30 of her 87 years (and counting) on this earth as a reading teacher. She was a single parent to 7 children and believed in the transformative power of education. Though we didn't grow up with the most resources at our disposal or in an area many would consider a "good area," my mother knew we could overcome our challenges to make a better life for ourselves. She taught us that education had the power to level the playing field and it was something that could not be taken away from you. It's one of many sustainable efforts that can change someone's trajectory and their socio-economic status permanently. It did for our family and now I am part of a team making that happen for others.
And so, while the commitments we're making through the Impact Initiative are not new for Capital One, it is the first time we've stated our goals and intentions out loud. Having spent my career in Corporate Social Responsibility, I admire Capital One's unique approach to creating lasting change. I am proud to see that Capital One goes beyond check writing and big announcements of financial support, and invests their time, resources and their own employees' efforts in making lasting change in the world around them. We don't think about sustainability the same way as other companies. The first thought on our minds is "if I go back to the same neighborhood we're helping in 5-10 years, will those families still be struggling with limited resources or support? How can we equip them with knowledge and tools to successfully change their life's path?" I like to say that we don't just paint the house and leave—we're looking to make long term change.
For many people and organizations, creating and sustaining change in their communities can feel frustrating or these problems can seem too big to solve. Philanthropy and large scale change is not an engineering opportunity or like baking a cake—there is no one set outcome you are working towards. Each human is unique, as are all of the communities we work in—you can't use the same formula over and over to expect the same result. The question we have to ask ourselves is "how do we get people all to the same starting line and then help them finish the race?" It starts with enabling everyone to be seen as human, not defined by their problems or challenges. Then involving them in the solution planning that will help them to achieve the lasting change and better outcomes. I am honored to be able to spend my days impacting and fostering those changes in our communities across the country.
Copyright © 2023 Opinions are those of the individual author. Statements are deemed accurate at the time of posting. Unless otherwise noted, Capital One is not affiliated with, or endorsed by, any company mentioned. All trademarks and intellectual property used or displayed are the property of their respective owners.