How this product manager creates inclusive banking
Samir, a director of product management for Retail Bank, was worried about Capital One customers when the COVID-19 pandemic started in 2020. He wanted to protect their financial health and make sure Capital One's services would continue helping those who need it most.
So he pitched a program, Bank Financial Inclusion, to Capital One leadership. This program works to simplify processes and improve Capital One products to better serve the underbanked, or those who primarily rely on costly financial services like a payday lender or check casher.
"It was incredible how receptive the leaders were in that moment of chaos to stand up a new program for these customers," Samir said. "I'm really proud of my role in that. Capital One made the new program possible through their mission to create change."
This program is just one part of Samir's journey—and Capital One's—to do the right thing and change banking for good.
Creating inclusive banking products
Samir joined Capital One in 2015 as the bank was beginning its digital transformation and migration to the cloud. His first role as a product manager involved supporting and developing some of the company's first cloud-based, real-time machine learning models that helped protect customers' checking and savings accounts. Samir advocated for solving the challenges that underbanked customers faced so that more people could apply and get approved for a bank account.
"From my very first interview with Capital One, I have felt empowered to ask, 'How can we do better for the people who need it most?'" Samir said. "That has been a consistent theme throughout my time here."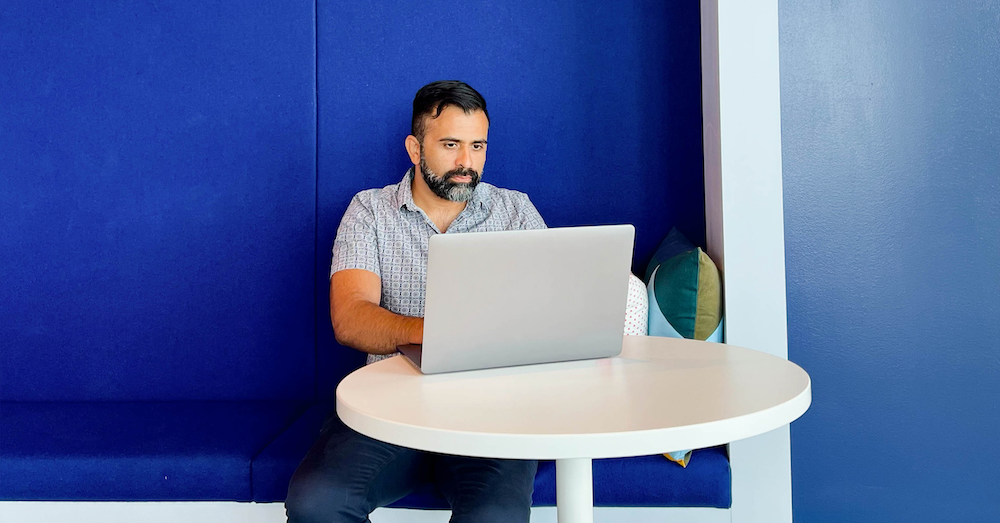 Samir's colleagues and Capital One leadership were impressed with the results and customer feedback from his work helping underbanked customers. He was nominated for a spot in Aspen Institute's First Movers Fellowship in June 2017 because of his work to expand Capital One products. The program empowers innovative employees to develop new ways to make their companies, and the world, a better place. During the fellowship, he and his cohort collaborated and connected on ways they could continue creating inclusive and sustainable change within their respective companies. For Samir, these conversations led to what would become Bank Financial Inclusion.
Through the Bank Financial Inclusion program, Samir has worked on projects such as eliminating overdraft fees, which is critical for customers who live paycheck to paycheck. He's worked to expand Capital One's Add Cash In Store to allow customers to deposit cash in convenience stores outside of traditional banking hours and contributing to neighborhoods with no other banks. He led the team that built a machine learning model that predicts and helps eliminate risk when customers deposit checks, allowing many customers access to their check the same day it is deposited — giving customers an alternative to check cashers. Each project has given customers more financial freedom.
"We're making banking more accessible, more usable and easier to understand," Samir said.
Advocating for visibility at Capital One and beyond
Samir's passion for change isn't limited to banking products. He's a member of all the Business Resource Groups (BRGs) to see what challenges and successes associates across Capital One experience. In 2018, he approached the leaders of Out Front, Capital One's BRG for LGBTQ+ associates and allies, with an idea. For National Coming Out Day in October that year, he and other Out Front members distributed pronoun stickers for associates to put on their laptop.
This was just the beginning of the campaign to bring awareness to people's personal pronouns. As work transitioned into a hybrid environment, Samir and the BRG encouraged associates to put their pronouns on Zoom and Slack. Increasing transparency around pronouns also led to action around correct name pronunciation, as associates then felt empowered to put pronunciation guides if their name was typically mispronounced.
Encouraged by the progress, Samir continued to work for more inclusive changes. He pitched the idea of preferred names to Out Front, card and bank executives. Now, Capital One customers have the ability to put their preferred name on their credit and debit cards.
"I'm driven by really difficult problems, of which there are many to solve," Samir said. "I love working with creative people. I love using technology and design, and we're using some of the newest technology that's out there in the financial services industry. We're doing all of that to make systems change to improve how banking works for customers."
Samir's work continues. He's always looking for new ways to expand Capital One products, improve transparency and accessibility.
"I'm very excited to continue working on our mission of changing banking for good," Samir said. "Being a product manager means I work with designers, data scientists and engineers to solve really tough customer problems. We all work together on the mission to advocate for the customers who need it the most."
Copyright © 2023
Opinions are those of the individual author. Statements are deemed accurate at the time of posting. Unless otherwise noted, Capital One is not affiliated with, or endorsed by, any company mentioned. All trademarks and intellectual property used or displayed are the property of their respective owners.