Gardening for Good: Valuable lessons in food inequality and underserved communities
"This garden is my protest, my evolution, my ecolution, my fight and my stance." Earlier this year, the Capital One community had the chance to hear from the Green advocate and "Gangsta Gardener," Ron Finley, as he shared his inspiring mission to fight food inequality and create better access to fresh produce in his community of South Central Los Angeles, California. Thanks to a partnership between the Green Solutions team and the VOICES Business Resource Group, this inspiring talk highlighted the importance of fresh fruits and vegetables to underserved communities and the transformative effect healthy food can have on one's life. It also encouraged every attendee to take a closer look at their appreciation of the earth and how we use it. To increase the impact of similar green initiatives in our own communities, Green Solutions also selected three organizations to receive grants to carry on their important community advocacy.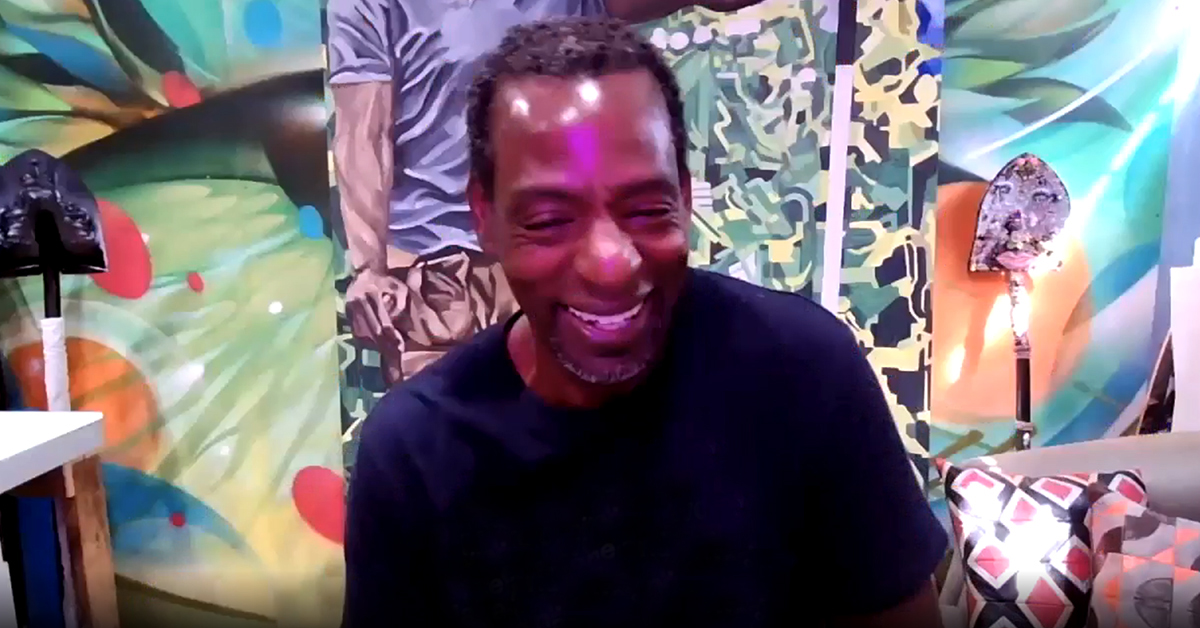 Rooted in a dream of building community greenspaces
Ron Finley grew up in the same community he now works so hard to serve, South Central LA. The area is referred to as a "food prison," where you have to drive 45 minutes just to get a fresh tomato, Ron explained. But solving food inequality goes beyond just introducing new grocery stores into underserved neighborhoods. An estimated 14 million children in America are not getting enough to eat and African American and Latinx families experience double the rate of food insecurity as white families.
These families need a new approach that puts the power to change in their own hands and gives them opportunities to grow and thrive. Ron was determined not to let the statistics be the norm in his community, so he started small right outside his home. By turning a forgotten strip of dirt and grass next to the road into a thriving garden, he sparked a growing revolution and inspired the community.
After local authorities told Ron he was not allowed to repurpose the public spaces for his community gardens, he was cited for gardening without a permit. Rather than let it dissuade him, he fought harder for his gardens and his community's health. Along with other green activists, he started a petition and demanded changes to the laws that would help his community grow their much-needed fresh food. The city saw the intent and passion in their efforts and dropped the issue.
Ron and his fellow activists saw this as the first major step in a new future for struggling communities. "I want that to happen all over the world," Ron explained, "I want us to design our communities and redesign our school systems. We have to change it." The gardens began sprouting up all over the community, like in a forgotten field behind the library, out of reclaimed materials like canoes, or even in abandoned swimming pools that were turned into lush green eating areas. But it all started with strips of grass on the side of the road.
Sowing seeds of change for a greener future and healthier relationship with food
Beyond just creating access to fresh fruits and vegetables, Ron also planted the seeds of growth and empowerment in his community. Prior to the investment in gardens, the community relied heavily on packaged foods from corner stores, ones loaded with preservatives. In order to provide a healthier future for families, Ron knew he had to also work on educating students about how life changing clean, real food can be to help you thrive.
He focused on fun and engaging community events and teaching students to garden. "Every school should have a garden and every garden should have a school" he exclaimed during his talk. He shared stories of teaching school children to plant and tend a garden, while also allowing their dreams and aspirations to take root. He focused on re-educating young people about what is valuable, like clean air and caring for the earth and their bodies, and taught them about cooking and making smoothies from the food they had grown. Ron explains "We all need healthy food and you must realize if you can't feed yourself, you can't free yourself. And we need to free ourselves from this system of oppressive food apartheid, food inequity."
One of the main messages Ron hopes to spread is the importance of caring for the Earth and its resources. He reminded attendees that many of us wouldn't initially think of air is the most important thing in life, but without it, we can't survive. By instilling this love of greenspaces and growing in his community, Ron is also instilling the love of nature that he fears most of society has forgotten in daily life. He reminded listeners that "the gardens are not just about food, the gardens are about life. In nature, we all have a path forward, each one of us have the chance to save the planet and fix this world."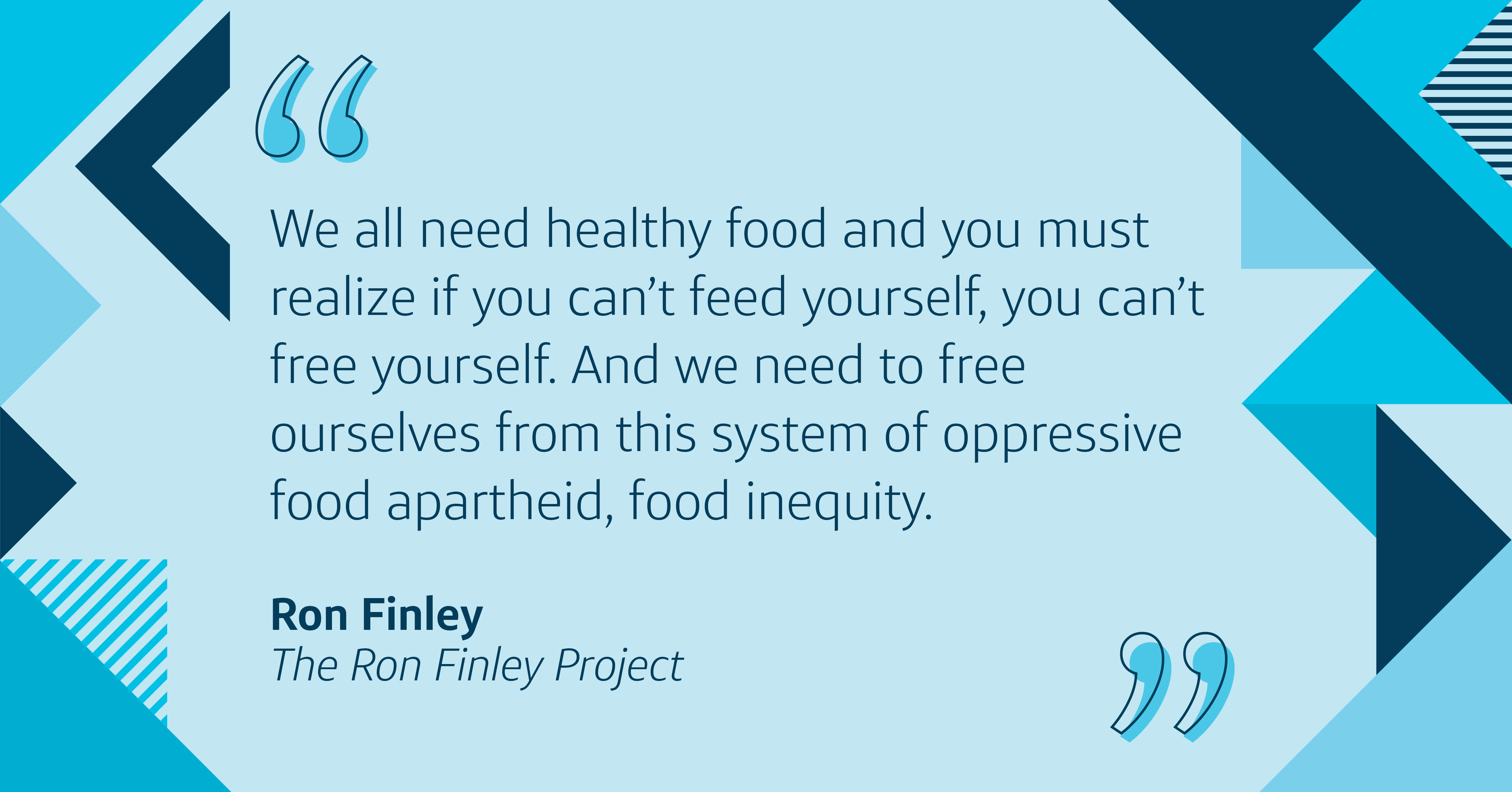 Supporting organizations that are fixing food inequity in our communities
Inspired by the empowering work Ron is doing, and in addition to Capital One's Impact Initiative, $20,000 grants were given to three organizations who are also tackling food inequality in the communities near some of Capital One's largest people centers. Bonton Farms in south Dallas, Texas, Richmond Resiliency Garden in Richmond, Virginia and D.C. Urban Greens in Wards 7&8 of Washington, D.C. are each working to empower residents in their neighborhoods with better natural food access and the knowledge to grow their own resources. For each of these organizations, providing low cost or free access to fresh grown plants and produce for residents in underserved urban areas is the top priority.
Creating equal access to fresh foods goes far beyond just improving nutrition in underserved communities. Teaching residents to cultivate and grow their own gardens gives them a tangible product of their hard work and affirms that no matter where they are, they can have a hand in creating a beautiful thing in their everyday life and in their world. Through Ron's efforts and his inspiring stories, the seeds of change and inspiration were planted for all who tuned in to hear his message.
Copyright © 2023
Opinions are those of the individual author. Statements are deemed accurate at the time of posting. Unless otherwise noted, Capital One is not affiliated with, or endorsed by, any company mentioned. All trademarks and intellectual property used or displayed are the property of their respective owners.