Creating diverse representation among leadership
Diversity, inclusion and belonging is essential to creating a thriving corporate culture. Meghan Welch, Executive Vice President of HR and Chief Diversity, Inclusion & Belonging Officer at Capital One, details why it is critical for all companies to focus on increasing representation among senior leadership.
"We must solve for more diverse representation at all levels. While corporate America has made progress over the past few years, the majority of corporate workforces are still not nearly as diverse as they need to be. Improving representation up, down, and across industries and across organizations needs to be the top priority. At Capital One, we're focused on increasing representation at all levels and are placing an enhanced focus on leadership positions. With diverse voices at the table—people who come from various experiences and backgrounds—discussions become richer, leading to improved decision-making processes and ultimately a stronger organization," Meghan said.
Meghan sat down with Shavonne Gordon, Vice President of Enterprise Diversity Recruiting, and Lucy Hutchinson, Head of Executive Recruiting to explore three main principles for attracting diverse executive talent to Capital One and setting them up to thrive here.
Leadership by example
"At Capital One, it's critical for all of our associates to see themselves reflected in leadership so they know there is opportunity to grow and be successful at our company. It's equally important for our potential candidates to see themselves reflected in our leadership as they consider Capital One as a possible home for them," Meghan said. "Recruitment, retention and development of exceptional talent is just as much about building internal opportunities as it is recruiting new talent."
Shavonne shared the importance of giving associates of all backgrounds a voice at the table.
"I love being in a meeting where I am not the 'only.' It can be very lonely being the only one in the room who looks like me and it's more difficult to speak up because my fears start to creep in and my mask starts to come up," Shavonne said. "It's exciting to see us bring in more women, Black and Latinx leaders because that's how we create the sense of community and belonging that we want to have at Capital One."
Belonging starts at the beginning
"Capital One prioritizes creating a great experience for all candidates and associates, from the interviewing phase, to onboarding, integration and wherever their career takes them. We set our new executives up for success by listening for themes that emerge during the interview portion of their journey so we can create customized, individualized plans for our new leaders," Meghan said.
Lucy gave us a look at how we've put this concept into practice.
"For example, we hired an executive who we learned processes information best by reading rather than listening, so we prepared materials for him way in advance of his first day so that he could digest them and prepare in the way that was right for him," Lucy said.
When a new leader is set up with a robust support network from the beginning, they more quickly learn the dynamics of the business and its culture. Capital One pairs leaders with a peer-level buddy, a mentor to advise them on how to be successful, and an executive coach to support them through the change curve of joining a new company. As we grow and nurture our diverse leaders from within, our development, mentorship and sponsorship programs continue to play a critical role in creating more equitable pathways to leadership.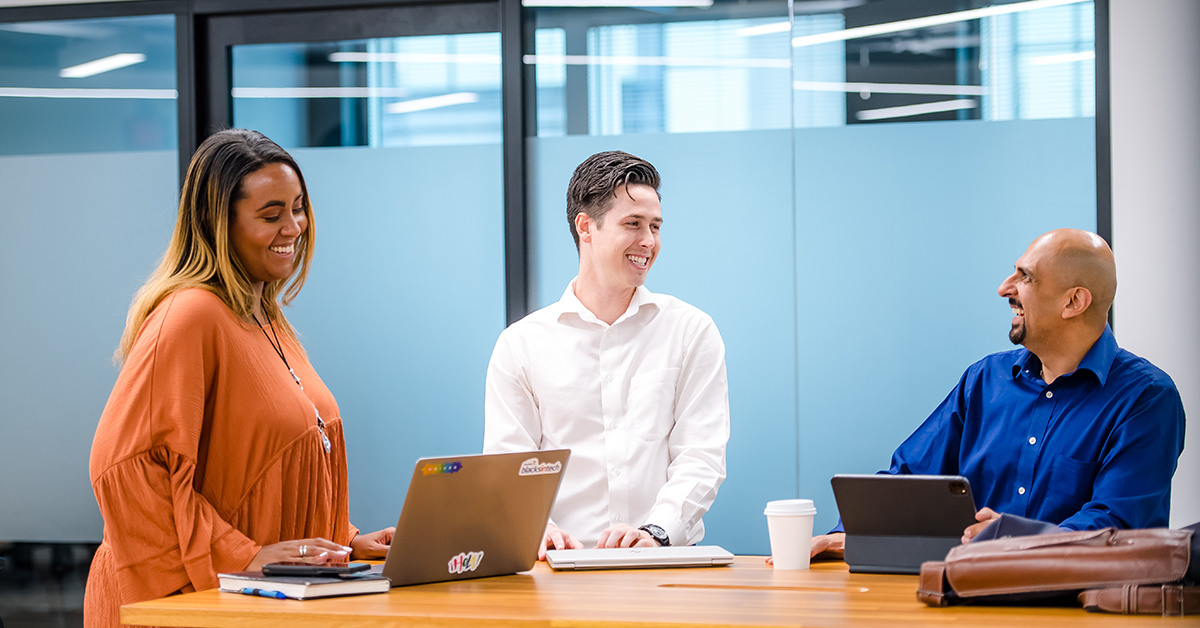 Always-on listening
"Feeling a sense of community and belonging is important for every person in every job. At Capital One, we look beyond the first 30, 60 and 90 days and consider what needs to happen to ensure leaders are not only succeeding, but thriving. Listening to the experience of our new hires, people who have joined us over the last several years, and learning from those experiences is core to how we care for each and every associate," Meghan said.
Capital One's Enterprise Diversity Recruiting and Executive Recruiting teams regularly conduct listening exercises, seeking to understand what gives a person meaning, what they need to grow and develop and how they want Capital One to invest in them.
We are proud to have leaders across our company who are committed to increasing representation among our leadership and associates at all levels. Together, we are continuing to invest and engage to move toward an equitable future for all.
Copyright © 2023 Opinions are those of the individual author. Statements are deemed accurate at the time of posting. Unless otherwise noted, Capital One is not affiliated with, or endorsed by, any company mentioned. All trademarks and intellectual property used or displayed are the property of their respective owners.