Capital One associates cycle for a cause
Face of America is a 112-mile bike ride that honors the military community and adaptive athletes. Capital One and our associates have supported the event since 2013, helping fund supplies and participating in the ride.
Joe had reached the summit of a steep incline when he looked over his shoulder to take in a moment that he'll never forget: Dozens of cyclists, some who used their arms to propel forward on adaptive bikes, encouraging one another to make it up the hill as fans cheered for them from the sidelines.
Joe, Senior Business Manager for Capital One's Data Strategy team, jumped off his bike, ran down the slope and pushed and encouraged cyclists up the incline. Riders encompassed people with connections to the military and adaptive athlete communities, including participants with amputations, paralysis, Post-Traumatic Stress Disorder, blindness and loss of hearing
"The focus of the ride is to support and encourage one another," Joe said. "Helping other riders up the hill meant a lot more to me than climbing it myself."
The bike ride was part of "Face of America," a Capital One-sponsored event consisting of a two-day, 112-mile bike ride through Virginia, Maryland and Pennsylvania. The ride honors active-duty military personnel, veterans and adaptive athletes and raises money for World T.E.A.M. Sports, a nonprofit that creates inspiring athletic challenges for adaptive and able-bodied participants.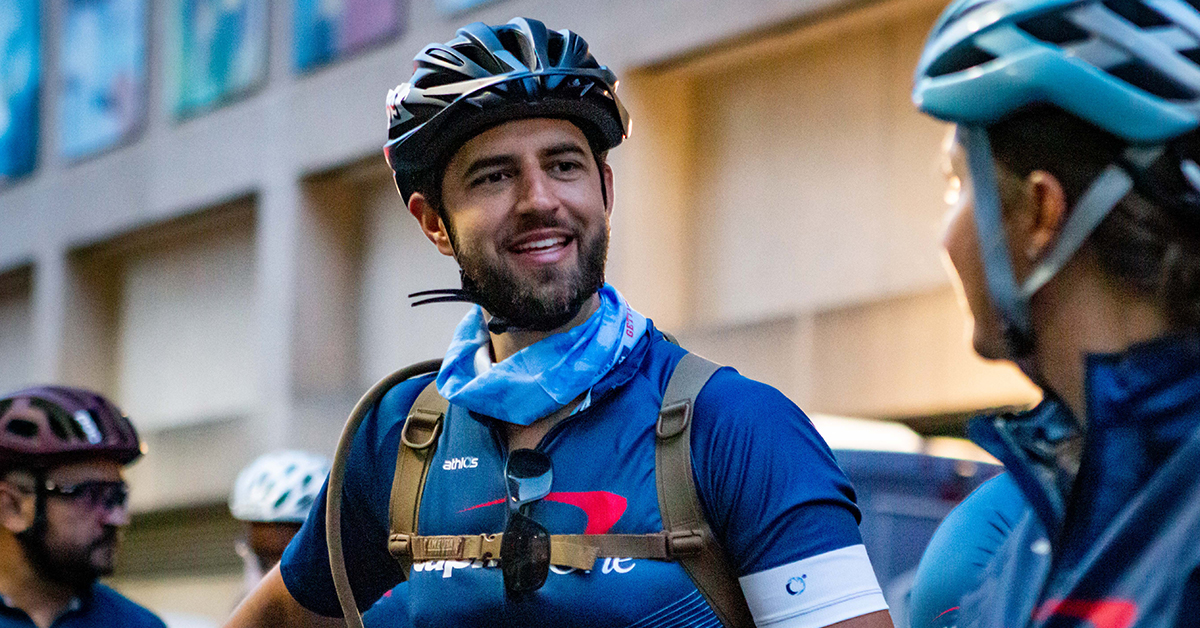 Supporting veterans and adaptive athletes
Face of America began in 2000 with two teams of cyclists riding from each coast and meeting at the Gateway Arch in St. Louis. The program has since transformed into an exciting two-day journey from Arlington, Va. to the Civil War battlefield at Gettysburg, PA.
Capital One has sponsored Face of America since 2013. This year's donation provided shelter, food and other supplies for the riders. Salute, the military Business Resource Group (BRG), also made a donation to supply riders with reusable bags.
Bill, a Senior Director for Capital One Credit Sales & Performance, has ridden in Face of America for eight years to honor the military. Joe and Bill, who co-led Capital One's Face of America team, were among nine associates and three family members who participated and fundraised for this year's ride.
"I think back to Rich Fairbank once saying that Capital One associates elevate others," Bill said. "Face of America, is a way I can lift up the military and adaptive athlete communities."
Joe, a Navy veteran, has participated in Face of America three times.
"I'm very proud to work for a company that supports Face of America," he said. "It means a lot to me to see how invested Capital One and my colleagues are in supporting the military, people identifying as disabled and countless others."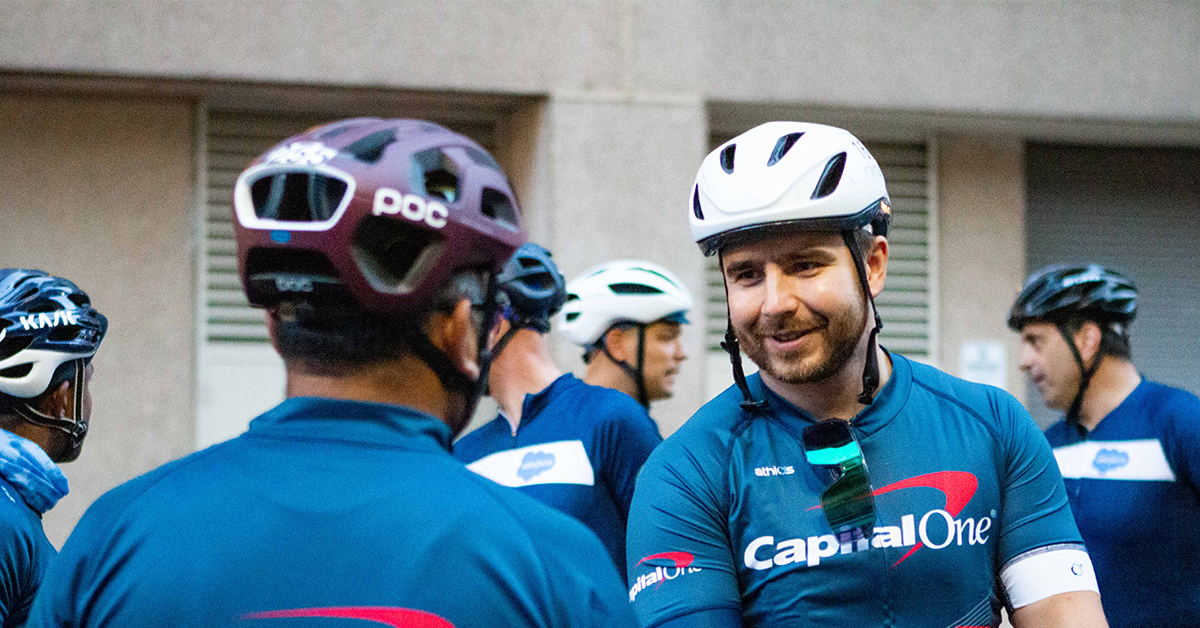 Building camaraderie among colleagues
Positive messages flooded the Capital One Face of America Slack channel and WhatsApp group in the weeks leading up to the ride.
"Excited to get back out there with the team!"
"Really looking forward to representing Capital One again this year!"
For Thishan, a Project Management Manager for Guidance Ops Assurance & Tech, the strong team spirit is one of the top reasons he's participated in Face of America six times.
"The ride is a moment where colleagues become friends and family," Thishan said. "We have this little community that sticks together for this special event. It's about more than riding a bike. We're showing up to rally each other and back the military community."
Joe understands the 112-mile bike ride might be intimidating for hobby cyclists, but he encourages every associate to get involved. The Capital One team will help with your training schedule and ease any worries.
"Don't be worried about the physicality of the event," he said. "Our emphasis is on elevating others and giving back to this community of riders and veterans."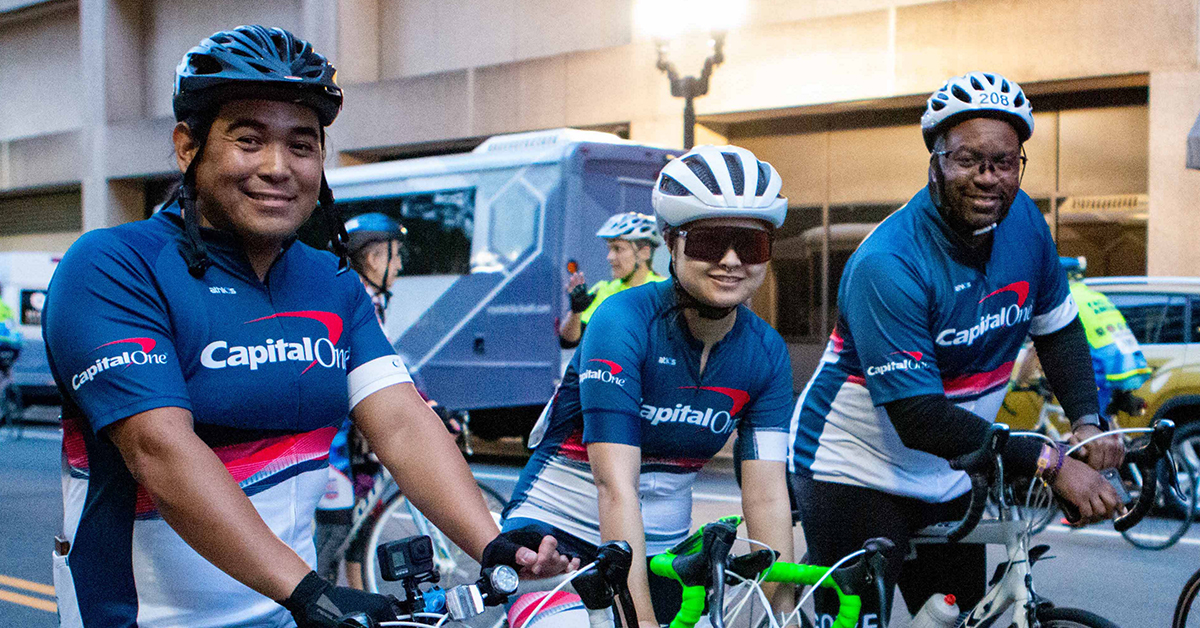 Learn more about our commitment to doing good in communities and our support of the military.
The Capital One associates and family members who participated in Face of America were: Cris De Vera, Kathryn Fletcher, Thishan Hettiarachchi, Joseph Hubley, Michelle Hubley, Josip Injic, Amanda Ke, Marc Lee, Ben Levitt, Bill McDevitt, Bilal Mustafa and Jeff Purdy.
Copyright © 2023 Opinions are those of the individual author. Statements are deemed accurate at the time of posting. Unless otherwise noted, Capital One is not affiliated with, or endorsed by, any company mentioned. All trademarks and intellectual property used or displayed are the property of their respective owners.